The internet is a busy world and standing out as a small business is seems to get harder every year as the competition explodes. When people say the online space is too saturated, they're right, as you can see from the increasing number of websites worldwide and the rapid increase in their number. However, getting found online isn't as impossible for a small business as it may sound. As a small business, you must effectively leverage the power of digital marketing tactics with the right skills and experience. If you don't have that experience, consider hiring an expert to at least help build the right strategy for your market, which means combining SEO (search engine optimization), online advertising, e-commerce, and social media to drive traffic to your website and landing pages. Then you must build landing pages that convert and monitor performance so you can optimize your strategy and tactics. If you want to supercharge your sales and get noticed online, here are six tactics you must master.
Getting found online
Getting found online isn't a one-size-fits-all marketing tool. You must choose a combination of tactics and implement them in a way that appeals to your specific target market, fits your industry, sets you apart from the competition, and takes advantage of the opportunities available.
Coordinating across efforts at getting found online is critical for success. Consider using a style guide containing your branded colors and fonts, messaging elements, images, and any other elements of your marketing strategy that require consistency across marketing efforts.
Build a great website
Getting found online starts with your website and there's NO SUBSTITUTE for a well-crafted website. In a recent survey, 56% of consumers said they don't trust a company that doesn't have a website, yet 45% of small businesses still lack a website. Plus, many small business websites look terrible, offer a poor customer experience, don't work effectively on a mobile device, or load slowly.
Here's what those decisions cost you: [source]
Visitors form an opinion of your business within 50 milliseconds of arriving on your website
57% of users won't recommend a business with a poorly designed website
85% of adults think the mobile version of the website should be as good or better than the desktop version
88% of visitors won't return after a bad experience with your website
39% of visitors will leave if it takes too long for images to load (longer than 3 seconds, a time that gets shorter every year)
Slow sites cost retailers $2.6 billion per year
83% of users say a brand must present a seamless experience across devices
Use social media effectively
Not only do many small businesses lack a website or have one that's suboptimal, but they also trust their social media to a younger relative or someone cheap without regard for whether they understand the nuances of different social platforms and how to use them for BUSINESS rather than personal use. That's being penny wise but pound foolish. This is your business! Don't waste money but recognize it takes an investment in marketing to make money.
Provide a superior customer experience
Never underestimate the importance of providing a superior customer experience both online and off. Hire and train your employees to empathize with customers and understand their products so they can answer questions, handle concerns, and build a relationship with customers. There's simply no substitute for poor customer service and even a cheap product won't save your business if you don't stack up to customer expectations.
Providing superior customer experiences starts with understanding the customer journey (see a dysfunctional journey below) then avoiding the pitfalls shown.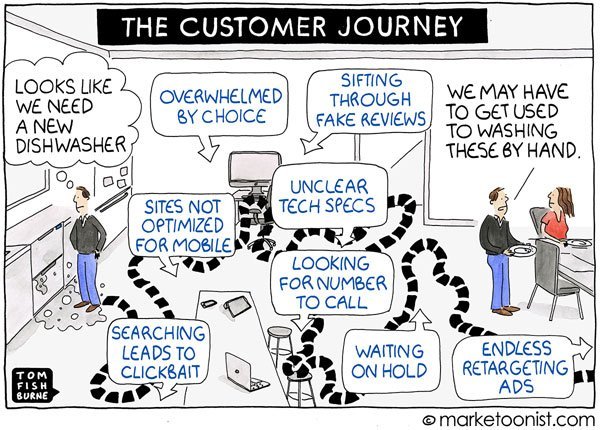 Problems are sometimes inevitable, so plan for them by developing contingency plans that allow you to jump into action when a failure looms or resolve one once it occurs.
Personalization
Personalizing your message and addressing the unique issues that are salient to an individual are increasingly important for business growth in our one-on-one marketing world. Sending mass email messages unrelated to an individual subscriber tells them you just don't care enough to treat them as an individual. And, simply affixing their name on the subject line or including it within the email message body isn't enough.
Tactics for getting found online
1. Invest in SEO
SEO (search engine optimization) is the key to getting found online. Not only does search engine optimization help you to get discovered on search engines, but it will also put you at an advantage compared to your close competitors. Achieving that coveted 1st page in search results is a daunting challenge, especially for small businesses. Below, however, you see the impact of a high rank in search results on your market performance since the more visits you garner, the greater your potential sales.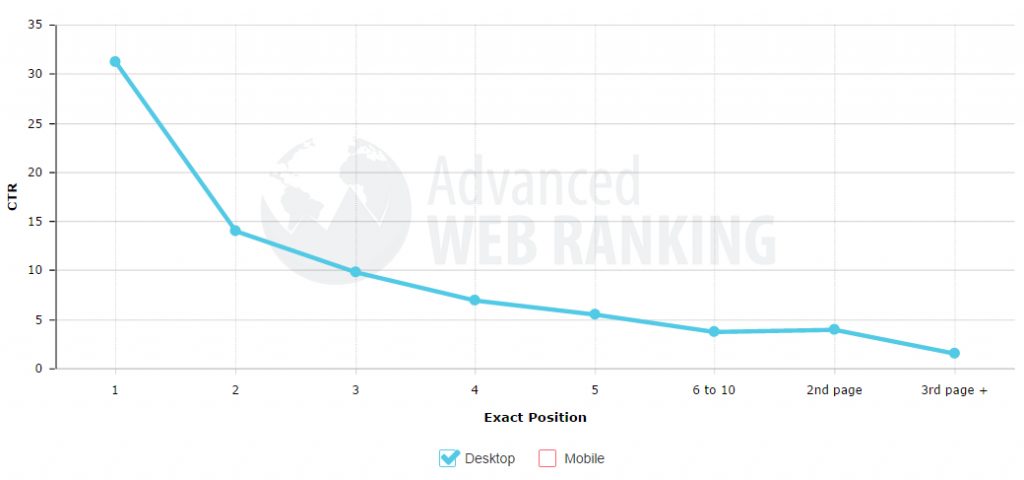 While it's impossible to cover everything necessary to improve your website's SEO, here are some of the most critical factors:
Fresh, valuable content produced on a consistent basis. Below, you see how your performance improves with more content produced on your website

Image courtesy of Hubspot

Backlinks to high domain authority (respected) websites
Keywords used on your site match the intent voiced by users in their query
A secure website using an HTTPS protocol
Site speed
Social signals such as engagement and visits from social
Mobile friendly
User experience ie. menus, headings, etc
2. Online advertising
Online advertising is a great tool for getting found online. You can use Google Ads or a social platform, such as Facebook or Twitter, to reach users. Search engine advertising is a great tool because you reach people when they're searching for products like the ones you offer while social media advertising is better for gaining broad awareness of your brand.
Online advertising involves a number of nuanced tactics and experience. Plus, even using the ad platforms is a little challenging if you're just learning. You may want to work with a specialist Adwords agency who can help you to create the best possible result and greatest return on your investment from your ads.
3. Use social media
Get creative with your social media platforms and use video content to spread the word about your business. Viral content is an excellent way to earn quick exposure in the online space but achieving virality requires generating great content and building relationships with users. Due to changes in the algorithms used by social platforms to determine which content appears to users, organic social media exposure is getting harder, which raises the stakes for small businesses that must now spend money if they want to attract prospective buyers.
4. Upgrade your website
As mentioned earlier, your website is your key asset for getting found online so invest in it. Design an attractive, functional website and ensure it meets current standards and the expectations of users. For instance, many small businesses still use a carousel of images (called a slider) on the top of their homepage. Not only is this old-fashioned but it significantly slows your load speed, which costs you points on your search rank.
If you don't have a website or it needs a major overhaul, check out this ebook on building a website. It's chock full of step-by-step instructions accompanied by a ton of images to walk you through the process using (mostly) free tools so you don't need to write a single line of code. All you need is to buy a domain and some hosting. Everything else is free if you choose to go with those options. You may not think a domain name makes much of a difference for a small business, but it can have a huge effect on your sales. Your domain needs to make sense, be simple, and be consistent with the rest of your marketing efforts. Think carefully about strange spellings and nonsense words while choosing a domain that fits your keyword strategy.
With your website well in hand, you're ready for content marketing on both your website and on social. Establishing yourself as an expert in your field helps your reputation, but it also helps you climb the ranks on search engines. Informative blog posts are extremely helpful when it comes to getting eyes on your website, gaining backlinks, and building engagement with social media users.
5. Email marketing
Email marketing is a great tool for converting visitors once you attract them. Once you build a subscriber list, you can send targeted messages that drive subscribers toward a purchase or to repeat their past purchases. It's a great tool for building and maintaining a relationship with subscribers and, by sending birthday and thank you messages, you show you care.
6. Partner with influencers
Make the most of somebody else's audience and partner up with influencers who are active in your space. People believe other people more than they believe what a business says about their brand. Hence, people are more likely to buy products recommended by influencers than from brand ads. Plus, influencers stamp your brand with their personality so their followers purchase your brand as part of their fandom.
7. Analytics
No one has a crystal ball when it comes to getting found online. I've been doing this for nearly 20 years and I still don't get it right the first time. That's where analytics comes in. By monitoring your KPIs (key performance indicators), you can assess what's working and what isn't. Once you discover what works, it's a simple matter to repeat those tactics to boost performance over time.
Conclusion
As soon as you start to stand out online you should see your performance blossom. Whether you invest your profits in professional SEO or you make the most of social media with the help of an agency, you can make a huge impact on your sales by standing out online.
Need marketing help to support business growth?
We welcome the opportunity to show you how we can make your marketing SIZZLE with our data-driven, results-oriented marketing strategies.  Sign up for our FREE newsletter, get our FREE guide to creating an awesome website, or contact us for more information on hiring us.
Hausman and Associates, the publisher of MKT Maven, is a full-service marketing agency operating at the intersection of marketing and digital media. Check out our full range of services.