If you want to generate more leads from your social media marketing efforts, you've come to the right place. Survey data shows that 66% of marketers generate leads when spending six hours each week on their social lead-generation efforts. You can add to that figure (and potentially achieve more) when you nail your lead-generation initiatives across your social media channels. The big question is, how do you drive more leads from your social media marketing efforts effectively?
Well, let's look at the potential for social media to generate leads. Below, you see a graphic showing how B2B firms feel about their social media marketing efforts when it comes time to generate a b2b leads database. Recognize that B2B is only a small part of the opportunity for businesses to generate more leads through social media and the opportunities are much greater for B2C companies.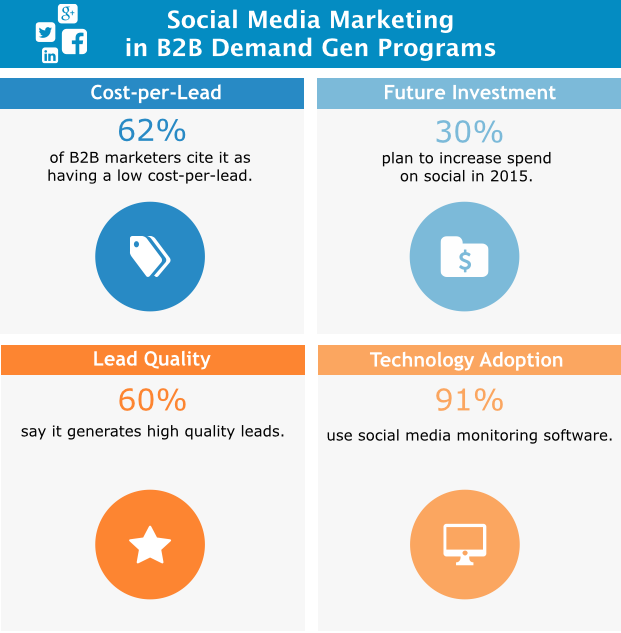 That is what this guide is all about. We'll cover the five time-tested ways to get more leads and drive organic traffic from social media to your website to boost conversions and sales.
Let's jump into it.
How to generate more leads from social media
Social media is the perfect place to generate more leads that support your business and help it grow. That's because you can get super specific in targeting the audience that sees your sponsored content and, by joining your community, users who follow you self-selected to be part of that market. And, targeting is everything when it comes to generating more leads and getting those leads to convert.
So, let's start by talking about targeting and target marketing.
Targeting involves segmenting the total number of consumers into groups more likely to make a purchase. In the olden days (a few years ago) it was much harder to form your target because it was challenging to collect information about consumer groups. Hence, we had pretty anemic target markets limited to just age, gender, income, and similar factors.
Today, we have the ability to define target markets in a more nuanced way because of improved access to consumer information and we build richer personas to help up do better target marketing.
Target marketing involves using these target markets and their definition to develop marketing strategies that capture their imaginations and convince them to buy your product.
Obviously to generate more leads, the better you understand the needs, attitudes, and decision-making process of your target market, the better you align your target market with your marketing campaigns, and the more successful you'll be. Below, we build on these concepts to discuss incorporating them into specific strategies and tactics to employ that generate more leads.
1. Run targeted lead ads on social platforms
If you have some wiggle room in your budget and want to generate more leads, run targeted ads on social media.
Paid ads for lead generation allow you to use highly specific targeting options to show your audiences offers tailored to grab their attention and motivate them to buy. Facebook and Instagram, which run through the same portal, allow very selective target groups based not only on demographic and geographic variables, but on interests, which makes them very impactful on your results.
As you build your advertising strategy, think about creating different ads for different target markets so the ads reach the right people in the right way. You can also use ads to showcase time-limited offers on your services and products, as well as other motivating aspects of your product.
For instance, run Instagram ads that give 50% off for the first eight weeks to customers looking to buy SEO articles. Such limited-time offers have an immediacy you don't find in typical ads and are a great way to entice social media audiences to act on your offers, supporting your lead-generation initiatives. That's because social media users often don't express immediate intent, even though they're great prospects for the company's products.
You can also get creative with your ads to encourage more click-throughs by adding compelling images and video clips, including interesting poll questions to ask on Instagram.
Leverage Ads Manager for Facebook and Instagram with other reliable platforms such as Vista Social to plan, organize, schedule, and auto-publish your social media ads and posts.
2. Create irresistible lead magnet offers
The right incentive can help compel your social media audiences to share their information with you freely. The key to building a subscriber list or encouraging visitors to create an account is to create lead magnet offers that your prospects can't help but act on. Offer lead magnets that your target audiences want or spark their interest.
Your offer can be anything, from an ebook on industry-related topics to reliable order-tracking software your subscribers can use for free in the first 15 days. This is a great way to show potential customers how great your product works. You can also provide case studies, discount codes, white papers, webinar access, and other valuable content.
The post promoting TikTok for Business's Mega Sales Playbook is a classic example.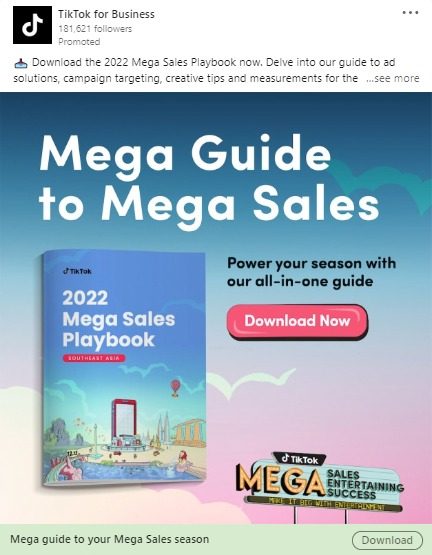 Image source: linkedin.com.
People provide their contact details in exchange for getting more information from the TikTok team while getting valuable content. It's a win/win for everyone.
Having contact information for prospective buyers is a great tool that continues to provide benefits over time. Armed with this information you can set up an email lead management system that sends periodic email messages to your list that allows you to encourage them toward conversion. It's one way of generating leads on social media, ultimately helping you turn prospects into paying customers.
3. Share customer testimonials
There's often nothing wrong with tooting your own horn in front of your followers. However, promoting your own brand, products, and services gets old for social media audiences when used relentlessly. After all, you could say you have the best product or offer the most reliable service in the market, but people don't want a steady diet about how wonderful you are. Also, trust in companies to objectively evaluate and promote their brands isn't very high.
The trick is to let the words of satisfied customers speak for your business. Share customer testimonials and reviews across your social media feeds to showcase your previous customers' real-life experiences with your brand. Beauty brand Glossier does this well by sharing glowing customer testimonials on its Instagram Story.
4. Get creative with your customer testimonials.
For instance, you can create compilation videos of reviews, add animation and background music, and share them as Instagram Reels or in-feed posts. Testimonials can work as personal recommendations from family and friends, influencing your prospect's purchase decision.
Make the most of this by sharing customer reviews across your social media channels. It helps build trust with prospects, amplifying your lead generation efforts. Include your shared customer testimonials in your content tracking strategy to determine their effectiveness in generating social media leads so you get better over time.
5. Leverage sponsorships on social media
Besides running paid ads, you can attract social media leads from content your target audiences already consume. For instance, you can sponsor content, shows, and YouTube channels popular among your followers. By paying for advertising on YouTube or popular social media channels owned by others, often called influencer marketing, you have a strategic way to get reputable content creators and influencers to talk about your brand, which can expand your reach, raise brand awareness, validate your brand with endorsements from people users find credible, and boost your social media lead generation initiatives.
Social media influence is a powerful tool, when used properly. Top social media influencers earn millions of dollars for endorsing products, just as celebrities do in traditional commercials. Content creators talking about your brand can be a form of social proof, encouraging viewers to click and convert.
The sponsored video by the online learning platform Skillshare below is a good example.
Image source: youtube.com.
Social media sponsorships are also more engaging than ads, effectively generating leads. Leverage social media sponsorship with your other lead generation efforts, such as using Social Tradia to buy and sell Instagram accounts.
6. Launch referral campaigns
Another effective way to boost your social media leads is to provide incentives. No, we don't mean running sleazy deals that let you "buy" leads, but referral campaigns that offer incentives to leads who refer others. These referral campaigns are an excellent method to widen your reach and get more leads since referred people can learn about your products and services and potentially become additional leads.
When implemented correctly, referral campaigns on social media can help double your sales leads. Offer attractive incentives, such as gifts, discount coupons, exclusive access, and other offers in exchange for referrals to help your campaigns deliver real benefits.
Bulldog Skincare's referral program shared on Facebook offers five dollars off for referrers and referrals and is a great example of using this tool.
Image source: friendbuy.com.
Include compelling images, a clear copy, and a catchy Call-to-Action (CTA) to capture your audience's eye when you build this or any other social media marketing campaign. You can share your referral program as paid ads or organic posts on social media to increase visibility and encourage clicks.
Referral programs can help boost your social media lead-generation efforts and, in turn, increase your conversions and sales opportunities.
Ready to generate more social media leads?
Getting more leads from your social media marketing efforts can take a lot of work, but the returns are well worth all your time and effort.
Leverage the time-tested tactics in this guide to double down on your social media lead-generation efforts. Learn which strategies work best for your audience, campaigns, and business to reach your lead generation and social media marketing goals by monitoring the performance of these campaigns so you get more leads over time.
Need marketing help to support business growth?
We welcome the opportunity to show you how we can make your marketing SIZZLE with our data-driven, results-oriented marketing strategies.  Sign up for our FREE newsletter, get our FREE guide to creating an awesome website, or contact us for more information on hiring us.
Hausman and Associates, the publisher of MKT Maven, is a full-service marketing agency operating at the intersection of marketing and digital media. Check out our full range of services.