Gen Z consumers aren't just younger. They're entirely different from the generations that came before them and marketing to these consumers requires different strategies than marketing to other cohort groups. The image below shows the ways that Gen Z consumers differ from other groups in their shopping habits and what business characteristics impact their purchase decisions.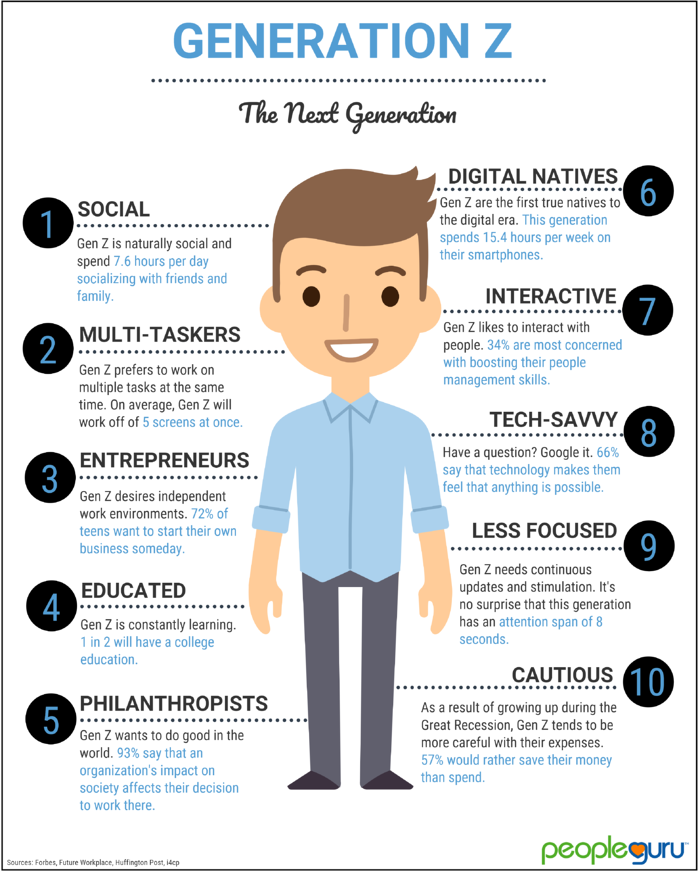 Given these vast differences, let's investigate how Gen Z consumers approach online shopping and purchase decisions.
Who is Gen Z?
Gen Z are consumers born between 1995 and 2010; making the oldest members of this group around 26 and the youngest only 11 (there currently isn't a name for the generation immediately behind Gen Z but the alphabet is now complete so we may need to start over again). The subgroup currently represents nearly 1/3 of the US population, with similar proportions in several other countries. According to this source, they are also the most racially diverse group of consumers with only 52% identifying as non-Hispanic white (compared to 61% of millennials).
The buying power of this group is massive ($143 billion, 40% of all consumer spending) through a combination of their own earnings (estimates above suggest 50% of this generation will have a college degree) and their impact on their parents' buying behaviors (93% of parents say their Gen Z children impact their buying decisions according to the same source).
Gen Z is shaped by the context surrounding them during their formative years, just as it has for every other generation. Unlike their more self-centered older brothers and cousins in Gen Y (millennials), this generation grew up during a time of social reckonings, such as the Me, too movement, and economic fragility, such as the 2008 recession. This made them what McKinsey calls the truth generation who look to businesses they support to support their beliefs.
How Gen Z consumers shop online
A recent study of online shopping conducted by Tidio supports McKinsey's notion of Gen Z as the truth generation, uncovered aspects of the customer experience that impact purchase decisions (but that's a topic for another day). In conjunction with that research, they highlighted differences between the way Gen Z consumers shop and make decisions relative to other demographic groups.
Below, you can see major differences in the way new consumers (such as Gen Z) approach online shopping versus previous demographic groups.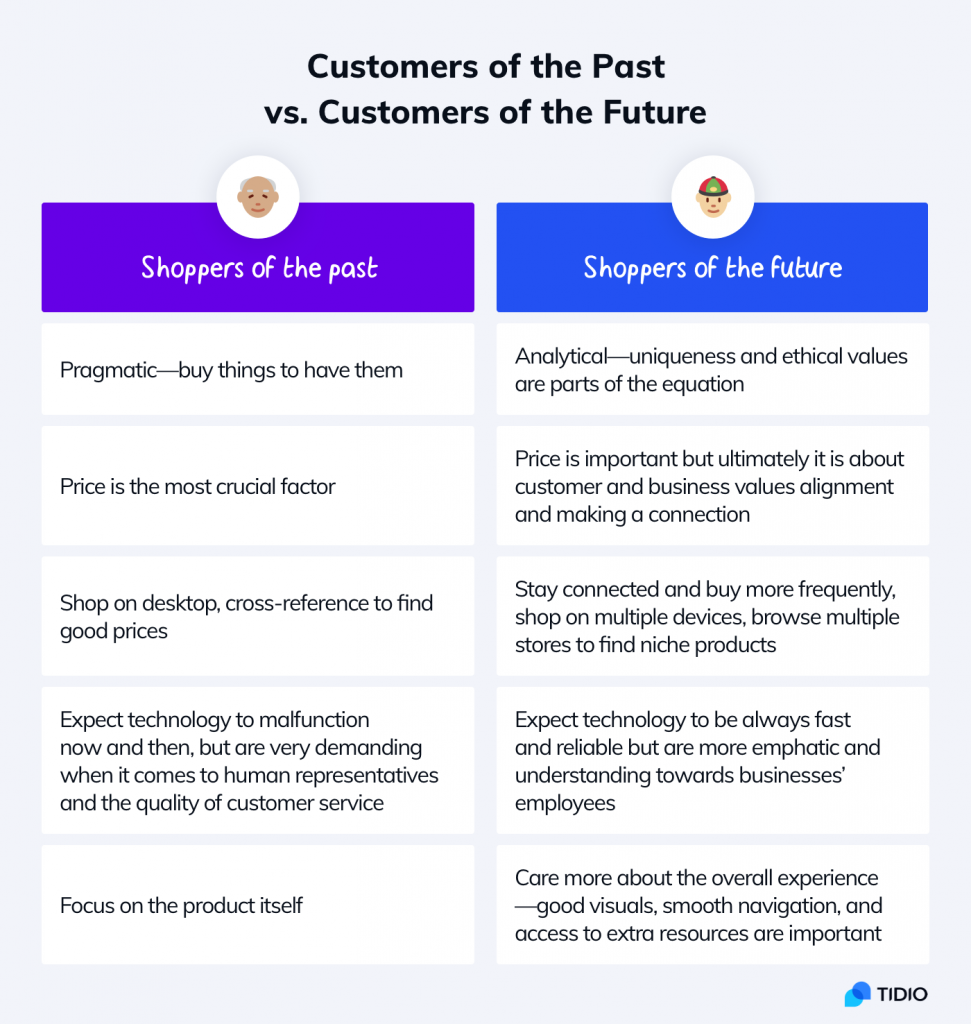 The propensity for Gen Z consumers to shop online
The pandemic resulted in consumers of all ages turning to online shopping to avoid potential exposure to the coronavirus that caused the deaths of millions of people around the world. In their study of 1000 online shoppers conducted in early 2021, Tidio found significant differences still existed in terms of propensity to shop online between Gen Z consumers and those from older generations, with 73% of women and 50% of male shoppers strongly agreeing they enjoy shopping online. Compare this with 60% of women and 43% of Gen Y consumers expressing the same sentiment; a number that dropped with each successive generation.
Impact of social and ethical values on purchase decisions
This graphic supports the earlier one and highlights the role of social values in determining purchase intentions not solely price. This impact of values on purchase decisions demands companies enact strong programs demonstrating their social responsibility and live their commitment to improving the world. Paying lip service to issues critical to consumers isn't enough and can even damage a company's reputation more than failing to communicate its values to prospective consumers.
These consumers crave value but they also want to purchase from companies they feel share their values when it comes to social issues and climate change. They support companies who practice sustainable marketing, operate workplaces with fair employment practices, and are truthful. They're not opposed to physical retailers, and even prefer small local businesses over big behemoths such as Amazon, even though they use Amazon at times for its value and convenience.


For instance, a small Texas bakery recently produced rainbow cookies to support Pride Month for the LGBTQ community. After posting an image of the heart-shaped cookies on their Facebook page along with a message of support for love, the backlash was immediate, as existing customers boycotted the bakery and orders for cookies already prepared were canceled.
However, soon a line stretched around the block with new consumers wanting to support the bakery's stand on something they considered an important value. The Facebook post that caused such an uproar garnered over 100,000 likes from around the globe. The bakery sold out of their entire inventory for 2 days in a row, including those prepared for the canceled order. It remains a question as to whether the bakery's existing customers will come back after some time and whether the bakery's new customers will remain loyal customers after Pride Month (in June).
While it's not clear if all those supporting the bakery were Gen Z consumers, the fact that it was a Facebook post about the cookies that generated both the backlash and support, supports the impact of Gen Z consumers in both the positive and negative reactions.
Multichannel users
Gen Z consumers also tend to use multiple channels to discover new products and build attitudes toward these products; often using multiple screens simultaneously (an average of 5 according to the graphic above). Below, you can see the democratization of communication prevalent among Gen Z consumers, evincing the impact of social media in learning about brands and their products. In fact, Gen Z consumers show a preference for phone, social media, and instant messaging that exceeds that of the older generations.

Gen Z are digital natives
In the graphic below, you see that Gen Z is constantly plugged into devices and they're experts on getting information from them. They're addicted to their screens, although that isn't necessarily a bad thing. They also like social media, just not the kinds liked by their older cousins.



Gen Z is on YouTube, Instagram, and TikTok, as they really love visual information as opposed to text-based social platforms such as Twitter and Facebook (to an extent). They also avoid Facebook as that's where their parents and grandparents hang out and they value privacy over many other values.
With this social connectivity, they consume massive amounts of UGC (user-generated content), so you can't bamboozle them into believing you share their values unless you are authentic and live those values. A misstep by a brand quickly generates negative posts and reviews, which these consumers use extensively in making purchase decisions. Brands must be authentic and truly care about social and climate issues.
Gen Zers are likely to use social media to learn about products and to form opinions as to their value and suitability as a tool for expression. They follow brands that give meaning to their values as well as use communication that appeals to their unique nature.
Uniqueness over value
Gen Zers want unique experiences and products that allow them to portray the uniqueness they feel or something tailored to their interests. While value is important, Gen Zers are willing to accept lower quality items to save money for spending on items that reflect this uniqueness.
Need marketing help to support business growth?
We welcome the opportunity to show you how we can make your marketing SIZZLE with our data-driven, results-oriented marketing strategies.  Sign up for our FREE newsletter, get our FREE guide to creating an awesome website, or contact us for more information on hiring us.
Hausman and Associates, the publisher of MKT Maven, is a full-service marketing agency operating at the intersection of marketing and digital media. Check out our full range of services.