I know this sounds like a scam, but I really am looking for small and mid-sized businesses that want free digital marketing consulting. I teach a series of classes in our Graduate Digital Marketing Certificate program offered by Shenandoah University, a small, private university located in Winchester, VA, about 20 miles from the Northern Virginia tech corridor.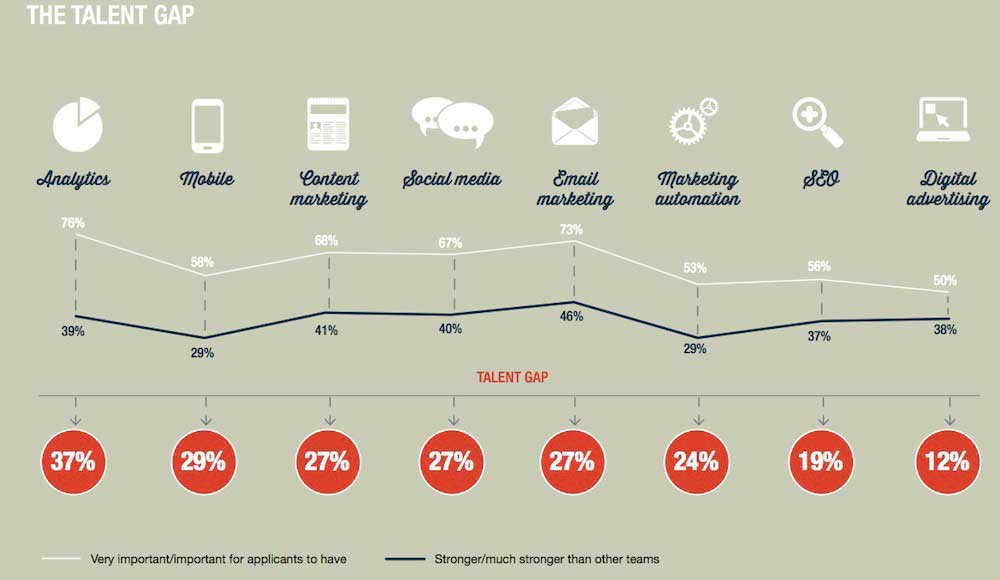 Notice in the image above, the tremendous skills gap between the need for skills among corporations and the number of folks trained in those skills. Our Certificate program helps overcome this gap by producing highly trained students certified in key areas of digital marketing, including:
web design and landing pages
attracting and nurturing leads
digital advertising
digital analytics
social media marketing
content marketing
email marketing
SEO
Student teams work with "clients" over the course of 2 semesters, 4 courses, as a learning tool for our hands-on approach to digital marketing. We hope to generate enough clients for all students enrolled in the program, with 2 full cohorts every year. That means I need approximately 10 clients interested in participating in the program each year. As part of the free digital marketing consulting projects, clients receive:
A comprehensive digital marketing strategic plan
A social media marketing strategy, including a social media calendar and proposed budget
Analysis of existing digital marketing efforts through Google Analytics and analytics on social platforms used
As part of the courses, students receive certifications in Hubspot Inbound Marketing, Google Analytics, Google Ads, and Google Ads Analytics to help them achieve the client's goals using current best practices.
In the last course of the sequence, students work with their clients to implement strategies recommended across earlier courses, as well as those suggested through the analysis of your performance in digital. Clients are responsible for all hard costs involved in implementing strategies, such as purchasing images, software, or advertising. Otherwise, this is truly free digital marketing consulting with an estimated value of $10,000.
Clients must recognize that their participation is primarily a learning tool for the students and their focus is on meeting my expectations. If you desire any digital marketing elements beyond those provided in this free digital marketing consulting, you may contract with students independently. For instance, the following are NOT a part of the free digital marketing consulting:
A website or landing pages. Although students will design these elements based on best practices they are not trained to code your website or landing pages. You'll receive static landing pages and websites as clickable slides.
Digital advertising unless you agree to pay all costs for this advertising.
Videos or other specialized visual elements beyond those required for the courses.
Clients must fill out the application form and agree to the following:
Students choose their clients and not all applicants will be chosen for this consulting project. If desired, you may remain in the client pool for the next cohort of students
To provide students with requested information and feedback in a timely manner
Pay all hard costs incurred
Provide students with administrative access to your Google Analytics and, for the last class, access to your social media. In return, students will provide posts for approval via a paid Hootsuite account to ensure consistent messaging and fresh content (approx cost $29/ month) or other social media automation tool
A review of the team at the end of the free digital marketing consulting program
Public recognition of your participating in marketing for Shenandoah University including the website, PR, and brochures
If this sounds like an exciting opportunity for your business, please consider applying now. If you have questions, feel free to reach out to me at ahausman@su.edu.
Need professional marketing help to support your business growth?
We welcome the opportunity to show you how we can make your marketing SIZZLE with our data-driven, results-oriented marketing strategies.  Sign up for our FREE newsletter, get our FREE guide to creating an awesome website, or contact us for more information on hiring us.
Hausman and Associates, the publisher of MKT Maven, is a full-service marketing agency operating at the intersection of marketing and digital media. Check out our full range of services.