FMCG, also called consumer packaged goods, is a sector overflowing with products that often face hyper-competition that makes marketing them especially difficult. Not only that, but many FMCG products earn low customer loyalty that results in brand switching. Thus, brands competing in these markets require FMCG digital marketing designed to build customer loyalty and break through the clutter that interferes with gaining awareness and conversion.
In this era of digitalization, consumer buying habits with search replacing advertising as the most efficient means to impact consumer decision making, as you can see below. In such a competitive situation, digital marketing can make all the difference when done right but there's no room for the slightest misstep.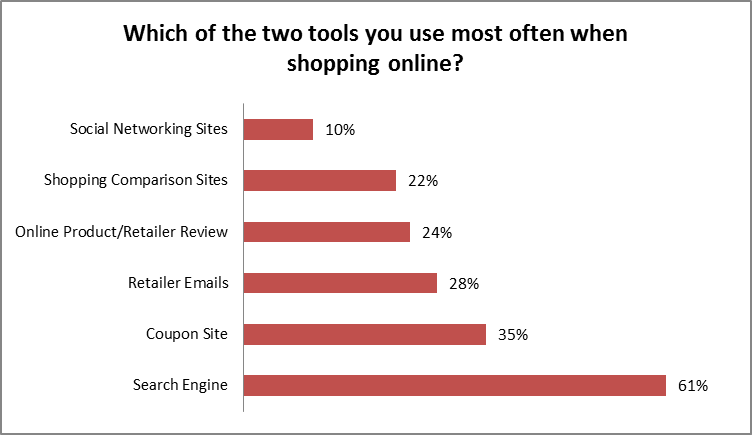 Purchase decisions are now taken on the basis of different factors. Thus, marketing strategies for FMCG brands also need to evolve in these changing times. This switch was a consequence of the consumers building a stronger connection with their digital devices including laptops and phones rather than televisions or billboards. Also, with an increasing number of 'influencers' in the digital space, their impact on buying decisions determines purchase intentions, especially for beauty and hygiene products.
Times are changing, so should your marketing strategy place increased emphasis on digital?
Reasons to invest in FMCG digital marketing
If still not convinced you should invest time in finding digital agencies that offer SEO services, social media marketing, and influencer marketing, or why you should try out digital marketing by yourself, let me give you a few reasons.
Improved ROI
Let's start by talking about money. When you invest your time, effort, and money into digital marketing, you generate a higher ROI, in part because digital strategies produce higher conversion without costing much, as you can see below.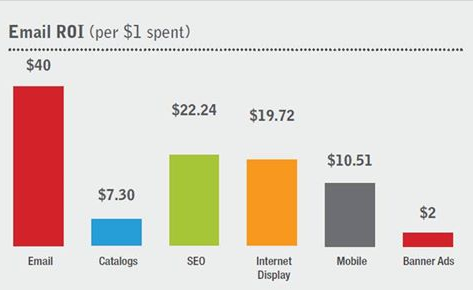 In part, higher ROI comes from selectivity available through digital marketing that allows you to reach only your target market, rather than wasting money getting your message to a ton of people who could care less about buying your brand. In part, the higher ROI comes from analytics available when using digital marketing. Traditionally, getting this information was next to impossible. Not anymore.
These analytics guide decisions and help optimize your performance. From how much money you spend to generate a lead to who's talking about your brand, from gender compositions of buyers to finding the best websites to get yourself a backlink (using tools like a free backlink checker), you have a wealth of data at your fingertips.
Outshine the crowd
The FMCG industry is filled to the brim with a variety of products with new products launching every day. So, competition is fierce and you need an edge. Social proof in the form of reviews, social shares, and sales volume offer just the edge you need. With the right digital marketing strategies, gathering this social proof becomes less complex and difficult.
We've always relied on social proof to encourage others to buy. That's why McDonald's posted how many hamburgers they'd sold right there on their sign until the brand became a household name. Referrals work today as well, but like every other strategy, there's a transformation in gaining social proof. Today, influencers act as a medium for referrals instead of celebrities in slick ads. Influencer marketing is nothing less than a mass referral program relying on the massive network connections of influencers to generate sales.
This is just one of the many ways you can outshine other brands in your FMCG digital marketing.
Future proof your brand
Smartphones are taking over and have no signs of stopping. When you plan your FMCG digital marketing campaign, ensure your mobile marketing efforts enhance sales.
With the speed with which mobile phones and Internet usage expands across the globe, the day is not far when online shopping replaces much of your offline sales. The pandemic escalated this change, as you can see in the graphic below. The rest of the world experienced a similar uptick in e-commerce sales.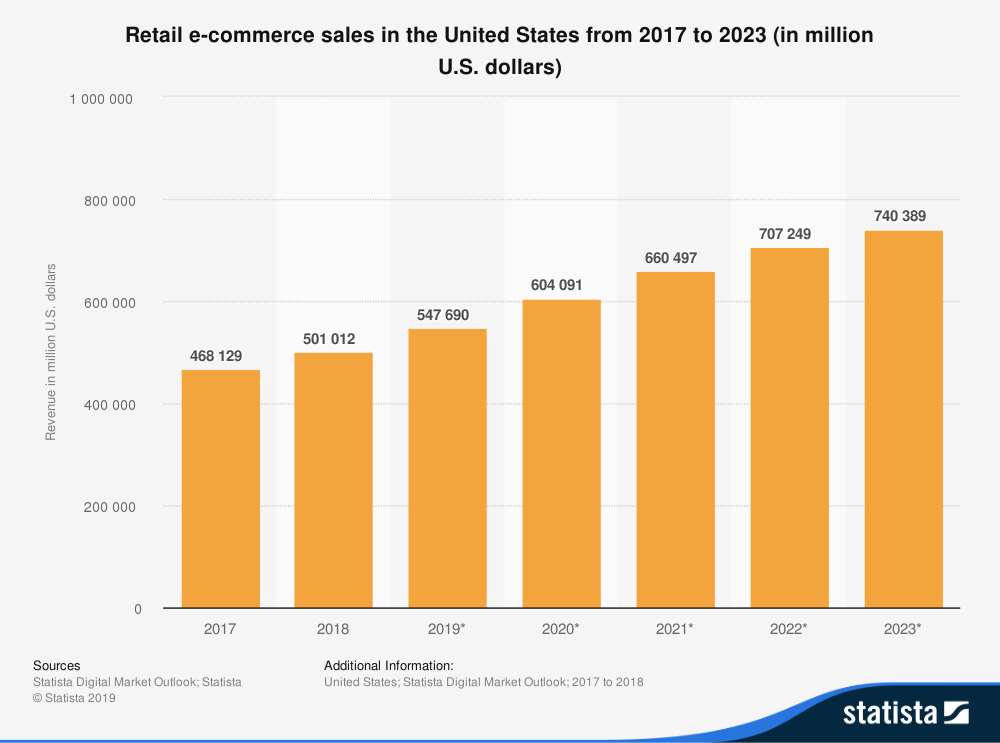 Innovative ways to represent your brand
Traditionally, FMCG brands focused on creating packaging with visually appealing designs and colors. Now, in the digital world, your strategies must approach FMCG digital marketing with a similar mindset, just replacing physical shelves with virtual ones. Human beings are attracted to well-crafted designs and striking color combinations and digital marketing leverage exactly that. In fact, with digital marketing, you can easily target a specific group of people by choosing colors and designs that appeal to their specific tastes.
Now, digital marketing offers a continuous and ongoing process whereby brands find innovative ways to interact with their audience, build relationships, and focus on creating a loyal customer base by helping your target marketing find your products with targeted messaging across digital platforms and search engines.
You can use paid ads to gain visibility through searches that capitalize on an immediate need reflected in a search query.
From positioning your products to integrating your brand identity, you can do it all by controlling your website and the communications shared on social media.
Offers brand transparency 
FMCG digital marketing offers brand transparency that's especially important to younger buyers who want to support brands that share their values. Customers want to see more than a brand's logo or products or discounts. They want to see what you stand for and view how you support their goals with action, not just words.
They want to see the faces behind the wonderful products. You can humanize your brand and be more transparent with your customers in digital spaces than in traditional marketing. For instance, you can share brand stories, behind-the-scenes, and maybe interviews with people behind the brand, which makes you more credible and engenders trust.
Now that we know digital marketing is a great source of generating leads, let's discuss strategies common in FMCG digital marketing.
Best strategies for FMCG digital marketing 
Before we go ahead, please note, when it comes to strategizing, not every approach works for everyone. It is best to create a detailed marketing plan then monitor results to figure out which strategies work the best for your particular brand.
Build a website 
A website is your entry into the world of digital. It is this website that will help you outrank your competitors. In the digital marketing world, a website is considered a virtual salesperson. This means you must create a website that's easy to navigate, mobile-friendly, and contains landing pages that seamlessly draw visitors down the funnel toward conversion.
There are a plethora of websites on the web today, so getting found is challenging. You need to keep the user experience in mind when designing your website. Placement of your content, information architecture, color, themes, photos, speed of your website, and other such factors are critical to success.
Also, make sure you start your website on an e-commerce platform so you can easily sell products online.
But you should also use marketplaces and other apps to promote your products. Consider selling through eBay, Amazon, or even on Facebook to increase opportunities to find customers. The omnichannel approach is the best approach to optimizing sales.
Research your target audience 
The best thing about digital marketing is you can target a particular set of individuals; your target market.
In order to increase sales, you must figure out who your target audience is, what they want, where they hang out online, their hot buttons, understand their shopping patterns, past purchase decisions, their likes and dislikes, tastes, and preferences.
AIn the end, your research generates a persona for each target group within your target market, such as the one below. Then, use this information to generate communication designed to engage this persona.
Leverage customer-centric content marketing 
Creating valuable content on a consistent basis is a key strategy to include in your FMCG digital marketing because it both supports SEO and helps convince visitors to trust you, buy your products, and recommend your brands. If you publish phenomenal content, it helps you stand out in this overly saturated FMCG market.
Keep up with the trends in consumer markets and be unique. Be more creative with the content you put out. Your content should contain a mix of product-based and audience-based stories. Many experts recommend an 80/20 split with only 20% of your content focused on your brand and 80% focused on providing value to your audience.
Use different platforms according to where your audience interacts online and share innovative, well-planned content. Also,  use only high-quality photos, expert writing, and keep SEO in mind to create content that shows up high in search results.
Make video marketing a priority 
Videos that are well-crafted have the capability to grab the attention of the audience like no other form of content. Video marketing, especially for the FMCG brands, is a great strategy as it educates and entertains your target market. With videos, you expand your horizon to include how to use, more uses, behind the scenes, and even a founder's interview in your marketing strategy.
You can use platforms like YouTube and TikTok to include video marketing in your strategy. If you have a budget, consider a professional service but you can shoot acceptable videos with an iPhone, a ring light, and a directional mic without much trouble since the standards for online video don't require cinema quality.
Ensure an appealing social presence 
Social media in today's world is non-negotiable. You need an appealing social media presence as a way to reach your target audience in a way that drives visits and encourages sales. Today, approximately 3.96 billion people use social media globally. The exact combination of social platforms you choose depends on your target market and I've included a graphic to help guide your choice.
Once you have platforms in place, it is time to create a calendar to ensure you produce fresh content for each platform. Social media channels run on visual appeal. If you add poor-quality photos or unimpressive graphics, you won't attract attention.
Your content buckets/topics for social media marketing of your FMCG brands could include:
Different uses of your product
Content generated by your users
Behind the scenes
Giveaways/contest
Customer reviews
Live sessions
Bite-sized videos
Interactive stories
Influencer collaborations
These are just a few of the many content buckets that you can create for your social media marketing. Just make sure you are using good quality photos and videos – both in terms of pixels and appeal. Poor quality photos will push your potential customers away.
Use influencer marketing 
Your consumers have people they look up to and that's precisely the basis of influencer marketing. We call these micro-celebrities because they don't have the extensive appeal of true celebrities but often have a large, loyal following that takes their recommendations into account.
These influencers often choose a niche and work towards establishing themselves as authoritative figures in that niche. It's best to choose influencers that pertain to your industry. For instance, if you are selling a protein bar, it's best to choose a mix of healthy food promoters and fitness influencers. This way, you'll expand your audience and become discoverable for those who follow these influencers.
Apart from the industry, also make it a point to see the influencer's engagement rate, since a high engagement rate is much more important than a larger number of followers. There are also several unethical practices that a few influencers perform. Laws in most developed countries require disclosure by influencers of their relationship with a brand, so ensure they include required statements.
Once you have influencers selected, monitor their performance and eliminate low-performing influencers or ones that misrepresent your brand. Influencer marketing requires a budget since influencers require a fee or free product.
Don't forget email marketing 
E-mail marketing is perhaps the most cost-effective way to generate leads, as you might recall from the graphic above. Traditionally, emails were used to send mass emails related to general offers and messages to customers and prospects. But now, things are different, requiring segmenting your subscriber list and sending targeted emails to subgroups.
Often called drip marketing, these targeted campaigns work toward conversion by reaching out to groups of subscribers based on past behaviors and purchases. This process makes email marketing more effective as you can now send action-triggered emails and also make communication better. You can use this form of marketing to build relationships and guide customers in their decision-making journey.
For instance, most brands use email marketing to retarget customers who purchased in the past or visitors who left a product in their shopping cart.
Keep engaging with your audience 
In the golden days, advertisements for brands were one-way. Televisions, radios, and newspapers didn't allow the brands to interact with the audience and vice versa.
Now, with digital marketing taking over, brands have all the freedom, tools, and space to engage and two-way communications with your audience in real-time. This helps build meaningful relationships and allows brands like yours to work on strategies to enhance brand loyalty.
You can use digital marketing to have a constant presence in the lives of your consumers and increase your recall value. You can also use Chatbots and social media DMs to answer queries or solve issues.
Promote user-generated content 
In this world of social media, individuals are often seen sharing bits of their lives on different platforms. Sometimes, this user-generated content supports your brand. For instance, a TikTok user posted his commute to work via skateboard while enjoying his favorite beverage.. The brand, in recognition of his efforts to promote their brand, gave him a truck to replace the skateboard and a year's supply of the beverage, thus gaining media coverage.
Many brands saw the opportunity and leveraged user-generated content (UGC) strategies, recognizing that consumers tend to trust others much more than brand messages.
Don't wait for UGC to occur organically. Let's take Instagram as our example of sourcing UGC. You can ask your users to share photos of them using your product on their Instagram profiles. Request them to tag your brand profile on their stories or posts to reach new markets. You might even offer a reward or host a contest to encourage UGC.
You can then repost UGC on your profiles and make your brand look more authentic as well as credible. UGC is a great way to gain the trust of your consumers.
Conclusion 
To conclude, marketing tactics and strategies for FMCG brands have definitely evolved. Today, advertising is not a one-way interaction. With digital marketing practices, you can now engage with your audience to build relationships, enhance brand loyalty, or merely solve queries in real-time.
Social media marketing and drip marketing offer great potential for brands. It is these two segments that help you bring social proof and allow you to become a constant part of your user's lives, respectively. And you need both of these to actually be able to outshine plenty of others in the market.
It's time to pull up your socks and gear up for the digitally-powered future if you wish to outrank your competition.
Need marketing help to support business growth?
We welcome the opportunity to show you how we can make your marketing SIZZLE with our data-driven, results-oriented marketing strategies.  Sign up for our FREE newsletter, get our FREE guide to creating an awesome website, or contact us for more information on hiring us.
Hausman and Associates, the publisher of MKT Maven, is a full-service marketing agency operating at the intersection of marketing and digital media. Check out our full range of services.