Facebook marketing is essential in a world where one-quarter of the world's population uses the app EVERY DAY. That's especially true if your target market includes consumers under the age of 44 or men of any age. As you can see in the graphic below, these are the heavy users of Facebook in a worldwide study as of 2020. However, users 65+ are the fastest growing demographic on the platform, so these numbers will likely change over time. The average adult in the US spends 34 minutes a day on Facebook.
Social media has revolutionized marketing and businesses in the last decade. From Facebook, Instagram, and Twitter, numerous social media platforms are entering space daily. Social media is helping companies to connect to their potential global audience with a single post.  Businesses now market their products and services across various social media platforms, and Facebook tops the list with its massive 2.41 billion monthly active user base.
Facebook marketing is essential as it can help your company improve its brand awareness and chances of generating sales, as well. Here are reasons why Facebook marketing is essential for your business and can help take it to the next level:
Why Facebook marketing is essential
1.   Target the global market
According to Facebook's statistics for 2019, it is estimated that one-third of the entire world's population uses Facebook. Surprisingly, India leads the world in the number of users at 290 million. The US and Canada only make up 10% of Facebook's user base. Companies can easily create their Facebook page to establish an international digital presence. This makes their products accessible to a vast target audience and enables them to become more visible on the internet. Businesses can then use this broad audience for marketing their products through ads, groups, and pages.
The audience on Facebook is diverse and scattered across the globe. This is critical for your business, especially if you are in the growth or scalability phase. With e-commerce on the rise, you can market your products or services on Facebook through ads or discussion threads and sell them to a global market through a website. This will enable your business to play worldwide and expand faster than traditional methods. Below, you get a clearer picture of how Facebook stacks up against other social platforms as a tool to reach your market.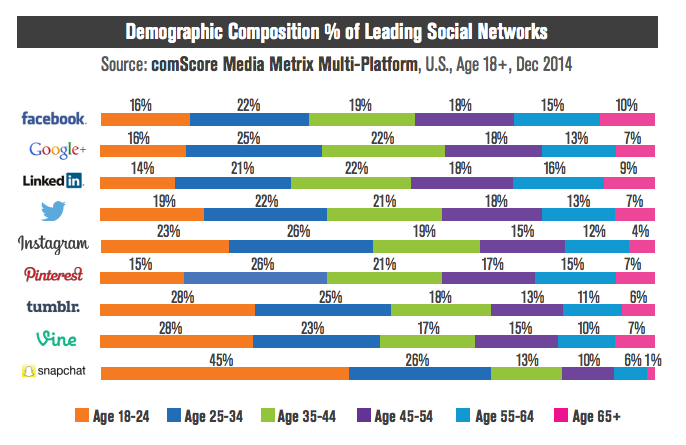 The Facebook algorithm is built to organically promote interaction between page owners and visitors. Facebook videos are a great way to maintain interaction with people and keep them hooked to your screen. There are around 500 million people who watch videos on Facebook every day, and this is a great way you can market your product. It is advisable to look at other businesses in your industry and get inspired by their content. You can also research marketing techniques to create videos for your Facebook account, which can then be used to interact more with segmented audiences through paid marketing.
2.   Reach potential customers only
It was also reported at the end of 2019 that over six million businesses, spending over $25 billion, were using their Facebook ads to create brand awareness among their target audiences.
One of the most helpful features of social media marketing is that it is targeted and specific. You use paid Facebook ads to help you target your potential market by segmenting users on age, interest, location, and gender demographics. If your business caters to younger demographics, you can create an audience of those under 35 in your paid Facebook ad campaign. Facebook also ensures that your ad is shown in your desired area and locality, which helps you generate leads and improve your brand awareness in your own area as well.
You can also employ look-alike audiences to find users who look like your existing customers or others who interacted with you, such as finding those who attended a live event or engaged with your content.
You can also re-target people who previously visited your website, as well, by installing the Facebook Pixel and using that as a targeting criterion in your ads. Combined with other targeting criteria, this ensures lower cost-per-click (CPC) and higher click-through rates (CTR), as well as generating higher conversion rates when retargeting.
3.   Improve brand loyalty
Facebook enables quick interaction among potential customers and businesses. This improves a company's brand image, especially when users generate content supporting the brand.
Engagement is the name of the game in Facebook marketing as well as for success on other social platforms. By encouraging engagement on Facebook (likes, shares, and comments) you extend the reach of your content to engaged users' networks as well as lend credibility and trustworthiness to your brand based on these upvotes. This increased scope of interaction improves brand loyalty and gives you a platform to make your audience feel that your business cares for their concerns. Customers that feel satisfied with your response time and feel your care about them, will leave a review on your page that improves your brand image and attracts more consumers.
4.   Increased web traffic
You can share the link to your main website, your landing pages, or your e-store (such as on 3rd party retailers like Amazon) on your Facebook pages and posts. This helps guide your viewers to your product and compels them to purchase. A Facebook user is more likely to land your website through your ad, however, than organic posts as the Facebook algorithm limits who sees organic posts. Users who follow you on your Facebook page also get the updates that post on your page, which can help you generate even more traffic. For all this to happen, it is essential to add all your business details to your Facebook page, including your logo, website, and telephone number.
Google uses a complex algorithm to rank your website, which potentially sends even more traffic to your website. As of a few years ago, engagement on social media like Facebook is a major ranking factor.
5.   Measure the effectiveness
A significant benefit of Facebook marketing is that you gain valuable information about your business and competitors. Your page provides basic information such as reach and engagement, while advertising provides more nuanced information such as CTR and CPC. Following clicks from Facebook through the customer journey on your website also provides valuable information, especially when you add a tracking code to your URL to identify individual Facebook marketing efforts.
Using Facebook to understand your target market more deeply helps you craft messages that resonate and motivate them toward purchase. You can also learn more about your competition, attitudes toward your competitors, and how you rank against them, ie. users' notions of the pros and cons of each brand. You can easily compare data from two consecutive years against each other to understand what the progression has been like for your marketing efforts.
The need for marketing experts
If you are new to Facebook marketing campaigns, you'll find Facebook advertisements tricky: the Ads Manager is a world of its own. In such a case, hiring a Facebook marketing expert can really help as they are experts in the field of helping brands get their products recognized on social media platforms. They have years of experience and have already worked with numerous businesses in the same or different industries.
Facebook marketing experts can create a marketing strategy for you that can help cater to the unique needs of your business. It is also advisable to conduct an extensive search online or in your locality to find the best marketers with experience and expertise in Facebook ads and successful cases of creating profitable marketing campaigns for their previous clients.
Endnote
Facebook marketing is essential as it is a platform that started with the aim to help people connect better with their loved ones, but it makes a great marketing medium for struggling businesses. Facebook ads are particular and already segmented to your need, and hence they reduce your workload related to market segmentation. Facebook is also ideal for a business to improve its brand identity and increase its overall reach as the user base is almost one-third of the world.
Marketing on this platform will help you generate traffic for your website and improve your business. You can swiftly broaden your reach through paid marketing and advertisements on Facebook. The analytics of Facebook advertisements will also help you evaluate your campaigns against your pre-set marketing goals and derive valuable data for your business. Hire an expert today and get your promotions rolling out.
Need marketing help to support business growth?
We welcome the opportunity to show you how we can make your marketing SIZZLE with our data-driven, results-oriented marketing strategies.  Sign up for our FREE newsletter, get our FREE guide to creating an awesome website, or contact us for more information on hiring us.
Hausman and Associates, the publisher of MKT Maven, is a full-service marketing agency operating at the intersection of marketing and digital media. Check out our full range of services.