Branching out on your own is often a daunting process, especially if you've never worked for yourself before. Building your own business of often one of the best things you can do as it comes with a range of benefits from a sense of control over your destiny to the financial rewards that come with business ownership. That's why we started a series of posts on this blog that revolve around startup advice called Entrepreneurship 101.
However, starting a business from scratch is a challenging process and the failure rate for startups is high, as you can see below. The top reason for failure, accounting for nearly half of all startup failures, comes from choosing the wrong product (goods or services) where no need exists. Face it, consumers buy solutions to their problems. If you want to sell them something, you must solve a problem that:
Represents a serious challenge
Is a problem for a large enough number of consumers to sustain your business
Your solution is at least as good or better than other available solutions in the minds of consumers
You can communicate the benefits of to consumers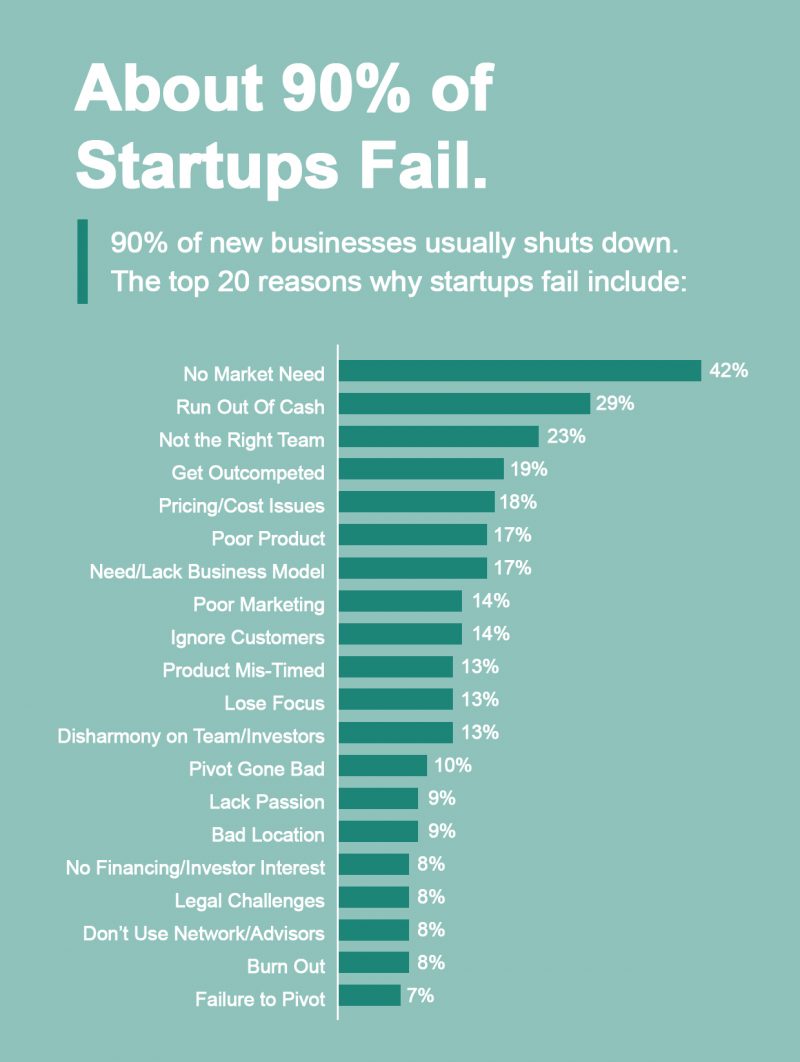 Hence, while experts (mostly real estate folks with a direct benefit from this strategy) advocate for location, location, location as the top 3 ingredients for startup success, real data on Entrepreneurship 101 shows that a bad location only accounts for about 9% of failures and is well down on the list of why startups fail.
If you look at the top reasons for startup failure based on real data, you see why many people prefer to buy an established franchise rather than start a business from scratch. Buying a franchise gives you the freedom of being your own boss with less risk, as the business models for these ventures show a proven success rate for the franchisor and other franchisees. In this guide, we'll cover why working for yourself is often the best thing you can do and why you should consider a franchise.
Entrepreneurship 101
In other posts within this category, we shared tons of valuable information to help you get your new business started, including issues of financing, legal requirements, and planning. This is a topic near and dear to my heart ever since I worked for the US SBA (Small Business Administration) when I finished my MBA (the University of Pittsburgh, which has a strong entrepreneurial bent to their program). However, most of that content assumes you're starting a business from scratch. In this post, I'll consider another option that's increasingly popular: buying a franchise.
Pros of buying a franchise
Doing your research, you'll find a number of good reasons for buying into a franchise. Below, we list a few of them.
Independent, but not alone
You are an independent business owner when you buy a franchise, but you're not alone. The franchisor is always available to provide support when you need it and offer expert advice on how to handle more challenging aspects of the business. This support helps you to grow the franchise into a successful business that offers a better chance of helping you achieve your goals.
For instance, buying into a McDonald's franchise comes with a host of instructions, including metrics that help you plan your business and solutions to common business problems. You can also reach out to a number of local or regional franchise owners to get their advice if you face a problem.
Training provided
There are many skills you need to succeed in Entrepreneurship 101 and, acquiring those skills is time-consuming as well as representing skills where you have no natural ability. For instance, math is challenging for many folks so learning accounting may not only require years but may represent a serious problem if you don't have all the basic math skills that underpin accounting.  Buying into a franchise, you don't need to have experience running or managing a business to become your own boss. Franchisors provide extensive training, which helps you get up to speed on how to run the business successfully.
Returning to our example of McDonald's, in addition to extensive training manuals, they operate Hamburger University, where franchisees and their managers gain on-the-job training at their restaurant facility. Here, managers participate in learning every aspect of running the franchise to increase the chances of success.
As well as training for you as the business owner, you may also have access to resources for your employees to help them work to the best of their abilities to improve productivity and how smoothly the enterprise operates.
Immediate brand recognition
A significant advantage of choosing a franchise over starting your own company is the years of work to build the brand and establish a positive brand image were done for you through many years of advertising and producing a quality product. The franchisor controls these branding elements by assessing a promotional component of the franchise fee for national advertising and setting minimum standards for input to ensure product quality.
Again, in our McDonald's franchise, rules govern the meat, buns, fries, etc to ensure customers receive a very similar product regardless of which store they visit. The franchisor also sets standards for the restaurants from color schemes to seating to cleanliness. Failure to maintain the restaurant or food quality results in losing your franchise.
Your target audience already knows your business, which means you have a ready-made market for your products.
Exit strategy
Owning your own business doesn't often come with an exit strategy. Whether you want to retire and don't have a family member who wants to continue the business or you just want to invest in a different opportunity, getting out of your small business isn't easy. Finding a new buyer is hard work.
In contrast, selling your franchise, especially for a well-established franchise with a strong track record of success, is easy. Many franchisors have a list of folks waiting to buy in and you can easily find someone to buy your business.
Cons of owning a franchise
Cost
Buying into a franchise is a very expensive proposition for any franchise worth owning. You're paying for the years involved in perfecting the business model and millions of dollars spent over time on advertising. There's also the issue of supply and demand that might increase costs in franchises that limit the number of new stores they franchise each year.
In addition to the cost of buying the franchise and building out your operation to meet the franchisor's requirements, you have a yearly cost that's often a percentage of your sales.
Poor management
Sometimes you find the franchisor loses interest in maintaining the franchise chain or doesn't effectively control the actions of individual franchise owners resulting in declining consumer attitudes toward the brand. In such cases, it's inevitable that your profits decline over time. At some point, you may consider resigning your franchise affiliation. You own the building and its contents so operating under another name is always an option in this case.
Working for the SBA, I ran into this situation with a client. She bought into a franchise then discovered the franchisor no longer cared to support the brand with advertising or updated management practices. She basically lost her initial buy-in to the franchise chain.
Choosing a franchise
That's why choosing a franchise is such an important decision for those wanting a shortcut to owning their own business. Spend significant effort researching various franchise options and be sure to ask current franchisees about their experience. Find your own franchisees to interview rather than stop with those recommended by the franchisor.
Consider the type of industry you want to work in and which companies represent a good fit for you. If you already have experience in a specific industry and want to continue your career as a business owner in the same field, finding the ideal franchise is much more straightforward. However, you may want to explore your options or need some inspiration to find the perfect venture, which is where Franchise Local comes in. Franchise Local has an extensive catalog of franchises that are currently on the market and ready to buy, but you can also use the resources to get expert advice to help you find the business that would be perfect for you, including whether you want to part-time or full-time and how long you want to commit to running the business.
Conclusion
Owning a franchise isn't for everyone. We laid out the pros and cons in this post to help you determine whether buying a franchise is right for you. Reading between the lines, you see that owning a franchise offers some benefits but they come at the cost of your financial commitment plus the loss of control represented by the rules imposed by franchisors. The ball is now in your court with this installment of Entrepreneurship 101.
Need marketing help to support business growth?
We welcome the opportunity to show you how we can make your marketing SIZZLE with our data-driven, results-oriented marketing strategies.  Sign up for our FREE newsletter, get our FREE guide to creating an awesome website, or contact us for more information on hiring us.
Hausman and Associates, the publisher of MKT Maven, is a full-service marketing agency operating at the intersection of marketing and digital media. Check out our full range of services.