Entering new markets is risky, especially when compared with other expansion opportunities like market penetration or market development. If you look at the Ansoff Matrix below, you see 4 opportunities for expansion: market penetration, market development, product development, and diversification. In today's post, I'll discuss a specific type of new market: live-streaming apps.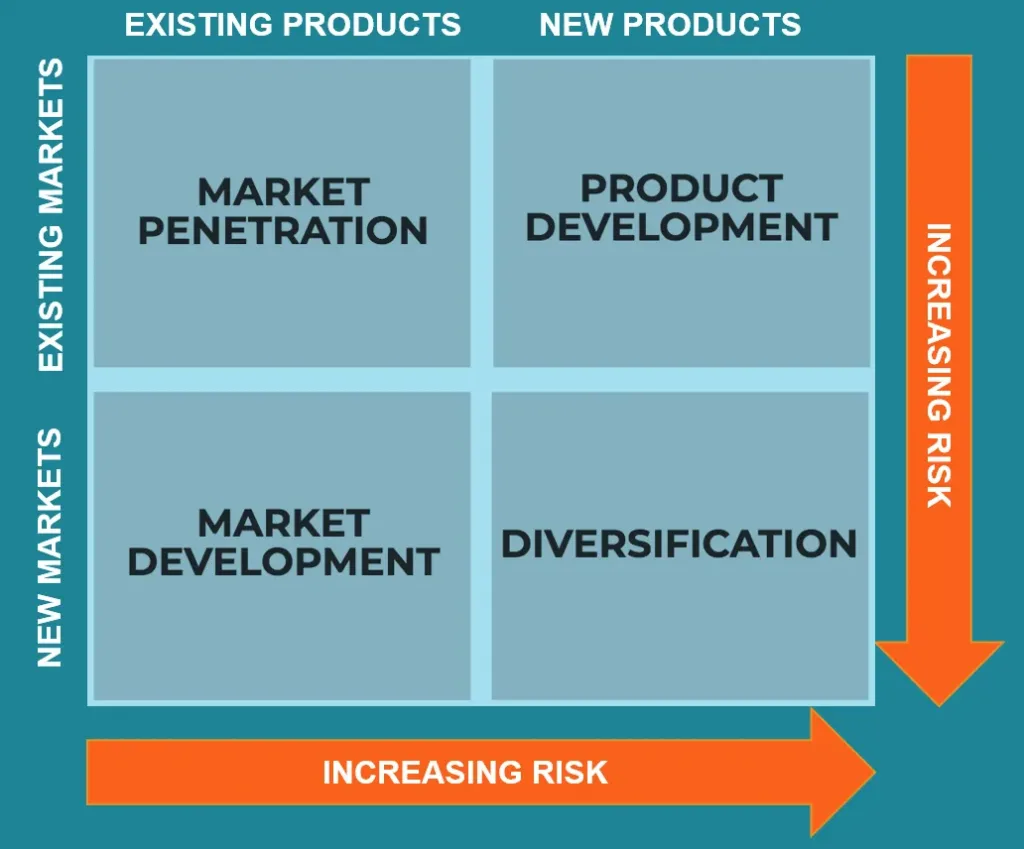 Look around you to see what your friends are doing with their smartphones, tablets, phablets, PCs, and even desktop computers. It shouldn't take you long to discover at least one of them is watching an online video, listening to a podcast, or connected to a live streaming service for news, entertainment, or just as a way to pass the time. What started several decades ago as an attempt to make audio-visual files function in an online environment eventually culminated in a multibillion-dollar streaming app development and services market led by firms such as Netflix. Their efforts spawned a host of other streaming services to the point where now most traditional TV stations now offer a premium streaming service such as ESPN+ and Paramount+.
According to analysts, the global live streaming app development market is projected to accelerate to up to $223.98 billion by 2028. This growth is because more and more investors, including traditional media channels, recognize the potential revenue from streaming due to the rapid increase in consumption of live video media. You can follow our simple steps to streaming application development.
Entering new markets
There are two ways used for entering new markets. The first, and less risky option, is to take existing products and market them to a new customer group. For instance, you can take a traditionally female product, such as skin care products, and market them to men under the notion that men have skin that works pretty much the same as women's skin. Or, you might take a domestic product and introduce it to a global marketplace.
The second type of new market involves marketing a new product to your existing marketplace. And, that's the topic for today's conversation. I'm using the example of entering new markets by looking at live-streaming apps and their development.
Research
Part of what makes entering a new product market risky is it relies heavily on research and projections versus using existing data to support forecasts. By its very nature, research involves uncertainty.
Not only must you research consumer attitudes about a new product, but you must also understand competitors and market factors operating in this new product market.
Impact on operations
Sometimes you're lucky enough to find a new product market that relies on your existing assets, including skills existing in your staff, capital equipment, and supply chains. More often, you must develop the assets necessary for success in the new product market. In the case of live streaming app development, you must extend any coding experience to include developing apps for mobile. You also need experience with project management to ensure your project progresses as seamlessly as possible, with everyone working efficiently to meet milestones.
Customers
Of course, if you decide to target a totally different market than the market targeted by your existing products, termed diversification, your risk increases substantially. However, so does the opportunity.
Live streaming app development
To make a live video streaming app and get it done right with minimal start-up errors, you need to possess specific knowledge and design knowledge to build a product that provides a superior user experience. You must translate your idea into a planning sheet or interpretable information by an average human being who speaks your language. This article explores live streaming app development and considers the cost, features obtainable, and opportunities available in this industry.
The appeal of live streaming over on-demand services is interactivity and engagement. Instead of simply watching a movie or other type of broadcast, live streaming involves the viewer in the action by encouraging them to post comments, send requests, or even determine the progression of the live stream. For instance, you can make your live stream interactive by allowing viewers to determine what happens next. Live streaming also benefits from real-time data used to improve performance.
Types of live-streaming apps
We'll start with the basics. Live streaming involves a live broadcast of certain content available for viewing on the internet in real-time or a rebroadcast on demand for visual and audio content from the live stream. Live streaming is one of the best and most efficient ways to keep your audience updated on your event, as you're broadcasting the event while physically present at the venue as the event unfolds. For instance, Facebook has a live stream option allowing users to host events such as launch parties as well as schedule watch parties for their favorite shows. By recording the live stream, you gain additional viewers, although you lose the interactivity and engagement present in the live stream.
People who initiate and broadcast the live stream are called streamers, and they use the following different types of applications;
Live Broadcasting Apps – This is one of the most popular types of streaming media. Broadcasting apps allow you to watch video content in real-time mode. Each broadcast is recorded and broadcasted live simultaneously. You can build a live streaming app like Periscope, Instagram Live, or Facebook Live that broadcasts video content desired by the creators and the consumers. The most popular of these apps is Youtube Live.
Audio Streaming – This is simply the ability of an end-user or consumer to listen to audio, usually music, without downloading it. The most popular apps in the business are Pandora, Spotify, Apple Music. Podcasters use live-streaming the same way video broadcasters do, although there's a heavy reliance on recording rather than live-streaming broadcasts.
Video on Demand Streaming (VOD) – This is by far the hottest cash cow of the streaming app industry at present. These apps make it possible for users to watch TV series and movies without downloading them on devices. Additionally, one feature makes these apps very lucrative; users pay for subscription services to access the content. The good news is that you, too, can start a movie streaming app and develop an app like Netflix. Other popular apps in the industry are Hulu, Apple TV, and Amazon Prime.
The cost of entering new markets in live stream app development
Building a live streaming app is not cheap, especially when you're talking about a live video streaming app. The cost also depends on the number and complexity of the features you want to provide and the targeted audience's size and location. The cost involved in putting the live streaming app together can start around $100,000, while other features that require integration into operating systems such as Windows, iOS, and Android can cost you north of $500,000.
Add to this the cost of marketing your app, since you can't gain subscribers when no one knows you exist. Here you must consider the cost of SEO, content marketing, and advertising as well as hiring an agency or staff to manage this function.
Business opportunities for new markets
Let's face it; you are not expanding into live stream app development so you can impress your friends better than you did last summer. Instead, you're putting so much effort and investing a substantial amount in the hope of generating income using various monetization strategies that apply to your type of live streaming app.
You can earn through a paid app strategy or offer the app for free but offer additional in-app purchases, something termed a freemium business model. In addition, you can opt for the commonest opportunity in the live streaming app industry, advertisement. Advertisements can take the form of banners or affiliate marketing programs.
Need marketing help to support business growth?
We welcome the opportunity to show you how we can make your marketing SIZZLE with our data-driven, results-oriented marketing strategies.  Sign up for our FREE newsletter, get our FREE guide to creating an awesome website, or contact us for more information on hiring us.
Hausman and Associates, the publisher of MKT Maven, is a full-service marketing agency operating at the intersection of marketing and digital media. Check out our full range of services.