Engaging customers and social media users not only helps spread your brand messaging to new users but engaged customers are more likely to create content favorable to your brand such as reviews and recommendations that encourage others to make a purchase. Below, you see a graphic depicting how this process of engaging customers works to encourage purchase behaviors. Thus, keeping your business's customers engaged is essential to maintain regular sales, brand reputation, and success. Yet, it is not always easy keeping customers engaged. There are a few essential tips that you should know on how to successfully maintain the attention of your customers.
Why engaging customers matters
First, let's define what we mean by customer engagement. Customer engagement is:
the emotional connection between a customer and a brand. Highly engaged customers buy more, promote more, and demonstrate more loyalty. Providing a high-quality customer experience is an important component in your customer engagement strategy.
Other definitions highlight the impact of personalized communication across channels preferred by customers that encompass the entire sales cycle. Taken together, these definitions provide a valuable notion of why and how engaging customers benefits an organization. An extension of this is customer engagement marketing, which focuses marketing tactics on building an emotional connection between customers and the brand.
According to research by Gartner, customer engagement delivers the following value to brands:
Boosts brand experience
Increases customer loyalty and trust
Provides valuable customer feedback and insight
Improves customer experience
Increases sales funnel velocity
Engaging customers
Engaging customers starts with determining which communication channels they prefer. Of course, the more information you have regarding customers, the more successful you are in engaging customers with your brand. Knowing which products interest a particular customer, prior purchases made, and specific demographic, geographic, and psychographic variables allow additional personalization going well beyond simply adding their name to an otherwise standard message, resulting in much higher success rates. According to Mckinsey in a post published in 2019:
Personalization will be the prime driver of marketing success within five years. Here are the capabilities companies need to develop to stay ahead of the curve.
So, the era of personalization is nearly here. Are you ready?
Let's look at some ways for engaging customers across various platforms.
Better messaging access
Offering better messaging access will ensure that your customers can get quicker responses. The longer you leave your customer waiting for a response, the more they will lose interest in your business.
You could introduce SMS messaging with your customers, which allows them to ask questions and receive faster responses. Plus, providing updates, confirming orders, and other engagement tools make it easier for customers and increases satisfaction.
Visit www.truedialog.com to discover more about SMS messaging with your customers. Other messaging apps, such as WhatsApp, are popular with certain target groups. Choose the right platform for your target market.
Provide a superior customer experience
A customer experience encompasses the totality of interactions between the customer and the brand, from first awareness to purchase delivery to repeat purchase. A customer experience audit helps you identify the elements critical for customer engagement to identify points of failure and opportunities for improvement. Consider the dysfunctional customer journey depicted below as a way to consider how you might improve your own customer experience.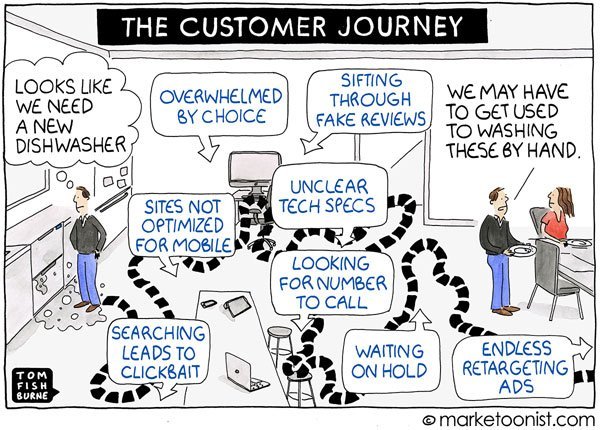 Customer service figures prominently in a superior customer experience. When a customer comes to you with a query, always ensure your people are polite and friendly. Even if the customer wishes to make a complaint, maintain a friendly face, help them, and use the feedback to improve your business. If you are rude or aggressive, you will most likely lose them as a customer.
Speaking of taking customers' feedback on board and using it to improve your business, consider new options for providing support. For instance, many brands now host customer service hours on social platforms, such as Twitter. During specified times, customers can get immediate support. Another option made possible through technology is using a chatbot that's available 24/7 to answer standard questions and provide feedback, as well as log complaints and handle routine issues such as cancellations. Providing ubiquitous points of access helps keep your customers during times of change, such as the pandemic. If you know that changing is in tune with current trends or customer needs, then do so. It ensures your customers remain happy.
There is no harm in changing with the times to meet customer demands, so long as you stay true to your brand. Ensure you stay authentic, otherwise, you lose your voice and your niche, which could result in losing loyal customers.
Build an online community
If you are a brand that appreciates online connections and grows off of them, then it can help to build an online community. Simply setting up a group on Facebook or Instagram for your customers to follow and engage with helps them connect with your brand and other customers, stay up to date with new releases, and get insider information, resulting in greater engagement.
If you offer perks for your customers who follow and join in with the online community, then you help your community grow. You could offer early access to new releases or special discounts. For instance, Taylor Swift often pre-releases some of her music to her fanbase on social platforms before it hits the market. Of course, not every brand can give away stuff in exchange for following (or more importantly engaging with the brand on social media). But, here are some options to help you with that:
Host a contest
Hosting a contest is a great way to drive new followers as well as engaging customers who already follow you. You could offer the winner a free product/service or a nice discount. To maximize the reach and efficacy of your social media contest, you need to:
Ask followers to share it: this means their followers will see your brand message and share, meaning more followers and expanded awareness for your business.
Ask them to sign up to your mailing list: asking them to sign up to your mailing list increases your mailing list and keeps new customers (who found your business due to the contest and entered in the competition) to stay in touch with you when the contest is over.
Ask for a follow: if you ask people to follow you as a way to enter the contest, you increase your following and expand opportunities to reach new prospects.
Get them to comment and tag friends: asking people to comment and tag friends shares your content with more people. Your follower's friends might not follow you. Thus, having them tag the content means that their friends can discover your brand.
Ask followers to post images of them using or wearing your brand in interesting ways to attract attention from their followers.
Be careful, however. If you organize the contest in a way that reduces the chance of winning by increasing entries, you defeat the purpose as followers won't share your content. Hence, make sharing or posting a condition for entry.
Make your brand relatable
By constantly sharing promotional messages, you find followers quickly start tuning you out. Instead, highlight customers, employees, and the good works done by those related to your brand. For instance, you might share an image of the baseball team hosted by the company or the Little League team you sponsor. Share images of your employees helping out at a soup kitchen or building houses for Habitat for Humanity. Develop a voice that resonates with your target market and stay true to the values espoused by your company. But, remember to make your post entertaining, as well.
Probably the most important element of engaging customers is maintaining a two-way dialog. When users post comments, respond to them quickly and authentically. Answer questions quickly and completely. Apologize for mistakes and show the changes you made to avoid making the mistake again. Thank users when they praise your brand or offer suggestions to help new customers or prospects discover your brand.
This requires an active listening program across all the social platforms where your customers hang out, not just on the ones where you have profiles.
Conclusion
Using these tips, you can keep your customers engaged as well as engaging new customers. It is essential to maintain customers satisfaction for increased sales and brand reputation, which leads to greater success.
Need marketing help to support business growth?
We welcome the opportunity to show you how we can make your marketing SIZZLE with our data-driven, results-oriented marketing strategies.  Sign up for our FREE newsletter, get our FREE guide to creating an awesome website, or contact us for more information on hiring us.
Hausman and Associates, the publisher of MKT Maven, is a full-service marketing agency operating at the intersection of marketing and digital media. Check out our full range of services.