Email marketing is actually a two-pronged strategy. The first part is attracting subscribers to your list, while the second involves crafting a messaging strategy (timing, targeted messages for subscriber segments, optimized subject lines, number of links to share, and analytics) that delivers on the promise of email marketing. You need a sound email marketing strategy to reach your email marketing goals. Check out some of the dos and don'ts of email marketing from the image below to get you started in building your strategy.
Most businesses today struggle to finance their operations and keep their doors open because of the pandemic. Like commercial laundry and maid services, many ancillary services firms struggle to survive since their usual employers are on indefinite hiatus until local conditions allow them to open with sufficient customers willing to patronize their operation. For instance, most hotels and hospitality businesses are closed or dealing with low capacity as travelers fear leaving their homes in the middle of a pandemic. And, just as these businesses started opening up and travelers returned in large numbers, the rise of the Delta variant of Covid 19, sent visitors scurrying back to their homes. Due to low occupancy, many businesses that employed large numbers of service workers no longer need extra manpower or maid service to cater to their housekeeping needs.
Fortunately, digital marketing is a big help for these businesses, just as for businesses in other verticals, although the low-tech nature of these operations often meant they lagged their more tech-savvy brothers in recognizing the potential offered by digital marketing.
Among the options offering a safer entry point into digital marketing is email marketing. Not only does email marketing share many features and success factors for snail mail marketing commonly used by these businesses, but it also offers superior ROI (return on investment) opportunities (see below).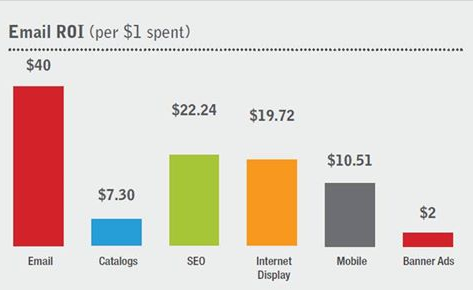 But, like any other marketing strategy, email marketing isn't a complete solution to all your financial woes. Instead, email marketing offers a set of opportunities and building your email marketing strategy around these opportunities, bounded by your specific goals, offers the best chance of success.
What to expect from a sound email marketing strategy
1. Brand recognition
Nearly every industry faces some competition but some industries face massive levels of competition. The service industry, especially for unskilled labor, is one such hyper-competitive industry since the barriers of entry are very low. Hence, unlike a software developing firm that requires highly trained employees and a big investment in computers and peripherals, maids and laundry services require low-wage workers and low investment in equipment and materials.
Thus, succeeding in hyper-competitive industries requires wide brand recognition and a superior brand image. Email marketing is an excellent method to develop your brand. For instance, you can share positive reviews from satisfied customers and build a brand through consistent communication and brand messaging.
Moreover, email marketing helps you create a unique voice and style designed to fit closely with your target market. Further, segmenting your subscriber list (say along industry lines) allows you to modify your marketing efforts to fit with these subgroups. Email marketing allows you to connect with your customers and build a foundation with your brand identity in their minds.
2. Develop a better customer relationship
Email marketing is one of the best methods to build a good relationship with your customers. You can provide the information your customers need into their inboxes on a regular basis, which encourages engagement. For instance, use your email marketing to offer a discount coupon, an event notice, or a new product launch update.
Often, the businesses, like hotels and other businesses, don't see much competitive advantage for one firm over others operating in the same industry. Competing on price alone isn't a sustainable competitive advantage and favors larger, better funding brands over small firms. By utilizing email marketing, you keep your brand top-of-mind so that, when a possible customer needs the services you offer, your name pops into their mind.
3. Boost sales
According to a statistical report, 66% of consumers purchase based on an email marketing message they receive. Thus, if you regularly promote your products and services through email marketing, you're in their inbox when they consider making a purchase.
The key to a successful email marketing strategy involves creating relevant content that fits your target market and using a highly visible CTA (call to action) that motivates that audience.
4. Cost and budget efficient
Outsource services often face time and budget constraints, since these businesses operate with thin margins. Thus, while having several ad campaigns running over time offers the best opportunity to increase sales, this strategy isn't an option for most businesses working with such budget constraints.
While it takes some commitment and strategy to build your initial email marketing strategy, including A/B testing, running the email marketing program doesn't require time-consuming or complicated design, since you already determined the best options, and creating a professional email is easy with modern email programs such as Salesforce or Mailchimp, which offers a free tier. Moreover, it does not need a large budget to reach out to subscribers, since you only face costs for the program and any images used in messaging. Writing the email often follows a template, making this aspect easy. Thus, you only need an efficient email marketing template and a few subscribers to send out.
Final thoughts
It is a struggle for any business to get through the pandemic consequences. Luckily, there is a window of opportunity in digital marketing. Make use of email marketing as one of your digital strategies.
More so, constantly lookout for innovative ways to reach your customers using email marketing. Whether it is an exclusive link for an upcoming product launch or simply rewarding them for patronizing your business, customers love to have those deals!
Need marketing help to support business growth?
We welcome the opportunity to show you how we can make your marketing SIZZLE with our data-driven, results-oriented marketing strategies.  Sign up for our FREE newsletter, get our FREE guide to creating an awesome website, or contact us for more information on hiring us.
Hausman and Associates, the publisher of MKT Maven, is a full-service marketing agency operating at the intersection of marketing and digital media. Check out our full range of services.