As the pandemic sent more folks how and they transitioned their in-store shopping to online shopping, your e-commerce store became increasingly important. Physical stores without an e-commerce option found themselves struggling and, ultimately, many closed their doors. As you can see from the image below how much e-commerce sales increased not only during the pandemic but every year. Today we'll discuss some of the best ways to start your e-commerce store or get the most from your existing site.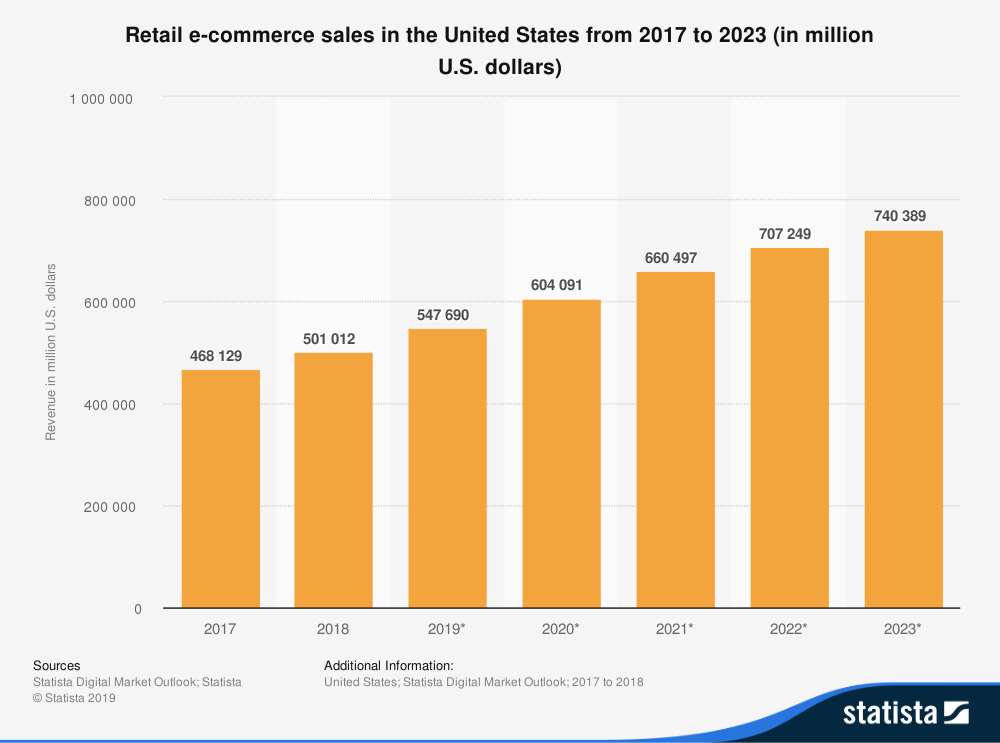 Creating an online store has never been easier than it is right now, so it's a great avenue to go down if you feel as though this kind of work resonates with you. Selling things to interested customers and generating a solid income is something that really stimulates even the most casual of entrepreneurs.
There are lots of options when it comes to starting an e-commerce store; some easier than others and some requiring less capital. If you begin this venture, you want to make sure that you've got everything working properly and everything is on point. Here are a few ways you can get the best out of an e-commerce store you create:
Understand How Your Site Is Going To Operate 
You can't just hop into the e-commerce game without first understanding how everything is going to move. This applies to e-commerce as a whole as well as your store in particular. If you know the fundamentals and have a plan, then you can begin your venture. You have to figure out whether you want to create your own, unique products and hold stock, or whether you want to dropship products from other wholesalers. Once you get to grips with what you want, you can begin to operate. If you start without all your ducks in a row, you're doomed to fail.
Setting your e-commerce store for success
Pick the right niche 
Businesses of all types only succeed when they provide something not offered by other stores and e-commerce is no different. You need to do something aimed at meeting or exceeding customer expectations or offering something customers can't find anywhere else.
You have lots of options in terms of what you do differently. The key is to find a sustainable competitive advantage; something that's not easy to copy. Maybe you offer superior customer service or a unique product or you provide fast, free shipping. Price is a terrible niche to seek since it's easily copied and favors brands with the biggest war chest.
Don't expect overnight success
It's very easy to fall into the trap of expecting immediate success when you're trying to sell products to people. If you have a large following and can expect sales right off the bat. However, if you're starting a store from scratch, you need to market efficiently.
Often, you find it takes 6 months or more of consistent effort before you start seeing much traction from your efforts. Knowing whether your strategies need some adaptation or whether you need to just give them more time is more art than science.
Don't forget SEO
No business can afford to ignore SEO (search engine optimization), which reaches your target audience and drives them to your e-commerce store. Getting onto the first page of search engine results matters a lot more than you might initially think. A great SEO ranking can take you from the wilderness to huge popularity. Quality content, solid links, and lots of consistency help improve your rank.
As you can see below, rank has a huge impact on your traffic.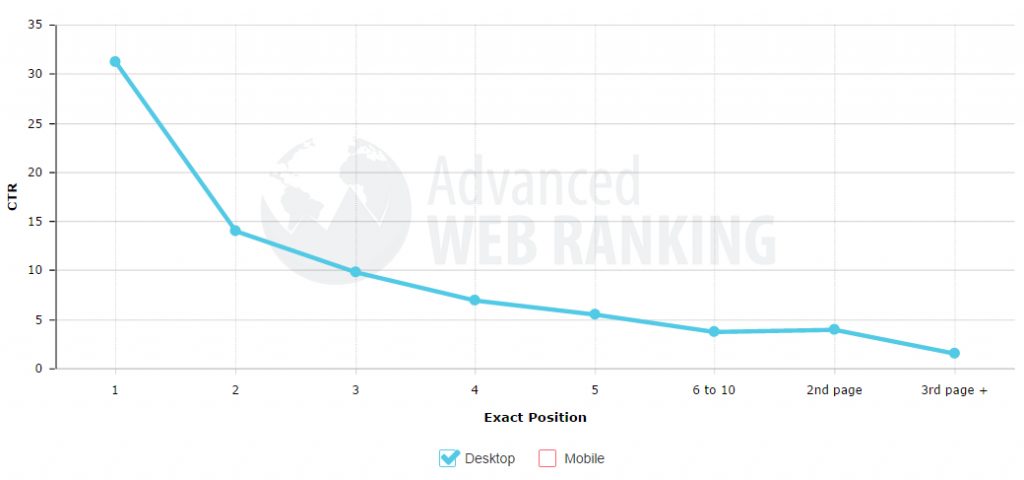 Use easy navigation on your site
One of the worst things for performance is driving visitors then losing them as they struggle to find what they came to your site hoping to find. Make sure people can get around the website easily with clear menus and logical progression through your shopping cart. Also, the fewer clicks needed to complete a transaction, the higher your conversion rate. If you have a high bounce rate or a large shopping cart abandonment, navigation might be the culprit. Don't forget mobile, where lots of visitors enter your site.
Similarly, allow visitors to filter results in the way that's most meaningful for them so they don't search through pages and pages of results trying to find exactly what they're looking for.
Work with experts in the field
You may know a fair bit about the world of e-commerce, but there are also people around who can help you out. If you can pick the best e-commerce consultant around, you'll have someone on board who has experience and learned the ropes along the way. They will have seen what works and what doesn't work. They can guide you in the long term and short term with respect to where you should take the store.
Use social media marketing
This goes without saying in 2021, but social media is a critical factor in gaining traction for your e-commerce store. Social media marketing costs nothing but succeeding in your marketing efforts takes a big commitment and some expertise. One of the best opportunities for social media marketing comes through the targeting available on various platforms. Check out the image below for some insights into which social platforms offer the best options for your business.
Don't skimp on advertising
The best e-commerce sites are able to wow visitors and potential customers with digital advertising. Google offers both search ads (that display on related search results) and display ads (that appear on related websites as small images). The best feature of search ads is that they reach people when they're in the mode to buy. Social media platforms offer advertising, which excels in great targeting options so you reach just your market niche.
Excel in customer service
If you can ensure the customers can reach someone, get their questions answered, and you keep your promises, it goes a long way to helping your store succeed. So many online stores have terrible customer service – even big brands that do very well struggle in this regard. Without naming names, you likely heard of many big brands that simply do not get back to customers and do not handle customer issues too well.
Constant improvement
You're not going to be in this game for very long if you can't improve with time and evolve when things get a little stale. The future of e-commerce is always going to be full of changes and slight adjustments, so you have to be on the ball. Don't keep things too similar for years.
Need marketing help to support business growth?
We welcome the opportunity to show you how we can make your marketing SIZZLE with our data-driven, results-oriented marketing strategies.  Sign up for our FREE newsletter, get our FREE guide to creating an awesome website, or contact us for more information on hiring us.
Hausman and Associates, the publisher of MKT Maven, is a full-service marketing agency operating at the intersection of marketing and digital media. Check out our full range of services.