Growth hacking is simply a fancy way of talking about growing your business, it's about achieving rapid growth. E-commerce growth hacking translates into using digital tools to achieve superior results. According to Optimizely, growth hacking, also called growth marketing, is:
the use of resource-light and cost-effective digital marketing tactics to help grow and retain an active user base, sell products and gain exposure. Think 'hacking' in terms of life hacks – those little shortcuts that make your life easier – rather than nasty bits of code that can ruin your computer and your life.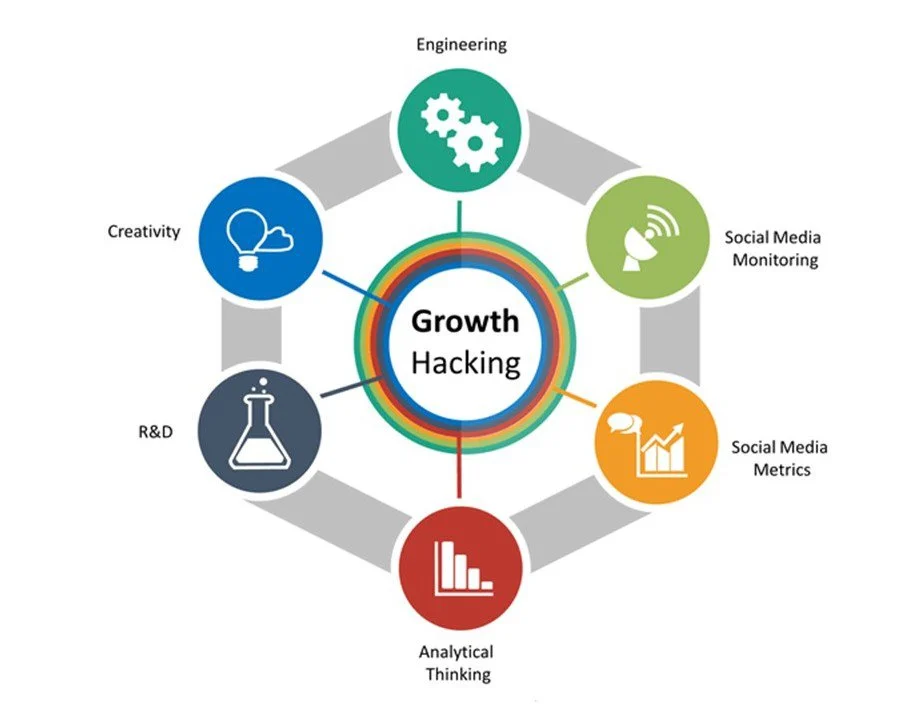 The term hacking, as mentioned, sometimes has negative connotations but it really just means finding unique and effective ways to achieve greater results than plodding along with old-fashioned marketing efforts that deliver average returns. For instance, email marketing delivers returns of up to 4400%, making it a great growth hacking tool. Startups commonly employ growth hacking because they have limited resources but all businesses should consider how to employ out-of-the-box marketing thinking to achieve higher returns with less expense.
E-commerce growth hacking
Hacking your e-commerce growth builds on the notion of optimizing the conversion funnel, such as the one depicted below.
Create awareness (reach)
Reaching new members of your target market is the beginning of the growth hacking process as you can't sell to consumers unless they know you exist. The crazy notion that if you build a better mousetrap the world will beat a path to your door is just insane. First, potential customers must learn that your product exists then you must convince them you, indeed, have a better mousetrap before they are willing to explore your product.
There are limitations in the reach game. Consumers buy solutions to their problems, not products so only consumers who face a problem solved by your product are prospects for your business. Reaching consumers outside this market has no value to your business and simply increases your cost. That's why TV advertising with its largely undifferentiated reach represents a waste of money for all but brands with the generic appeal, like Coke, Starbucks, and Amazon. Below, you can see how traditional advertising methods, like TV, show shrinking budgets when compared with digital media which offers better targeting.
To achieve e-commerce growth hacking, you must employ these digital media, such as PPC ads (commonly called search ads) and content such as video. Unpaid tools such as SEO (search engine optimization) and content marketing also fit the bill when it comes to helping you reach your target market. The more potential consumers you reach, the greater your sales potential, all things being equal.
Interest stage (act)
Once prospective buyers learn about your product, they seek out additional information or pay closer attention to content related to your brand as a way to learn more about you. They form attitudes toward the brand that determine their level of interest in making a purchase. Reviews and recommendations help consumers determine how good a job you do in pleasing existing customers while influencers help build associations of the brand with certain personalities. These influencers, as well as other group influences shared through UGC (user-generated content) and word-of-mouth help consumers determine whether the product reinforces the way they see themselves and how they want others to see them.
At the interest stage, consumers also look at brand values to determine whether the brand matches their own value system. For instance, by posting your team cleaning up a local beach or helping with pet adoption, you show prospective buyers that you're living your values as a company. Consumers, especially younger ones, use these projected values to determine which brand to purchase and nearly half of them are even willing to pay more for brands they view as living their values.
Your website is a key element in guiding visitors toward conversion at this stage in the process. A website that is optimized to deliver a great user experience by creating visually appealing and user-friendly web pages aid in communicating the benefits of purchasing the product, showing visitors how to get the most from their purchase, answering questions about the product, providing social proof, and easing the actual process of completing a purchase across platforms and devices.
A content calendar that incorporates content marketing across social platforms to deliver high-value content on a consistent basis supports conversion at the interest level by providing the types of content listed above. If you need a content marketing calendar template, I have a great, interactive option available for free download. Employing marketing automation tools like Buffer helps ease the demands associated with sharing content on a schedule because they allow you to schedule a week or a month worth of content at a time so you're not constantly stopping in the middle of a project to post content.

Conversion stage
At the conversion stage, the rubber really meets the road. A lot of what you do at this stage in the conversion process is working to convince visitors who already expressed an interest in your products by visiting your website or engaging with you on social media, that they should buy your products. That means answering questions across whatever platform suits the consumers; whether they make a comment on your social media, use a chatbot on your website, or call your office. Providing quick, accurate responses at whatever time and whatever platform helps build relationships with your target market(s).
Email marketing, often used as a tool for lead nurturing, is an important tool at this stage in the process. By sending personalized email messages on a routine schedule, you:
remind subscribers about your products
introduce new products
provide incentives to make a purchase, such as coupons
show how to get the most from your products
share feedback from satisfied customers
provide links to product pages that match the individual subscriber's needs based on prior interactions with the brand (we call this deep personalization)
build up brand image
show how the brand acts in socially responsible ways
Another tool used at this stage is remarketing. Remarketing involves sending advertising messages such as search ads and advertising on social platforms to those who already interacted with the brand. For instance, you can show PPC ads to those with a prior visit to your website using cookies (You might have heard about the death of 3rd party cookies. These cookies are unaffected by this change). On social platforms like Facebook and Instagram, you can even target audiences similar to those with a prior visit to your website or page in a type of extended remarketing.
Because these efforts selectively reach consumers who already reached the interest stage in the process, these tactics have a much bigger impact on your bottom line.
Engagement stage
Replacing an existing customer is an expensive proposition involving 5 times more cost than keeping one. Thus, once you get a customer, e-commerce growth hacking requires you do everything you can to keep them. We have a measurement tool to assess the value of a customer, called customer lifetime value, which is calculated as you can see below: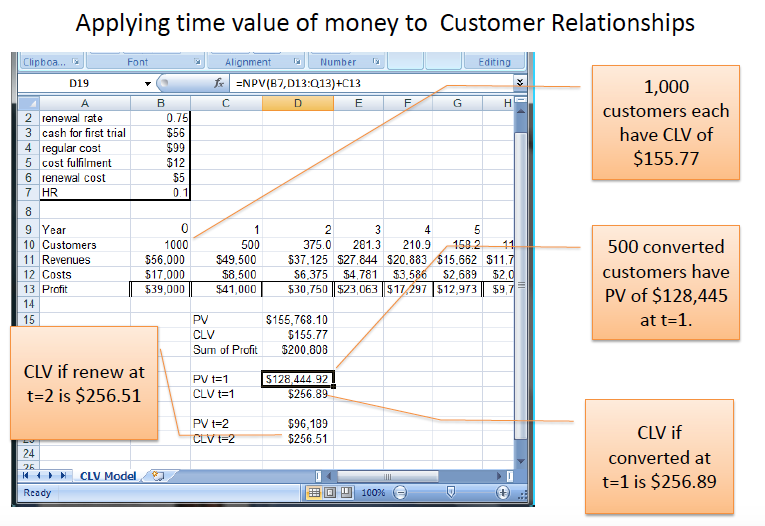 Some tactics you already have in your toolbox work at this stage in the process. For instance, remarketing and email marketing work well to build a customer community around your product (think communities such as HOGs (Harley Owners Group) and online communities like LEGO Ideas. These communities reinforce the rightness of a product purchase while offering tangible benefits over and above those offered by the product by providing a sense of belonging.
Customer support is also critical at this stage in driving customer satisfaction which often translates into repeat purchases. Offering solutions that make a customer whole after a service failure quickly after a perceived failure, such as late delivery or damage, ensure you turn a disgruntled customer into a loyal customer. For instance, Amazon quickly notifies customers if they anticipate delivery won't meet their promise. They update the customers and often offer a credit to compensate for the lateness without waiting for a customer complaint. This proactive solution results in high levels of satisfaction and repeat purchases on the Amazon website.
Advocacy stage
But, don't think your efforts at e-commerce growth hacking are finished. You've overlooked a key element contributing to your growth if you don't work to transform your satisfied customers into advocates for your brand. When happy customers share about your brand through reviews and recommendations, you can see a huge impact on sales. That's because this digital form of word of mouth is seen as more trustworthy than messages shared by the brand, as you can see below.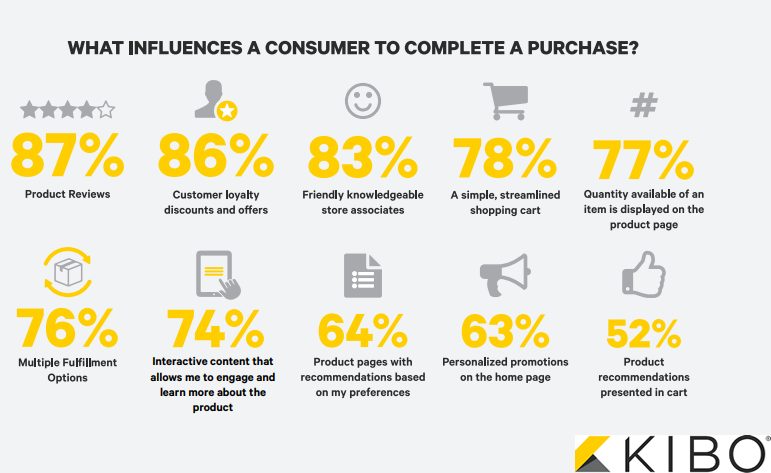 We often refer to this form of communication between customers as User Generated Communication or UGC. UGC helps spread your message while also making your message more believable. In social media, we talk about this type of influence as earned media.
In addition to reviews/ recommendations, UGC comes in many forms, including:
Posting videos to help buyers get more from the product
Sharing photos using the product on social platforms
Blog comments
Sharing and commenting on social platforms
Of course, this isn't a comprehensive list of the types of UGC you'll find online. Plus, you have offline recommendations that support purchase intentions as well. You can't leave this important marketing tool to chance, however. You must proactively encourage positive UGC about your brand. For instance, you might host contests where contestants share images of them wearing your products with a hashtag supporting your marketing efforts. You might share free access to your product with your target market to encourage them to review the product. Whatever tactic you employ, be sure to plan it carefully and provide clear instructions on how to enter the contest or share the review.
Influencers are users who possess a large, engaged community on one or more social platforms. The key element in using an influencer is that they fit your market niche and their community engages with them. The raw number of followers is much less important than the level of engagement on their pages. Also, using an influencer that doesn't hold sway with your target market is much less effective.
Influencers expect some form of compensation in exchange for sharing about your brand. You might offer a free product in exchange for their influence although some influencers with a large following expect financial compensation. For some, they make a living by capitalizing on their influence which really isn't much different from a celebrity endorsing a product during an ad. Yet, influencers are often seen as independent, which means their message is more impactful than a celebrity commercial.
Tactics for e-commerce growth hacking
Obviously, the key to growth hacking in a digital world is to create and share content like crazy. You can use various tools to automate the sharing process but there's really no tool to help with content creation beyond the calendar solution mentioned earlier. Google stated it doesn't want to see AI-generated content and applies a penalty when it detects such content. Hence, creating content is one of the biggest challenges in growth hacking.
Here are some other tactics to apply to optimize your growth:
Offer incentives to gain referrals, such as first access to new products
Establish a lead generation program to follow up on user behavior such as cart abandonment with a reminder email
Creat truly awesome content periodically
Show your authenticity in your content efforts and develop a personality rather than create press release type content
Use data to help improve your performance over time
Commit to projects embraced by your target market to show you share their values
Build partnerships with non-competing brands that serve your niche to amplify efforts
Remarketing is an advertising strategy used to connect with users already who viewed your website
Conclusion
E-commerce growth hacking offers a huge benefit for your brand. By embracing these tactics and regularly incorporating one or more into your marketing plans, you'll soon find yourself enjoying higher profits. Good luck and share your thoughts below.
Need marketing help to support business growth?
We welcome the opportunity to show you how we can make your marketing SIZZLE with our data-driven, results-oriented marketing strategies.  Sign up for our FREE newsletter, get our FREE guide to creating an awesome website, or contact us for more information on hiring us.
Hausman and Associates, the publisher of MKT Maven, is a full-service marketing agency operating at the intersection of marketing and digital media. Check out our full range of services.