Let's face it, the shopping mall is basically dead and even newer, mixed retail spaces are waning in popularity. The extended pandemic still impacts the appeal of in-person shopping and dining. Similarly, with fewer employees going into an office every day, their need for lunch spots and clothing that must be purchased and cleaned is fast disappearing. Instead, consumers recognize the convenience and flexibility offered through online shopping, fueling a more rapid increase in online shopping that's unlikely to return to pre-pandemic levels, as you can see in the graphic below (most of the developed world shes a similar increase in online shopping). If you haven't transitioned to an online portal for customers or you're considering starting a new online retailer, here's our e-commerce for dummies manual to get you started.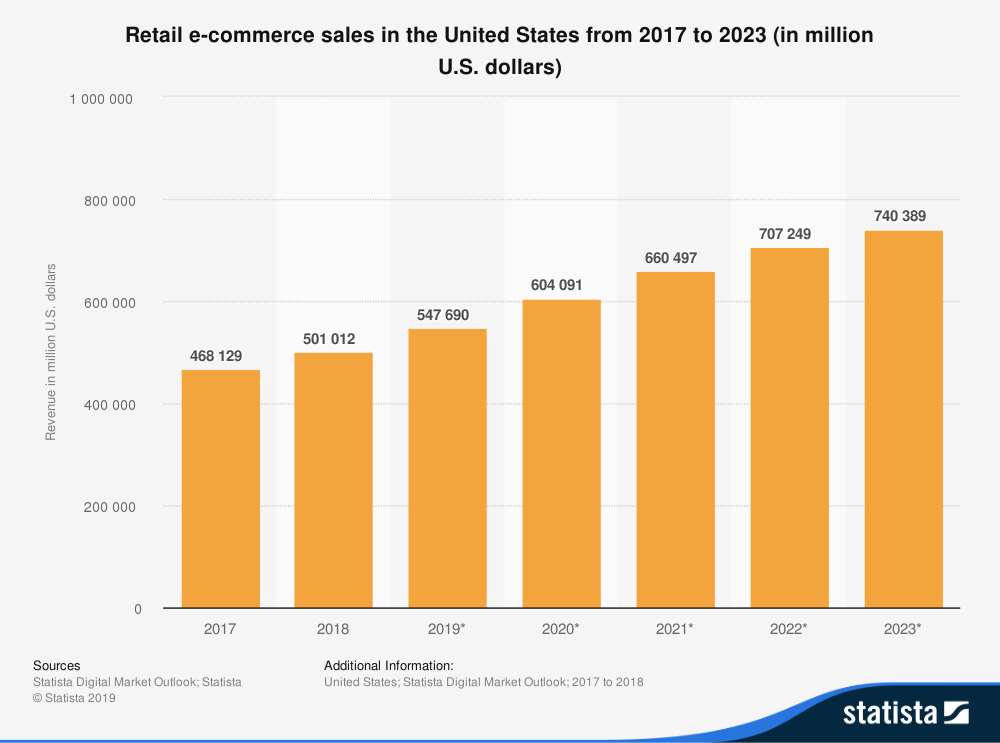 The internet blossomed over the past decade, spawning some of the most lucrative retailers on the globe, from websites like Etsy that empower small shops and creators to sell their artisanal clothing to the largest companies in the world, Amazon and Alibaba. This global transformation now extends beyond products difficult to obtain in local markets to mundane grocery items, like milk and bread. New options combine e-commerce with traditional retail stores that allow customers to order online and pick up in stores either using a locker accessed using a code or curbside pickup. It appears unlikely either of these trends will disappear with the virus, with 32% of Americans and 37% of Europeans stating they plan to continue shopping online indefinitely in a recent study.
No longer do consumers browsing catalogs or shop store windows. They no longer stumble upon your shop during a leisurely stroll or as a side trip discovered when shopping at a nearby store or entertainment venue. This led to a rapid turnover in the retail industry and businesses that don't adapt to changing customer preferences are poised for failure.
I hope you find my e-commerce for dummies guide sets you on the path to success.
E-commerce for dummies
The evolution of online shopping
Even before the pandemic, e-commerce was profitable as customers increasingly chose an online shopping experience, as you can see from the graphic shown earlier. When I taught my first e-commerce class at Marshall University back in 1999 when e-commerce was in its infancy, a student paid his college and living expenses by operating an e-commerce store selling a niche product. Things have certainly changed since these early days but the appeal of e-commerce only increased with the plethora of new tools that make e-commerce easier, faster, more ubiquitous broadband access including mobile, and payment options that protect a user's security, such as PayPal and Venmo.
An early appeal for e-commerce was the relatively low startup cost. You build a website, open a store, arrange for shipping, and wait for the money to start rolling in. A lot of things have changed since the earlier days, some for the better; some worse. Among the aspects that make e-commerce easier are:
Easier website design with CMS (content management systems such as WordPress)
E-store software such as Shopify and WooCommerce do the heavy lifting by creating product pages, shopping carts, and checkout processes that are easy for website owners to build and offer security for shoppers, such as encryption and secure payment portals
Platforms such as Amazon, Etsy, and eBay offer options to start e-commerce for dummies stores within their platform to help gain awareness and sales
Payment processors like PayPal eliminate security concerns for shoppers by eliminating the need to share personal information with e-tailers or create an account, if desired by the customer.
A vastly increased level of comfort and proficiency for consumers
Of course, there's a downside to the increase in e-commerce, primarily in the form of competition. Where once you had an online niche to yourself, you now face strong competition in almost every niche. This competition intensifies when you use a platform like Amazon to host your store.
Low startup costs
While other elements of e-commerce changed, the industry still offers entrepreneurs the benefit of low startup costs. If you're a seller and need help managing expenses fairly and ensuring you making money back in the process Click here. We'll delve into this more in the next section.
E-commerce for dummies guide
As this post represents a guide on e-commerce for dummies, let's start by listing all the elements you need to get started with an online store. This post assumed you already researched to find a niche, established a supplier or suppliers, and built an understanding of your environment, ie the competition, your prospective customers (target market), and external forces such as the economy to build a marketing plan for your endeavor. Once you complete the marketing plan, here's what you need to get started along with the cost associated with each necessary element.
Obtain a business name and establish your legal status
Costs and processes involved in this step vary greatly by country and region. For instance, California charges $800 in yearly licensing for a business while Delaware charges very little. In Virginia, as an online business without an e-commerce store, I pay nothing. Your legal status, ie corporation, greatly impacts your ongoing tax situation, as well. Associated activities involve obtaining tax identification and permits.
Create a website
In the bad old days, creating a website was an arduous task requiring serious coding skills. Today, anyone with rudimentary writing and a little graphic design skill can craft a great website. I wrote a nice guide for building a DIY website showing each step in the process with tons of images and videos that anyone can follow. And, it's free.
Since you're building an e-commerce website, you need a few additional pieces.
WooCommerce or another e-commerce plugin. Most are offered without cost.
An account with PayPal or a similar payment portal. If you choose to accept credit cards, you need vendor accounts with the services.
Landing pages that fit with how consumers move through your site (called the customer journey). The idea is to reduce clicks and help visitors find products of interest quickly and easily (see below).
Build your e-commerce product pages
You should already know what products you plan to sell on your site so now you must create product pages for each product containing details and answering possible user questions. You might consider various views of the product to make it easy for visitors to visualize what they get with a purchase. For instance, Zappos found sales increased significantly when they changed the view of particular shoes to one users found more appealing.
Don't forget to help visitors find what they want easily using filtering and search tools. Ideally, you should show visitors a small number of choices to make decision-making easier. Filtering and search options, such as size and material, should match aspects of the product most important for visitors.
Establish processes for shipping and handling
An e-commerce transaction doesn't stop with conversion so neither should your efforts to build an e-commerce platform. You must get products to customers and maintain communication so customers know when to expect delivery. Offering great customer service through your e-commerce platform brings customers back time after time. So, ensure customers can do the following:
Get delivery updates, including tracking
Cancel an order
Change the delivery address up until the product ships
Get customer support to answer questions after delivery such as installation
Make returns if the item is damaged or doesn't meet the customer's needs
You must also arrange for fast, free delivery. Free shipping also helps drive up the value of an average sale as customers add more items to reach minimums for free shipping.
Marketing your e-commerce business
With all the competition out there, marketing is a big part of e-commerce for dummies. Learn more about marketing your e-commerce business here. Here are some marketing tasks to consider (learn more about individual tasks by searching this site):
SEO (search engine optimization) to bring more traffic to your website. If you operate a traditional store, as well, consider using local SEO.
Content marketing
Email marketing
Retargeting and digital advertising
Social media marketing
Final Thoughts 
Online retail shops are a sensible and forward-thinking way of moving with the market and ensuring your business's success for years to come, not to mention how much better for the planet online storefronts are and are paving the way for a greener and more conscious future. Managing your online business is a fun and exciting step forward and hopefully, this e-commerce for dummies guide helps.
Need marketing help to support business growth?
We welcome the opportunity to show you how we can make your marketing SIZZLE with our data-driven, results-oriented marketing strategies.  Sign up for our FREE newsletter, get our FREE guide to creating an awesome website, or contact us for more information on hiring us.
Hausman and Associates, the publisher of MKT Maven, is a full-service marketing agency operating at the intersection of marketing and digital media. Check out our full range of services.