The marketing funnel, also called the conversion funnel or sales funnel, is a fundamental concept underpinning all marketing, whether traditional media or digital media. Driving the marketing funnel using strategies for traditional media and digital determines the success of your business.
What is a marketing funnel?
The marketing funnel is used to describe how firms attract new prospective buyers then nurture them through the buying process to become customers.
The image below gives you not only a visual depiction of the typical marketing funnel but provides insights about factors that interfere with efforts at driving the marketing funnel to the ultimate goal — in this case inquiry but it could easily be sales or some other goal.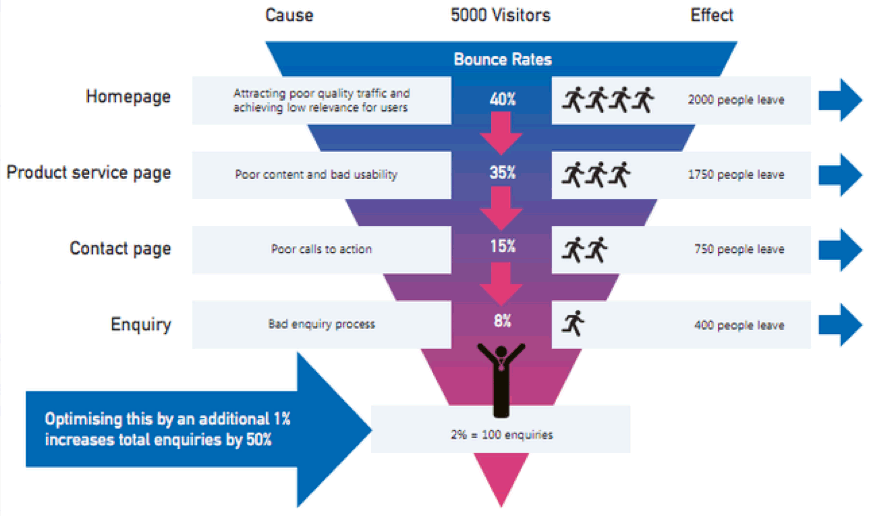 Notice that you have a large number of visitors enter the funnel but only a few of them progress to the bottom of the funnel, which is where success happens. In this example, only 2% of those who entered the funnel ultimately meet the goals of the organization. Far from an exaggeration, this metric is pretty typical, with the average conversion across industries being 2.35% based on an extensive analysis of Google Ad performance. [source]. Likely, organic performance is even lower.
Hence, keys to success involve both driving more traffic to your site and improving the efficiency of moving people down the funnel toward conversion.
Driving the marketing funnel
There's no one-size-fits-all when it comes to driving the marketing funnel. Strategies will differ based on industry, customer type, cost of products, and other factors. That said, there are some strategies for effectively driving the marketing funnel that crosses industries and other factors.
Where the prospective customer is along the customer journey, exactly where they are in the funnel, determines which strategies are most effective. Thus, appropriate strategies and tactics vary across the marketing funnel.
Top of the funnel
Looking at the funnel, you see the top is large. That's because folks entering the top of the funnel get there from a variety of sources and represent everything from casual shoppers, competitors, students researching for an assignment, reporters, and folks looking for a job with your company. None of these people are prospects for your business and this explains part of why conversion rates are low. There's NO WAY a firm, no matter how great their website and marketing efforts, can convert folks who don't meet 4 criteria. Prospective buyers all have:
Need
Money
Authority
Desire
So, don't feel bad that you can't convert everyone who visits your site (whether that's a website landing page or your brick-and-mortar store). Many of them lack one or more of the criteria necessary for a buyer.
Don't forget that some of these folks may acquire the necessary criteria in the future. Hence, providing a good experience for these non-buyers is important. Add their names to a database for follow-up but be sure you properly code them so they get the right messages. We'll talk more about this in the section on lead nurturing.
Strategies for the top of the funnel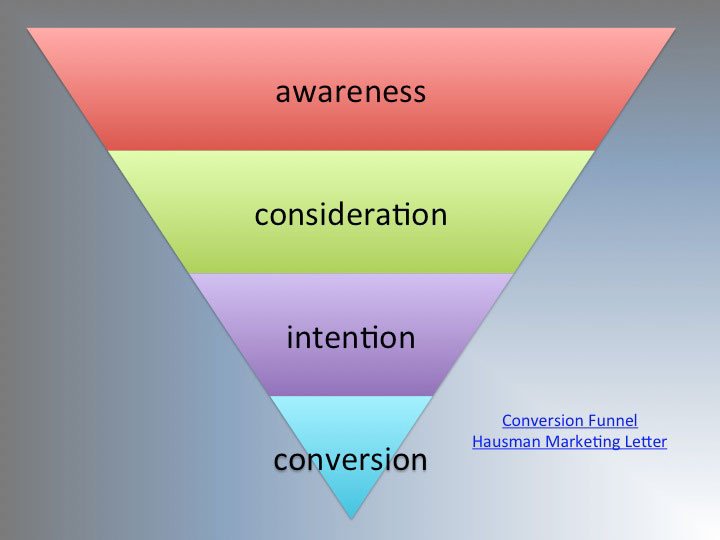 The top of the funnel, the awareness stage of the buying process, relies on reaching prospective buyers. In traditional media, this reach comes from broad messaging across broadcast, print, and radio. In digital, reach relies on SEO, social media, and advertising.
Remember the discussion earlier that not everyone who comes to your website is a prospect. Hence, you'll do yourself a favor if you target your audience in creating awareness. For instance, traditional media buyers reach specific audiences that are rich in prospects by advertising on certain TV shows, putting ads in certain magazines and newspapers, and playing the ad on the appropriate radio programs. I once had a client who offered ESL (English as a second language) classes to native Spanish speakers. Logically, young people find more value in learning English, since it will help them find a job. Yet, she was advertising on a Spanish language station playing music that appealed to older Spanish speakers because it was cheaper. That's just plain silly and a waste of money.
In digital, that means using keywords that match the intent of users who want to buy your product. These keywords are used in ad buying and SEO. The keywords drive your content marketing.
Lead nurturing
Now, we get to the middle of the funnel where lead nurturing comes in. What is lead nurturing?
Lead nurturing involves driving those top-of-funnel visits down the funnel and relies on appropriate communication strategies and messaging that motivate consumers toward purchase. According to Marketo, companies with effective lead nurturing generate 50% more sales than those who don't and at 1/3 the cost. Lead nurturing might even generate larger purchases than poor lead nurturing, according to their article.
In lead nurturing, you shift from enticing visitors to your online or offline store to convincing them your products are better, cheaper, faster than your competition.
Here are some factors that help you nurture leads:
Great salespeople in brick and mortar stores. Folks who genuinely care about customers and have all the information about your products to answer their questions. If you have a virtual store, you have chatbots, or offer some other type of online chat, you include FAQs that visitors can readily find, you offer reviews, explainer videos, and other content to help visitors make informed decisions.
Organize your offerings in ways that are important to buyers. Stores do this by organizing shoes, jewelry, and cosmetics into different areas of the store or grouping products by the designer. Virtual stores can offer greater ease by filtering products based on categories that make sense to buyers. For instance, if you're looking for a dress to wear to the company picnic, you may know the length, material, and neckline you want but could care less about who designed the dress. Price may be the most important filter and other filters less important. Make it easy for customers to find exactly what they're looking for without having to spend hours hunting.
Images optimized to show off your product to customers or beautiful in-store displays. Some companies spend time testing the colors and views of the product to show it to its best advantage. For instance, Zappos found a particular shoe angle increased sales by a substantial amount by testing different views on Pinterest and seeing which one got more likes.
Prices are accurate and easy to find. Don't try to hide the price in the hopes you'll convince customers to buy first. That strategy can easily backfire and leave a high level of distrust that impacts future sales. Also, don't hide the cost of additional items required to make this product work.
Be upfront about your products. This is a major complaint about all those meal boxes — they require your email address before they let you see sample menus.
The role of communication in lead nurturing
Lead nurturing is often something that happens over time, although some purchases are fast. Think about buying a new pair of shoes or a new shirt. You're not going to buy the first product you see, even if you know the brand, color, and style you want. As we discussed earlier, organizing offerings help customers see all options that fit their needs in one place. In brick and mortar stores, that might mean providing good internet access so that shoppers can find online options before they buy.
When there's a long lag between the beginning of your shopper journey and its end, businesses should keep in touch with you, gently reminding you of the products you shopped for and offering new arrivals that meet your needs. Setting up an email sequence helps keep communication fresh and works even if the prospect visited a brick-and-mortar store when salespeople ask for email addresses. That's easy to do, especially if you run some type of in-store contest where shoppers enter their email into a drawing or when they get a spin at the prize wheel.
By coding prospects when you add them to your mailing list, you're sure to send the right messaging. So, if a visitor searched for a blouse, you might send them coupons to entice them to buy it, messages about sales, or give them alternatives to the original blouse. Alternatively, you might send messaging about pants or shoes that coordinate with a blouse they purchased.
Online, there are lots of other ways to nurture leads. One way is to use remarketing campaigns. That means people who visited your online page see your ads pop up on social media and other places.
Bottom of the marketing funnel strategies
Here's where the rubber meets the road and your cash register sings.
Converting buyers who've made it all the way through their buyer journey is important. Otherwise, you've wasted all the money and effort spent on getting them to that point in the first place.
Driving the marketing funnel through the final step is also challenging since so many factors conspire to interfere with purchase. Here are some of the biggest factors keeping a visitor from completing a sale:
Lengthy check-out processes. Don't ask for any more personal information than required and offer to securely save information so the customer doesn't have to enter the required information the next time. For instance, if you're mailing the item, asking for a phone number may not be necessary.
Offer delivery options. Many folks have problems with porch pirates stealing items delivered to their homes and apartments. But, not everyone can have items delivered at work or have neighbors willing to accept packages. Amazon is testing delivery to consumers' car trunks, which some might find a little creepy. Others are forming relationships with brick-and-mortar stores where customers can retrieve packages at their convenience. Make arrangements for international deliveries, as well, since the internet crosses national boundaries.
Financing. Sometimes consumers don't have the cash to buy items. Offering credit and accepting a variety of credit options helps customers afford purchases. In other cases, customers don't want to use a credit card for fears of hacking. PayPal and similar services go a long way toward alleviating these fears, although brick-and-mortar stores are slow to adopt these technologies, as well as Apple and Android Pay. Some websites now even accept cryptocurrency as payment.
Aggressive upselling. So, the customer makes a purchase. Don't send them through 6 screens trying to upsell them or asking them to make additional purchases. Vistaprint is notorious for this and it makes check-out onerous.
Unexpected or high shipping costs.
Wait, you're not done
So, you're good at driving the marketing funnel toward conversion. You're not finished. The goal shouldn't be to make one sale but to gain a lifelong customer for the business. Academics estimate it's 5X more costly to find a new customer than to keep an existing customer.
Thus, the funnel isn't so much a funnel as a loop where customers go from 1 journey to the next as their needs change or they want additional products. You need to not only get them to buy this time but ensure the product meets their needs, provide after-purchase service, and continue messaging appropriate for their stage in the cycle.
Here are just a few ideas on how to sell existing customers:
You might send a nice thank you email or note a few days after the product was received to ensure it met the customer's needs.
You might also ask for a review since such reviews are important to convince future visitors to buy your products.
Send periodic product updates or new usage ideas
Give customers information on sales and offer coupons for additional purchases
Need marketing help to support business growth?
We welcome the opportunity to show you how we can make your marketing SIZZLE with our data-driven, results-oriented marketing strategies.  Sign up for our FREE newsletter, get our FREE guide to creating an awesome website, or contact us for more information on hiring us.
Hausman and Associates, the publisher of MKT Maven, is a full-service marketing agency operating at the intersection of marketing and digital media. Check out our full range of services.