The internet is increasingly crowded with 1.7 billion websites around the globe, with nearly 600,000 new websites created every day. Gaining the attention and clicks from users amidst this intense competition requires SEO (search engine optimization) strategies that rank your content ahead of the competition. Today, we discuss SEO and some DIY SEO (do-it-yourself SEO) tactics you can use to rise to the top.
First, let's look at the impact of SEO on organic traffic. According to a recent study, 51% of all traffic to the average website comes through organic search, as opposed to only 10% from paid digital adverting and 5% from social. In a B2B setting, that percentage goes up to nearly 80%, according to the same study. Below, you can see the amount of revenue across different industries from organic versus other traffic sources to see the dramatic impact of search traffic on profits.
As a marketing methodology, SEO is quite complicated, consisting of an ever-changing algorithm composed of various ranking factors and associated weights. To further complicate SEO, the algorithms aren't published although Google execs and those working for other search engines offer hints on their own websites. If you're a business owner, you could find yourself confused as to what actions support your SEO strategy. Getting SEO services from an outside firm is often seen as the only solution.
Some SEO is technical but other parts, especially ongoing content creation are definitely DIY SEO tactics that no agency is really positioned for. If you do end up outsourcing more technical SEO, you'll save some money by DIY SEO for other aspects of this strategy.
You should consider a few aspects of SEO that are especially DIY.
SEO
So, let's step back to consider SEO before jumping into DIY SEO.
SEO isn't a strategy designed to drive website owners crazy, although it does a good job of that. The goal of SEO is to deliver the best content to answer a users' query first so the user doesn't have to scroll through page after page of results looking for the answer to their question. Because search engines compete with each other for users, they work hard to deliver value. Currently, Google is the big boy when it comes to search, representing anywhere from 70% to 93% of all searches worldwide, depending on the source you use, because they started emphasizing user satisfaction as the come-from-behind search engine in 1997.
When a user enters a query, Google goes through its database of internet content looking for suitable answers. It then ranks websites containing valuable content that addresses the user's query based on indicators of value. An algorithm allows Google to automatically rank content in hopes of providing the best value to users.
The impact of rank on traffic is massive. As we mentioned above, most websites see the vast majority of their traffic and revenue comes from search. As you can see below, where you rank in the search results greatly impacts the number of visits you achieve.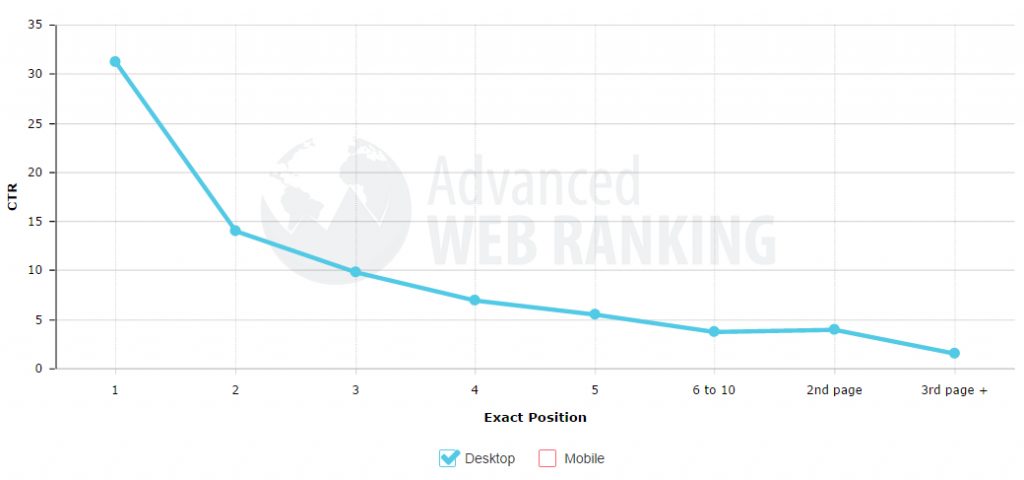 Over time, Google changed its search algorithm as websites grew more sophisticated, some using black hat SEO to trick the algorithm. Technology changed (including the addition of mobile search) as users demanded more from websites over time, requiring additional changes to the algorithm. The most recent change introduced something called Core Web Vitals, which Google is currently phasing in. This change to ranking factors emphasizes user experience such as the speed and stability of your website as well as other ranking factors.
Among the types of DIY SEO readily available to website owners are:
Keyword research
Content creation
Backlinks
Caching and image handling
Mobile responsiveness
Next, let's discuss the DIY SEO tricks individually.
DIY SEO tricks
Master keyword research
Keywords (actually key phrases) are the parts of a user query representing their intent. In other words, what words does a user enter into their query that give the search engine a clue as to what results they expect. Your role, as the website owner, is to choose your key phrases so that users find your content valuable in answering their questions and you attract users you find valuable. With voice search, key phrases are longer all the time and represent the way users speak rather than the way they type.
You can't optimize content unless you know what keywords you should target. Some keywords are used more frequently than others. Targeting the keywords most popular among your potential customers is vital to your success. However, high-frequency keywords also generally face greater competition, making it hard to rank near the top. With adequate research, you might find some hidden gems–keywords with high frequency and low competition. The Keyword Planner tool offered through Google Ads is free and can help identify appropriate keywords.
Produce valuable content on a consistent basis
Search engines love websites that publish content users find valuable on a consistent basis. For instance, in the image below, you see the impact of publishing content more frequently on lead generation.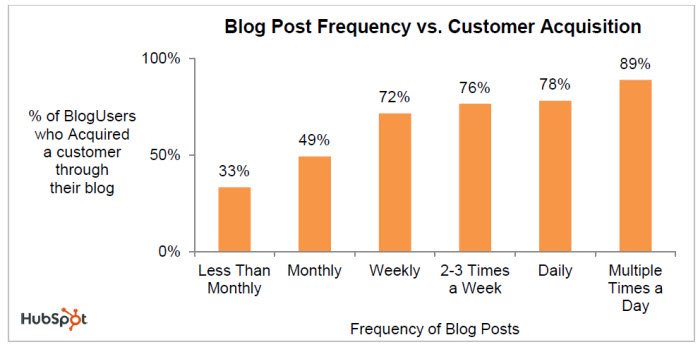 You should never post just for the sake of doing so, however. Content must represent value to visitors.
You should focus on creating a variety of content, including blog posts, articles, videos, podcasts, as well as social media posts that revolve around your industry or services. Doing so will help you develop expertise in your sector while targeting specific keywords. Valuable content should have a large impact on your search rankings while also appealing to potential customers.
The key to a sound content marketing strategy is consistency. In the beginning, you mightn't have the time to produce content constantly. Once a week could be enough to benefit your SEO while helping your customers.
Improve the SEO of your content
One of the first things that search engines look for when indexing a site is keywords as reflected in certain elements of your content. Using a good SEO tool such as the Yoast SEO plugin makes DIY SEO simple and effective. This plugin helps you identify your keywords, as well as scores your content based on the use of that keyword in critical elements such as title tags (H1, H2, H3 tags), meta descriptions, and the content itself to ensure you comply with current SEO best practices.
Over-optimizing your keywords also earn bad marks from search engines.
Backlinks and other social signals
Google doesn't have the time or expertise to determine which content represents value and which doesn't. Instead, search engines use social signals to determine quality. Backlinks (links to your content from other websites) are a great signal that you produce quality content. The more highly ranked the site linking back to you, the better the backlink contributes to notions of quality. Backlinks from low-quality sites or nefarious sites can actually hurt your rank, however, disavowing these backlinks is dangerous and not a DIY SEO trick. Leave this to the experts. Long-form content, ie long blog posts, generates more backlinks than shorter posts.
Social visits are another signal of quality content as is engagement with your content (likes, shares) on social platforms where you share your content. Bounce rate (the percentage of people who leave after viewing a single page) is a negative social signal. A DIY SEO strategy involves improving these stats.
Caching and image compression
A big part of Core Web Vitals involves speed and certain DIY SEO tactics can help speed up your site, although other speed factors require an expert. Caching involves storing a copy of your content in the browser so it loads more quickly the next time that content is requested. Image compression shrinks the size of images on your site so they load more quickly. WordPress (and other content management systems) offer plugins for the DIY SEO user that make these 2 tactics easy.
Mobile responsiveness
Long gone are the days when websites didn't care about their appearance or performance on mobile. In today's SEO world, mobile performance is critical for a good rank and most website owners go with a mobile-first strategy by designing their mobile appearance first then building the website around that performance.
Wrapping Up
Search engine optimization is a complicated area if you've never worked on it before. It is an essential part of your marketing, however. You shouldn't put it off, as you could lose out on revenue from customers who never find you. If you're unable to hire a professional, then you can get started using the DIY SEO tricks above.
While there are limitations on what you can achieve without an SEO professional, you'll start seeing a large bump in your search engine rankings once you implement these strategies. With time, you'll start seeing some spectacular results.
Need marketing help to support business growth?
We welcome the opportunity to show you how we can make your marketing SIZZLE with our data-driven, results-oriented marketing strategies.  Sign up for our FREE newsletter, get our FREE guide to creating an awesome website, or contact us for more information on hiring us.
Hausman and Associates, the publisher of MKT Maven, is a full-service marketing agency operating at the intersection of marketing and digital media. Check out our full range of services.