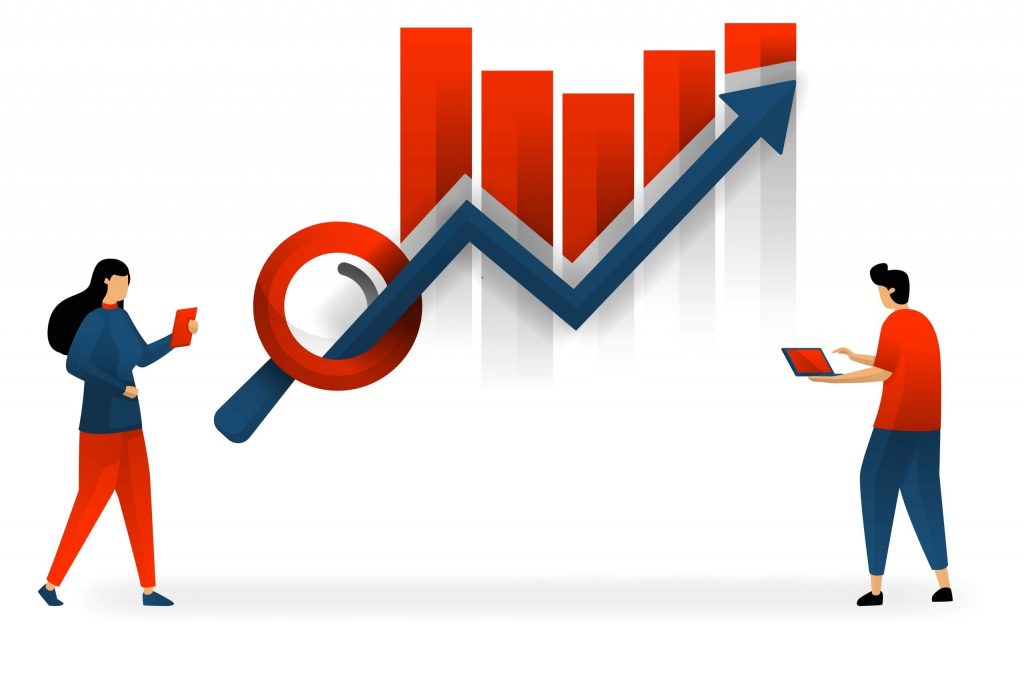 Thanks to digital transformation, consumers have opportunities to search for solutions online to discover products that meet their needs and correspond to their values. With increased globalization and the convenience of e-commerce provided by inbound marketing tactics, consumers now face a wealth of options to solve every little problem they face. When buyers reach out to buy, 57% of their decision-making process is already completed. Therefore, brands must adapt their sales processes to meet customers' remaining informational needs, primarily cost, shipping options, and delivery schedules. Attempts to avoid discussing such potentially unpleasant issues engender ire rather than forcing consumers into choices by escalating their commitment before showing the price.
Consider those popular box meal kits. Uniformly, their strategy involves forcing you to provide your email address before disclosing typical meal options. Only after the consumer provides private information, does he/she learn the vegetarian options promised consist of a few meals they must repeat week after week, with slight variation.
How can businesses adapt to the changing habits of their target audiences? Businesses need to evolve by aligning their marketing and sales teams. This way, they can deliver a better customer experience, and one of the best ways to grow your business is by optimizing inbound marketing tactics. Inbound marketing is a very effective approach that helps convert web traffic into customers. In this article, we consider inbound marketing tactics in more detail and take a look at some of the most effective tactics to help generate more leads.
Inbound Marketing: What Is It?
First, let's agree on what inbound marketing means.
Inbound marketing tactics are a marketing methodology aimed to draw potential customers in (ie. generate leads), in contrast to pushing a product or brand onto prospects. Hence, inbound marketing is a pull strategy designed to generate leads rather than a push strategy designed to push a product on intermediaries to ensure customers find your products available in convenient retail outlets.
Obviously, modern companies using inbound marketing rely on digital marketing in their efforts to generate leads. Usually, digital marketing relies on a combination of different marketing channels and tools, such as social media (SMM), search engine optimization (SEO), and content marketing. Thus, while digital marketing focuses on making a sale, the ultimate goal of inbound marketing is to increase reach and to drive engagement, conversions, and traffic by using owned and earned media. The distinction isn't too important but think of digital marketing as a type of inbound marketing.
Inbound marketing tactics revolve around owned, earned, and paid media. Owned media are channels you control. For instance,  your website, blog, accounts on social media, landing pages, etc. These channels offer opportunities to use content marketing designed to attract new visitors, drive them toward purchase (lead nurturing), and, ultimately, turn them into customers and evangelists who promote your brand. Earned media includes engagement engendered by your valuable content, as well as media mentions, including news sites, social media, and conversations on forums. Unlike outbound marketing, inbound marketing relies less on paid media, such as ads or paid emails. Besides, inbound marketing enables you to increase trust and makes you less dependent on one channel.
The term "inbound marketing" was coined by HubSpot in 2005, but the concept itself has a much longer history. Today, inbound marketing is defined as a process that involves attracting, converting, closing, and delighting clients (as displayed in the graphic below, along with inbound marketing tactics useful at each stage). Successful inbound marketing promotes your business and turns complete strangers into leads and customers.
The Best Inbound Marketing Tactics to Generate Leads
A variety of inbound marketing tactics support lead generation. The key is to choose the right tactics then implement a cohesive strategy combining them in a synergistic fashion to support your individual target markets.



1. Social media marketing
If you want to attract customers to your brand, you must include a social media strategy. Must publish valuable content on a consistent basis, sharing website content and social posts, as well as curating content likely to appeal to your target audience. A well-known rule of content marketing suggests that brands should spend 20% of the time creating content and 80% of the time promoting the content. In a world where users spend on average a little over 2 hours per day on social platforms (in the US), ignore social media at your peril.
We recommend that you do your research and determine which social media channels are popular among your target audience, how often you should post on a particular platform, what time of day works best for engaging your target audience, and craft posts that fit the requirements and best practices of a specific platform. For instance, some segments of your audience may use Facebook, while others might prefer Reddit. We recommend that you always combine different channels. However, keep in mind that it's better to have one or two great channels than to try to handle more channels than you actually can.
For instance, look at this table to determine the best time to post on Instagram, based on 12 million analyzed posts.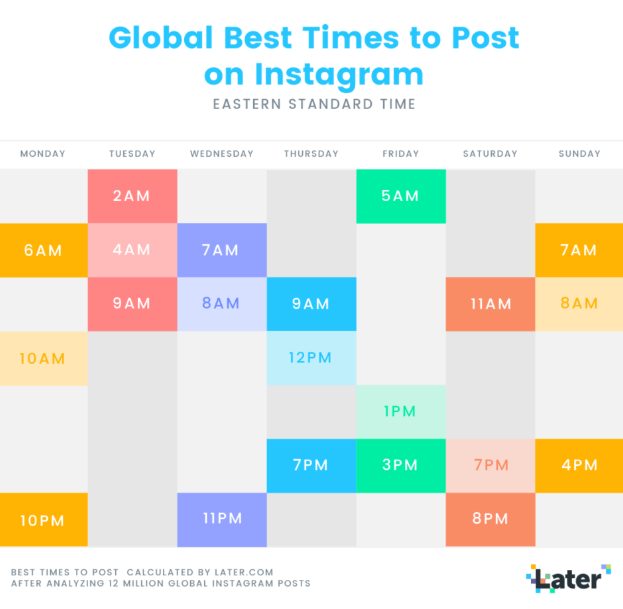 2. Content marketing
When people come to your office, you offer them coffee and start a nice conversation. You don't start to talk about your products immediately, neither do you begin the conversation with sales pitches. The same goes when people visit your website. You must give them a reason to buy your product over competing products because, if they don't find anything valuable, they immediately leave and forget about your brand.
In fact, high-quality content brings visitors to your website using SEO. For Google, by far the largest search engine in the world, SEO requires crafting content your market finds valuable on a consistent basis, along with other signals, such as social media engagement, that show folks trust you and find your content entertaining, informational, or interesting. Check out this graphic showing the percentage of businesses that attracted customers based on the amount of content created.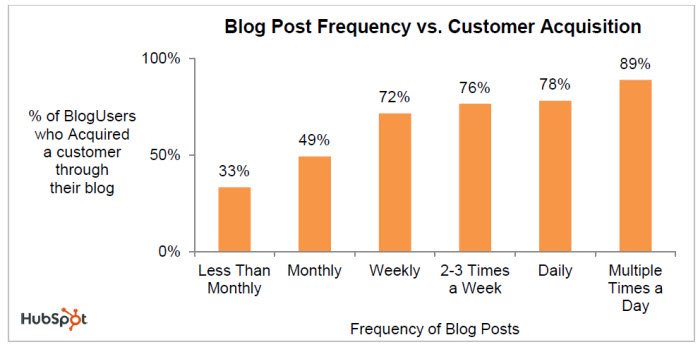 This is why you need high-quality content that is valuable for your potential customers. Good content is one of the most important ingredients of successful inbound marketing. Research your audience and provide useful guides, tutorials, and articles related to your industry. We also recommend that you use different types of content, including videos and infographics.



3. Email marketing
It's one thing to bring customers to your website or get them to engage on social media. These tools are great for attracting customers but you can't stop your marketing efforts there. You must nurture leads coming from your website and social media and that's where email marketing comes in handy. A well-crafted newsletter with a personalized message delivered to an inbox is extremely effective when it comes to driving leads down the marketing funnel. Use emails to deliver your offers, blog content, and news.
We recommend you analyze data on email performance across different segments of your audience and use insights from this data to improve your email communication with your audience. Smart email marketing based on the content tailored to the specific needs and interests of your audience works wonders. In fact, email marketing delivers an ROI of 3800% (see below to compare the ROI of various marketing strategies).
4. SEO
The main advantage of SEO is that it helps you generate free organic traffic. SEO is all about improving the structure of your content to make it more visible for search engines, and therefore, for your target audience by employing keywords that represent the terms users enter into their searches. Employing SEO helps your links show higher in a user's search and we all know we're most likely to click on content near the top of the 1st page of search results. Gaining that top spot, or one close to the top, brings a ton more traffic to your website
The most common SEO practices include keyword optimization, improving the loading speed of a website, title optimization, and image optimization. You can also use internal linking and add links to authoritative sources. However, the main factor that determines whether or not your website gets high rankings is your ability to provide valuable and unique content on a consistent basis. You should also continuously improve your site's user experience to minimize the bounce rate.



5. Paid advertising
PPC is a paid advertising method that also relates to inbound marketing because it targets specific users who actively search for the products you offer. Using PPC as a part of your inbound marketing strategy enables you to display your content to that audience most interested in your products and, by adding demographics and geographic, you turn your targeted ads into an awareness powerhouse. In addition to paid ads on Google's search and display networks, you can use paid advertising on social platforms, such as Facebook, Twitter, and LinkedIn.
PPC involves paying Goggle for placing you in the top search results by using well-targeted messages and keywords. You only pay when someone clicks your ad and can reduce costs by paying careful attention to quality scores. PPC delivers amazing results when combined with SEO because, that way, you can maximize your website traffic and therefore your conversion opportunities.
Meanwhile, social media advertising uses your selected target audience and shows ads in their newsfeed. You pay for the ads depending on the goals you set. For instance, if your goal is impressions you pay per impression while if your goal is watching a video, you only pay once users watch a defined number of seconds of your video.
Wrapping Up
Inbound marketing enables you to target audiences of people who are interested in products that you offer, or in your niche, in general. We hope that the inbound marketing tactics listed above help you figure out what combination of approaches might work best for your business and your market. The main goal is to deliver valuable content. No matter whether you plan for additional channels such as emails, blogs, or paid ads, you must always ensure your audience learns something useful from you or is entertained by your content.
This is a guest post: 
Melissa Mauro is a freelance writer who creates quality and original content. She is working for the company Best Writers Online writing services review in the translation department and wants to find new platforms for professional growth. She believes that creativity and improvement are things, which distinguish a good writer.
Need marketing help to support business growth?
We welcome the opportunity to show you how we can make your marketing SIZZLE with our data-driven, results-oriented marketing strategies.  Sign up for our FREE newsletter, get our FREE guide to creating an awesome website, or contact us for more information on hiring us.
Hausman and Associates, the publisher of MKT Maven, is a full-service marketing agency operating at the intersection of marketing and digital media. Check out our full range of services.