Marketing, in general, and digital marketing, in particular, are much more demanding than ever before, which demands new skills from those you hire. Yet, businesses still hire PR/ communications folks, engineers, and English majors to fill digital marketing (or marketing, in general) positions because they fail to recognize the shift toward enhanced digital marketing skills needed by today's businesses, especially in marketing analytics.
In a recent meeting with a company pitching for our digital marketing business, I mentioned terms like "lift", asked about KPIs, and used other terminology common in marketing even before digital came on the scene. Not only weren't they familiar with the terminology, their proposal contained not a single piece of evidence that they achieved anything for past clients. And, this was a nationwide company. Did they reach their client's goals? Who knows.
Just as most professional jobs have underlying concepts guiding strategy and terminology that encapsulates critical elements of those concepts, so does marketing. We have the 4P's that most understand, but we also have notions of the customer journey, segmentation/ positioning, reach/frequency, and other metrics, as well as numerous other concepts. When you don't hire employees or consultants with marketing skills for your company, you lose the benefit of nearly 100 years of marketing thought. And, you earn lower marketing performance.
That's what you get when you don't hire a trained marketing professional who understands the process, the marketing funnel, and business in general.
To get us started today, let's discuss the most desired digital marketing skills for 2020.
The most desirable digital marketing skills for 2020.
First, check out this infographic listing results from research with CMOs.
Note how the most valued digital marketing skills are strikingly different than a decade ago. In fact, many of these skills weren't even on the radar as recently as 5 years ago. Yet, without the requisite skills, businesses flounder and may fail. Certainly, they don't optimize their profits. Given the changing nature of digital marketing, generalists and those from outside marketing disciplines no longer fit the bill.
Instead, we need to train a new generation of marketing students who possess the necessary skills, something missing in most recent marketing grads. As a marketing professor with over 20 years of experience teaching at the university level, I can tell you most schools still teach the same curriculum they taught 20 or 30 years ago. For instance, most still teach marketing research, which is now so technical students require master's level knowledge to compete, rather than marketing analytics, which even marketing student needs.
The treatment of digital marketing in universities is either taught by staff in Information Science, who teach from a technical perspective or are taught by adjuncts who have practical experience (although whether that experience involved doing digital marketing well is questionable) devoid of integration with marketing concepts and analytics.
Hiring the right digital marketing skills
I think failing to hire the right digital marketing skills explains why companies lament their poor performance, leading some to question whether digital marketing even works. Although a little old, the graph below highlights the skills gap between what businesses need and the skills available in potential hires. Notice the huge gap, the largest of any, revolves around analytics and there's just no way to "fake" your way around this skill. You've either got it or you don't.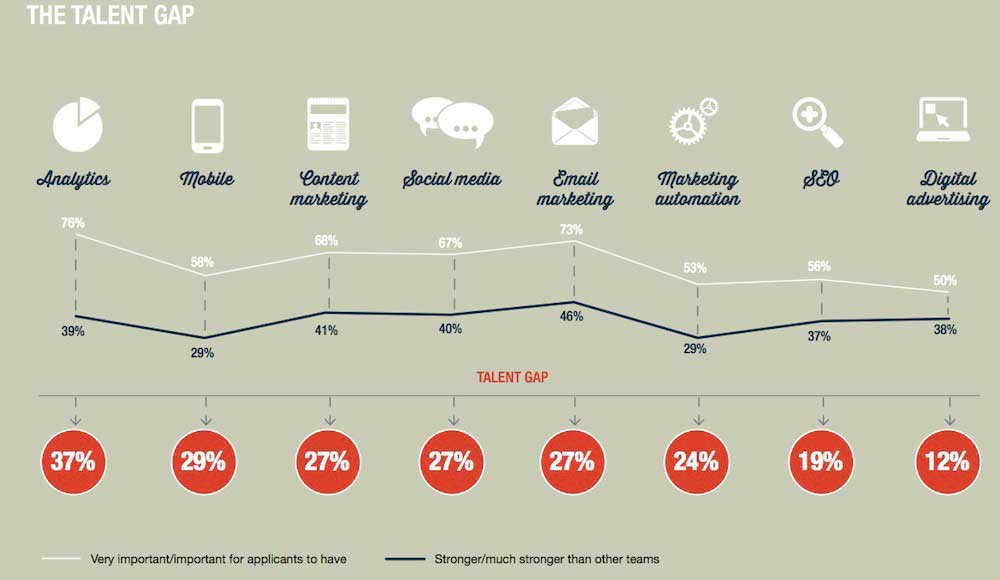 Well, if you're hiring communication and English majors, where do you think they acquired these skills? Those aren't the skills taught in those programs. In fact, English majors fail to demonstrate any of the digital marketing skills listed above, except for content writing. However, without knowledge of SEO, good writing isn't enough by itself.
And, while communication majors are great with video and design, and may even have some skills in UX design, they don't fit the bill either.
Engineers have some appeal because they have quantitative skills and can analyze data. But, we all know it isn't enough to crunch the numbers. You have to know which relationships have the potential to derive insights that guide strategy and engineers just don't have that unless they also have a business degree, such as an MBA.



Needed digital marketing skills
Unfortunately, many schools training marketing students have legacy programs that don't do much to satisfy the demand for digital marketing skills. Some schools are afraid they'll lose students who often become marketing majors thinking it isn't quantitative. Some schools don't have faculty qualified to teach new skills, as they're loaded up with consumer behavior folks after a decade of hiring preference for that type of scholar. And, the biggest challenge of all comes in the form of required research, especially at tier-one schools where publishing esoteric research on arcane topics is the primary hiring criterion. And, don't get me wrong, that's not sour grapes as I have a publication record that surpasses many academics. It's just that our research is read by almost no one except other academics because businesses already solved the problems we seek to understand.
While schools teach their legacy curriculum, the world around them changed, as we see from the infographic. Today's marketers need to have both quantitative skills, along with design and coding, so they're able to quickly respond to the need for valuable content created on a consistent basis over time.
As an example, last week I discussed the notion that there are customers you don't want and suggested the CLV (customer lifetime value) and Demand Management might be useful tools in developing strategies for which customers to target and how to deal with low-value customers. Combining that with my post from the previous week on market segmentation should make it clear that the marketing discipline is evolving, which requires new and different skills from marketing professionals.  So, what should you look for when hiring a marketing consultant or employee to handle your marketing activities?  Below is a list of desirable skills:
1. Excellent quantitative skills

Gone are the days of valuing marketing professionals who could simply craft catchy messages as Darin Stevens did in the Bewitched show. Marketing professionals need a thorough understanding of new metrics, such as CLV; new tools, such as data mining often implemented through Enterprise software, such as the one from SAS;  marketing engineering such as the excel plug-in developed by DecisionPro; and new analytics, such as those available from SPSS or R. If you're hiring, these are a must and, if your current employees don't have these skills, hire a consultant who does to set up and monitor systems or create training on analytics for your employees.
In addition, marketers should have at least rudimentary skills in Python and SQL along with a healthy dose of expertise with tools like:



Tableau, a data visualization software tool
Cognos or other dashboard software
Google Analytics and Google Ads, especially its analytics platform
Social media analytics and corresponding advertising analytics
But, knowing analytics and tools isn't enough. You need to understand business and marketing to derive insights from the analysis. Asking the right questions, understanding how analysis answers those questions, and building your insights into strategy make the difference between success and failure.
2. Qualitative and quantitative research skills
Ask the wrong question and you could end up like Coke with a product no one wants (like New Coke); ask the question the wrong way and you might get answers that say what you want them to say, not what your target market thinks, or feels; don't ask questions and you're fumbling in the dark without even a match.
Increasingly, knowing about your target market involves both cognitive aspects (what they think) and affective ones (what they feel).  Also, you're increasingly looking for linkages that underpin decision-making.  These aspects of research require advanced skills and know-how in methodology and software, such as NVivo or hyperresearch.
But, unlike research skills taught for decades, today's marketers must understand how to glean insights through social listening. That means not simply categorizing sentiment (as positive, neutral, or negative) but building a more nuanced understanding of your market. For instance,
building rich personas to define your target market(s)
identifying opportunities for innovation
evaluating your competition so you understand how your customers view them
discovering how consumers feel and what they think about your brand
In addition to social listening, today's marketers must use technology to improve customer service. For instance, more than half of all customer service today comes from non-human chatbots enabled by AI and trained using ML so they can address most customer questions and offer solutions to customer problems. Marketers must facilitate this training based on their understanding of customers and their problems.
3. Internet and other digital technology skills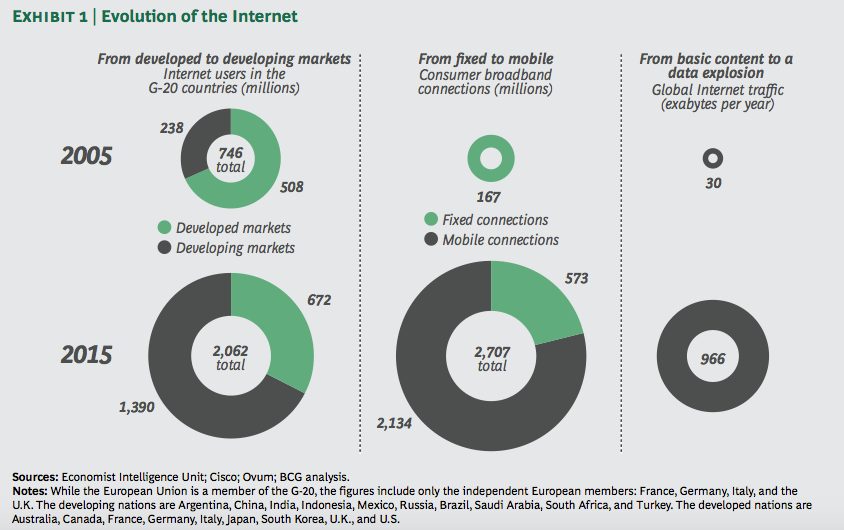 The world is changing, with increased emphasis on digital media rather than traditional ones, such as TV.  This is especially true if you want to reach a younger audience, but even older consumers increasingly use the internet — for instance, the fastest-growing segment of Facebook users are over 45. And don't just think of computer-based social networking — more people are using their mobile devices for entertainment in addition to communication.



The growth in mobile markets probably explains the surge of consumer interest in non-phone mobile devices such as IPad.  Meanwhile, the use of smartphones in developed countries (and even many developing nations) is high, over 80%, according to Pew Research.
While marketers don't necessarily need to know the technical aspects of operating in the digital world, such as HTML, they need to know how customers behave and what they like and don't like in this environment.
First and foremost, online users don't like to be talked to they want to talk with each other and commercial enterprises.  So, marketers need to know about web design features that online users like, how users want to search for products, how they feel about online privacy, and how to encourage communities of consumption on their websites. For instance, RGA did great things with the Nike website, allowing full customization of a shoe by the online shopper. Expect increasing integration between marketing and IT to introduce new products and services for online shoppers.
Marketers also need to know SEO and how to harness the power of social media to do guerrilla marketing, influencer marketing, email marketing, and related marketing on the Internet. If companies do things online the same way they've been doing them on TV or in print, they're doomed to fail.
And, while marketers don't need to know HTML/CSS thanks to great CMS (content management systems), themes, and other great tools, a little knowledge sure helps.
4. Design
The same goes for design. Gone are the days when marketers waited months for a designer, editor, videographer, and paid actors to produce a polished image or video. Now, demands may mean I need these graphics elements in an hour to take advantage of an opportunity. Even without such immediate demands, I need fresh content every day. Hence, marketers need design skills and knowledge of software like Adobe's Creative Suite.
5. Strategy skills
Marketing is a strategic function. The marketing area should be concerned with all aspects of growing the business, not just advertising or sales. This means understanding how elements such as the 4 P's (product, price, promotion, and place – distribution) fit with the target market and external variables, such as competition and technology, to create a superior brand and position to create opportunities for the business to grow.
Updating your strategic knowledge with new strategies brought on by the digital marketplace, including aspects such as customer journeys make you ready for 21st-century marketing environments.
Conclusion
I hope you gained an appreciation for the new marketing skills needed in 2020, but it doesn't stop there. With the constant change in digital platforms, digital marketing skills must constantly improve. Standing still just isn't an option.
That means constantly updating your own skills and that of your employees to meet tomorrow's challenges.
I'd love your feedback if you wouldn't mind leaving something in the comments below.



Need marketing help to support business growth?
We welcome the opportunity to show you how we can make your marketing SIZZLE with our data-driven, results-oriented marketing strategies.  Sign up for our FREE newsletter, get our FREE guide to creating an awesome website, or contact us for more information on hiring us.
Hausman and Associates, the publisher of MKT Maven, is a full-service marketing agency operating at the intersection of marketing and digital media. Check out our full range of services.