Digital marketing is an important part of any business in today's world where 87% of consumers start their product search online (even before lockdowns drove many more shoppers online as stores closed down for all but the most essential products). Combine that with growth in online shopping (see image below) and you have a marketing strategy you MUST master if you want your business to succeed. Avoiding these digital marketing mistakes is a great place to start in achieving success.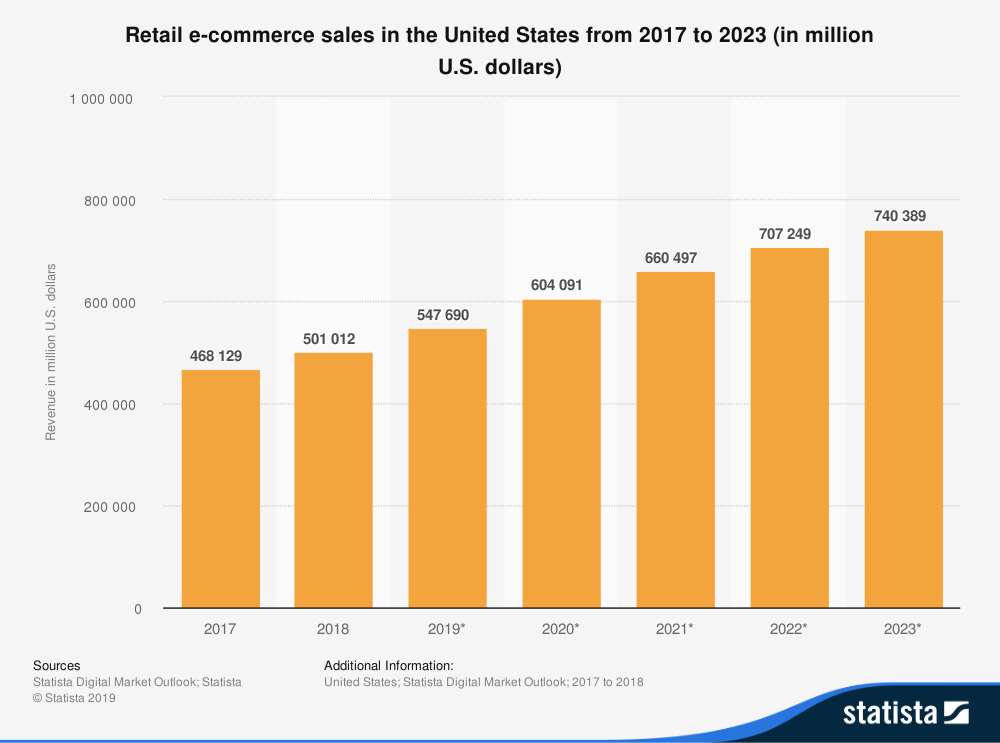 Digital marketing
Sometimes digital marketing refers exclusively to advertisements and marketing endeavors that show up on a phone or tablet or computer. Digital marketing is anything from a video to an online advertisement or a social media post, as compared to traditional marketing strategies like ads in magazines, billboards, or through the mail. Even television is grouped with traditional marketing.
While digital marketing is important, it requires mastery of certain skills and study to keep up with constant change. There are many different avenues that you can take to promote your business online, and which one is best depends on your specific situation, your market, and your competition. Digital marketing, if you want to succeed, isn't something to hand over to your web designer or your cousin who has a big following on Instagram.
Jumping into digital marketing without a sound strategy and expertise leads to costly mistakes. Here are some digital marketing mistakes to avoid if you want to generate success. The question isn't why invest in digital marketing, but rather, how can I invest wisely?
Digital marketing mistakes to avoid
We inevitably make mistakes and you can't hope to avoid all digital marketing mistakes. However, with a sound marketing plan built by analyzing key performance metrics to develop insights that guide your decisions, you can succeed.
Under promoting your website
It is essential that you have a website for your business, even if you sell through 3rd parties such as Amazon or eBay. A website helps you connect with your customers, promote your products, and sell to your target market. One major problem with a website is that it is easily lost in the sea of websites on the internet. There are so many websites, the chances of the right market stumbling on your website in a search are tiny.
You want to ensure you promote your website to the right market using available tools. Adding tactics like SEO (search engine optimization), which helps your content show up in related searches, SEM (search engine marketing), which involves advertising on search engines, and social media marketing generate success by helping interested users find you online. Even if you only sell through a physical store, getting found online helps drive traffic to your shop.
None of these tactics are cheap, despite notions of social media as a free platform. And, none of these tactics are correctly implemented without sufficient expertise and skill. So, hiring your friend to do your social media marketing isn't likely to generate results. For instance, you should expect to spend between 15% and 40% of your marketing budget on SEO alone.
Missing your target market
A lot of people just try to reach as many people as possible without considering their target market. Reaching a lot of people won't matter if they aren't the kind of people who want to buy your product. Someone complained to me today that digital marketing is annoying. Properly targeted, digital marketing offers solutions to your problems and is a benefit in helping you identify options you might not already know exist. Thus, targeting the right market not only generates higher ROI (return on investment) it results in less annoyance that might damage your reputation.
Identifying this problem is relatively easy. Analysis of your website data shows a lot of visitors, but not very many sales. You may want to tweak your approach so your digital marketing campaigns reach the right audience. It is a better use of your time to create targeted ads instead of just simply trying to reach as many people as possible since you waste less money and generate higher sales.
Unrealistic goals
The development of a digital marketing plan necessitates identifying goals then comparing performance against those goals. Setting SMART goals involves crafting goals that are specific, measurable, achievable, relevant, and time-bound. Vague goals always leave you feeling like you aren't accomplishing anything and won't give you a solid direction in which to go.
Firms that don't set SMART goals commit several digital marketing mistakes. For instance, they set goals without specific criteria to assess success. Saying you want to have more social media followers, for instance, is vague (isn't specific) and won't help you in your pursuit of growth because there's no correlation between followers and success (isn't relevant). Instead, set a goal to increase the conversion rate from social media by 10% within the next 12 months. Now you have a SMART goal you can assess and use to guide future actions.
You also need to make sure that the goal you set is something you can actually attain. For instance, it takes 6-12 months to move the needle with digital marketing tactics, even if you ultimately succeed. Setting a short goal and eliminating a strategy that doesn't meet that unrealistic goal is a waste of time and effort.
Not allocating sufficient budget
In an attempt to save money, a lot of businesses don't invest sufficient resources to help with their digital marketing. You need to make sure that you have the right people and the right resources working on your marketing plan. The success of your business is directly tied to your marketing plan, so this is the area of your business where you need to make good investments.
The US Small Business Administration recommends SMEs (small and mid-sized businesses) allocate 7-8% of gross revenue to marketing, with 45-50% allocated toward digital marketing.
Wasting money on ads
Unlike traditional marketing that relies heavily on paid advertising, digital marketing requires a more nuanced approach that allocates money to a variety of digital strategies rather than spending your entire budget on advertising. Spending your ad budget wisely is also a critical factor in success.
One of the biggest digital marketing mistakes involves ineffective advertising. To make your online advertising more effective, pay attention to the following:
Quality score, which is an algorithm created by Google that determines your CPC (cost per click). A poor quality score may mean you pay $5 per click while a good quality score may mean you only pay $1/ click for the same ad.
Ineffective keywords, which should reflect user intent so you generate clicks from folks actually interested in your product.
Not analyzing results, which wastes money when you don't learn which keywords are working best. Analytics allow you to tweak everything from keywords to bids to ad copy so you generate better ROI for your ads.
Incorrect targeting, which drives traffic to your website but low sales.
Conclusion
I hope this helps identify some of the biggest digital marketing mistakes you can make; mistakes that cost you time and money. By fixing these mistakes or avoiding making them in the first place, you ensure the success of your digital marketing campaigns.
Need marketing help to support business growth?
We welcome the opportunity to show you how we can make your marketing SIZZLE with our data-driven, results-oriented marketing strategies.  Sign up for our FREE newsletter, get our FREE guide to creating an awesome website, or contact us for more information on hiring us.
Hausman and Associates, the publisher of MKT Maven, is a full-service marketing agency operating at the intersection of marketing and digital media. Check out our full range of services.