Growing a startup is challenging, and the lack of a well-thought-out marketing plan may result in wasting time and money in the wrong places and tactics. As an entrepreneur, you need targeted marketing and brand recognition efforts to help you generate better revenue and improve customer engagement. In this post, we discuss digital marketing for startups to help you build brand recognition and revenue. Digital marketing is a cost-effective way to reach out to prospects and turn them into customers anywhere around the world when you know what you're doing. That's why, as you see below, digital marketing for startups and other small businesses ranks high among the top 10 marketing tools used by small businesses. Even digital word of mouth, which is used by 48% of small firms, figures heavily in digital marketing for startups.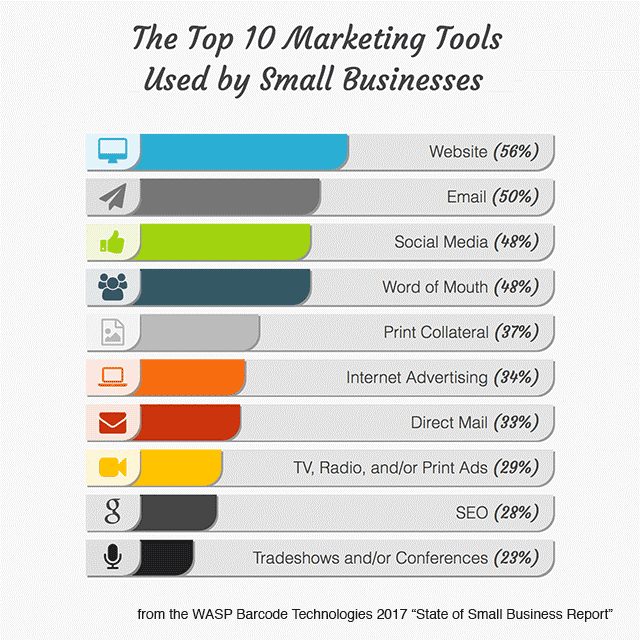 What is digital marketing?
Digital marketing is the act of brand promotion through the internet and other digital communication channels to connect with potential customers. The forms of digital marketing can include email marketing, a website, social media posts, paid digital advertising, text and multimedia messages, online video, and more. In contrast to more traditional forms of media, such as TV, radio, and print, digital marketing is less formal, more personal, is trackable, less promotional, and involves interaction (engagement) with the subject of your digital efforts. Digital marketing is also cheaper.
Digital marketing for startups is a natural because it offers an inexpensive way to learn about your target market, its needs, how to communicate with them best, and offers opportunities to engage them with your brand. Digital marketing is also more targeted than traditional marketing, which makes digital marketing for startups more effective with the limited budgets often available to these firms.
Why digital marketing?
To drive potential customers towards purchasing your product or service or engage your existing customer base, digital marketing is a great tool. In today's world, people are constantly online. By April 2022, there were five billion internet users (or 63% of the world's population). In the U.S., more than ¾ of the population go online daily, and 31% are almost always using social media, sending emails, working, and shopping, especially on mobile devices that are often the first thing Americans grab in the morning and the last thing they put down at night.
Digital marketing lets brands communicate with their customers in real-time. It also provides a better targeting opportunity and lets the customers communicate with brands. Think about using social media to target an audience. The audience can like, comment, or share your posts if crafted well. You can collect their data, like preferences and tastes, and use it to approach them for sales. Building a strategy for digital marketing for startups is pretty much the same as for any other business, except you're often starting from scratch so our topic starts at the beginning.
Digital Marketing for Startups
As with everything else related to your startup, you need a solid, well-researched marketing plan (and a business plan) before you get started. An important part of that marketing plan is ensuring there's a market for your product (good or service) among a large enough group of interested consumers to sustain your efforts. As you can see in the image below, not having a market is the biggest source of business failure.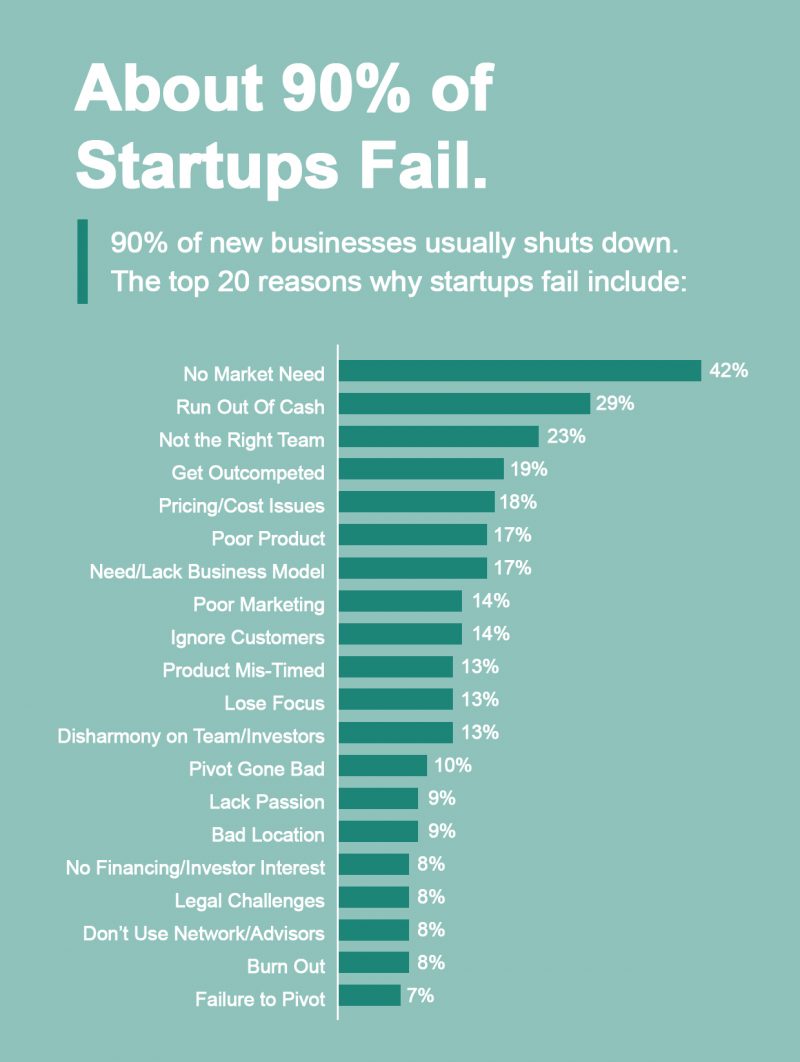 Your marketing plan must include a complete review of the external environment, especially identifying the strengths and weaknesses of your competition (including potential new competitors entering the market) as well as developing a clear understanding of the wants and needs of your target market. Building buyer personas for your target market(s) ensures you not only understand their needs but how to reach them.
Other elements to add include:
external factors

legal and regulator considerations that might impact your ability to operate in your chosen market
economic indicators such as consumer confidence and unemployment rates that impact consumer willingness to spend money
technological trends that impact your ability to operate efficiently and opportunities to market your product such as virtual reality and chatbots

internal factors

SMART goals and objectives
plans regarding the 4 Ps; product, price, promotion, and place (distribution)
action plans for each major tactic making up your plan
Tactics to include in your digital marketing for startups plan
Build a great website
As a startup, you need a website to represent you and talk to your audience regardless of where they're located and when they want information. Younger consumers prefer to interact with brands on their website for purchasing, information, and customer service rather than through a physical store or phone call. Yet, as you saw in the introduction, only a little more than half of small businesses have a website. According to Forbes, you need a website to build credibility for your brand, even if you count on a physical store for all your actual sales.
A website is your brand's online visibility agent because, unlike social media, it's something you own and control. Without a website, your startup enterprise likely misses out on many customer engagements with your target market and possible sales. Your website should contain product descriptions and images, product reviews, blog posts, customer support information, and a call to action. This is why your website must look visually appealing, be easy to navigate and use, and accurately represent your brand to build trust and credibility. In building your website, consider adding the following:
Your brand name
Business logo
Product descriptions, images, and specifications
Story Brand
Customer care and contact info. Consider adding a chatbot to provide customer support even when you're not available.
Location, hours of operation, and phone number
Structural information such as an about page, privacy policy, and other operating information
You should also consider important website items like speed, mobile-friendliness, audience engagement, visual style elements, web-friendly images, and keywords as part of your SEO (search engine optimization) strategy to bring organic traffic to your website. Business websites get 53% of their visits from organic search, on average. Posting valuable content on a consistent basis is crucial for gaining organic traffic.
Social media
Every business needs a presence on social media, even if they choose to only listen and respond rather than maintain their own social platforms. This listening allows businesses to gain more insight into their target market and their competition. Responding to social comments about your brand helps you build a strong reputation.
Building your own social platforms provides even more opportunities to attract and engage your target market. By posting valuable content, you gain exposure to new consumers through the actions of users, such as comments on your posts and shares by users. These user actions carry more weight with other users because they appear motivated by attitudes rather than self-interest.
In building social profiles, consider your bandwidth and only develop as many platforms as you can effectively maintain. Remember, you must post valuable content consistently if you wish to build your community and gain engagement. Below, you can see the recommended schedule for posting.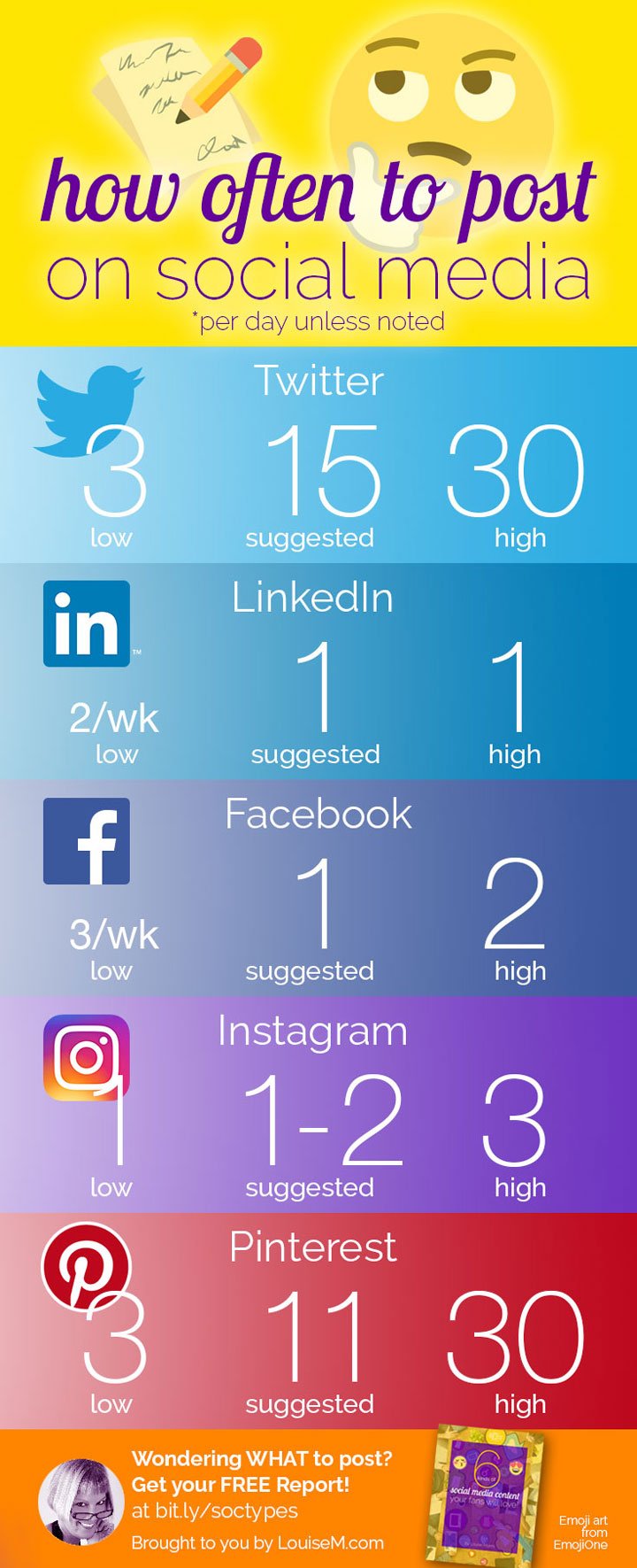 Email marketing; SMS messaging
While these two strategies have significant differences, both offer one-on-one communication that's particularly effective in generating sales and loyalty. Both require opt-in with heavy penalties for sending unsolicited communication.
Paid advertising
Advertising is available on most social platforms (although it's only available in Beta on TikTok) and offers a cost-effective advertising tool. However, understanding the nuances of advertising on your chosen platform is key to achieving high CTR (click-through rates) and low CPC (cost per click). Search advertising relies heavily on keywords used in the campaign, while social uses targeted advertising based on the demographic, geographic, or interest characteristics of users.
Consider e-commerce dashboard
As you create a website with an appealing image, consider your need to track performance to assess which tactics are working (and which aren't) and to gain insights to optimize your performance. You should track your customer engagement and feedback, revenue, inventory, promotions, and operational costs. This is especially essential if you're running an online store. With this information, you can identify market trends, consumer behavior changes, and website performance. This is where the eCommerce dashboard comes in.
An e-commerce dashboard is simply your website's back-end user interface that displays metrics and your business's key performance indicators (KPIs) such as sales, product views, revenue, and customers. You can also see particular website metrics like bounce rates, abandoned carts, ad spend and performance, conversions by channel, and best-performing posts so you gain insights useful in improving performance  A great dashboard benefits your business and marketing in many ways.
A view of various performance metrics to help you understand your operations, customers, promotions, and engagement rates.
Informed decision-making: Understanding your performance metrics will give your relevant data to help you make informed decisions regarding future operations and marketing.
Accurate forecasting: Using the metrics, you can create a picture of your business's past and present activities and performance and use the data for accurate insights and forecasting.
Team motivation: Your statistics about sales, promotions, and engagements can help you find better ways to improve targeted marketing campaigns.
Create a clear brand story
Your brand story and position determine the type and level of customer engagement you receive. Today, marketing is more about the customer than your brand. A StoryBrand can help you set the brand image and message. A StoryBrand is a simplified way to make your brand and marketing message clear to your target audience, capture their attention, get them engaged, and persuade them to buy.
A StoryBrand makes sure you're telling a customer-centered story about your business and product or service on your website, social media, blog, or email in a pattern of seven steps:
Establish a character: The customer
Who has a problem: The individual or business problem (internal or external)
The character meets a solution: This is the product/service/ mission you offer to the character
You provide a plan: The offer or solution your business, product, or service provides the character with
Call to action (CTA): Call the character to act (buy, take a tour, book a call, read other articles)
End up with success: The offer solves the character's problem
Avoided failure: The client avoids a failure that would have occurred if they'd did not act on the CTA
A StoryBrand gives you a real connection with the customers and demonstrates how you can solve their problems in a simple way. Replicate this in any channel you'll use to meet your customers, such as your website landing page, blog posts, articles, product descriptions, images, YouTube videos, and more. Ensure the content is informative, educational, and engages your customers to create a conversation and encourage them to buy and grow your e-commerce business.
Conclusion
There are different channels and models for digital marketing for startups, such as social media, content marketing, ads, strategy campaigns, SEO, and email, but all of them boil down to having a great website, tracking visitors to and through your website using an eCommerce dashboard, and having a clear story brand. Every other digital plan and strategy revolves around these three digital marketing activities.
Need marketing help to support business growth?
We welcome the opportunity to show you how we can make your marketing SIZZLE with our data-driven, results-oriented marketing strategies.  Sign up for our FREE newsletter, get our FREE guide to creating an awesome website, or contact us for more information on hiring us.
Hausman and Associates, the publisher of MKT Maven, is a full-service marketing agency operating at the intersection of marketing and digital media. Check out our full range of services.