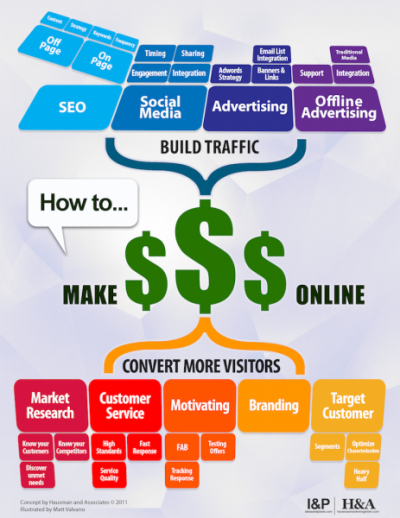 My focus on Market Maven is on mid-sized and high-growth startup businesses. In honor of Small Business Saturday (coming on Nov 26th-just after Black Friday), I'm shifting focus to write about digital marketing for small businesses, so I'll try to give a good overview of what small businesses need to be successful online as well as provide links to get more in-depth information.
Think of this like a Wikipedia page dedicated to digital marketing for small businesses.
Why focus on digital marketing for small businesses?
Digital marketing is particularly effective for small businesses — if they can figure out how to cut through the clutter online. That's because the cost of digital marketing is a small fraction of the costs involved in traditional media, like print and broadcast (TV, radio).
Digital marketing also provides superior targeting, allowing the small business to optimize their reach and frequency with a relatively small budget.
While digital marketing isn't easy, it's much easier than traditional advertising.
A caveat here: digital marketing won't be successful if you don't have your other marketing ducks in a row, as demonstrated in the infographic above. Without research into your market segments, effective targeting (not just with messaging, but other marketing aspects), superior customer service, and the 4P's, you'll never reach your goals.
Elements of digital marketing
Let's talk about what elements you need to put together to form your digital marketing strategy (you can get my ebook with a step-by-step guide for doing digital marketing using this link):
Strategy
Platforms – website, social platforms
Content suitable for each platform
Automation
Analytics
Strategy
As a small business, you might not need a full-blown digital marketing strategy and you might not need something formal, but you need to consider the following elements before starting your strategy:
What are my goals? These should be smart goals and you need to think about both terminal goals (sales, lead generation) and process goals (like visits, page views, fans, followers, etc).
Who is my target audience (those most likely to buy your products or services)? What do they look and act like? What do they need? How should I approach them, ie, what message is likely to resonate with them? Where will I find them?
Does my product/ service match what my target audience wants and needs?
Who are my competitors and what advantage/ difference do I offer over them?
What resources will I need to reach my goals? And, we'll talk about these in the next sections.
How will I assess my performance relative to these goals?
How do I translate what I learn from metrics into better performance?
Platforms
A website/ blog
Digital marketing for small businesses requires strong platforms. And, I think a website/blog is the centerpiece of your digital marketing efforts.
Why?
Simple. You own it — no one can take it away, change the platform without your consent, tell you what you can do … Plus, it's an important element if you're an ecommerce business, as you control the look and feel of your store.
The most important reason for including a blog as part of your digital marketing is SEO-search engine optimization. Just a few years ago, you didn't need a blog because the Google Algorithm that brought most of the traffic to your site didn't rely on content marketing. But, that time is long past. Now, you need fresh, valuable content on a consistent basis if you want free traffic from Google (70% of searches still happen there) and other major search engines have followed suit. The effectiveness and cost of paid advertising on Google is also affected by this content.
Another reason for creating a website is that you get great analytics, assuming you've set it up right. These metrics guide you in future strategies that optimize your return.
Some small businesses use free sites, like WordPress.com, Blogger, or other similar sites. I strongly recommend against that as it's really hard to get good rankings from a free site.
I also strongly recommend against using copy and paste tools like Wix to create your website. They look cookie cutter, no matter how many custom graphics you add and, again, it's hard to rank well with these tools (they don't have good, well-coded websites backing them up). However, you can create a custom site for less than $100 and it's less than $10 to maintain it. Any small business that can't afford that little money shouldn't be in business.
If you want step-by-step instructions for creating your own website, grab my free ebook.
Social platforms
But, you'll also need platforms on social networks, as well. It's better to focus on doing a great job on a few social media sites versus doing a bad job on a bunch of them.
I have a couple of recommendations:
Choose social media sites that match your target audience — be where they are
Don't spam your audience. Notice this infographic recommends the number of times you should post per day across different platforms. You can vary from this somewhat, especially occasionally, but don't overdo it on any network.
Remember, social is a 24/7 proposition so you shouldn't schedule all your daily posts at the same time. Spread them out across the day, focusing on times when your audience is likely online. Automation helps with this task.
Don't talk about yourself too much. Experts recommend an 80/20 split between posting interesting content (80%) and stuff about you (20%).
Build your social networks organically, don't buy followers or do a reciprocal arrangement. I found the best way to build a social network is by following interesting folks and sharing their content liberally.
Content
Once you have social platforms, you need content to share on those platforms. Remember the 80/20 rule from above. That means curating content to share with your audience. I find Buffer works exceedingly well as a tool to find interesting content at a reasonable price ~$10/month. You can also use Feedly for free, although it's a little more work to share using this tool.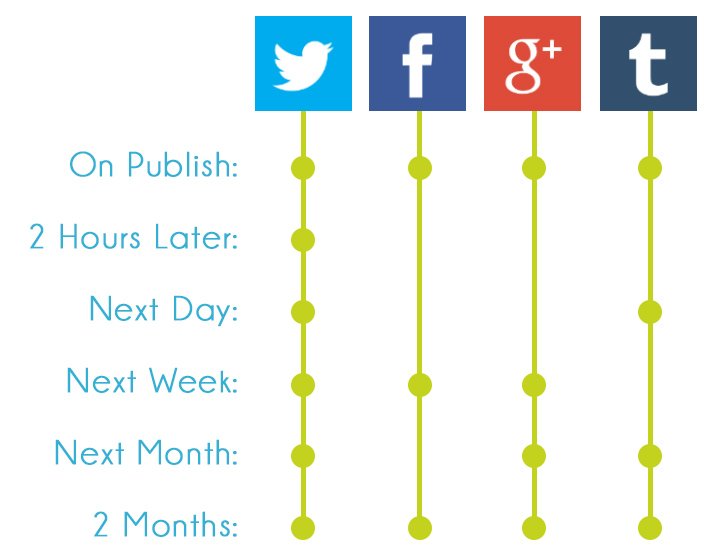 Of course, you'll have your own content to share, especially if you followed my recommendations above to have a blog. Plan to share your own content multiple times, staggering it so you're sharing 3-4 times over a couple of months — see this recommended schedule from Buffer.
Automation
I know it sounds like there's a lot of work involved in digital marketing for small businesses. Automation is a way to help manage daily digital marketing tasks efficiently.
For small businesses, I recommend Buffer and Hootsuite and I use them in combination for my smaller clients for around $20/month. Both have trials and both offer free versions, although I find I need the extra tools offered with the paid versions.
These tools allow me to:
find interesting content and share it on my preferred schedule so I always have new, fresh content to share
find and follow interesting folks so I'm building my network
craft unique images for my posts (using Pablo, which is free on Buffer)
monitor who's engaging with me on social networks — nothing kills a social strategy faster than ignoring those who engage with you
Analytics
All your work is for naught if you can't monitor what's working then use that information to optimize your market performance. At a minimum, you need Google Analytics (which is another reason for doing a self-hosted website over the alternatives discussed above).
Google Analytics is a free service that gives you incredibly detailed information about your website including:
number of visitors and what drove them to your site
conversion rate, as well as conversion rates by channel (social network, for instance)
shopping cart abandonment rates (lost opportunities)
effectiveness of content in driving visits
Most social platforms also include analytics to help optimize performance on that network.
Final thoughts on digital marketing for small businesses
I hope you found this overview of digital marketing for small businesses helpful. While we don't usually handle small businesses, Hausman & Associates can help get you started at a reasonable rate if you need more help. However, you should subscribe to get bi-weekly updates that can help optimize your digital marketing.
Need marketing help?
We welcome the opportunity to show you how we can make your marketing SIZZLE with our data-driven, results-oriented marketing strategies.  Sign up for our FREE newsletter, get the 1st chapter of our book on digital marketing analytics – FREE, or contact us for more information on hiring us.
Hausman and Associates, the publisher of MKT Maven, is a full service marketing agency operating at the intersection of marketing and digital media. Check out our full range of services.