If you're not marketing your business online, you're missing out on serious growth opportunities. It's true! Online marketing outshines traditional marketing methods on a multitude of fronts, including cost, ROI, measurability, and reach. Businesses can now communicate with potential customers from all corners of the world as easily as customers down the street due to the internet and related technologies. If aren't using digital marketing for business growth in 2021, you're a bit late to the party.
But, as the saying goes, "better late than never"!
Here are six ways to use digital marketing for business growth.
How to use digital marketing for business growth
1. Be where your customers are
The internet is the first place customers go to find something they want. Don't believe me? Check out the image below to see how using digital marketing for business growth helps you reach customers shopping online. Note the impact of search engines on reaching prospective customers when they're in the mood for shopping.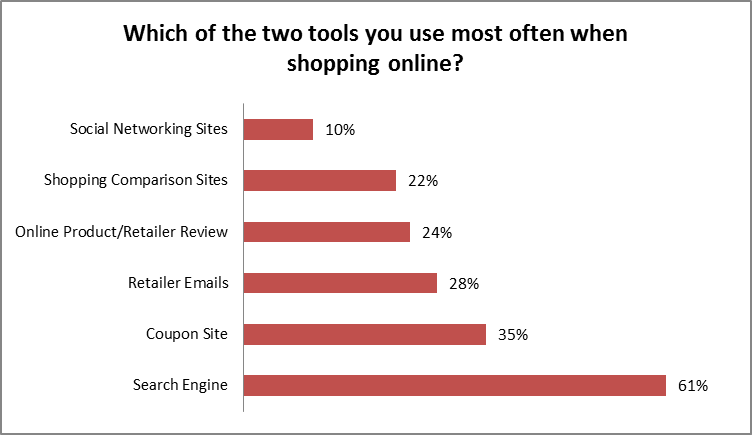 Whether you're looking for a good or service (referred to as a product), a quick search is all it takes to find a range of options that might fit the bill. Being easily discoverable online means making it to the first page in search results.
If you're not on the first page, it's as good as not being there at all.
Online marketing gets you right in front of your customers' eyes, increasing your audience, generating leads, and promoting long-term business growth. Not only that, social media sites generate interest in your brand through associations with micro-celebrities (influencers) and by drawing your attention to products you never considered buying.
It's all about being where your customers are. They're all online, and they find exactly what they need as soon as they need it with a few clicks of a mouse. And, online reviews used as part of your digital strategy, take you across the goal line by encouraging visitors to take a chance on your brand.
2. Level the playing field with competitors
With traditional marketing efforts, you needed a huge marketing budget, a well-trained sales force, and a big PR push to make a dent in cracking the noise surrounding commerce if you want to reach people beyond your own neighborhood. There was once a time when only the big names could afford to advertise their brands effectively. Those who secured TV ads monopolized their industry. Not anymore. Online marketing gives all businesses the ability to get noticed and grow, regardless of size and marketing budget.
Unlike these traditional marketing methods, money doesn't pose a big barrier to entry for small businesses armed with the right digital marketing for business growth. An example is King Arthur Flour company. Before digital, this company was a minor player in a field dominated by big brands who outspent the little guy. By using digital marketing for business growth, the little engine that could raised awareness and increased sales by dominating digital spaces with recipes and other valuable content for home bakers. Online marketing is highly cost-effective, making it easier to outsmart your competitors without having to overspend.
Given the emphasis on search marketing in reaching potential buyers, an effective SEO (search engine optimization) strategy boosts your brand to one of the top spots in Google (accounting for the lion's share of search traffic). SEO is a tried and true process that comprises several different marketing tactics that search engines love, including content creation (the secret to King Arthur's success), link building, and keyword research. Whether you team up with a digital marketing agency or you do your SEO yourself, SEO allows you to outrank your competitors without breaking the bank.
3.Generate a high ROI
Maybe because of its affordability, digital marketing for business growth offers a high ROI. Check out the image below to see how digital marketing, especially email marketing, generates superior ROI to some traditional marketing tactics.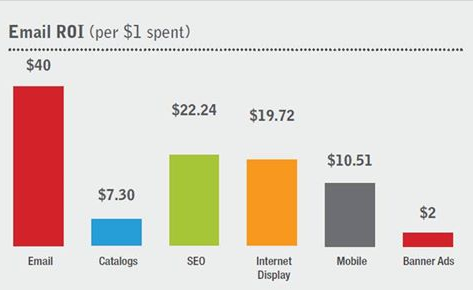 Potentially more powerful even than its superior ROI is the ability to use analytics to support that ROI and to guide decision-making that optimizes ROI. Unlike traditional marketing, which has no quantifiable capabilities, digital marketing offers analytical tools that allow you to quickly and easily see which elements of your strategy have the highest conversion rates and which actions increase that conversion.
Since converting leads into sales is the ultimate goal in online marketing. Increasing conversion rates are a clear sign that your marketing strategies are working and your business is growing.
4. Generating qualified leads
It's one thing to generate leads, but it's another to generate qualified leads. The same goes for sending visitors to your website. Digital marketing lets you target specific audiences by demographics, geographics, spending habits, and interests, allowing you to build a following of potential customers who possess the need, money, authority, and desire necessary to make them prospects for your brand. Since digital marketing is highly targeted, you not only attract prospects but control costs by selectively reaching them rather than wasting money reaching a bunch of folks who will never buy your brand.
As your audience grows, so will your business.
5. Increase Customer Loyalty
Retaining customers is vital for long-term business growth. With so many competitors out there, you need to work hard to earn the loyalty of your customers, but it's well worth the effort since it's 5X harder to attract a new customer than retain an existing one.
There are three key ways to develop a robust and loyal customer base:
Communicating with your customers is a critical part of an online marketing strategy. Fortunately, it's never been easier to engage with customers, whether it's via social media or email. Engagement helps build a relationship with your customers and gain their trust. Not only does this create loyal customers but it also encourages them to leave reviews and share your content, thus bringing you new customers.
Supporting your customers throughout the buying process and beyond is a great way to secure repeat business. And, customer support was never easier and less expensive than it is now. You can hold customer support hours across social platforms, use chatbots (who never take a day off) to answer common questions, and post explainer videos to step customers through uses and assembly.
Customers are 71% more likely to buy from brands that align with their values. This is especially true for younger consumers who are willing to pay more for a brand that shares their values. Authenticity is also important as you must live your values not simply state them.
6. Measure marketing success
In the days of traditional marketing, results from a campaign were more guess than fact. Sure, agencies assessed increased awareness but tracking ad performance was fraught with problems from contaminating variables. You couldn't make a quick adjustment to your strategy midway through, and it took weeks, even months, to find out whether the campaign worked if you could determine that at all.
Digital marketing changes everything. Real-time results show you how well your strategies are working; how many visitors come to your website, how long they stay, and how many become paying customers.
These insights help businesses continuously improve their marketing campaigns and prevent them from wasting money on strategies that don't work with their audience. This is called data-driven marketing, and it's an impactful and cost-effective way to promote your business.
Effective marketing strategies are essential to the long-term success of a business. Using online analytical tools to your advantage, you can ensure that each of your strategies is effective and contributes to your business's growth.
Conclusion
For a business to succeed, it must continue to grow. With a global audience at your fingertips, online marketing gives your business endless growth potential. Market your business effectively, and you'll enjoy an ever-growing customer base.
Need marketing help to support business growth?
We welcome the opportunity to show you how we can make your marketing SIZZLE with our data-driven, results-oriented marketing strategies. Sign up for our FREE newsletter, get our FREE guide to creating an awesome website, or contact us for more information on hiring us.
Hausman and Associates, the publisher of MKT Maven, is a full-service marketing agency operating at the intersection of marketing and digital media. Check out our full range of services.