Digital marketing campaigns are expensive and the cost of doing them poorly extends well beyond the price paid for the campaign. In fact, the opportunity cost (the money you DIDN'T earn) is often many times greater than whatever you paid for the digital marketing campaigns in the first place.
As a startup, you can't afford this kind of mistake. Frankly, no business can afford to fail with their digital marketing campaigns (or any other aspect of their marketing). Among the costs you incur with poorly designed digital marketing campaigns, in addition to their price tag are:
Damage to your brand image. In the Tweet shown below, Asus produced an image many considered insulting and sexist. The blowback damaged the brand's reputation as the Tweet went viral for all the wrong reasons. The saying goes that there's no such thing as bad publicity, but there is.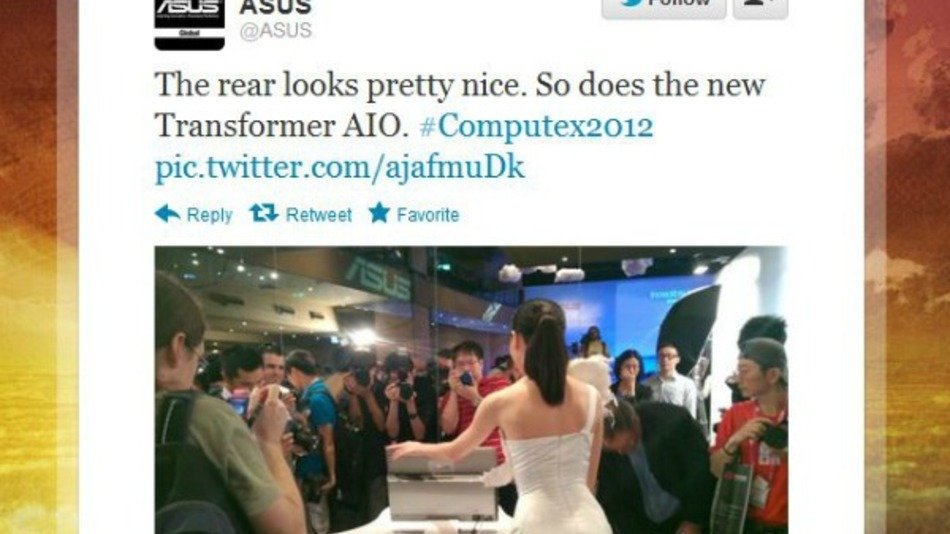 Confusion or muddled brand image when your digital marketing campaigns lack a consistent message. Think about old car ads where the manufacturer produced slick, professional ads while the local dealer produced inconsistent messages in their ads.
Failure to meet your sales goals, which can throw off your entire budget
Wasted effort, which is often in very short supply
Loss of motivation and morale among your employees
There's no denying that startup businesses have a lot of work to do if they want to successfully compete with other brands in their industries. Of course, this situation isn't unique to startups and most businesses feel like they're in the same boat when it comes to carving out space for their brand in overheated markets. Time and money are also both in short supply. Most sectors feature very saturated markets, so your role, as a marketer, is to build a positive image for your brand, show your competitive advantage over other products in your niche, and drive customer loyalty. All of this takes effective digital marketing campaigns.
If you started a new business or are about to launch a new brand, you must ensure your brand marketing is on point. Otherwise, you run the risk of seeing your new business fail primarily because your target audience doesn't know you exist or doesn't see your brand as something that solves their problems!
With that in mind, make sure you know about these essential digital marketing campaigns for your business:
Essential elements of digital marketing campaigns
Below, I share 7 essential elements of digital marketing campaigns. You need to build a plan combining a number (maybe all 7) elements in the right proportions to meet your goals and the market. But, figuring out which elements to use is simple compared with building an understanding of HOW to use them. You must determine your message, your voice, and what types of content to share if you want to find success.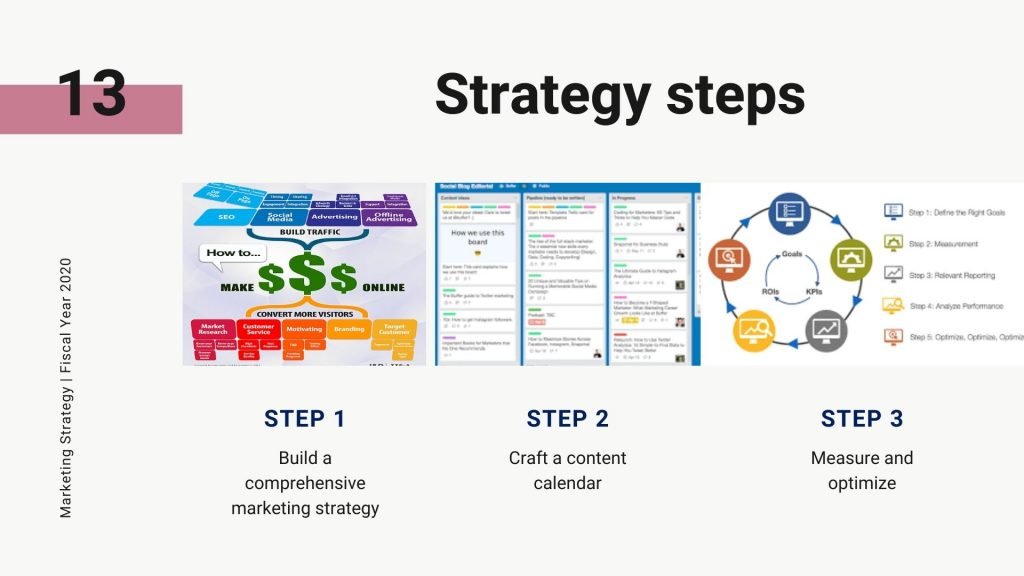 1. Email marketing
Email is a super effective digital communication method in the 21st century. In fact, email marketing provides the highest ROI of any digital marketing strategy, as you can see below.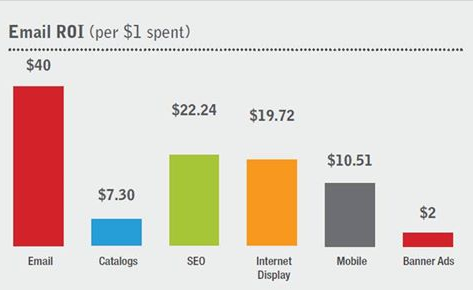 Of course, email marketing is actually a dual strategy composed of acquiring subscribers and sending personalized messages to the appropriate subscribers. What's great about email marketing is you can use pre-pay email marketing companies to deliver customized, personable messages to your customers on your schedule.
Email marketing should form a fundamental part of your business marketing campaigns. When your customers opt-in to receive marketing emails from you, your campaigns are tailored to their interests and the products and services they're likely to buy from your business.
2. Social media marketing
It's no secret that social media is an essential part of daily life for billions of users around the globe. People use platforms like Facebook and Twitter to communicate with friends and family, learn about news and current affairs, and find out trends, and share their thoughts and feelings. Business social media involves both organic (earned and owned media) as well as paid media (advertising), although organic reach on social media doesn't have the kick it once did.
As you can appreciate, social media is an excellent way to reach large numbers of prospective buyers at a very low cost. Success on social media relies on creating engagement among members of your target audience, which spreads your message beyond your own efforts.
All businesses need a presence on the leading social networking platforms for several reasons. More than that, you need a sustained effort to post interesting and entertaining content consistently over at least 6 months before you'll see much of an impact. Firms also use social media as a source for finding unmet needs as part of their product marketing efforts, as well as handling consumer complaints with transparency and speed.
Lastly, social media audiences can share details of promotions or new product details with their circle of online friends, resulting in free marketing for your brand.
3. Influencer marketing
If you're trying to sell a new product or service to a target market, you need all the help you can get to reach the people interested in what you've got to offer. Plus, consumers are suspicious of commercial messages and, instead, want to hear from people they follow regarding a product. Influencers are digital users who have a substantial and engaged following who look to them for recommendations. These users represent a huge potential for your business to reach new customers.
Enlisting influencers commonly involves paying a fee or offering in-kind services such as free products in exchange for reviews on their platforms. Costs vary greatly based on the number of followers, amount of engagement generated with followers, and their niche. However, ensure you request honest reviews and brand mentions because followers are fickle and will reject your messages if they look overly commercial.
4. Content marketing
Content marketing presumes you have a website and one or more social platforms. Content marketing is both a way to interact with your target marketing, such as sharing instructions, explainer videos, or just sharing entertaining content, as well as the major factor impacting your ability to find customers through search engines (called SEO).
Content marketing only works if it's a sustained effort, Below, you can see the required post frequency based on the platform.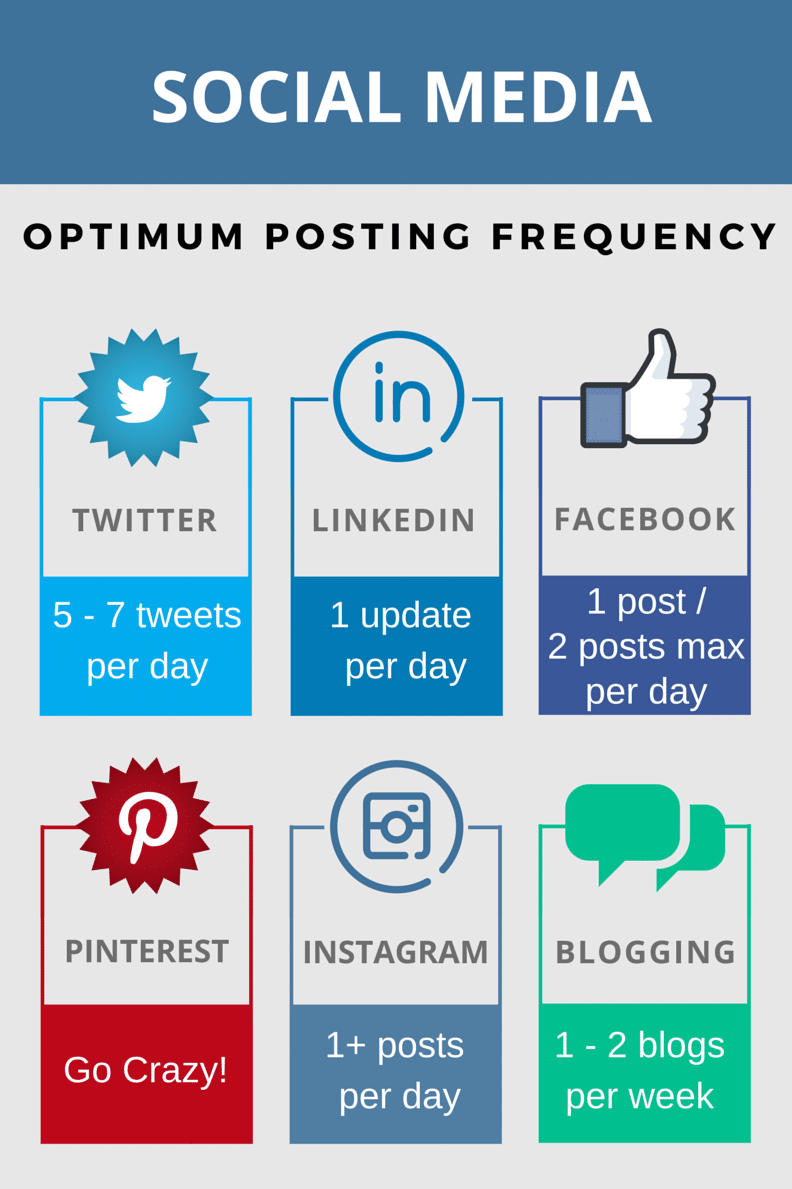 To help you meet this post frequency, a content marketing calendar lays out all your posts a week or a month at a time to ensure you always have fresh content to share. Marketing automation software, such as Buffer and Hubspot, make it easy to add a week's worth of posts in a short time then dole those posts out to the various platform on your preferred schedule.
5. Search engine optimization
Your website is a powerful tool in your marketing arsenal. If you don't already have a website or want to update your tired website, I have an ebook to help you build a website without writing a line of code. Yes, it's an excellent way to sell your products and services online, and it's perfect for talking about your brand and why it's so relevant to your target audience.
However, you aren't using your website's full potential if you don't include search engine optimization (SEO) as part of your digital marketing strategies.
Search engines deliver results based on users' queries. To keep users happy, and coming back, search engines want to deliver the right content first. To help the search engine determine which content is best, considering thousands of new pieces of content are uploaded every day, search engines use an algorithm to rank content then deliver results with the content ranking highest at the top of the results list.
Getting your content to the top requires you to create valuable content on a consistent basis both on your website and gain engagement for that content on social platforms. Sure, the algorithm contains other elements, such as obtaining backlinks, but if you produce high-quality content you'll rise to the top over time.
6. Pay-Per-Click (PPC) marketing
SEO is a long-term marketing strategy and seldom gives you an instant return on your investment. While SEO is essential for the growth of any new business, it makes sense to adopt pay-per-click (PPC) marketing as part of your marketing arsenal.
In a nutshell, PPC marketing is advertising either on search or, through the display network, on related websites. It's called PPC because you're only charged when someone clicks your ad rather than when it appears in the results or another website.
Advertising on social platforms is also possible and works in a similar fashion, although social media ads include graphics, while search ads are text only.
7. SMS marketing
SMS marketing is short message service marketing and refers to text messaging through one or more messaging apps, such as WeChat or Facebook messaging. The value of SMS marketing comes from the notifications provided when a message reaches a mobile device. This immediacy builds attention and allows for two-way conversations that support your business objectives.
Conclusion
I hope you found this list of essential elements for digital marketing campaigns useful. Of course, this simply provided an overview of suggested tactics. You can learn more about each individual tactic, how to implement it and how to achieve success with the tactic, by reading other posts on this website.
Need marketing help to support business growth?
We welcome the opportunity to show you how we can make your marketing SIZZLE with our data-driven, results-oriented marketing strategies.  Sign up for our FREE newsletter, get our FREE guide to creating an awesome website, or contact us for more information on hiring us.
Hausman and Associates, the publisher of MKT Maven, is a full-service marketing agency operating at the intersection of marketing and digital media. Check out our full range of services.