It's hard to believe it's been 5 years since I first posted one of my most cited posts, 16 Differences Between Traditional Media and Social Networking, and over three years since I last updated this post. A lot has changed since then. For instance, we now talk about digital marketing and traditional media rather than simply social because the key to your online strategy involves integration between social, website, email marketing, e-commerce, public relations, and other online marketing tactics. Thus, I created this ultimate guide to digital marketing, building on concepts from earlier marketing strategies, such as traditional and social media.
Digital marketing is more than just social media now. since online users consume your content across multiple platforms. Digital marketing in 2020 involves blogging, mobile, social media, email marketing, digital analytics, and managing digital marketing through tactics such as account-based marketing and CRM.
Differences between digital marketing and traditional media
Digital marketing isn't simply another channel for sharing advertising. It's not like you craft ads the same way companies have for generations, then share the ads across different channels, such as radio, TV, and print. And, while you may change the execution of your ad across media, you fundamentally kept the message the same and used similar main elements in your ads regardless of channel.
Digital isn't a channel. It's a totally different way of looking at the world and engaging with your audience. So, while digital marketing shares some aspects from traditional media, such as target marketing, integration across platforms, and driving sales, that's pretty much where the similarities end.
In my original post, which was updated just a few weeks ago, I created a table that identified differences between traditional media and social networking. I won't waste space by reproducing that table here but be sure to check it out in the earlier post.
The basics of digital marketing
What is digital marketing?
Rather than adding or changing this table, I think the transition to digital marketing is a bigger paradigm shift, so we need to approach it in a different way. Even the definitions of digital marketing evolved over time, so I've updated these here.
Unfortunately, most digital gurus miss the point and it's a critical one.
Here's a definition from Marketo, for instance:
At a high level, digital marketing refers to advertising delivered through digital channels such as search engines, websites, social media, email, and mobile apps. Using these online media channels, digital marketing is the method by which companies endorse goods, services, and brands. Consumers heavily rely on digital means to research products. For example, Think with Google marketing insights found that 48% of consumers start their inquiries on search engines, while 33% look to brand websites and 26% search within mobile applications.
And, here's Hubspot's definition, which is very similar:
Digital marketing encompasses all marketing efforts that use an electronic device or the internet. Businesses leverage digital channels such as search engines, social media, email, and other websites to connect with current and prospective customers.
Unfortunately, both of these miss the point. Digital isn't a channel for spewing advertising, it needs to be an integral element of your marketing strategy focused on providing value to consumers as a means to improve your market performance.
For instance, The American Marketing Association (AMA) defines digital marketing as:
In a nutshell, digital marketing refers to any marketing methods conducted through electronic devices. This includes online marketing efforts conducted on the internet. In the process of conducting digital marketing, a business might leverage websites, search engines, blogs, social media, video, email and similar channels to reach customers.
This definition fits with the AMA definition for marketing where the focus is on providing valuable exchanges between customers and the organization.
Why use digital marketing?
Leveling the playing field
Digital marketing offers a means toward a level playing field where smaller brands may, through exceptional efforts to build relationships with a target audience, compete against much larger brands. Consider, for instance, the cost of a single Super Bowl ad is over $5 million, a number growing bigger every year. What small brand could hope to afford a single ad, let alone several, as many big brands do during the game.
Sure, a small brand can buy less expensive TV advertising, with the more limited reach of these ad platforms.
Lower costs
Remember marketing regardless of the platform is much more than advertising. In fact, marketing involves these three elements in addition to advertising:
Product
Place (distribution)
Price
Digital platforms help with all 4 critical elements of marketing and often do so at a reduced cost.
For instance, consider customer service, which is critical for long-run success. Customer service is costly and, if it fails to meet customer expectations, provides damage that cripples your brand. Providing complete customer service whenever customers need it should be your goal.
In a global marketplace, your customers are awake when your customer service staff is sleeping, yet the inability to get support when you need it causes serious frustration. Digital marketing offers solutions that provide instant customer support 24/7. Providing online chat through chatbots that never sleep is only one such solution. A better solution is building a group of consumer advocates or online brand ambassadors who take on the task of providing support.
And, that's only one task among the hundreds of marketing efforts necessary to support your marketing.
Digital also provides insights into unmet consumer needs that are invaluable in guiding new product development.
Testing, monitoring, optimization
Only direct marketing comes close to providing the necessary data for optimizing your market performance. All other forms of advertising offer innuendo and guestimates of how the message performed in generating sales.
Digital marketing offers a plethora of metrics designed for not only monitoring sales but understanding the customer journey and identifying roadblocks in that journey.
Personalization
Digital marketing techniques allow personalization that improves market performance by up to 20%. Using algorithms based on prior behaviors, remarketing, and cookies, users get personalized recommendations and exposure to products they are already considering.
 Differences in digital marketing
1. Create value with your messages
First of all, digital media and traditional media differ in that digital marketing isn't advertising, while traditional media is primarily advertising. Fundamentally, digital media is a tool for building relationships with and between customers designed to create awareness and develop attitudes about the brand, that drive brand purchase, while traditional media is basically one-way communication that doesn't bring the customer into the equation. In traditional media, we talk at consumers and the only value created is through paid commercial programming enjoyed by viewers/ readers/ listeners/.
Rather than use traditional advertising form of disruptive marketing where the users' enjoyment is interrupted by commercial messaging, digital marketing uses native advertising (or it should). Native advertising involves ads that fit organically into a user's online efforts by answering questions, offering suggestions, providing explainer videos, and other efforts that create value to the user.
2. Peer recommendations build trust
Word of mouth is always a big motivator of purchase behavior. Before digital, the voices of word of mouth were quiet, but digital marketing gave a megaphone to those voices. Celebrities and micro-celebrities have a strong impact on the brands consumers choose, but our friends and acquaintances on social networks also have a big impact on our consumer decisions. In fact, their impact goes beyond recommendations. Even sharing photographs on social networks offer subtle endorsements for the brands displayed in them.
An important consideration about peer recommendations is that they amplify the firm's marketing efforts without costing the brand any money and these recommendations are more motivational because users view these opinions as objective.
3. Digital is data-driven
With traditional media, you never knew where you stood in terms of ROI. Sure, with direct marketing, you had good analytics, but with broadcast and print, you were mostly in the dark. And, yes, I know we already discussed this briefly above.
In contrast, digital marketing doesn't just use metrics to assess ROI, it uses them to IMPROVE ROI. So, not only can you predict your returns, you have the information necessary to prioritize your marketing efforts, which improves ROI.
For instance, you can use Google Analytics, or a similar tool, to determine the percentage of traffic coming from various social networks to determine where to spend your marketing dollars. You can even determine the percentage that converts from each marketing campaign. Or, use information about conversions to determine which target markets convert best. Then, you can focus efforts to reach more of those high-converting segments or craft marketing strategies that cause more people in low-converting segments to buy.
Similar data is available for email marketing, social media, and other marketing efforts. Learn more about using data here.
The granularity of the data available in digital marketing allows knowledgeable analysts to optimize everything they do across digital networks, from content to channels to offers.
4. Digital marketing isn't just different, it's better
Many businesses still spend the lion's share of marketing dollars on traditional media, despite the problems with such expenditures. Look at data below from Price Waterhouse Cooper projecting advertising spending in 2016 compared to 2020. Adding up all the numbers for traditional media versus digital, you see that advertisers still spend more money on traditional media, despite the uncertainty (and increasing doubt) that this is the best place to put their marketing dollars.
Why do they do this? Primarily because that's what they've always done and that's what they know.
If you look at the dire state of traditional media, you find it captures fewer eyeballs (which is the appropriate metric) every year. Instead, consumers increasingly watch TV via Netflix or another service where they're not subjected to advertising, or record programs for later viewing, when they can just fast forward past advertising. The same thing is happening with radio as most of us switch to subscription programming or link phone playlists with our car radios. Almost no one reads newspapers, at least the print kinds, and entire demographics are missing from print newspaper readership.
The question firms should be asking is "why am I still investing in traditional media"?
Building your strategy using our guide to digital marketing
In fact, Smart Insights created a great infographic that encapsulates what's in our guide to digital marketing, building a strategy for what you need to succeed in digital marketing building on notions of lead nurturing.


Let's take a few moments to go over strategies making up our ultimate guide to digital marketing.
Your ultimate guide to digital marketing
SEO
Actually, as you'll find as we go through this guide to digital marketing, much of what's critical for success revolves around content, and SEO is no exception. To excel at SEO, your penultimate task is creating valuable content on a consistent basis. Sure, specific strategies improve your ranking on SERPs (search engine results pages), but getting your content marketing right hits most of the factors in the Google algorithm. Besides, the algorithm changes frequently, with each change reinforcing the need for high-quality content.
SEO ensures when users want you, you're at the top of their search results. And, with more search happening across voice, think about constructing your keywords to reflect the way your target market speaks.
Online advertising
Whether you're doing PPC (primarily Google Ads) or social media advertising, keep in mind that your content, ranking, and correspondence between your ad and your landing page impact your performance. In the case of Google Ads, these factors even impact your price.
Social media marketing
We said content was king and we meant it, as that's true for social media marketing (SMM). Crafting a content calendar across your website, social, and email helps both integrate messaging, as well as ensuring you share content across platforms. Here's a great schedule to guide your sharing.
If you're looking for a way to get started in digital, whether it's starting your own in-house team using this how-to guide or hiring an agency, here are some considerations in implementing a digital strategy.
We talk about owned, earned, and paid media with respect to social media.
Owned refers to the profiles/ accounts you maintain across social media
Earned reflects the message shares from other users, such as ReTweets, Shares, and RePins. Often, this form of social media has the greatest impact because it enhances reach and acts to motivate others
Paid advertising on social platforms has the distinct advantage of enhanced targeting based on demographics, geographic characteristics, and psychographic, such as lifestyle and attitudes.
Customer journey mapping
Customer journeys and related areas of customer experience represent the process involved in customers finding, engaging with, buying, and using your brand.
Check out this typical journey map highlighting the possible factors interfering with a positive customer journey: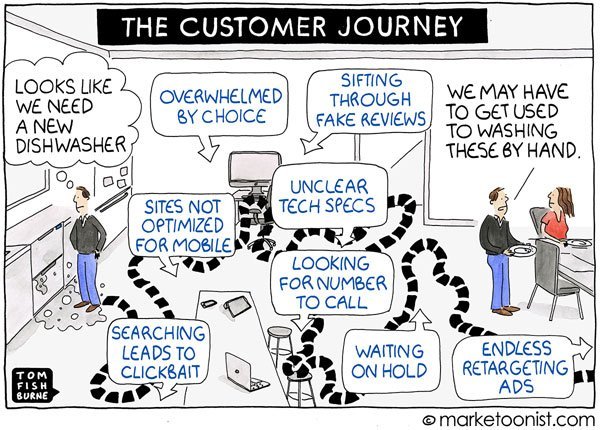 In contrast, a positive customer journey is one where the customers drive seamlessly from initial problem recognition through search, and on to purchase. Post-purchase, customers may continue their journey by interacting for instructions, support, or to offer reviews. Each step must be carefully considered from the customer's perspective and all pathways implemented effectively to ensure customers don't fall through the cracks.
Conclusion
Obviously, this isn't everything involved in constructing a sound digital marketing strategy, so maybe this isn't the ultimate guide to digital marketing. It is, however, a sound start on your journey to using digital marketing effectively and highlights critical differences between digital marketing and traditional media.
Need marketing help?
We welcome the opportunity to show you how we can make your marketing SIZZLE with our data-driven, results-oriented marketing strategies.  Sign up for our FREE newsletter, or contact us for more information on hiring us.
Hausman and Associates, the publisher of Market Maven, is a full-service marketing agency operating at the intersection of marketing and digital media. Check out our full range of services.