Small business owners have always found it challenging to understand customer behavior patterns so they can make decisions that propel their brand forward. There was a time when storefront business owners had an easier time of this as their customer base came from smaller communities and included friends and neighbors. Think of the slogan for the old TV show Cheers, "where everyone knows your name". Of course, knowing a person's name is shorthand for knowing their likes, dislikes, and being able to assess their mood so you can help them meet their goals — data-driven marketing.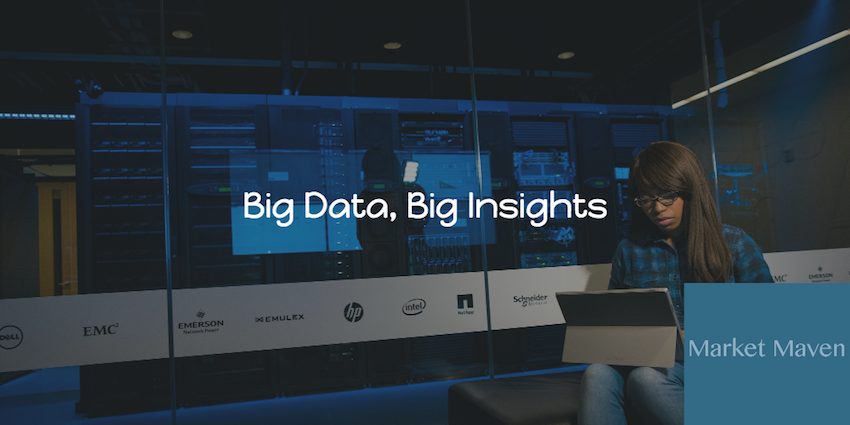 Shopping malls changed that by attracting a larger group of customers from a greater distance. Shopping has since increased to a global footprint with the introduction of the internet to serve customers from all over. Still, small business owners need to know what makes a customer buy one item over another and support their business versus buying from a competitor. Even more challenging is understanding why consumers make product decisions across vastly different products. Hence, instead of the simpler task of understanding why a consumer buys one brand of green beans, brands struggle with understanding wallet allocation decisions such as buying a ticket to a concert versus a baseball game or dinner out.
In the past, marketers made decisions related to brand positioning, developed messaging, and determined distribution strategies based on past experience. Today, enmeshed in a data revolution, marketers must learn data analysis techniques to use data to guide decision-making. In fact, when you look at the skills gap in marketing (shown below), you find analytics owns the top spot.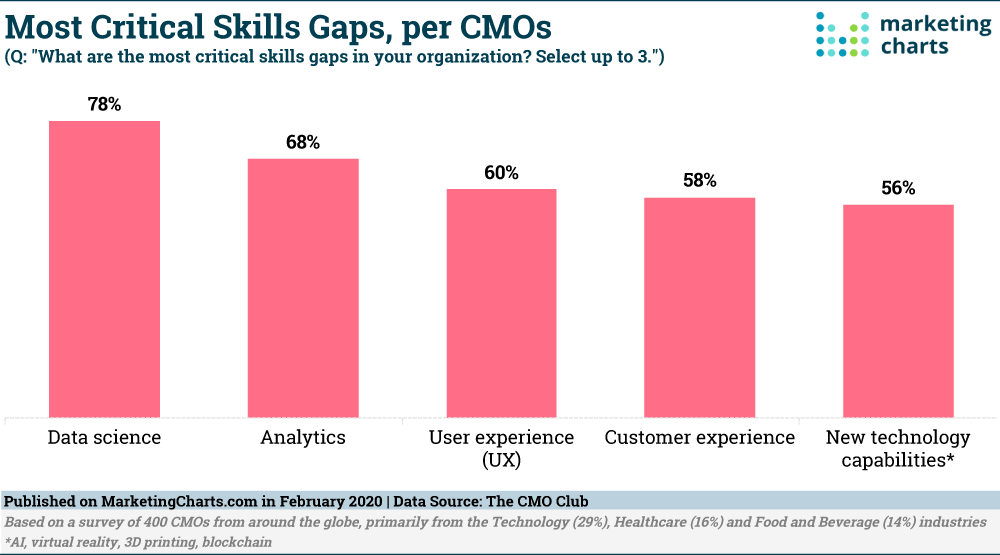 Data-driven marketing
According to an article from McKinsey,
Precision-marketing models [data-driven algorithms] are trained to recognize and draw inferences from behavioral patterns. An algorithm might learn, for instance, that customers who make more than two visits to a store's website within a two-week period are 30 percent more likely to make a purchase. Such indicators can trigger tailored offers to convert browsers into buyers, allowing marketers to direct their acquisition efforts and spend toward the most profitable segments.
While some CMOs questioned the wisdom of relying on historical data during the pandemic, when consumer behaviors changed dramatically due to external forces, there's still an advantage to using data to identify trends and opportunities like the one shown in the quote above. Instead, marketers must focus beyond the simple analysis involved in extending the trend line to build complex algorithms that identify factors that influence buyer behavior, determine weights associated with those factors, then collect data to predict behavior.
Rather than take a ruler to extend a trend line, algorithms can detect non-linear relationships among a large group of factors (variables) to predict an outcome (dependent variable). For example, Google developed (and constantly adjusts) a ranking algorithm designed to provide users with the best content in response to their queries. That's why Google still accounts for more than 91% of all user searches.
For marketers today, this analytics task means going beyond trend data to use advanced tools such as Python and AI (artificial intelligence) as well as ML (machine learning) to make better predictions. In addition, marketers use standard statistical techniques such as logistic regression, linear regression, cluster analysis (particularly helpful for building market segments), and other bayesian modeling techniques.
How data helps you make better decisions
With data collected from your customers, your marketing campaigns (such as Google Analytics), and external data, you gain deeper insights into many things about your customer base, how they interact with you, and what works best so you can make better decisions. Data tells you who they are, where they come from, the things they buy from you, how often they shop in your business, and so much more. By using new technology to capture information about your customers, you can create personalized customer experiences that benefit your business in the long run.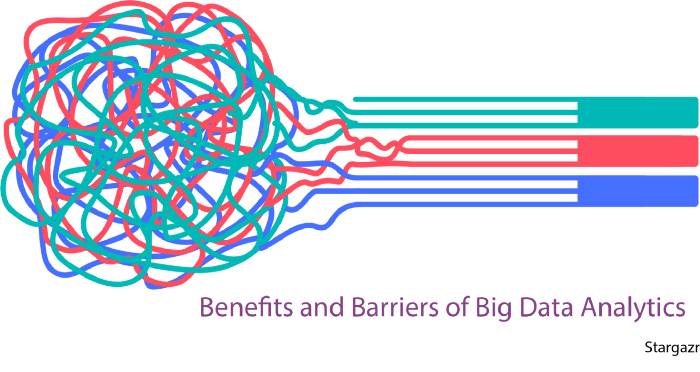 Data-driven marketing – What it is
According to Deloitte, data-driven marketing is a process marketers use. By analyzing data collected by the company, these marketers gain insights and identify trends. They then translate those findings into informed decisions supported by the numbers.
How data-driven marketing works
Data-driven marketing is most effective when information collected on customers covers all aspects of engagement. This includes demographics of all customers, industry metrics, all the way down to individual customer interactions. The data is used to help determine the most cost-effective method of marketing to these customers with an eye on the best return on investment.
The advantages of using data-driven marketing
With data specific to your industry and customer base, you can better understand who your customers are and their shopping habits. Data-driven marketing is a tool that tells you how customers respond to your marketing activities and allows you to make changes to that marketing to optimize performance. For instance, I'm working on an analysis of an email marketing program for a client. By analyzing a large number of email messages sent to 100,000 subscribers twice a month, I'm able to determine which subject lines work best in achieving their KPIs (key performance indicators), so they can craft similar subject lines in future email messages to improve their KPIs over time.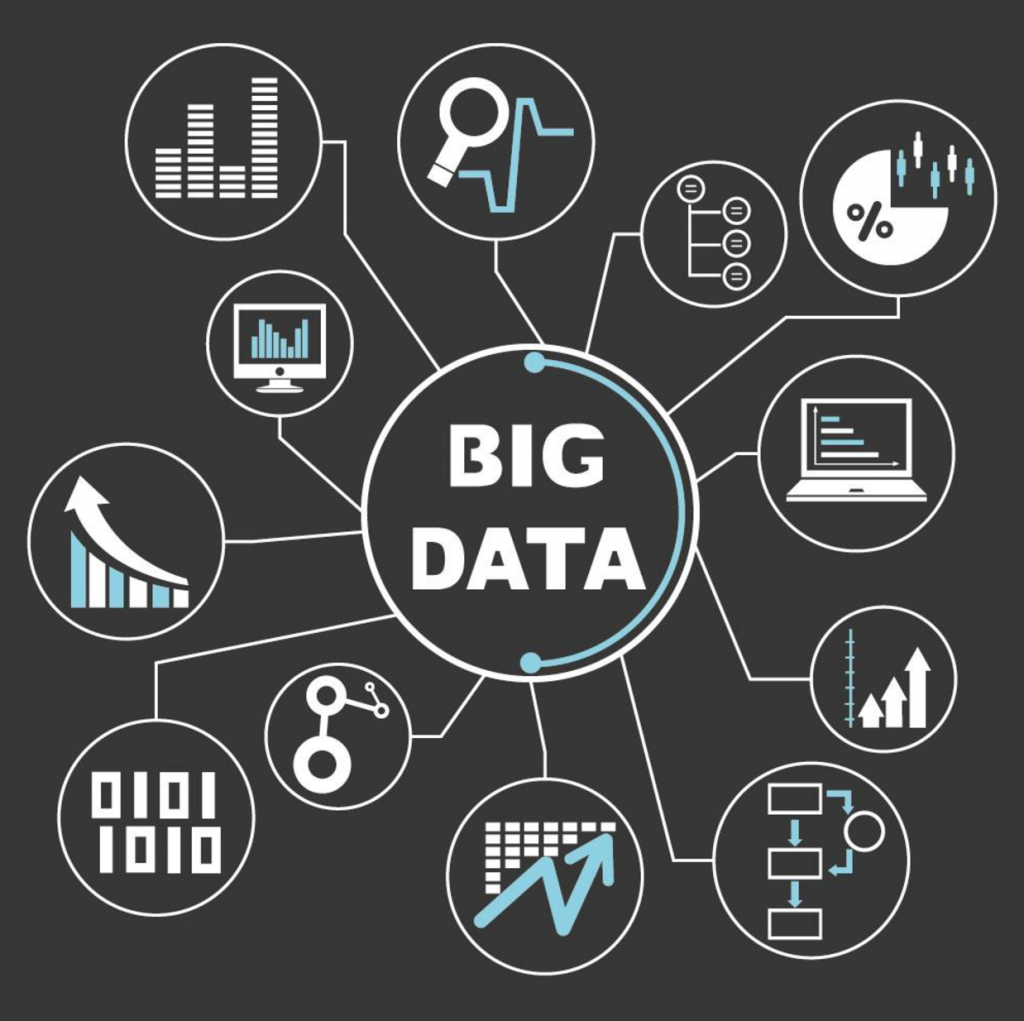 Essentially, data-driven marketing is target marketing where you are giving customers what they want based on the data that tells you what they did the last time they engaged with your business. The insights that come from the data make your marketing efforts more effective by customizing your efforts to reach specific demographics.
Other advantages of data-driven marketing
Many marketers view data-driven marketing as the most effective way to reach their target market(s). It is also one of the easiest methods to implement once you have sufficient data for analysis (the law of big numbers suggests that your predictions are more accurate with larger datasets). However, this is not a "set it and forget it" type of marketing. Data-driven marketing requires ongoing testing of performance to tweak your marketing strategy over time. This is usually done with a simple A/B test, or a split test using two different variants that vary across a single element.
Another advantage of data-driven marketing is that the information keeps changing, giving you a better look into the habits of your customers, which is of particular interest when trends are developing. Data-driven marketing is also very flexible. When insights point to a change in direction for marketing a specific product or service, these changes can be made "on the fly" to keep your efforts current and timely.
The challenges of data-driven marketing
There is such a thing as too much data and focusing too much on that massive volume of information. By choosing to spend far too much time with the data and drilling deep within it, you create the possibility of losing focus on creativity and inventiveness with your marketing efforts. Also, overreliance on metrics may obscure what's really going on, leading to poor decision-making. That's especially true if your models weren't developed properly in the first place or are no longer valid due to changes you didn't model initially.
Instead, recognize that marketing decision-making is part art and part science. It is more effective to have a healthy mixture of creativity and factors that are numbers-driven. With this approach, it is better to develop integrated marketing strategies rather than getting lost in the data to where you can no longer see who you are trying to market to.
Is data-driven marketing right for small businesses?
First of all, new technology made data analysis so easy. Why would you not take advantage of something that is meant to make your business life a little easier to deal with? Plus, if you have a tight marketing budget, the smartest way to get the best bang for your buck is to use some form of target marketing that reduces cost and improves profits. The information you get from data-driven marketing improves the quality of your marketing efforts by putting your message in front of only those individuals who showed an interest in your products or services already.
Moreover, many tools are free. For instance, Google Analytics provides rich data on your website without charge, as do most social media platforms. Some SEO platforms like SEMRush offer limited analytics in their free tier. By adding tags to your links, you get even better data to use to help decision-making.
The steps any small business should use in data-driven marketing
There are six steps to effectively implement data-driven marketing in your small business promotional strategy. They include the following:
1 – Plan
Determine what your goals are. Do you want more visits to your eCommerce store? Do you want more foot traffic in your storefront location? Do you want more followers on your social media feeds? Do you want more sales of a specific product line? Once you defined your goals, you have something tangible to work with.
2 – Test
You may not have the perfect target marketing program, but you should have a good idea based on your existing marketing metrics. Use that information to fine-tune your marketing efforts and keep tweaking whenever possible to maintain a current marketing profile for your target market(s).
3 – Analyze
Use data from a variety of sources to build an interactive dashboard you can use to analyze what's working and what isn't. You may also learn something new that can optimize future marketing programs and could improve the reach of your messaging efforts. But you won't know that if you don't take the time to look at what you're doing and how it is or is not working.
4 – Iterate
Iterate means to repeat, a do-over. This is why it is so valuable to keep looking at the data, recognizing changes in the data, and using those changes to fine-tune your marketing. Remember, if you are not doing this, your competitor probably is. To stay ahead, pay attention to the data and repeat your marketing efforts to reach your desired market.
5 – Deploy
Put your marketing efforts into action with the right content.
6 – Scale
Keep your marketing strategies where they work best and make them bigger or smaller to best fit the immediate need.
Final thoughts
Data-driven marketing can make your small business a success. If you are not seeing the kind of results you hoped for with the marketing strategy you currently use, maybe it is time to let new technology guide you with data-driven marketing.
Marina Turea works as a content manager at Digital Authority Partners, a Las Vegas-based SEO agency.
Need marketing help to support business growth?
We welcome the opportunity to show you how we can make your marketing SIZZLE with our data-driven, results-oriented marketing strategies.  Sign up for our FREE newsletter, get our FREE guide to creating an awesome website, or contact us for more information on hiring us.
Hausman and Associates, the publisher of MKT Maven, is a full-service marketing agency operating at the intersection of marketing and digital media. Check out our full range of services.