Marketing is an industry dedicated to promoting goods and services to consumers in both the B2B (business, government, and institutions) and B2C (end users) markets. Marketers face a plethora of tactics to help promote their products and, while the tactics available cover a broad range of promotional options, they all face a similar challenge: cutting through the noise.
What is noise?
Noise interferes with your advertising goals. The more noise created, the less effective your advertising is, so cutting through the noise is an important aspect of achieving success. Promotional noise comes from a variety of sources, including:
the vast number of promotions seen by the average consumer. According to Forbes, the average consumer in western society sees between 4000 and 10,000 ads per day. On top of this, they see a multitude of brand messaging on non-ad platforms including native advertising on social media, which isn't truly advertising since it involves driving organic awareness and clicks from social media posts that fit naturally into various platforms. Influencer marketing is a form of native advertising, as well.
selective attention. We each only have a limited ability to process information. To manage this scarce resource, we choose what to focus on. And, consumers today spread that attention between a video, their mobile devices, eating a snack, talking to someone else, etc. Cutting through the noise isn't an easy task when they spread their attention around. The obscure notion of subliminal perception was never validated after the first study beyond some limited effects in the short run. So don't think you can reach consumers in any substantive way (changing attitudes, generating awareness, and motivating purchase) without some attention to your promotions.

Image courtesy of MDG Advertising

similarity to competitors. When your advertising message is too similar to your competition or even unrelated products in your category, you generate noise. For instance, I once did a study in my market research class where students asked a broad range of consumers to recount a recent ad they'd seen for a pharmaceutical drug. In a disturbing number of cases, informants recounted a drug ad in good detail but associated it with the wrong product or didn't correctly identify the diseases it was designed to treat.
improper decoding. For advertising to work, marketers transform a marketing message into words and pictures. When a consumer sees the ad, they must translate the elements to form attitudes and intentions. They might incorrectly translate the ad or not translate it at all. Unfortunately, this happens more often than you think, causing confusion that hurts your marketing performance.
lack of consistent messaging. Advertising burnout occurs when consumers see the same or very similar ad too many times. To avoid this, advertisers try to vary their ads but consistently share the same message. However, if your messaging isn't consistent across multiple implementations, you create noise.
And, these are just the most common factors creating advertising noise. More importantly, let's look at ways of cutting through the noise so your ads are more effective.
Cutting through the noise
Finding ways of cutting through the clutter isn't simple or easy. It means you have a deep understanding of advertising concepts and a little knowledge of consumer decision-making and cognitive science. A little psychology doesn't hurt either.
Find an agency with expertise
Find an agency with the chops to help you cut through the noise. SEO, or search engine optimization, is one tool designed to help with cutting through the clutter. A user query results in hundreds or thousands of results across many pages. Search engines rank results based on the amount of value a user might find when clicking the link based on a complex algorithm. Commonly, users select one of the top results, certainly rarely going beyond the first page of results, to reduce their cognitive effort. Below you see the impact of rank on the click-through rate you achieve. Cutting through the clutter by improving your rank means you reduce the noise caused by a similarity between your content and that of your competition.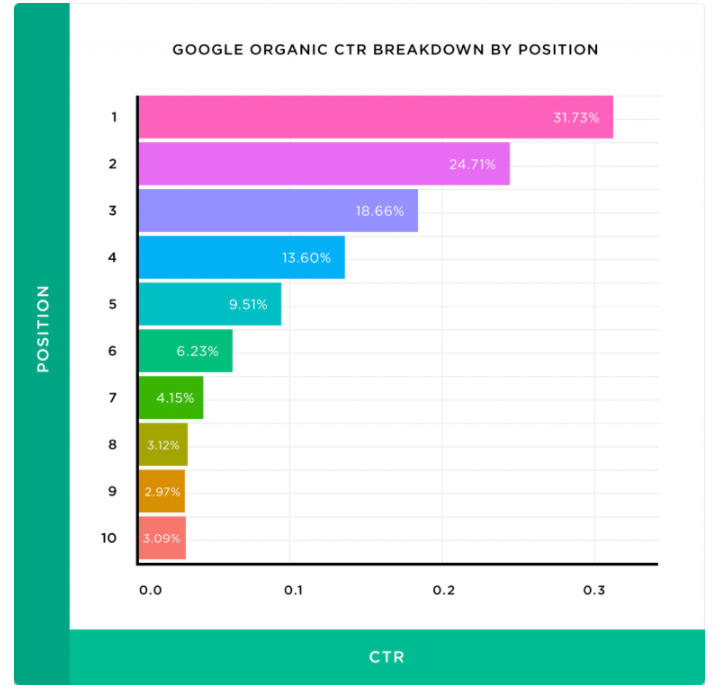 For instance, an SEO firm with expertise in your industry, like a B2B SEO Agency, that actually looks at market data, analyzes metrics, understands the complex algorithms, conducts effective keyword analysis based on their industry knowledge, and implements models to track trends so that your chance of actually raising your position in the search rankings is much more likely. Too often SEO firms promise perfect placement or guaranteed results when, in actual fact, firms that attempt to play the algorithmic game with your needs in mind, transparent all the way, can educate you as to the best practice instead of promising the world and they deliver.
One-on-one marketing
Many people think face-to-face marketing is somehow outdated, as if social media and digital marketing efforts, while useful, subverted the need to speak to anyone at all. Of course, this is untrue, and it's important to recognize that your offline efforts help in cutting through the noise because these one-on-one efforts are richer and more memorable. For example, you might consider hosting a launch event for a new product or location, distributing fliers in a venue, or bringing sample menu items for distribution on the street are all good ways to drum up local support, especially in communities or towns where folks really do care for the businesses in their area and try to shop local. On-the-street marketing is not only valid, but some may say ideal.
Guerrilla marketing is another great option for one-on-one marketing. For instance, you can use stencils, graffiti, a flash mob, or any one of a number of guerilla marketing tactics for cutting through the noise. Check out this great example of wrapping a bus to advertise the local zoo. Something like this is very hard to forget and makes an impression that overcomes the noise.
Use reviews and recommendations
No matter what you say about your business and its worth, you have a vested interest in doing so and your prospective customers know it so they often discount your claims. Customers tend to give their unfiltered opinion no matter what, which is truly valuable and important for its impact on prospective buyers. It's just more believable. A satisfied customer is likely your biggest advocate, and consumers listen to one another. So – incentivize your customers to write reviews online, or allow them to give feedback, or even run loyalty schemes where customers gain free items or credit if they refer another person to your services. You'd be amazed just how well this can work in the long run, and how word-of-mouth marketing can spread without additional costs to your firm. In the long run, this can turn a business and its image from good to great.
Stop talking about your products all the time
You're just not that interesting to the average consumer so don't fill your promotions with talk about your brand. Instead, focus on providing value to your target market. By sharing valuable insights and information or providing entertainment, you capture the attention of your market and cut through the noise of other brands who insist on talking about themselves, saying the same things over and over again.
Be unique
Remember that noise comes from the lack of distinction between your brand and its competition. Stand out as something distinctly different from competing brands with a consistent color palette that sets you apart from your competitors (John Deere patented their shade of green to ensure no other brand can look like their products), avoid overused fonts such as Arial and New Times Roman, create compelling images rather than using the same tired stock images, and use these elements consistently everywhere you promote your brand. For instance, everything about Starbucks reinforces its branding from the aprons worn by workers to the signs to the cups.
Focus on not only being unique but standing out with attractive images that command attention and short, snappy text that makes reading inviting.
Don't flood your target with promotions
JC Penneys found that their constant sales every week trained shoppers to only buy products when they were on sale and reduced profitability. Use promotions sparingly to avoid such effects.
The same goes for your other promotional efforts. Stick to established norms for how frequently to post, shown below, rather than inundating your target with too many promotions.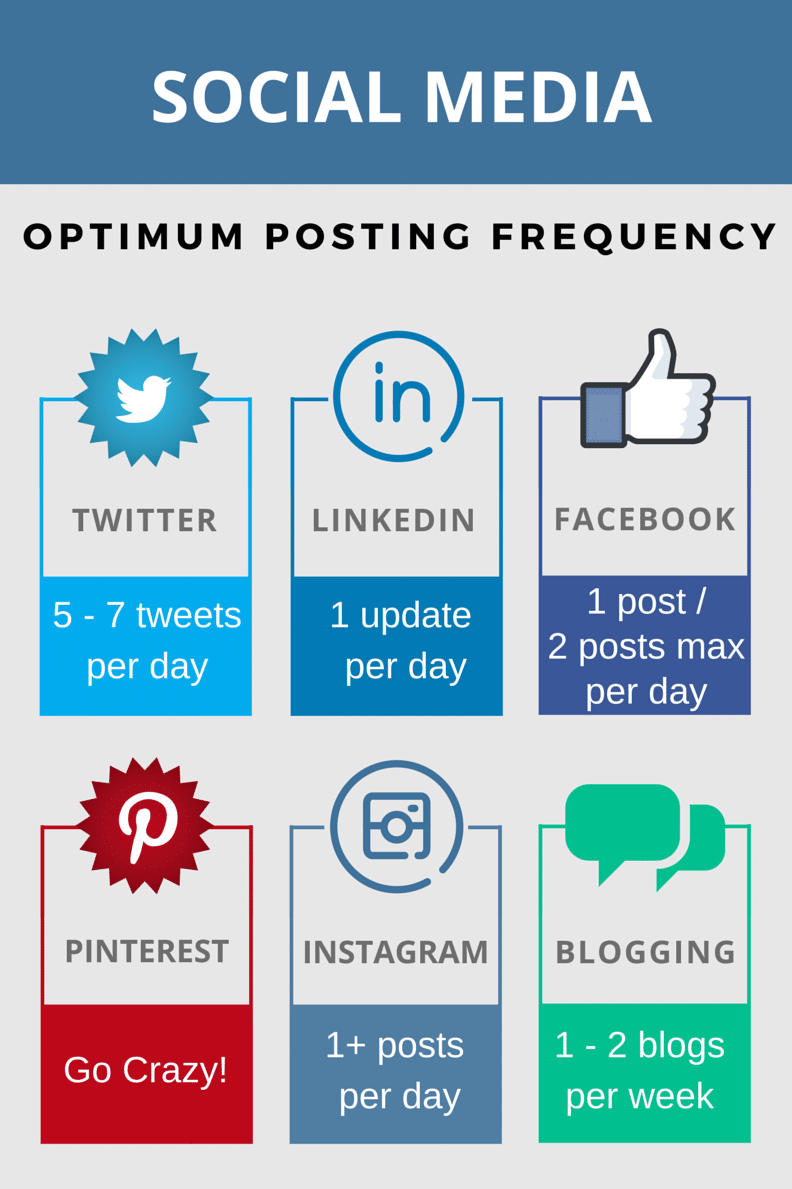 Monitoring and testing
Poor implementation creates noise when your target market doesn't interpret your message accurately. Testing with actual members of your target market helps identify messaging problems before you flood your market with a promotion. A great example of this messaging issue comes when you use images or words that have a different meaning among members of your target market or they don't understand them due to cultural differences. For instance, I once worked for an advertising agency in NY. They produced an ad back in 2007 featuring Kanye West. At the time, his fame was limited to younger folks who followed a specific music genre. The ad invited folks to "put a little Kanye" in by purchasing a brand of liquor. The meaning was lost on me, as a middle-aged person because I had no idea, at the time, who he was.
Conclusion
With this advice, you're sure to find effective marketing methods, away from all the regular noise and bluster.
Need marketing help to support business growth?
We welcome the opportunity to show you how we can make your marketing SIZZLE with our data-driven, results-oriented marketing strategies.  Sign up for our FREE newsletter, get our FREE guide to creating an awesome website, or contact us for more information on hiring us.
Hausman and Associates, the publisher of MKT Maven, is a full-service marketing agency operating at the intersection of marketing and digital media. Check out our full range of services.