The recipe for business success includes many key ingredients. But making the right impression with customers is central to your ongoing success as attitudes toward your brand have a huge impact on consumer decision-making, their willingness to recommend your brand, and the continued success of your marketing campaigns. Therefore, it's vital that you take the necessary steps to help your business stand in a way that appeals to your target market, whether that's brand positioning that solves customer problems, alignment with the values shared by your target market, or developing products that fit with consumers' notions of value. You must also build trust among your target market using tools such as marketing, advertising, product design, and style.
Of course, you won't get far without great products. Nevertheless, great products that solve consumer problems are not the only aspect that customers use when making purchase decisions, as you can see in the graphic above depicting the various factor contributing to how consumers view your brand. Modern consumers have greater demands than ever before. Focus on satisfying the five issues below, and you should see your market performance improve in relatively short order.
Creating the right impression
Building trust
Whether it's a B2B or B2C customer, you must build trust before consumers will buy from you.
One aspect of trust deals with security. If you've seen the stats on account theft and other fraudulent activities in recent years, cybersecurity is key to building trust. From the consumer's perspective, though, Kenny Natiss explains why information security is the most vital factor in building and retaining trust. If financial information or personal data is compromised, most people will take their business elsewhere. Moreover, prospective customers who find out about your past branches are likely to avoid your service too. In fact, 59% will avoid your company if a data breach was reported within the last year.
Yet, customer security is eroding as cybercriminals gain sophistication and their efforts grow as more criminals find this form of theft increasingly lucrative. A recent report by McKinsey shows this trend continuing in the near future, despite increased efforts by companies to harden their infrastructure to make it harder for criminals to gain access to customer records, including credit card information. The report predicts a 15% increase in cybercrime by 2025 totaling over $10.5 trillion. With the increased media coverage of high-profile data breaches, 63% of consumers worry about the security of their data held by companies, while 44% believe that risk increased during the pandemic. 
Of course, protecting consumer privacy and data security is only part of building trust. Building products that consistently provide value to your customers, responding to queries and complaints quickly, being transparent in your treatment of consumer issues, and keeping the promises you make to customers helps build trust among them. Below, you see a graphic showing why consumers trust brands. You must build all these trust factors into your business to ensure the right impression for your brand from the start.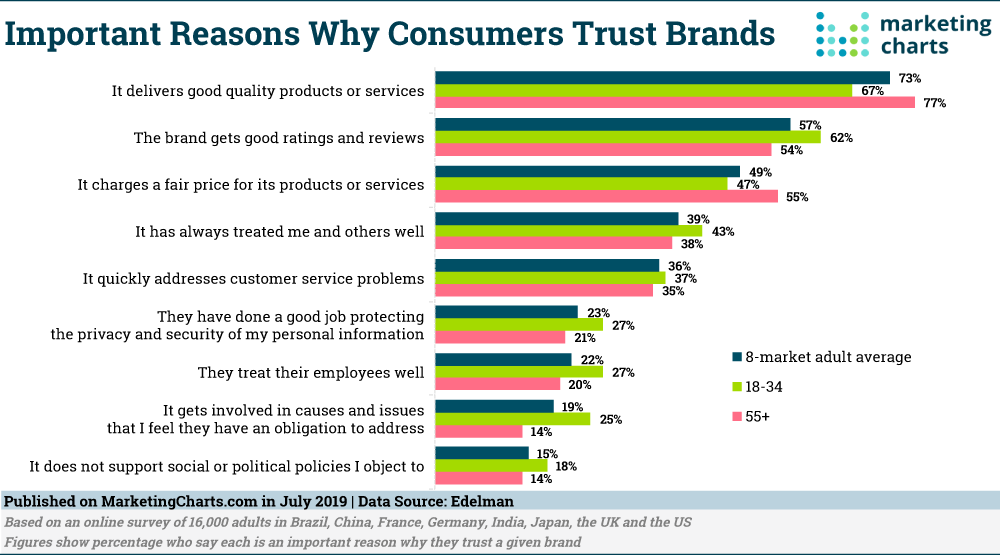 Customer care
Poor data protection isn't something many customers will forgive but, as mentioned above, it's only one aspect of your contract with consumers. You must also ensure your meet the expectations among your target market built on your explicit or implicit promises. However, failure is a part of being in business and consumers will accept periodic failure under the right conditions. Most are willing to stay loyal to the brand if you invest in quality customer care, you're transparent in your efforts to make customers whole, and respond quickly.
It is especially important in an increasingly digital world where bad actions and failures spread quickly on social media and poor reviews seem to bubble to the top in search and on your website. A product with few stars will languish and recovering from such a situation is very difficult. That's why creating the right impression right off the bat is so critical. And, responding quickly to queries and complaints goes a long way toward solving this problem for your brand.
There are lots of ways to speed up your response to limit the damage caused by customer complaints. Simply implementing an effective listening program on social platforms used by your target market does a lot toward helping your speed responses and limiting damage as many customers prefer to complain on social media, especially Twitter, rather than complain to your company or on your social media pages. 
Live Chat allows customers to get answers to their queries 24/7 and do it at a lower cost than hiring humans to handle all your customer issues. Of course, you still need customer support people to handle complex questions and to address concerns from those who prefer dealing with a person. Offering a variety of options for customer support means you handle more complaints at a lower cost.
Quick responses, coupled with fair return policies can work wonders for creating the right impression among other customers and prospects. In the '90s a major competitor to Best Buy instituted a draconian return policy to address their losses when customers returned electronics that were then much harder to resell. I predicted at the time that this would cause their downfall, which happened even faster than even I predicted it would.
Users often reach out before making a purchase. So consider their potential queries as you train your live chat to ensure you can answer their most common queries without further assistance.
Go
green and other shared values
Consumers want to work with brands that share their values. As you can see in the graphic below, more than half of consumers reward companies that share their values by choosing them, even paying a premium to support these companies in some cases.
We are now more concerned about corporate social responsibility than at any other time. As such, adopting eco-friendly workflows has a huge impact on sales. Such actions provide prospective customers with another source of influence when choosing your brand. Furthermore, shared values are a great way to boost employee morale and pride in the company, which reduces your employee costs by reducing turnover and absenteeism, while increasing efficiency among your staff.
Not every segment of the marketplace shares the same values and when your values aren't consistent with your specific target market, you actually lose customers, even starting a boycott as punishment for your stance on a particular issue that's inconsistent with your target market. Thus, you must engage in market research to determine which values to share as core values of your brand.
Social proof
By now, you already know that smart marketing strategies are essential for ongoing business success. However, when trying to showcase why your business is the best choice, most customers won't simply take your word for it. Instead, they want to hear from your existing customer either through a rating system based on stars or through text reviews. We call this social proof and it goes a long way toward convincing skeptical members of your target market that making a purchase is a good decision. 
In addition, you can provide social proof in other ways. For instance, you might display badges from firms like Consumer Reports or the Better Business Bureau to show you have some credibility among these outside, independent firms. You might also curry backlinks from established firms with stellar reputations. I have backlinks from IBM and a retweet on a post from Google Analytics that go a long way towards providing credibility for my services.
You might also use influencer marketing as a tool to attract new customers as their opinions reach their network and have the appearance of being independent evaluations of your brand, which is often not the case. Davies Tanner details why collaborations with social influencers often deliver tangible rewards. Meanwhile, it is equally important to focus on using testimonials and customer reviews to your advantage. When prospective leads and clients see that your services have helped others, their responses will improve.
Convenient payments, delivery options
The days of cash being king are long gone, as other payment forms are easier and safer, especially when making online purchases. Therefore, you need to promote smooth transactions by accepting as many payment types as possible. An advanced POS system that facilitates debit card, credit card, and PayPal transactions allows customers to shop without friction from payment concerns, especially when you consider that PayPal offers anonymity to shoppers who are reluctant to share credit card information with unknown brands. You might also find it useful to enable crypto payments, although the volatility of this market makes it unattractive to many consumers while presenting challenges to marketers who must deal with rapid changes in the value of this currency.
Many customers also prefer repayment plans so that they can spread the costs of their purchases. Building relationships with banks to offer on-the-spot credit that enables consumers to make a purchase and repay the money at some other point in time allows for a broader range of consumers to buy your products. Some companies even offer incentives, such as 24 months same as cash so consumers avoid interest payments as long as they pay back the money within the promotional period. 
The same holds for delivery options. Often, getting the product to consumers quickly influences their decision to buy from you. Because of this, companies like Amazon and Walmart are experimenting with drone delivery to allow for same-day delivery. The cost of delivery is also a concern. I've shopped at some online retailers where the delivery cost was higher than the product cost and forced me to abandon my cart rather than pay for shipping. In fact, many consumers feel free shipping is essential before they make a purchase. You should offer a variety of delivery options to allow customers to choose their preferred delivery schedule and price.
Conclusion
Today, I offered 5 tips to help you build the right impression for your brand from the start and maintain the right impression throughout the lifetime of the customer. I hope you found these tips helpful and I'd love to hear your ideas on how to build the right impression or insights you gleaned as you worked on marketing your brand. Please enter them in the comments below.
Need marketing help to support business growth?
We welcome the opportunity to show you how we can make your marketing SIZZLE with our data-driven, results-oriented marketing strategies.  Sign up for our FREE newsletter, get our FREE guide to creating an awesome website, or contact us for more information on hiring us.
Hausman and Associates, the publisher of MKT Maven, is a full-service marketing agency operating at the intersection of marketing and digital media. Check out our full range of services.