Creating an excellent content marketing strategy should focus on your company goals then develop a plan to help you achieve those goals. By producing an excellent content marketing strategy you grow your audience, increase sales, build a community, and increase your ROI. To develop your content marketing strategy there are several things you need to keep in mind. So, today we share our favorite tips and offer reviews of products to help you toward success.
Tips for crafting an excellent content marketing strategy
As you can see in the above graphic, an excellent content marketing strategy encompasses a number of components across the internet, including social marketing. But, just posting content isn't enough to ensure success, as you need strategies for spreading your content across platforms and attracting attention from your target market.
Something missing from the graphic is email marketing, which is also a critical strategy for content marketing as it helps nurture leads toward conversion and builds a community that becomes loyal customers. Integrating email marketing, social media marketing, your blog, and other marketing efforts, including traditional marketing, represents the difference between success and failure. So, keep that in mind as we move through today's discussion. Note in the graphic below, how various strategies fit together to help your business make money online (or off).
So, let's begin at the beginning of our efforts to craft an excellent content marketing strategy.
1. What are your goals?
To help you to plan your content marketing strategy, you've got to establish what your goals are. Are you looking to boost conversions? Perhaps you want to improve brand awareness? Maybe you want to gain authority as a thought leader? You'll likely have a few different goals, and it's important to establish what they are, from the get-go.
2 . Consider your audience
Most importantly, you need to consider your target market: who they are, what they look like, what are their pain points, how do they talk about their problems, and what types of content do they consume. Perhaps your business sells products to different types of customers? In this case, you need various content types and strategies, to directly appeal to each group rather than something designed for a broader appeal.
Consumer research helps build a clear picture of your target market but that doesn't mean you have to spend a lot of money and invest a lot of time doing traditional market research. Instead, consider using social media as a tool for understanding consumers and their needs. You'll likely find this more valuable and less expensive than traditional market research.
3. Define how you are unique
When you're planning your content marketing strategy, it's important to define how you are unique. Remember, customers need a reason to choose you over another company. You have plenty of competitors and they likely offer similar products.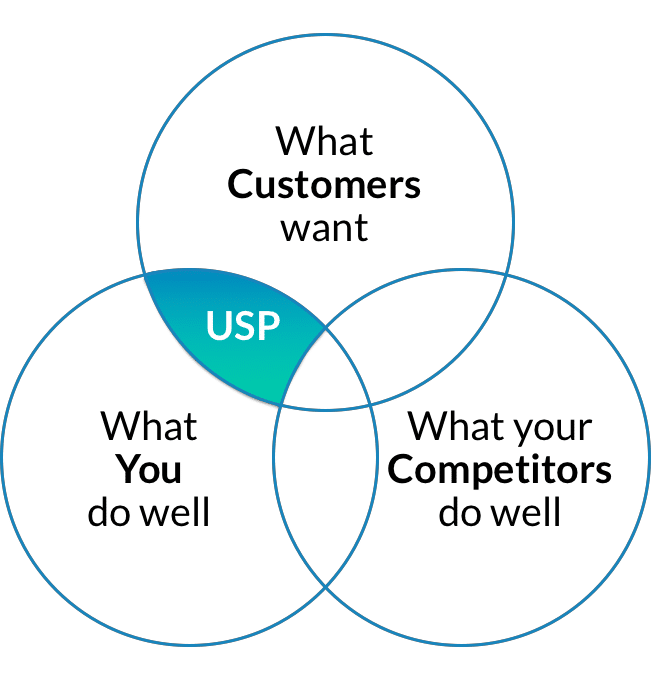 You need to figure out why your product is a better choice then clearly articulate that to your target market. Take a good look at your competitor's products, and decide what sets you apart — we call this competitive advantage and the way you communicate that advantage to your market is called a unique selling proposition or USP.
An effective competitive advantage is sustainable, meaning it takes your competition significant time and effort to match your competitive advantage. Otherwise, you quickly lose your advantage and every company is at parity. Thus, price isn't sustainable unless you can offer a lower price because you can produce or sell products at a substantially lower price. Superior customer service, a positive brand image, and innovative products all offer a sustainable competitive advantage.
4. Think about content format
You also need to think about content format. Different formats resonate with different consumers and fulfill different content needs. Variety keeps your target market engaged and caters to different content needs, as you can see in the graphic below. For instance, you might choose videos, blog posts, or infographics. Each has different advantages so let's take a look in more detail.
Video content
According to Responsive Inbound Marketing, 'including video in a landing page can increase conversion by 80%.' Additionally, 'People spend on average 2.6x more time on pages with video than without.'
There are plenty of advantages to using video content that justify the extra cost, effort, and time needed to create videos. Chief among these, video content is entertaining, it increases engagement, and allows businesses to tell their brand story. Video is also essential for demonstrating the superior performance of your product and providing instructions to ensure buyers use the product effectively and without stressing over complex operating procedures
With the help of video content, you can increase brand awareness and improve your online presence. In 2021, live streaming and webinars are a fantastic way to build a community that grows your audience.
Blog posts 
Blog posts have many advantages for businesses. Blogs can help your company to drive traffic to your website, and establish yourself as a thought leader. With the help of blog posts, you can provide your audience with educational info related to your industry. Blogs are also essential for SEO (search engine optimization) as creating valuable content on a consistent basis is heavily weighted in search algorithms that determine your rank in a user's search. Higher rank translated to more traffic, as you can see below.
When planning your blogging strategy. It may be useful to keep the following things in mind:
According to Optinmonster, 'Using photos of real people instead of stock photos can result in a 35% conversion increase.' Optinmonster research also indicates that 'Marketers who prioritize blogging are 13x more likely to have a positive ROI on their efforts.'
Research from Ryrob showed that ' Having a blog increases your chances of ranking higher in search by 434%'
Infographics 
Data from Hubspot indicated that 'blog articles that included infographics generated an average of 178% more inbound links and 72% more views than all other posts.' When you use infographics you increase brand awareness, grow traffic, and showcase expert knowledge. Research from Visme supports this, finding 'visuals like charts, graphics, color design, and images increase readership by 80%'.
When designing infographics, ensure they are as eye-catching as possible. To help you to design your own infographics, there are plenty of tools available. For a few easy-to-use options, check out Venngage, Infogram, Canva, or Mind The Graph.
5. Choosing the right channels
It's also important to choose the right channels to publish your content. You need to look closely at your target market to see which channels they prefer. Different social media sites are popular among different audiences, as defined below:
Facebook: According to Sprout Social, 26.3% of 25-34-year-olds are active on Facebook. Gender-wise, 56% of Facebook users are male and 44% are female.
Instagram: Sprout Social data also shows that 33.1% of Instagram users are between 25-34.
Tiktok: Data from Wallroom media shows that '60% (of Tik Tok users) are female, 40% are male. 60% are between the ages of 16-24. 26% are between the ages 25-44. 80% are between the ages 16-34.' Hence, this emerging platform is great for reaching GenZ and Millenials.
Pinterest skews heavily female, while LinkedIn reaches a large group of middle and upper managers.
6. Content planning
To plan and manage your content, you need a content calendar (like the one below) to ensure you post according to established practices based on your chosen social platforms and have the resources necessary to create new content easily.
Software tools help you implement your excellent content marketing strategy. For instance, they help your content rank higher. Marketing automation tools really help with the task of posting content to social platforms on a consistent basis and provide metrics to optimize performance. For a few ideas to get you started, check out these platforms.
MarketMuse: Using this software, you can analyze your own content and the content of your competitors. By doing so, you can identify ranking opportunities and content gaps that represent opportunities. MarketMuse provides suggestions about how to improve the ranking of your existing content. The software also offers keyword suggestions and generates briefs and topics.
Loomly: With the help of Loomly your business can plan and manage all of your social media content. You can monitor ideas and optimize posts. You can also check out reviews, and schedule your social posts. Loomly helps your business to interact with your audience, and reply to your followers.
Coschedule: With the help of Coschedule you can access tracking and planning features to manage your editorial calendar. The software helps you to plan your content calendar from your blog posts to your infographics. You can also use Coschedule to publish your posts, and access analytics.
7. Unique content ideas
Establishing unique ideas for your content is one of the most important aspects of a content marketing strategy. The internet is packed with similar content, and so you must stand out from the crowd. To help you do so, try the following ideas.
Research your competitor's content and focus on offering something new.
Use tools like 'Answer The Public', to generate niche blog post ideas.
Use your customer personas, to appeal to the values of your target audience.
Focus on what makes you unique, from your tone of voice to your writing style and your visuals.
8. Analyse your performance
Once you've started to produce content, you need to analyze your performance. You must figure out what's working and what's not. With data like this, you'll gain insights to make your content better. There are plenty of analytics tools you can use, plus you can collect customer feedback. Identify your strengths, and focus on eliminating your weaknesses. To analyze your performance, you can try tools like SEM Rush, Ahrefs, or Moz. Google Analytics provides not only insights on your content performance, but how your content contributes to conversion.
9. Work with a content service
To support your excellent content marketing strategy, you might work with a content creation agency as content marketing involves a sustained, and significant effort over time and you have other priorities for your business. There are plenty of companies that can help you design an excellent content marketing strategy even if your products/services are complicated, like fintech (by the way, GenuineCommunications can help you with creating fintech content for your business results).
The best content strategy should focus on your business goals and how you can achieve them. With the right support, you'll save yourself time and improve the quality of your content. For further business help, there are some excellent info articles on this site.
Conclusion
When it comes to building an excellent content marketing strategy there are many areas to consider. It can take a little while to come up with the perfect plan and you won't see an immediate improvement from your content marketing efforts, which often take 6 months or longer to bear fruit. Once you figured out your strategy, you must make adjustments every now and then to optimize performance. Revising your strategy over time is the best way to improve your performance.
Need marketing help to support business growth?
We welcome the opportunity to show you how we can make your marketing SIZZLE with our data-driven, results-oriented marketing strategies.  Sign up for our FREE newsletter, get our FREE guide to creating an awesome website, or contact us for more information on hiring us.
Hausman and Associates, the publisher of MKT Maven, is a full-service marketing agency operating at the intersection of marketing and digital media. Check out our full range of services.