No one ever plans to face a disaster, but when it comes knocking at your door, survival comes to those who planned for it. Whether your business is struck by a natural disaster, cybercrime, or simply an unexpected equipment failure, you need a viable backup plan in place so you can hit the ground running and survive the storm. In this article, we will discuss the importance of having a viable backup plan for your business finance, data, career safety nets, and management contingencies. We also provide tips for creating a digital marketing containment strategy.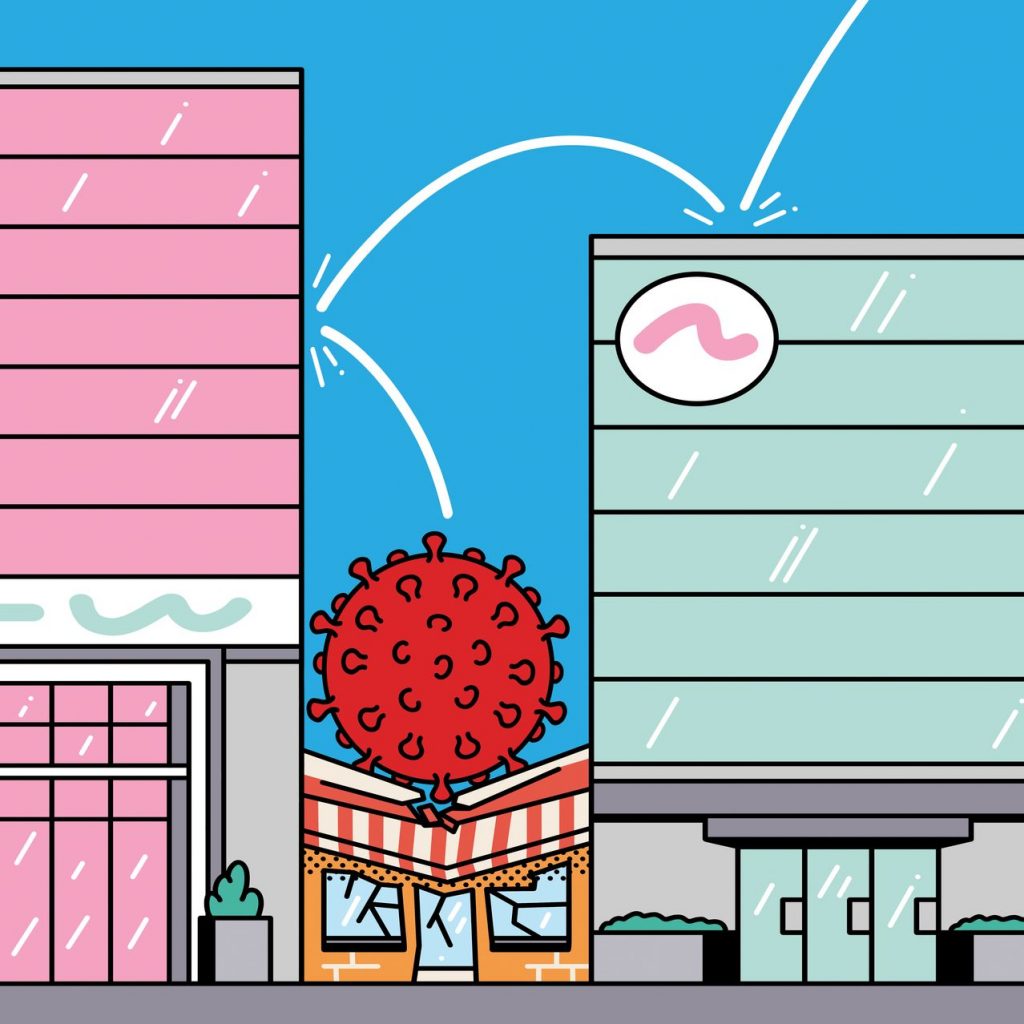 Importance of a backup plan
With the experience of Covid-19 barely in our rearview mirrors, I don't need to tell you how devastating it is when you don't have a viable backup plan waiting in the wings. Almost overnight, the world as we know it came to a screeching halt. With the exception of a few essential businesses, your revenue dried up overnight if you operated a business in a public space. Even businesses that weren't customer-facing had problems as workers got sick or stayed home for fear of contracting a deadly virus. Many businesses were able to pivot quickly, opening online stores and arranging for curbside pickup to limit exposure to the virus, others weren't so lucky. Many of these closed their doors while others survived only through government largess and might still fail in the long run.
You might argue that a pandemic is a once in a hundred years event. But, with increased mobility, the next pandemic is probably closer than you think.
But, disaster comes in many forms. For instance, global warming appears to result in an increasingly unstable weather pattern from historic snowfall in California to tornados in the South. Raging wildfires and worsening hurricane activity are more common, as well.
Creating a backup plan involves more than disaster planning for relatively unlikely (but devastating) events. It also involves creating contingency plans for more common events, and that's the topic of today's post.
Creating a backup plan
Backup planning should become a normal part of your yearly business planning cycle. Sometimes called contingency plans, backup plans (a normal part of a business plan) anticipate potential scenarios that might cause business disruption and then plan for a recovery that limits the damage caused. WIth a contingency plan in place, you know exactly how to respond in the event some disaster befalls your business so you can respond quickly with a carefully developed plan to mitigate damages.
Creating a backup plan involves brainstorming potential breakdowns in your business's processes and then building a series of steps to recover quickly from the breakdown. It also involves scouring the industry and business, in general, to help you better anticipate threats so you can have a plan in place for recovery. Below are some areas where you might want to develop a backup plan and what to consider in the plan.
Your business's finances
Your business finances are an essential element necessary for running your business. In fact, as you can see below from the number of failures related to money, financial shortfalls are a major factor in business failure.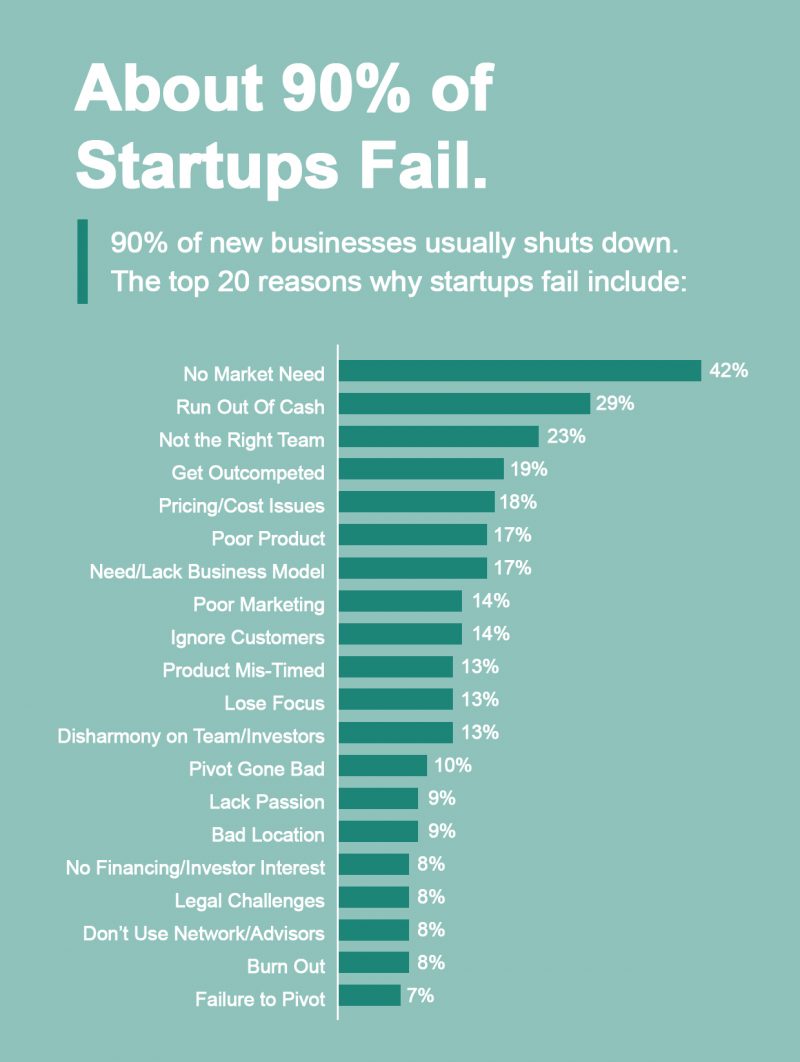 To avoid potential problems, you need a reliable system in place that allows you to access and update financial records from multiple locations. Consider cloud-based software solutions such as Xero, Quickbooks, or CloudBooks for easy access to financial data anytime, anywhere. Use these records to set up procedures that limit future financial problems. For instance, a statement of cash flows identifies isolated problems between the inflow and outflow of cash that might result in a shortfall. Consider factoring your accounts receivable, which speeds up payment to avoid a cash shortage. Also, set up a line of credit that's available on short notice if you need to borrow money quickly. These financial instruments help ensure you have sufficient cash on hand while limiting the cost of borrowing money that results when you are forced to get a loan quickly. Planning ahead also reduces your cost by ensuring you can pay your bills on time to avoid fees and it means you can pay your employees on time so you don't lose your best people.
Data security
Cybersecurity is a major concern for every business as cybercriminals get more sophisticated and seem to come out of the woodwork. A security breach can shut your business down if you are the victim of a ransomware attack (which encrypts your data until you pay a fee). Hackers that access your internal records expose you, your employees, and your customers, which can damage your reputation.
Using a backup service to store all your data in the cloud, such as Carbonite or Backblaze, ensures your data is safe and secure from ransomware (you need security to check for ransomware before updating the information stored in the cloud). You also need effective cybersecurity to protect your data.
In the case of a data breach or ransomware demand, you need a contingency plan detailing the steps needed to limit exposure. That plan must include:
What events trigger the plan?
Who is the point of contact for implementing the plan?
An ordered list of steps to take, who is responsible for the step, and a time frame.
A media contact employee authorized to speak on behalf of the company so you can get in front of negative publicity before it does reputational damage.
Staffing plans
Employees are the backbone of any business and it's essential to have a plan in place to keep them happy, motivated, and committed to the business. Consider offering professional development opportunities, flexible hours, and other benefits that can help keep employees engaged and on track for success. Additionally, provide access to resources such as legal advice, health services (including mental health), or financial services so your team is prepared and less likely to find themselves sidetracked by a personal crisis. Finally, consider investing in leadership training or team-building initiatives so that your team is equipped to handle any situation.
Some roles are essential to the function of the business and even a small break in continuity can cripple the firm. Losing your CMO(chief marketing officer) can damage the company if your campaigns flounder due to a lack of leadership. Businesses routinely develop succession plans for these leadership roles in the event an employee holding the position leaves, becomes seriously ill, or dies.
During the pandemic, a serious shortage of nurses results from the combination of fewer employees (due to illness and fear of the virus) and increased demand for these highly trained individuals. For example, if you need someone with an RN license, you can look for travel RN jobs search here to help supplement your staffing.
Reputation management plans
It's inevitable your company will face negative reviews, comments, or media attention. It's part of doing business in a digital age when customers feel no compulsion to act responsibly and where some will engage in such behaviors for the notoriety or potential payoffs they see at the end of the line. The last thing you want to do is to hide the negatives as nothing truly ever disappears from the internet and attempts to squash negative comments simply draw more attention to them.
Instead, counter negative comments with positive ones. Request reviews from satisfied customers to counter negative comments from day one. Also, use SEO (search engine optimization that improves your rank in search), digital marketing campaigns, a social media strategy, and public relations to get your message out there to hopefully build a reputation that resists efforts to break down your brand. Don't wait for negative comments by being proactive.
Conclusion
By putting these backup plans in place, you can be better prepared for any unexpected situations that could arise. From protecting business finances to developing management strategies, there are many steps you can take to make sure that both your business and career are protected. With the right preparation and contingency plans in place, you'll have peace of mind knowing that whatever comes your way, you'll be ready.
Need marketing help to support business growth?
We welcome the opportunity to show you how we can make your marketing SIZZLE with our data-driven, results-oriented marketing strategies.  Sign up for our FREE newsletter, get our FREE guide to creating an awesome website, or contact us for more information on hiring us.
Hausman and Associates, the publisher of MKT Maven, is a full-service marketing agency operating at the intersection of marketing and digital media. Check out our full range of services.