Well, it's been a while since I created my post on Creating Great Brand Names. Today, I'm gonna update and expand that post in this edition of "This Week in the News" with a post on crafting great brands in honor of Google's recent change to their logo.
While the changes were subtle, folks reacted somewhat negatively to the new Google logo last week, according to New Yorker.
Here's what Sarah Larson said:
The new logo retains the rainbow of colors but sheds the grownup curlicues: it now evokes children's refrigerator magnets, McDonald's French fries, Comic Sans. Google took something we trusted and filed off its dignity. Now, in its place, we have an insipid "G," an owl-eyed "oo," a schoolroom "g," a ho-hum "l," and a demented, showboating "e." I don't want to think about that "e" ever again. But what choice do I have? Google—beneficent overlord, Big Brother, whatever you want to call it—is at the center of our lives. Now it has symbolically diluted our trust, which it originally had for all the right reasons.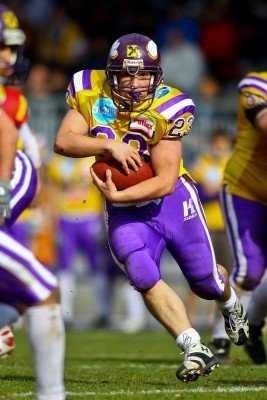 Building on Google's brand change, first up, we have a post from Jeff Rosenblum at Digiday on how the NFL does it.
The NFL reminds us how great brands are built
In his post, Jeff argues against following the herd. For decades NFL coaches used the exact same strategy for winning games. That meant competitors knew exactly what you were gonna do.
Instead, venture out on your own to build a brand that is different, not just like your competition.
A few industries with championship brands have learned to put the ball where the other team isn't. Rather than rely advertising volume (both in dollars and decibels), they have taken the friction out of their marketing strategy by removing the interruptive messages, and give their customers meaningful experiences instead. They don't try to entertain their audience; they seek to enrich people's lives. And they look for opportunities to do that in areas where their competition falls short.

When you think about the best case studies over the past few years, it comes down to putting the ball where the other team isn't: Dove's Real Beauty Sketches which celebrates inner beauty, Patagonia's Footprint Chronicles which promotes transparency, Apple's Genius Bar which empowers creativity and Virgin America's technology which creates a comfortable flight experience. Each of these evolved its marketing strategy from interruptive messages to meaningful experiences, which created advocates that carry the brand message forward more powerfully than paid media.
Next, from the TopRank Online Marketing Blog, we have a post from Ashley Zeckman on using creativity and humor to create a brand image through content marketing.
4 Ways Brands Can Use Creativity & Comedy to Create Award-Winning Content Marketing
In her post, Ashley cites a presentation by Tim Walsh of Cisco at Content Marketing World. In his presentation, Tim argued you need a creative culture that supports ideas and learns from mistakes, rather than focusing on avoiding them.
She also shows 3 tactics for creating humor:
A hard left turn
Juxtaposition
Irony
An interesting read.
Next up, we have something from Mike Stokes at MediaNovak on creating a voice for your brand.
Clever Branding Tips | A Quick-Start Guide To Creating A Big Brand For Your Small Business
Mike really gets it — or at least part of IT. Branding is much more than your logo. Here's what Mike has to say on the topic:
What's your company's brand? If you think it's just your logo, you are in for a rude awakening. While your logo definitely is a big part of it, there's so much more to building a memorable brand. A brand refers to the overall experience that a client has with your business and the product or service you're providing. Your brand essentially covers everything from your company's name, sign or symbol, to your marketing materials, both online and off, and is an important tool for attracting and retaining loyal clients.
As I said, Mike gets part of it. He's certainly right that your brand is more than just your logo, but it's also more than your marketing materials. It's atmospherics in your store, the merchandise you carry, how your folks engage with customers, return policies, etc.
If I were to distill everything about a brand into 1 word it would be personality.
Brand personality is just like a personality of a friend — it's 3 dimensional.
Here are some great examples of brand personality from Rose-Innes Design.
Mike's recommendations ring true:
Start with a great name and logo so you stand out from the rest. Your name should pass the "radio" test meaning folks can spell it when they hear it.
Choose a simple branding message — or tag line. Notice the tag line for Hausman Marketing Letter is "at the intersection of marketing and digital media" which describes what we do perfectly and helps you get our competitive advantage quickly.
Create a strong voice for your brand.
Be consistent — nothing kills a brand faster than being all over the place. Choose a color scheme, images, and brand messaging then use these elements (or a subset) everywhere you communicate.
Keep your promises
Finally, we have an article from Campaign written by Kate Magee.
The future belongs to those who create it
In this interview with industry leaders, Airbnb's CMO, Jonathan Mildenhall, says;
Marketers need big, disruptive, strategic, culturally smart, storytelling, tech-oriented and data-whispering creators now more than ever before.

Agencies that lean into innovation and put a premium on recruiting and retaining great talent will do just fine. The most important thing I have learned since joining Airbnb is that the future belongs to those who go out and create it, not those who focus on the past
Great brands need creativity and strategy based on metrics, not seat-of-your-pants guessing. Getting great people together is a prerequisite to building great brands.
Meanwhile, Baileys director of the global brand, Garbhan O'Bric, says this about traditional advertising in building great brands:
We're living in an age of apathy. If brands do things that interest people and add value, they will be rewarded by attention. The only way to get there is the fusion of data and creativity. However, given the avalanche of data that exists, trying to disseminate what the trends are is less easy.
I hope you enjoyed this week's edition of "This Week in the News". Stay tuned for future editions on topics critical for success in modern marketing and digital media.
Need marketing help to support business growth?
We welcome the opportunity to show you how we can make your marketing SIZZLE with our data-driven, results-oriented marketing strategies.  Sign up for our FREE newsletter, get our FREE guide to creating an awesome website, or contact us for more information on hiring us.
Hausman and Associates, the publisher of MKT Maven, is a full-service marketing agency operating at the intersection of marketing and digital media. Check out our full range of services.