Do you have a business with a physical location and feel like you do just fine without a digital presence? Well, you're wrong. An amazing digital presence promotes your business and sends customers your way whether you run a digital store or one in the physical world. Maybe you recognize the value of an online presence because you want to take your traditional business dynamics and elevate them to the next level by utilizing modern technology and intelligent marketing strategies? Regardless of where you are in making an online decision, the first thing to do is craft an amazing digital presence for your business.
To start, check out data showing the growth of digital marketing spending versus spending on traditional advertising and you'll see the vast increase in spending on digital. Most of this additional spending comes from lower budgets for traditional advertising. And, if you think all these businesses transforming their marketing strategies toward digital are wrong, you're deluding yourself.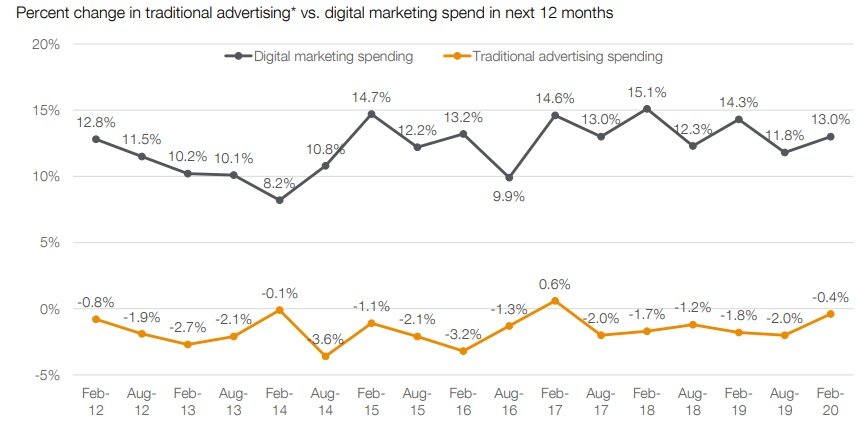 Today, we'll accomplish two goals. First, we'll discuss why you need an amazing online presence. Next, we'll show some strategies for crafting an amazing online presence for those of you new to these strategies.
Why you need an amazing digital presence
There are many benefits to having a website that you can use to advertise your business with and reach more customers who might otherwise never walk into your physical location.
Today's consumers spend vast amounts of time online; whether it's surfing the internet looking for solutions, interacting on social platforms, reading and sending email messages, using messaging apps like Whatsapp, or watching streaming videos. During Covid, time spent online grew dramatically, but online activities grew pretty quickly even before the pandemic. Likely, consumers used to the convenience and options available online won't return to prior levels of online activity once restrictions decline.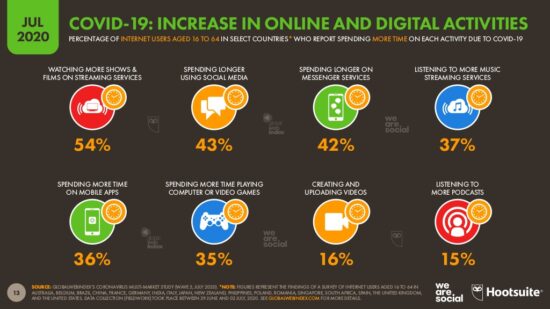 That said, here are some additional reasons why your business benefits significantly from having a website, social media pages, and other digital strategies.
Exposure
With a physical location, you only have a limited number of potential customers who might walk through your doors; the people located in your immediate area. Whether you employ a big sign outside your location or an advertisement in the local newspaper, your physical advertising also suffers from limited reach. But, when you take your business online, you can reach many more people, including travelers in your area, residents who live nearby but never pass your store, and even acts as a reminder for folks who visited you before. Suddenly, the entire world can access your services and see what you're all about. In a matter of a few seconds, your business exposure grew exponentially, and you can now reach consumers who never pass by your storefront.
Plus, as we learning during the pandemic, businesses need to expand their online offerings beyond their physical store. With an amazing digital presence, consumers not only find you more easily, you now have tools to motivate them to visit your business. You can also offer online products through e-commerce or offering services online. For instance, training and classes moved online to reach a broader audience for these services.
Marketing
As mentioned above, your marketing efforts can influence many more customers than ever before with an amazing digital presence. Now that you entered the modern era of marketing, you can now take advantage of various strategies to reach the optimal number of users and make the target the correct market. Using digital marketing tactics such as SEO, paid social media marketing, email marketing, and content marketing, you can boost performance significantly. For instance, email marketing can produce an ROI (return on investment) of up to 4400%.
Digital marketing tactics are highly effective solutions to incorporate into your overall marketing campaign and are designed to rank your website higher on Google, advertise on your target market's social media feeds, and ultimately boost your sales tremendously. Not only are digital marketing tactics effective, but they're also much less expensive than traditional advertising because you can laser focus your efforts on the specific target market most likely to make a purchase.
24/7 Availability
You no longer have restrictions on operating hours with an amazing digital presence as you do with a physical location. Now, you have platforms available to the public twenty-four hours a day, seven days a week, every day of the year. No more holidays or time off for vacation. You don't even need a bigger staff to handle your online marketing efforts unless you ship a physical product.
An amazing digital presence allows potential customers to reach you any time of the day or night, which generates constant sales, even while you're sleeping. But, your online efforts aren't limited to sales. Your digital marketing activities work to motivate purchases, answer questions, even solve customer problems. By using a chatbot, you don't need staff available for these customer interactions.
Your website should be easy to navigate and quick to react, thereby giving the user a positive experience. You can also have a look at the API definition and how it can benefit your website and business.
Crafting an amazing digital presence
To achieve these benefits isn't easy, fast, or free. Here's what you need to build your digital efforts.
A website
A website is your digital home so this is not optional. If you have the money, hire a skilled website developer to craft your website, paying careful attention to ease of navigation, design elements such as branding, and creating content to match your customer journey (see below).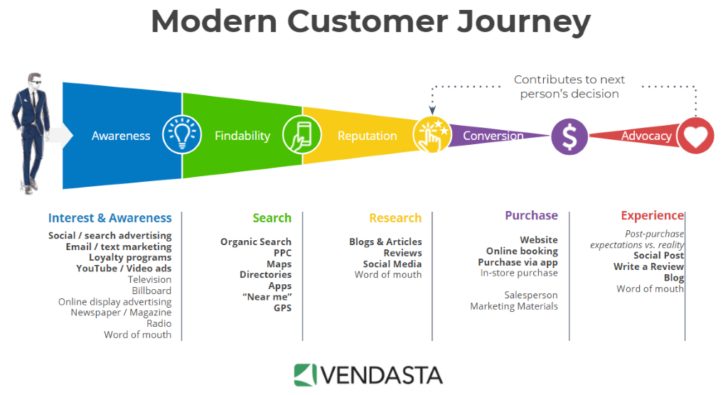 If you don't have the money, you can create a decent website yourself and I even put together a step-by-step ebook to get you started.
As mentioned earlier, email marketing produces a superior ROI. Hence, build your email strategy into your website by including subscription forms in prominent locations. Also, include elements such as e-commerce, customer service, and a blog into your website as a blog boosts your SEO to help users find you online.
To enhance your physical presence, use Google My Business to increase the prominence of your website when searchers look for a business in their local area. Below you see the results of a search for medical practices in my area.
Social media
Of course, building an amazing digital presence requires more than a website. Social media is a great tool for building engagement with prospective buyers that amplifies your messages to reach new prospective buyers. The key to a good social media strategy is to find out where your target market hangs out online, what they like to do there, and how to reach them. Once you have answers to those questions, you can determine which platforms to focus on, since you can't always afford the time and money to engage across all social platforms. For instance, an author friend of mine finds TikTok particularly valuable for selling her books while a business client finds LinkedIn performs best. Determining which platforms to use also determines the type of content you need. So, Instagram requires visual images, while Twitter requires short text messages, while both need hashtags for effectiveness. But, using hashtags on Facebook isn't common so whenever a user sees hashtags they know the business was sloppy and just shared their Instagram post on Facebook.
Creating valuable content on a consistent basis improves engagement. That means you must publish 1 or more posts per day (for instance, Twitter works best with 7-10 posts/ day) and using all those posts to taut your products wears thin really fast. So, try to create value with your posts by sharing interesting, humorous, insightful, entertaining, or informative content for users.
Email marketing
We already talked about collecting subscribers on your website. You can also collect them from webinars, physical meetings, and other activities where you interact with consumers. Just know you can't buy subscribers anymore, as that violates laws in the US and EU.
Once you have subscribers, you need to send email messages on a schedule. You'll likely need to test to determine the optimal send schedule as each audience is different. You also need to determine the content of the message and, most importantly, the subject line as these determine the success of your email marketing campaign.
Conclusion
Your business likely faced a number of challenges since the start of the Covid-19 pandemic. Give it the breakthrough it needs in order to soar sky-high with sales and reach a level of success you never knew possible with all the online tools available to you. After all, if you made it through nationwide lockdowns with a business that's still standing, you deserve to see your company boom!
Need marketing help to support business growth?
We welcome the opportunity to show you how we can make your marketing SIZZLE with our data-driven, results-oriented marketing strategies.  Sign up for our FREE newsletter, get our FREE guide to creating an awesome website, or contact us for more information on hiring us.
Hausman and Associates, the publisher of MKT Maven, is a full-service marketing agency operating at the intersection of marketing and digital media. Check out our full range of services.