Your company's brand is the single most important element of your business; determining your success or failure more than any other single element. And, crafting a website is often the first way you introduce your brand to customers and prospects. According to Forbes:
A business's branding is more important than you might think. On the outside, your brand may seem like it consists only of elements such as logos and colors, but your brand is actually the entire identity of your business. Your brand gives you personality.
So, just like people you meet form an opinion about you in mere seconds, your website only has a few seconds to wow visitors. Unless you pull them in within a few seconds, they'll bounce to another website, eliminating any chance you had to convert them. 
A great website does more than look flashy to encourage visitors to explore further, it must also meet your business goals. Hence, a great website contains the following features:
A strong visual impact
Clean design
Easy navigation
Designed to support the customer journey
Great SEO to drive more visits
Mobile-friendliness
Content variety
Crafting a website
Most businesses use a web designer in crafting their website, since designing a website requires specialized skill and experience. You also want your design to support your goals, so most companies choose a custom e-commerce web design to create the right site. If you need a little help building an e-commerce website, you might follow up with Ecom Warrior Academy or another vendor near you. However, if using a developer to build your website doesn't fit in your budget right now, I wrote an ebook that helps you build a website using step-by-step with tons of images and videos to guide you along your journey to a great website.
Under NO CIRCUMSTANCES should you use those plug-and-play website builders such as Wix, Squarespace, and Weebly. Sure, these seem like a dream come true for small businesses or non-profits that want a web presence without spending a lot of money, but they're a terrible choice according to most experts. Here's a video with 4 reasons why you should never use a website builder (ignore the ad).

To summarize, website builders have terrible SEO (which we'll discuss later), are hard to move when you change your mind, are much more difficult to build they advertised, and look cookie-cutter regardless of how much effort you apply. Instead, build a self-hosted website using a CMS (content management system) such as WordPress (currently 455 million websites and counting, including Disney, BBC, and Sony) then build your website almost as easily as the website builders without writing a single line of code.
So, now that I've hopefully convinced you to craft a website either on your own or by using a website developer, let's move on to what you need to craft a great website.
Strong visual impact
A picture paints a thousand words, so think carefully about the visual elements used to build your brand on digital. However, images are a two-edged sword as poorly designed images and the overuse of public images devalue your brand. Instead, work to create unique images with great visual appeal. If you don't have the skills, you can hire a designer through the gig economy using sites such as Fiverr for a small fee or use software such as Canva to craft your own images and infographics.
Consider bandwidth as you create images as they are much larger than text and may slow down your website. Using caching tools speeds up rendering your images, which is especially important on mobile devices.
Clean design
Newbies want to throw everything including the kitchen sink onto their website. Remember, less is better both for readability and to invite visitors to explore your site so resist this temptation. Use lots of white space, group similar items together, and use links rather than fill your pages with text. Limit your color palette to 3 colors that express your brand and maintain a consistent color palette across all uses. If you need help picking colors that work well together, try Kuler, a free Adobe tool. The same goes for fonts, so don't go crazy.
Easy navigation
Visitors should find your navigation intuitive, helping them find what they're looking for with a minimum of clicks. On mobile, ensure navigation works as well as it does on a desktop and that clickable elements are far enough apart to avoid accidental clicks.
Adding breadcrumbs (shown above) works as well with navigation as it did for Hansel and Gretel by allowing visitors to easily backtrack to previous pages.
Support the customer journey
If I could only share one piece of advice about crafting a website, understanding and building to support the customer journey would be it. A dysfunctional customers journey, like the one below, not only reduces your conversion rate, it can damage your reputation.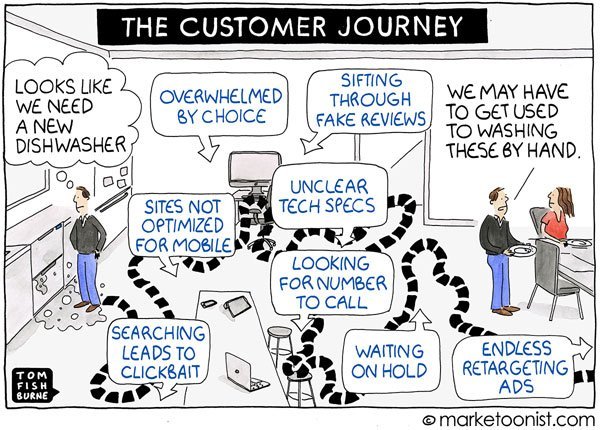 Start crafting a website by laying out the typical customer journey, which means doing some research with customers and prospects, analyzing your existing web metrics, and observing how competitors handle the customer journey. For instance, don't interrupt the customer journey with endless pop-up ads, instead using exit-intent pop-ups to retarget customers who show they intend to leave your site without converting or including them in the footer.
Also, consider how users search for desired items on your website to limit choice to a manageable level. rather than search dresses by designer brand, for instance, users might want to search based on price. By the same token, offering endless options for search also create havoc for visitors.
Great SEO
SEO or search engine optimization is one of the biggest challenges faced by today's businesses as competition gets more intense and communication channels more fragmented. Organic traffic from search engines account for 50% of all website traffic, as you can see in the graphic below. The same source states that 93% of all online experiences start with a search engine with 89% of purchases starting on a search engine while only 62% involve a social media platform like Facebook.

That makes SEO one of the most critical aspects impacting the performance of your digital strategy and it's one of the biggest arguments against using website builders, like Wix.
An effective SEO strategy starts with structural elements involved in crafting a website such as domain name, fast hosting, and canonical structure so you need to get it right from the beginning. Once you finish crafting a website, SEO moves into other elements such as content creation around keywords that express user intent.
Local SEO is particularly important for businesses that mainly attract customers from a local area, such as restaurants and service businesses. Local SEO involves many of the same issues discussed earlier, but also requires businesses to validate their location using Google My Business.
Mobile-friendliness
As you can see in the graphic below, mobile traffic increasingly sends visitors to your website, so when crafting a website consider a mobile-first strategy that ensures your website looks great on a variety of mobile devices.
Performance on mobile is also a key element of SEO.
To build a mobile-friendly website, you must:
Choose a mobile-friendly theme using a responsive design
Make your images and other elements, such as CSS, as light as possible through caching and optimization tools
Ensure button sizes and placement allow users selectivity over the links they click and avoid accidental clicks.
Eliminate pop-ups
Increase fonts and use less fussy fonts
Content variety
Using all text or galleries of images gets pretty boring for frequent visitors. Instead, consider using various content types when crafting your website. Mix up text with images, infographics, videos, or even podcasts to increase interest in your website.
Conclusion
Crafting a great website supports your brand and helps you achieve your goals. However, the process doesn't stop once you have a website. Over time, trends require you to update your design to avoid looking "old" or losing your rank in search. Check on your website performance to ensure you continue attracting visitors from organic search or that traffic from organic grows over time. You can also use tools, such as Goggle's Search Consol, to monitor your site speed, search performance across various keywords, and to view any issues with your website performance.
Need marketing help to support business growth?
We welcome the opportunity to show you how we can make your marketing SIZZLE with our data-driven, results-oriented marketing strategies.  Sign up for our FREE newsletter, get our FREE guide to creating an awesome website, or contact us for more information on hiring us.
Hausman and Associates, the publisher of MKT Maven, is a full-service marketing agency operating at the intersection of marketing and digital media. Check out our full range of services.