Conversion rate optimization is the name of the game for your store, whether virtual or physical. Without a doubt, it takes a lot of work to create and maintain a successful e-commerce site and a website with a lot of traffic is useless if these users don't buy anything during their visit or return later to do so. Therefore, it's much more upsetting when a customer leaves your store without purchasing anything, whether you brought them in through content marketing, paid advertisements, or any other method.
Above, you can see a typical conversion process where visitors can exit at any point in the process. Your goal is to optimize your conversion rate by making this process as easy and seamless as possible while implementing efforts to get those who exited without converting to give you a second chance.
This detailed article provides an understanding of e-Commerce conversion rate optimization, how it impacts your online business and how to improve your conversion rate.
If you're ready, let's get down to it.
What is conversion rate optimization in e-commerce?
Increasing website traffic is simple, and you can do that with effective SEO. The challenging aspect is persuading website visitors to act and make a purchase on your site. As a result, a website's "conversion rate" is one of the most reliable indicators for gauging success since it tracks the frequency with which visitors make purchases there.
Conversion Rate Optimisation, or CRO for short, is the process of adopting measures to raise this rate.
What is conversion rate optimization?
Conversion rate optimization boosts the proportion of visitors who convert on your website regardless of your definition of conversion. You might recognize a conversion as making a purchase, which is typical of e-commerce websites. But conversion might also involve reaching intermediate goals such as signing up for an account, subscribing to your email list, leaving a review, downloading a report or other collateral, or requesting follow-up from a salesperson. An e-Commerce CRO is simply optimizing your e-Commerce website to increase sales.
Here are some outcomes from conversion rate optimization
High-quality leads
More income
Lower acquisition costs
Tailored marketing and advertising
Below, you can see how conversion follows a funneling process where your content drives visitors toward conversion. The upper levels of this funnel are important, as is the success of your efforts in driving visitors toward conversion. Along the funnel, you lose visitors but a small increase in your success at moving visitors from one stage to another has a big impact on performance.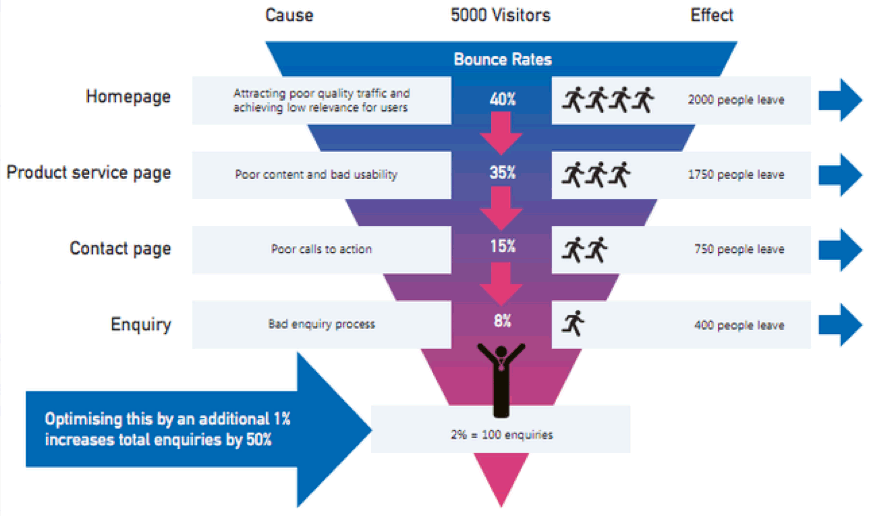 Conversion rate is a vital e-Commerce indicator, which should come as no surprise, given that every online business uses this KPI to determine whether or not its firm is thriving. The key is to include both intermediate and terminal types of conversion in among your KPIs. A singular focus on sales ignores the impact of earlier stages in the conversion process and their contribution to your overall success.
How To Calculate Your Conversion Rates
Calculating the conversion rate of your e-Commerce website is as simple as ABC. Maybe simpler.
There's a formula for calculating, and before your heart skips another beat because of the word "formula," it's good you know that this is nothing like the diophantine equation; it's way simpler.
Here it is:
Number of conversions
Conversion Rate = (# of conversions/ total visits) X 100                                      
For example, if you have 2,000 visitors to your website and converted 25 of those visitors, your conversion rate for that particular period is 1.25%. Data for this calculation comes from your Google Analytics.
Simple!
It's essential to monitor your conversion rate —without constant measurement, you can't make improvements to your conversions. Always keep in mind that management is based on metrics.
You can also develop a more nuanced understanding of your conversion rate by breaking up conversion rate by marketing campaign, marketing platform, user group, or other variables important for your marketing strategy. Making these calculations involves partitioning your analytics and using tools like multi-channel attribution modeling, but it's not too difficult. You can also monitor performance over time; measuring year over year, month over month, or even day-over-day conversion rate. Armed with this information, you're now in a position to make better decisions that optimize your performance.
How to know a good conversion rate
Generally, the average conversion rate for most e-commerce sites is 2%. For instance, in the third quarter of 2020, the average conversion rate for e-commerce websites worldwide was 2.17% which was lower than the 2.37% recorded in the same period in 2019.
In reality, an acceptable conversion rate varies between different industries. There's not one CR that fits all, as you can see in the graphic below.
Increase the conversion rate for your eCommerce website
Get your SEO right
Your first step in increasing conversion rates is to develop a solid search engine optimization (SEO) plan. If you aren't driving traffic to your website, you won't be able to convert visitors. And, organic traffic, that coming from search, represents 53% of all traffic to your website. You know from your own search tendencies, you're more likely to click on links presented higher on the results page so showing up in a good position sends more traffic to your website.
You need to use the proper keywords to ensure your items reach the right customers to attract them to your website and master on-page and off-page SEO.
Use top CRO tools for your Insights
Yieldify's top solutions guide you in choosing the best CRO tool. From data-driven analytics to audience segmentation and social proof, you can get an all-in-one personalization tool for your business.
Create an excellent user experience
Arm yourself with the data you need to make decisions about your website's user experience (UX) by tracking and recording every activity customers take in your store. What's even amazing, the tools recommended in the guide mentioned earlier help you automate the entire process. The user experience (UX) should feel natural, allowing customers to move seamlessly from the beginning of their search to the checkout.
By removing a single click from the conversion process, you can increase your conversion rate. Reduce the need for users to reenter information by encouraging them to create an account but offer a guest option for those who don't want to have their information saved.
Offer multiple options for payment as different consumers want to pay in different ways such as PayPal, credit card, cryptocurrency, or even offer payment options for high-priced items.
Be upfront when it comes to ordering. Don't spring shipping costs on visitors during the order process. Also, don't hide other key information, such as how long it customarily takes for products to ship. Show images that are representative of what the customer will receive.
Optimize for mobile
Users of mobile devices now account for the majority of online traffic. Having buttons and pictures that scale to fit a smaller screen is only one aspect of a website becoming mobile-friendly. Taking a mobile-first approach is an excellent method to enhance mobile UX. The limitations of a small screen, a less capable browser, and slower bandwidth are considered when using this approach while making design decisions.
Don't let go
Visitors exit for a number of reasons but each exit is a missed opportunity. Have a strategy for doing what you can to convert visitors before they leave. We already talked about UX, so let's talk about some other ways to capture a sale from an exit.
Exit intent popups appear when an exit appears imminent. You can use the popup to offer a discount or other incentive to motivate conversion. You can also use a popup for a backup offer, such as to subscribe to your mailing list. Or, you can use a popup to invite the person to create a wish list to use later.
Remarketing involves sending advertising to folks on social media based on a prior visit to your website. Most social media advertising allows you to place a tiny piece of code on your website called a pixel. When visitors arrive, the pixel identifies them so that when they log into their social media platform later, they selectively receive your advertising.
How conversion optimization can help your business
Enhancing the likelihood that visitors will take the desired action on a webpage is the goal of conversion rate optimization.
The following are ways in which optimizing the conversion rates of your e-commerce store will be of great benefit to you:
Cuts down cost
In general, there are two methods to expand an online business: either increase website traffic to boost sales or work on your conversion rate so that more current traffic becomes actual paying customers. A more affordable and effective technique to continue producing revenue is conducting thorough tests on your website and using the data to increase conversions.
By increasing your conversion rate, you may also considerably reduce the cost of attracting new customers, positively affecting your revenue and increasing the return on investment for your ad spend.
Accelerate the sales process
Conversions occur at every stage of a customer's buying process, especially in e-commerce, since they depend on the function that a particular component of a website serves. For instance, a consumer who clicks through a product image is a conversion since it moves him further down the sales funnel and toward making a buy.
You may increase sales opportunities and speed up the sales process by eliminating friction and shortening and streamlining the conversion paths.
Better UX
You will undoubtedly make the necessary adjustments to your website and landing pages if you have access to extensive customer data and insights. These modifications greatly improve the user experience of your website, which pleases your website visitors. This kind of user-centered optimization can increase the conversion rate of your website.
Stay ahead of your competition.
Another enormous advantage of conversion rate optimization is out-competing your rivals to get new clients and revenue. The stakes of competition are high in today's digital world, and to leave your mark, you must stand out from the crowd. You have the upper hand if your website and landing pages are optimized. More clients and sales as a result.
Improves consumer analytics
If the wrong kind of traffic is driving your business, even high volumes won't help. People interested in purchasing your goods and services are the "proper" traffic.
You can examine current user behavior on your website and create the ideal customer persona with conversion rate optimization techniques. You will be able to better understand the demands of your customers and make wise business decisions with this assistance.
Increase repeat sales
CRO has a lot to offer to increase your website's repeat sales and buyer retention rates. There isn't much you could ask for if your customers keep returning for more. Delivering experiences and interactions your visitors genuinely want or desire is the objective of conversion rate optimization.
Last Words on How Conversion Rates Optimisation Impacts Your Ecommerce Business 
The total success of your eCommerce store depends on conversions. After all, your bottom line will suffer if you don't turn a visitor into a customer.
Continuous CRO testing is the only way to remain competitive in the crowded eCommerce market. It doesn't matter if your existing data indicates that your conversion rates are higher or lower than expected. If you don't continually get better, your rivals will quickly surpass you.
Author's Bio
Martins Favour is a creative content writer with over five years of experience writing SEO content for various brands. She finds a home in weaving worlds out of words. Stories are her life and LinkedIn is her favorite tool. 
Need marketing help to support business growth?
We welcome the opportunity to show you how we can make your marketing SIZZLE with our data-driven, results-oriented marketing strategies.  Sign up for our FREE newsletter, get our FREE guide to creating an awesome website, or contact us for more information on hiring us.
Hausman and Associates, the publisher of MKT Maven, is a full-service marketing agency operating at the intersection of marketing and digital media. Check out our full range of services.