A year ago, you never heard the term content marketing. Now, it's almost a trending topic on Twitter because so much of the conversation has shifted from SEO to content marketing. Yet, I'm getting a string of clients from other firms who've decided content marketing just doesn't work. And, in the hands of amateurs, it doesn't.
Making your content marketing GREAT!
So, what do I do differently than most of my competitors? I recognize that content marketing is an integration across:
marketing
SEO
journalism (english)
business intelligence
graphic design
rudimentary web design
Fail in any of these areas, and your content marketing is going to under perform. It takes effective integration across these disciplines to optimize your content marketing strategy.
Despite the need for integration, a recent survey from Kapost shows most firms hiring journalism majors to handle content marketing. Huh?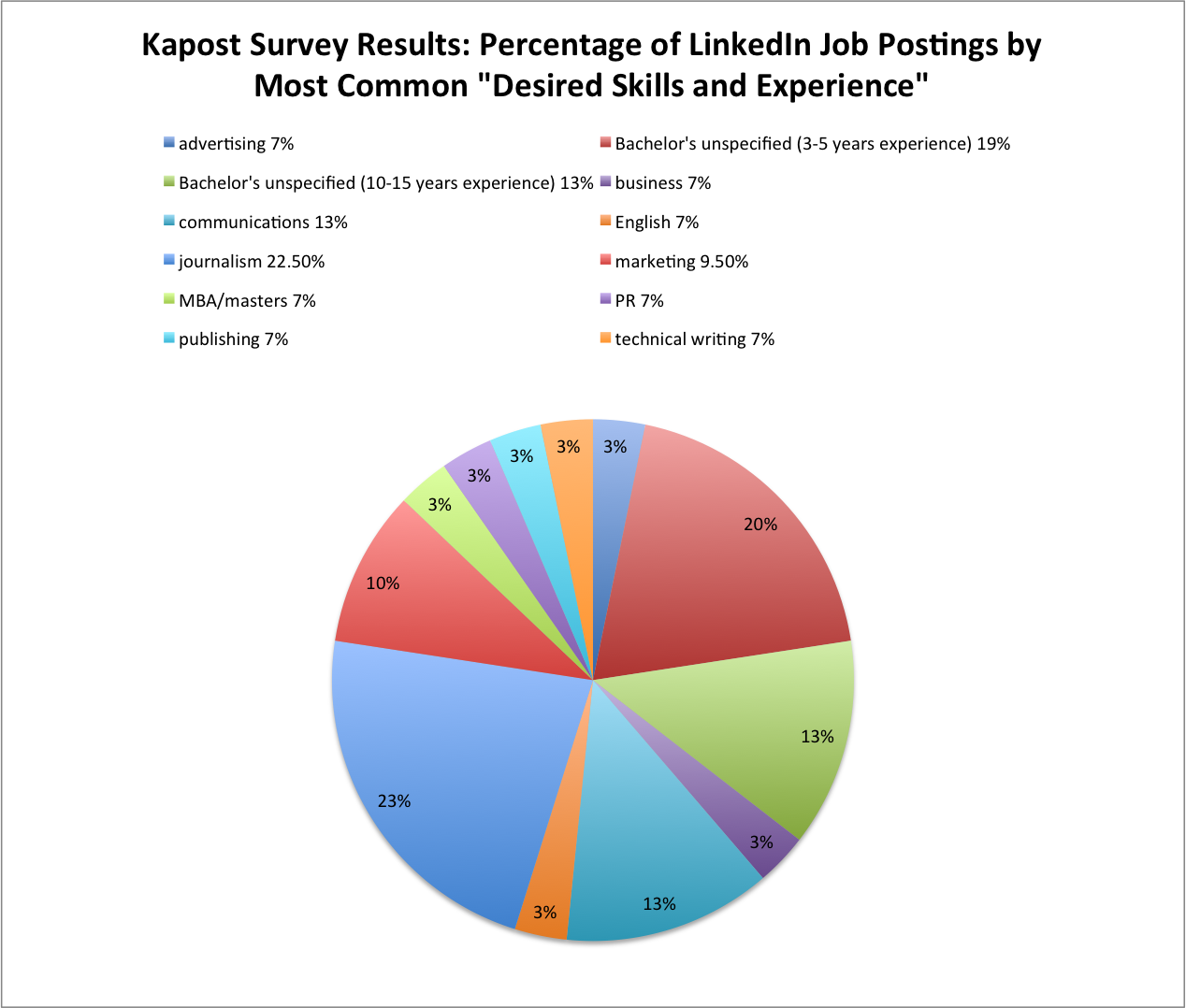 Now, to be sure, no college degree is the outright winner in garnering the role of content marketing, but journalism is 3+ times more common than any other degree. Unless journalists learned other skills while earning their degree, they lack all the necessary skills except writing. To be sure, good writing is important and creating content on a schedule is even more important — and journalists have these skills. But, look at what you're giving up:
marketing:
Marketing students learn concepts including consumer behavior and learning, psychological concepts such as selective retention, persuasion, and a host of other tools capable of driving results from your content. They also learn planning and strategy tools necessary for management of content marketing, such as environmental scanning, SWOT analysis, and product positioning.
SEO:
To my knowledge, there's no readily available college degree teaching SEO. In fact, SEO is an evolving discipline taking considerable effort to just stay current. On a regular basis, I read Moz (formerly SEOMoz), Search Engine Land, Search Engine Watch, and several blogs featuring state-of-the-art SEO techniques. While many tout the demise of SEO, key elements including keywords, backlinks, and other elements of a sound SEO strategy are still hugely important.
Business intelligence:
Without effective monitoring, no content marketing strategy is complete. That's because, regardless of experience, NO ONE can accurately predict how consumers will respond to your content, which pieces of content will be most effective, and which digital outlets will work best for your content. Heck, without business intelligence, you can't even figure out which headlines work best, which CTAs (Calls to Action) generate the highest click-through rate, which customers generate the highest AOV (average order value), or which have the highest CLV (customer lifetime value). These are all important questions to answer to optimize your content marketing strategy.
Even figuring out what to write about requires business intelligence: what's trending, what competitors find success publishing (which Social Ears calls topicjacking in the infographic above), and finding out how prospective customers talk about topics they're interested in.
Graphic design:
The digital web is increasingly VISUAL. Thus, effective content marketing requires compelling graphics, infographics, and video. Otherwise, visitors soon lose patience with your endless stream of words. Buying images from stock photo sites works to a degree, until you find your site beginning to look like everyone else's site because you're using the same images. And, stock images just don't work in certain situations, requiring you to spend hours searching for just the right image or stumbling through creating something.
I recently ran across a post recently demonstrating how to create great word graphics using Microsoft Word. But. even so, some graphics take specialized training with tools like Adobe Creative Suite (especially photoshop and indesign) and experience using them. You'll also likely want someone versed in photography and videography. Sure, visitors don't expect TV quality video, but they don't want something overly schlocky in your content.
Rudimentary web design:
You'll never need to code an entire website as a content creator, but you should know some rudimentary Java and some HTML to pretty up your content, add and position videos from YouTube and Vimeo or podcasts. You'll also want some design skills to add buttons, arrows, boxes, and other hyperlinked graphical elements to where you want CTAs within your content.
How to integrate your content marketing strategy
You have the option of hiring specialized individuals and routing your content through different staff members using a manager to coordinate the content production process. That's how content is created in advertising agencies. Digital content ISN'T like traditional advertising. Digital content moving through multiple employees delays content, making it really hard to stay on schedule with your content marketing calendar and may result in content falling through the cracks. Routing content through multiple staff members also means you lose flexibility and can't respond quickly to an immediate content creation opportunity. So, using the agency model for content marketing doesn't really work.
As we saw above, neither does hiring individuals with just 1 or 2 of the required skills. That results in content marketing that doesn't optimize market returns.
So, what's the solution?
Well, the long-term solution is for universities to bring curricula up to 21st century stands; providing students with cross-functional skills to satisfy the needs of digital businesses — not just for content marketing, but other digital marketing needs. A few schools are beginning to offer these programs or certification programs comprised of relevant coursework. Private businesses are filling the gap faster, but maybe not as well. For instance, in DC, General Assembly (the training arm of 1776) offers training to increase your digital IQ on either a part-time or full-time basis. Lots of specialized schools such as these are springing up all around.
But, training and degree programs don't help much if you need to hire someone tomorrow. One option is to hire firms like Hausman & Associates to manage your content marketing strategy for you or hiring someone with experience working in a firm such as this. Firms like mine spend time training employees so they have the skills you need.
Maybe your best option is hiring someone with certain necessary skills and undertaking training once the person is on board. That's what I normally do when hiring new employees. I look for folks with the quantitative skills and good writing skills. I also hire graphic designers and video editors, figuring I can use the graphics folks to create images with likely utility based on the types of content we're normally creating and videos often allow for the longer lead times required to have them work as part of a team. The rest I figure I can train employees who already have good analysis and writing skills. As a former marketing professor, I'd like to say I hire marketing graduates, but I find they lack needed analysis ability and computer skills. Hence, I'm teaching a lot on marketing, especially social media marketing, to my new hires. Of course, reading this blog, as well as others, are required of all employees.
Need help?
Whether you need a complete analytics strategy, some help with brand marketing, or some consulting to optimize your existing social media marketing, we can fill your digital marketing funnel. We can help you do your own social media marketing better or do it for you with our community managers, strategists, and account executives. You can request a FREE introductory meeting or sign up for my email newsletter to learn more about social media marketing.