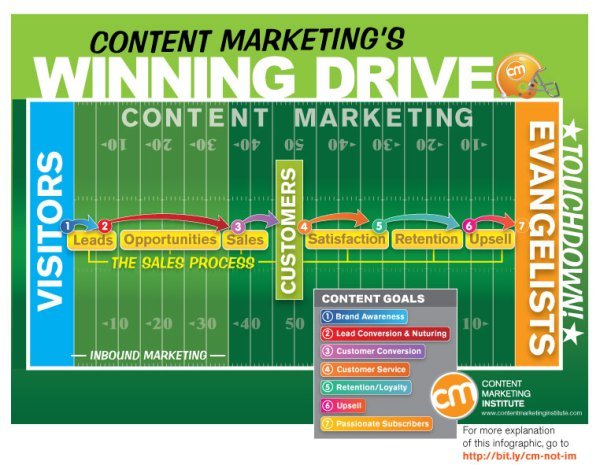 How is social media marketing different from content marketing? What is the point of difference between these two marketing strategies? And which is the best marketing strategy? Is it a contest: content marketing vs social media marketing? If you are still unaware of what are the core differences between both marketing terminologies then let's dive into this and know more.
Content marketing is content production and creative thought whereas social media marketing focuses on making social media a successful delivery mechanism as much as possible. The difference between the two is not as simpler. Content marketers  focus on methods of curating and creating content whereas social media marketing focuses on making social media a successful mechanism for delivery of the content.
Content marketing is  a starting point for digital marketing campaigns. If a small business owner wants to attract a large number of customers and webmasters are looking for more visitors on the website, then content marketing is the best solution for them. Content marketing implements SEO strategies to drive traffic to a website, while social media marketing is a channel for sharing content — both created and curated — across targeted audiences.
Various  characteristics overlap between these two terms, but these are two distinct entities with different focal points, goals, and processes. But, it's not a situation of choosing content marketing vs social media marketing. You use them together in a cohesive fashion.
Let's have a look at major differences between social media marketing and content marketing.
Social Media Marketing
Social media marketing is using social platforms where existing and potential customers interact directly. Social media marketing is all about using social media websites and social networks for marketing product and services of a particular brand. Social media marketing is the type of marketing allowing companies to reach new customers and increase brand engagement with  existing customers. In other words, social media marketing is a channel for marketing that extends the reach of content marketing through multiple social media platforms. Social media marketing is pushing marketing strategy, which, in turn, pushes content and drives people from their current state toward a purchase.
Social media marketing is a form of direct and indirect marketing that promotes a brand on the social web with the help of sharing and interaction. Social sharing is a simple and personified way of marketing. Companies can enhance brand awareness and brand engagement through one-click sharing methods and other tactics that encourage customer-to-customer interactions. For successful social media marketing, marketers focus conversations and sharing related to business without being too promotional. For the indirect promotion of the product and services, brands must effectively start the conversation (ie. create or share content) and encourage sharing the content among users for strong customer relationship management. Social media marketing allows small businesses to build brand awareness on a larger scale.
Content Marketing
Content marketing is all about creation, curation, and distribution of valuable, relevant, and consistent content. The objective of content marketing is to attract and retain clearly defined audiences and profitable customers by giving them information that moves them along the their customer journey.
Content marketing is a method for companies to educate, inform, entertain, and inspire  action among existing and potential customers. Content marketing promotes the product or service by raising brand awareness and by shaping consumer attitudes. Proper marketing and consumption of content drive behavioral change among customers by providing useful information to the audience.
Organizations publish content  on websites, through social channels, and through traditional media channels, like other forms of advertising. Content marketing establishes an enterprise as a thought leader and adds value to the target market. Content marketing also involves sharing information between consumers, which plays a significant role in building brand image and building trust among customers. Marketers use content marketing, in conjunction with channels that distribute that content, to establish credibility, trust, and loyalty among customers.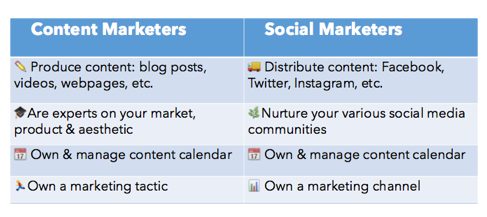 Difference Between Content Marketing And Social Media Marketing!
Social Is a Channel; Content Is a Tactic
Social media is a game changer in the marketing sector. The birth of social platforms made custom targeting of perspective audience easier for marketers. Social media thus provides a vehicle to reach consumers directly, rather than having to use an intermediary. No wonder, social media emerged as one of the most popular marketing channels for companies in many recent surveys and many marketers plan to increase use of social. Social media marketing is the great marketing strategy for listening and gathering insights for your business and finding and engaging with prospects and customers. Social media marketing strategy works best when integrated with other marketing tactics.
On the other hand, content marketing is a tactic. It is a way of marketing that enables organizations to add value for potential customers by creating and distributing valuable content. Content marketing includes collateral such as blog posts, videos, and web pages, as well as social media posts. These pieces of collateral help organizations educate and entertain their target audiences.
Center Of Gravity
The center of gravity is another difference between social media marketing and content marketing. In the case of social media marketing, the center of gravity is the within social media networks. When marketers are operating social media campaigns, they are actually operating inside Facebook, inside Twitter and inside Google+, etc.
On the other hand, the center of gravity for content marketing is the website of the brand, although social networks play a significant role in increasing the success of the content marketing efforts when the marketer shares links to this content across social networks.
Objectives Of Both Marketing Techniques
So, it's not a situation of content marketing vs social media marketing, but, rather, the two work in concert to reach marketing objectives. Social media also helps increase customer retention and customer satisfaction. Social channels are open forums for direct dialogue between the brand and its customers, allowing exchange of information and customer service that answers questions or provides support. In a nutshell, the objective of social media marketing is to increase brand awareness, customer satisfaction, and customer retention.
In contrast, the objective of content marketing is demand generation. The quality of content bring prospects to the site of the brand and enable the brand to develop healthy relationship with prospects customers.
Social Media Marketing And Content Marketing
There are vast differences between content marketing and social media marketing. Social media marketing is a new channel of marketing that competes with more traditional channels, while content marketing is much older and existed in many forms such as sales reps, trade shows, brochures, and traditional advertising.
The difference in content marketing today is that, rather than being strictly promotional, content is useful and entertaining; providing more value to consumers. The goal of content marketing is consumption of the content then behavior whereas the goal of social media marketing is participation and then behavior.
Used on concert, the role of both content marketing and social media marketing will continue expanding.
Conclusion
Content marketing and social media marketing are two separate entities with some overlapping characteristics. Integration of content marketing and social media marketing is the best way to promote brands. Social media marketing vitally supports content marketing. The goal of content marketing is to acquire a large number of subscribers to the original content for lead conversions. Social media is a great source of publishing the content. It can potentially amplify the brand and guide people towards the consumption of website content. In online marketing strategies, social media is the great way to start marketing for any brand. Marketing strategy plays a significant role in making and keeping a particular business successful. The effectiveness of content marketing for goal achievement takes time, but in order to start the business immediately, you can start marketing through social media marketing strategy.
Hi, I am Emma Braun a passionate freelance blogger and a passionate professional content writer. At the moment, I am associated with Craftedium as a content writer!
Need marketing help to support business growth?
We welcome the opportunity to show you how we can make your marketing SIZZLE with our data-driven, results-oriented marketing strategies.  Sign up for our FREE newsletter, get our FREE guide to creating an awesome website, or contact us for more information on hiring us.
Hausman and Associates, the publisher of MKT Maven, is a full-service marketing agency operating at the intersection of marketing and digital media. Check out our full range of services.