I don't know. Maybe this is a chicken and egg argument (as in which came first, the chicken or the egg), but the notion of building traffic to your website and conversion doesn't seem like it goes together. Instead, it seems more like traffic vs conversion situation to me. Let me expand on this.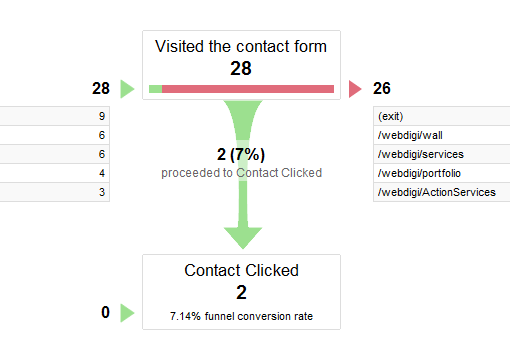 Traffic vs conversion
Certainly, I'm all for having more traffic on your website, but not just any traffic. You need traffic from your target market. Targeting the market most likely to convert impacts the tactic you use to bring traffic to your website.
Today I read a post on how to bring more traffic to your website from QuickSprout. While many of the 11 content marketing lessons shared in the post were very good ideas, some weren't so good. Of course, that depends on the GOALS set for the website. The advice is pretty good if your goal is simply TRAFFIC vs conversion.
A website like Mashable would care about any kind of traffic since they make money from selling ads and affiliate products. The more traffic, the more folks click on your ads — especially AdWords where ads are targeted based on the information in your cookie about where you've visited lately.
But for most of us, only traffic that matches our target market matters, because other types of visitors don't generate income. Hausman Marketing Letter, for instance, is a blog run by Hausman & Associates, a social media agency. Hence, we're interested in building traffic among business people, especially the small and midsized businesses that might become clients. Thus, our content marketing strategy involves creating content such as blog posts, videos, and white papers providing helpful tips on running social media marketing, why you need social media marketing, how to choose a social media agency, and interviews with leading social media marketers.
Tactics for traffic vs conversion
Quantity over quality
As I said, the tactics are different if your goal is traffic vs conversion. Hence, Quicksprout's recommendation to favor quantity over quality doesn't make sense if your goal is conversion. That said, you still need to focus on putting up valuable content on a consistent basis — data suggest at least once a week (see graphic). Putting up multiple times per day does convert somewhat better. However, putting up low-quality content positions your firm poorly and, ultimately, folks stop visiting or sharing your content, knowing it isn't worthwhile. Adding content less than once a week results in much less conversion.
That's the way I feel about Hubspot. They send emails several times a week offering free resources. Now, I have found a few that were valuable (like the graph in this post), but most weren't worth the time it took me to scan them and I quickly deleted them because they weren't worth the storage space. I don't share their posts and I don't even read their emails anymore (I found this figure because someone I respect shared it). A bigger problem is my impression of Hubspot. I would NEVER recommend them or, by extension, any Hubspot partners.
Follow trends
Sure, it's a good thing to follow trends, if possible. But, it doesn't make sense to talk about the Kardashians on a business website unless you're talking about something relevant, like how they manage their business empire. Stay on topic, as much as possible.
Now, that doesn't mean you shouldn't be creative.
Also, be careful about following obvious trends. For instance, I saw so many posts with either predictions  or resolutions for 2014, that I started thinking "wow, another one?" In fact, rather than creating my own post on this topic, I curated a list of great posts and shared that list.
Conversion vs traffic
Many other lessons mentioned by Quicksprout work for both conversion and traffic goals. For instance, headlines matter — a lot. Work hard to find interesting headlines that are optimized for search — yes, SEO isn't dead. Also, handcraft excerpts so readers see the value immediately and want to read the entire post (this also goes for how you share your content).
In addition to the other valuable lessons from Quicksprout's post, don't forget you need to include CTA (call to action) in each part of your content marketing strategy. And, don't forget to optimize your funnel to make it easy for visitors to convert. Taking just 1 click out of your funnel can improve the conversion rate dramatically. Also, measure movement down the funnel to further optimize conversion.
Need marketing help to support business growth?
We welcome the opportunity to show you how we can make your marketing SIZZLE with our data-driven, results-oriented marketing strategies.  Sign up for our FREE newsletter, get our FREE guide to creating an awesome website, or contact us for more information on hiring us.
Hausman and Associates, the publisher of MKT Maven, is a full-service marketing agency operating at the intersection of marketing and digital media. Check out our full range of services.