Becoming a content marketing hero is tough work, but has a great payback — great content outperforms its competition by 10X.
That's HUGE!
We've talked a lot about content marketing on this blog because it's important. Look at the infographic above to see the overall process of content marketing from our friends at Social Ears — a great tool for creating and monitoring content, as well as building relationships with influencers.
Rather than rehash content marketing strategy, today I'd like to focus on tactics that make your content marketing outperform competitors.
Becoming a content marketing hero
The obvious first step is to create great content — where it's long-form, like a white paper, short form, like a blog post, or just a snippet, like a social media post — nothing happens without great content. You can read more here about creating a great content marketing strategy.
Let's assume you've already mastered the strategy of crafting great content. It's time to be a content marketing hero.
Tactics for becoming a content marketing hero involve:
Determining when to share
Deciding how often to share
Building a community to amplify your messaging
Crafting posts that fit the social channel used
Adding various types of content
Using images to illustrate your content (we're all writing graphic novels now!)
Making sharing super easy
Determining WHEN to share
Take a look at the graphic below from SiegeMedia. It shows the best time to publish across the major social networks. Use this information carefully, because not all brands see the same results based on time of day. For instance, my blog is read by B2B consumers and is primarily read during working hours. Another brand might find their sweet spot publishing only on weekends and evenings when consumers are trolling their social platforms. So, take it with a grain of salt.
Also notice that the optimal share time varies across social channels and, while there's overlap, you need to think about scheduling shares at different times across social networks. This can be very time-consuming. I find Buffer a very efficient solution to schedule at optimal times — and you can start for free. And, if you have a paid account (starting at $10/ month), Buffer will automatically schedule at optimal times based on your specific brand results.
BTW, the Buffer blog contains probably the most valuable information out there for managing content marketing.
Deciding how OFTEN to share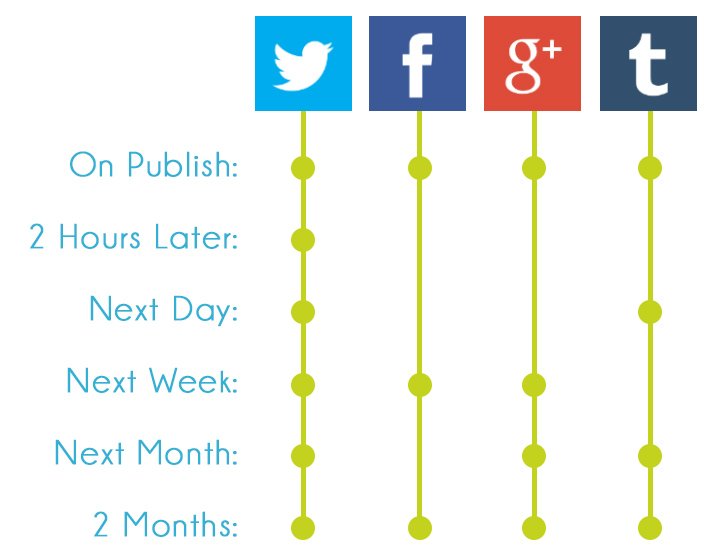 Some clients think they should only share a piece of content once. Others want to share it every day. The optimal sharing is somewhere in between these 2 extremes.
First, recognize that your audience isn't glued to their newsfeed every second of every day. If you post when they're not there, you've missed them. This is especially true for Twitter, which still uses an unfiltered Feed (although that will change soon with their new algorithm).
Other networks already use an algorithm to determine what you see in your stream and what you don't. Posting at different times ensures you'll reach more of your audience. My traffic doubled when I recognized this a few years ago. I use this schedule from Buffer to guide how often I share.
Next, you can't simply blow your own horn all the time. Leaders recommend an 80/20 mix of shares from other sources to sharing your own content. Buffer is really good for helping, but I prefer Sprout Social because it seamlessly brings in my RSS feeds to allow easy scheduling of content from other great bloggers. I can also use it to find great content shared by others across social networks, which not only gives me more great content but helps build relationships.
Build a community to amplify your message
A content marketing hero builds a valuable community by engaging others online.
Here's a great summary of what it takes to build an awesome community from "Rise to the Top". But, it's just like building any other community — you have to:
provide support
recognize it's a tit-for-tat relationship and pay it forward
provide great content on a consistent basis that solves your readers' problems
schmooze a little
get out there — guest post, do speaking engagements and interviews, do some PR and market yourself
Craft posts that fit the channel
I'll have more about this in the next few weeks — I got a great infographic I'll share with you. But, in general, each social channel has its own format that works best and limitations (such as Twitter's 140 characters).
Your job as a content marketing hero is to craft posts that meet these standards. For instance, hashtags really don't work well on Facebook, but are essential for Twitter.
Cross sharing identical posts across social networks makes you look lazy and out of touch. Step up your strategy.
Again, it's easy to get lost in all the noise on a social platform so you need to work hard to get noticed. Having a great community helps, but you also need to use keywords (and hashtags) effectively so you can get found by people searching for your content. On websites, we talk about SEO, but every platform requires you to recognize the value of keywords.
BTW, don't discount G+ just because it's fallen out of fashion. G+ posts show up in search and all those +1's help your page rank better.
Use different types of content
Mixing up content types keeps your content fresh and relevant.
Try mixing infographics with images with video, podcasts … Don't just write and write. Add interviews, which are a great way to help build your community and position yourself as a leader in your market.
Use images
I'm not sure it works to have a ton of images, but they do help break up the text and add interest to your posts (adding too many images and not storing them properly can really slow your site down).
Don't just throw in any image. Some images from image-sharing sites are so overused that folks get tired of seeing them. Creating original images is a great way to set your content apart and increase shares.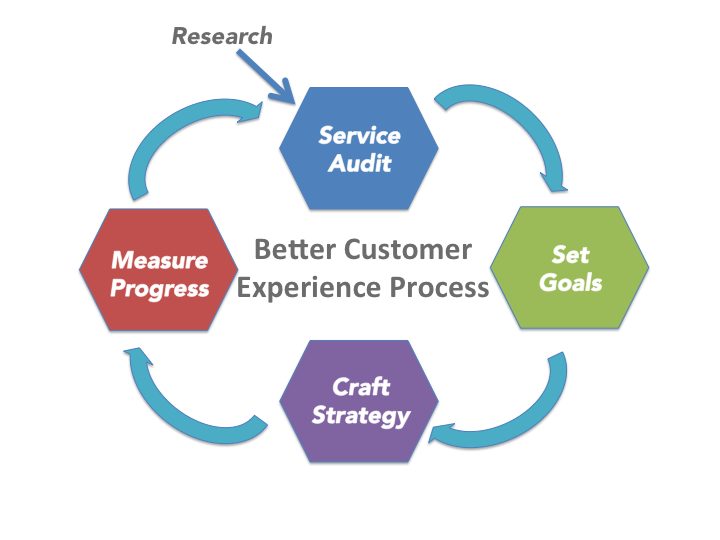 You don't have to be a graphic designer to craft original images, either. New tools like Canva, Pablo, and Landscape let you create professional images without having to learn Adobe. But, if you do know how to use Photoshop or Illustrator, you broaden your ability to create just the image you want.
Here's a quick image I created to show my process for creating a better customer experience. Share away! The one mistake I made is not including my website on the image — learn from my mistake.
Learn more about creating original images here.
If you scrape images from other sources, such as other blog posts, be sure to give credit to the original. Google now uses image analysis software and may penalize brands that steal images from others. Plus, it's illegal and you may end up with a lawsuit.
As long as you give credit and your use falls within "Fair Use" laws, you're probably ok with scraping images. In my experience, most folks are more than happy to have you use their images and infographics as long as you provide a backlink to the original source. When in doubt, a quick email will clear up any potential problems with scraping image content.
In fact, that's why they created the content in the first place; to get more backlinks. They work hard to share that content with others (I get several emails/ day offering image content and I'm happy to share great stuff that fits my audience).
Make sharing super easy
Possibly the biggest key to becoming a content marketing hero is making it easy to share your content.
I've never understood why a brand would make their Facebook page private or require approval for followers on Twitter. Isn't the idea to open your brand up; to build a community. Think about it.
An obvious step is to include share buttons on content — websites, emails, events pages (like Eventbrite). Focus on share buttons above your content (as most readers never make it to the bottom of your posts). Having floating share buttons works on some websites. And, include as many channels as possible in your sharing offerings.
I find suggesting more content works well for increasing time on site and building a more passionate audience. I use AddThis as my primary sharing tool. They have both free and paid versions. Be a little careful as some AddThis plugins are pretty resource-intensive so check before using all of them.
Your turn to be a content marketing hero
Check out the remaining tactics from the infographic below. It contains a lot of good advice.
Leave questions in the comments and, if you need help, we're here for you!
Need marketing help to support business growth?
We welcome the opportunity to show you how we can make your marketing SIZZLE with our data-driven, results-oriented marketing strategies.  Sign up for our FREE newsletter, get our FREE guide to creating an awesome website, or contact us for more information on hiring us.
Hausman and Associates, the publisher of MKT Maven, is a full-service marketing agency operating at the intersection of marketing and digital media. Check out our full range of services.