Changes to the Google Algorithm make content marketing the hub of your SEO strategy. Do you have a sound content marketing strategy to compete in this new world? If not, here are some thoughts to help you play the content marketing game.
The content marketing game 
My buddy created this infographic on how to effectively play the content marketing game, which highlights critical aspects of your success. As the King and Queen say, content is really the king in Google's new algorithm.
How to play the content marketing game
You can't publish any old content you want. Content must provide value to visitors or you'll quickly see your visits dry up. And, it's important to note that the content marketing game doesn't involve gaming the system as Google quickly closes loopholes that drive traffic to your site but don't provide value.
For instance, a game that worked as recently as 6 years ago was called keyword stuffing, one of several strategies called black hat SEO (search engine optimization). Keywords are words representing user intent and determine when your content shows up in search results. By stuffing keywords, websites ranked well but users found the content nonsensical as it was just keyword after keyword without any logic or even grammar involved. Now, keyword stuffing earns a severe penalty.
Another black hat strategy involved garnering negative mentions as a means to improve your ranking with this type of engagement. Again, Google closed this loophole.
Google uses a number of metrics to infer the quality of your content. We'll discuss some of these later, but a few deserve mention here. Metrics such as time on site and bounce rate suggest visitors like what they find on your site, while the number of visitors acts as an endorsement of your website. These metrics are readily available through Google Analytics, so be sure to sign up for your account, link the account to your website, and monitor metrics daily.
Create great content
Obviously, the first step is to create great content. But, what IS great content? Great content should solve problems for your readers — whether it's giving them solutions, entertaining them, helping them build a supportive community, or just getting them to think about things. If you have trouble imagining the types of content needed for your website, check out the link above for a ton of great examples of brands that play the content marketing game to perfection. the same line provides evidence showing how content marketing contributes to your bottom line, for the skeptical among you.
Promotional content isn't great content
Promotional content is NOT what user visit your website or social platforms for and self-promotion should be subtle and used very rarely. The same goes for advertising embedded within your content. Sure, you have to make money and, for some, advertising is a key element of monetizing your website, but don't use such a heavy hand that it interferes with visitors and their ability to glean insights or entertainment from your website and social platforms. YouTube is a great example of using advertising effectively, and some users make millions from the platform while still delivering value to their viewers.
You also have to optimize your great content for the particular social network(s) you're using. Your content can live on any one of a number of social platforms – Twitter, Facebook, Instagram, and Pinterest are the majors (LinkedIn, if you're business to business). Other platforms also support your content efforts including YouTube, email platforms, and podcasts/webinars. Each has a particular character, so you must optimize your posts to take advantage of these differences. For instance, Instagram is highly visual, as is YouTube, so adapt content for the style of the platform.
However, each platform deserves consideration and your strategy should include multiple platforms, each with its own unique content. For instance, Twitter performs best with links and hashtags, while Instagram doesn't allow links and using multiple hashtags improves performance, Facebook does great with images and teaser copy, and LinkedIn favors dense content with practical value. I find questions work really well for generating engagement on Facebook, too.


Blogging
Blogs deserve special attention.
Blogs are a prime source for reaching your marketing goals, so include fresh content on a consistent basis if you want to effectively play the content marketing game. In the image below, you see how blogging contributes to market performance.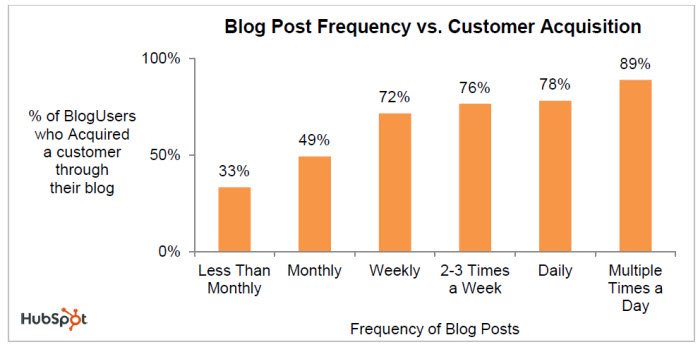 Blogging is critical not only as a vehicle for driving traffic to your website but as a means to nurture visitors to become customers. For instance, you might embed a subscription form in your website content as a means to keep in touch with visitors. That allows you to periodically send emails containing valuable information, offers, and other content to drive conversion.
Your website is really the home for your marketing efforts – that's where folks come to learn more about your brand, get their questions answered, and maybe even engage with other folks before buying your brand online or off. Blogs allow longer posts that give visitors the back story of your brand. Sure, social networks are great for building a community and creating a brand personality that sends folks to your website, but search still reigns supreme as a force for bringing folks to your website. Search Engine Land offers the following information on the source of website visits (see graphic below for a split by industry of traffic sources):
51% of visits to websites, on average, come through organic search
73% of visits to business services sites come through organic search
Only 5% of visits originate with social platforms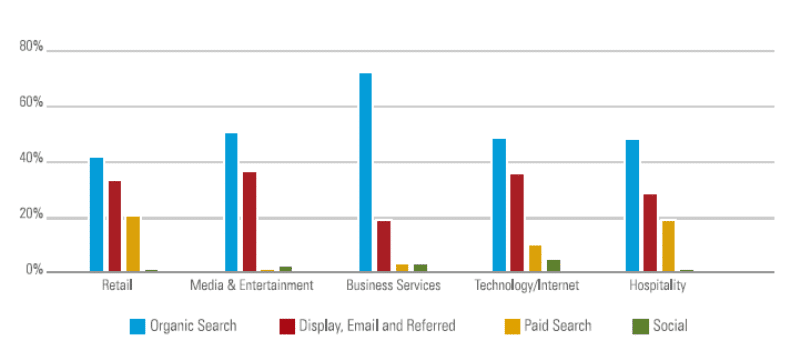 And, digital conversion still mostly happens on your website, so driving traffic to your website strongly correlates with market performance.
Winning the content marketing game
SEO
Recent changes to Google's ranking algorithm, most notably the new BERT update introduced in 2019, put increasing emphasis on great content in leading queries to your site. SEO, based on complex algorithms, such as BERT, impact your rank in search. A high ranking generates more clicks to your content, as you can see in the graphic below showing how organic click-through rates greatly depend on where your content ranks in the results users see.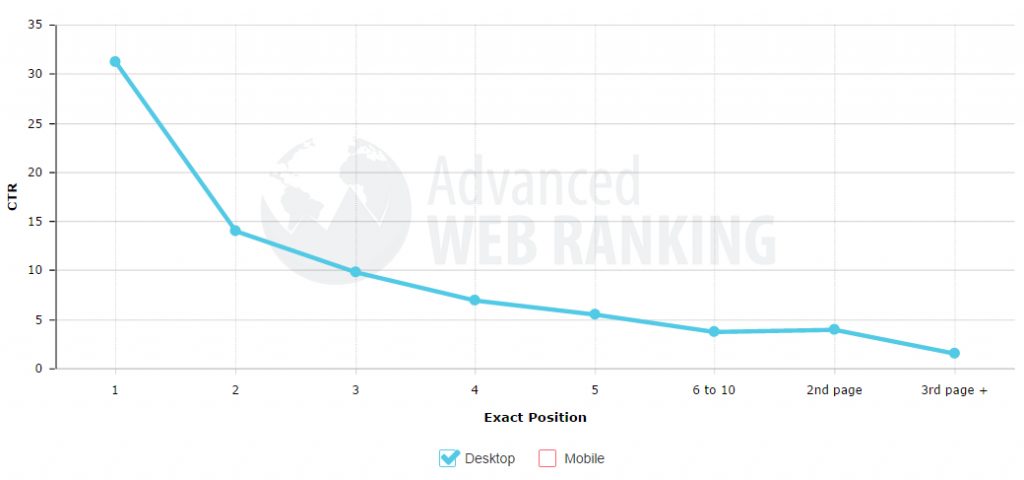 The greatest impact on SEO rank comes from playing the content marketing game well and we mentioned a few metrics used by Google in determining the rank of a piece of content earlier.
No one knows for sure which factors Google includes in its algorithm or the weight assigned to each factor, but SEO experts have some accurate guesses based on experiments. For instance, Google uses both the quality of content on your site, backlinks to other sites, how you write your content (ie. headings, keywords, etc), and the engagement received from content shared on your social networks to determine where you show up in search.
Content marketing the key to attracting organic links back to your site from other sites. I find infographics, lists, and reports (white papers) particularly effective in enticing other sites to link back to me, which helps my SEO.
Content marketing in the form of reports and ebooks helps build your email list so you can continue providing great content to a pre-qualified group of visitors; nurturing them to take actions in support of your performance.
User-generated content
A great way to increase engagement and drive more visits to your site involves getting user-generated content, especially from influencers. Reviews work really well for e-commerce sites. Another good option for creating user-generated content is creating a community or bulletin board where users exchange advice, ask questions, and share their experiences.
User-generated content can also come through contests, especially when users vote for their favorite from a number of options. An example is the Doritos contest where users proposed new flavors. Having users create videos is another great contest option.
Steps in winning the content marketing game
Scheduling
Fresh, valuable content on a consistent basis is the hallmark of a content marketing strategy. A content marketing calendar helps to ensure you produce that content by scheduling posts and including elements that make the writing process easier such as topics, images needed, and links to research. For social media, automation really helps since you need content multiple times per day, for some platforms.
Automation tools like Hubspot and Buffer are great options for small businesses with their low cost, while enterprise businesses may find the features of more expensive tools such as Adobe Marketing Cloud, effective.


Writing
Some folks find writing great content challenging, while others find this task enjoyable. The key to writing great content is to consider what provides value to your readers; your target market. Dig deep to provide depth in your writing, rather than generalities shared on any number of websites. That means reading what others write to learn more about what's happening in your niche. It also means doing and learning through your own experiences.
Often, writing great content means synthesizing posts from other writers to develop new insights or create a one-stop-shop within a particular niche.
Writing well is also important, which means paying attention to spelling and grammar. Get that wrong and your content looks amateurish despite your deep knowledge of the topic. I use Grammarly pro to double-check my spelling/grammar since we all make mistakes from time to time.
Make sharing an integral part of your content marketing game
Make it easy for folks to share your content by including sharing icons on blogs and email newsletters. The infographic at the beginning of this post is a great example of being both sharable and maintaining your branding once the content is shared. You'd be surprised how many infographics don't contain the brand logo, let alone a link taking folks back to your website to learn more.
Sharing is critical for the success of your content marketing strategy because it amplifies your message, bringing new visitors into your social graph.
Conclusion
I hope you found this post helpful as you plan your own approach to playing the content marketing game. If you have questions, post them in the comments and I'll endeavor to provide detailed answers. Also, if you think of other topics you'd like to see covered in a future post, include that suggestion in the comments and I'll notify you once I created a post on that topic.
Need marketing help to support business growth?
We welcome the opportunity to show you how we can make your marketing SIZZLE with our data-driven, results-oriented marketing strategies.  Sign up for our FREE newsletter, get our FREE guide to creating an awesome website, or contact us for more information on hiring us.
Hausman and Associates, the publisher of MKT Maven, is a full-service marketing agency operating at the intersection of marketing and digital media. Check out our full range of services.