Content marketing may be the hardest working of all the digital marketing strategies and, is sometimes the most overlooked as strained businesses struggle to keep up with the day-to-day demands involved in just staying afloat. But, ignore content marketing at your own peril, as you'll starve growth without a robust content marketing plan.
Why you need content marketing
So, why do I say content marketing is the hardest working of all the digital marketing strategies? Well, content underpins almost everything you do in digital. Here's what you get from an effective content marketing strategy:
1. SEO
Producing valuable content on a consistent basis will forever be the most influential factor in determining your rank in search. We know rank has a strong impact on success. See the graphic below, based on studies of many searches.
From this graphic, you see that most traffic comes to links that show up in the top 4 places in a search result. A number of metrics, such as keywords used and social media engagement figure into the algorithm used to determine ranking, although the weight assigned to a particular metric changes over time.
If you set the goal of producing content your target audience finds valuable, you never have to worry about Google's constantly changing algorithm or its impact on your rank. That's because Google's goal of satisfying users with the best results, and will choose your content if you create great content.
2. Authority
Content sets you up as an authority in your niche. Google even assesses your authority with a factor called domain authority, which is one of the ranking factors used for SEO. Brand earn authority points when others link to your content or share it — both actions are like an upvote for your content value.
3. Trust
Great content helps build trust with consumers and customers, especially when that content answers questions, addresses consumer concerns, or gives consumers a behind-the-screen look at what goes on in the background that they normally don't see.
4. Relationships
Just think about your relationships and how important communication is in building and maintaining those relationships. Well, content is your way of building online relationships. To work best at building relationships, focus content on an individual, and "speak" to that individual. When I write content, such as this content, I visualize a specific type of user (for instance, a small business owner struggling to grow his/her business) and write like I'm talking to that user, anticipating questions the user might ask.



5. Customer service
Any way you slice it, customer service is an expensive proposition. However, poor customer service is the kiss of death, and recovering from poor service is nearly impossible. Using content as a surrogate to aid in providing customer service means your support is available whenever users want help.
For instance, using FAQ (frequently asked questions), explainer videos, chats (often implemented using chatbots to mimic a human conversation), and customer service hours on social networks all incorporate content as part of your digital strategy.
Build a content marketing strategy
Remember, your goal is to create valuable content on a consistent basis. So, building a content marketing strategy involves creating tactics to meet this goal.
Developing a voice
Brands need a consistent voice that resonates well with your target audience. For instance, the target for this blog and related social media platforms is SME (small and midsized enterprises) business owners, so my voice is professional but approachable, I hope. I feel safe using jargon, although I'm generally careful to define acronyms. I have clients in the consumer space and the voice I use when blogging or sharing on social platforms for them is more conversational and fun.
Put your audience first in setting the voice you'll use and don't feel like you're giving a press conference with every communication across channels. A good writer can adapt to the voice used before they joined the team to ensure the voice remains consistent.
Unfortunately, some brands turn their digital marketing over to younger employees (or interns) under the mistaken assumption that they must intuitively know how to use digital platforms. Not only is this not the case (since using social for personal enjoyment and to achieve business goals are entirely different) but often younger employees have only mastered a single voice designed to either present in class or communicate with peers. That leaves them unable to develop an effective voice capable of communicating with other groups. Using interns is especially bad as the brand may never develop a consistent voice as the voice changes with each new intern hired.
Value
Since value is in the eyes of the beholder, you must understand your ideal customer and what they need to create content they'll find valuable. Maybe you use surveys to ask members of your target market about their needs or question, but, in a digital world, there are lots of places to discover about your audience, including listening to conversations across social media, using a polling feature on a social platform, review questions asked in calls to customer service or the most access FAQs.



Frequency
Consistence depends on where you're sharing content. On your blog, once a day might work best in achieving your goals. For instance, take a look at this graphic showing how ROI changes based on the frequency of publishing new content. Notice how the more frequently you post new blog content, the more likely you are to gain new customers.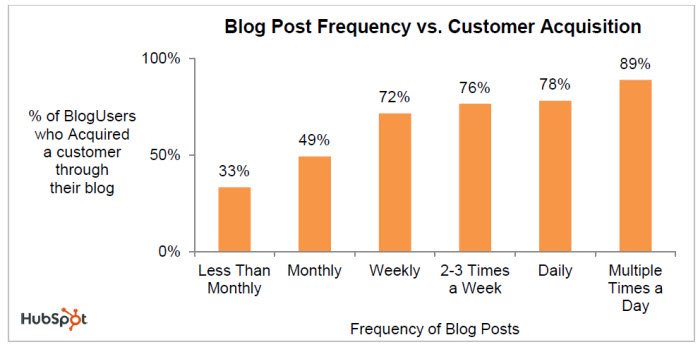 But, that's different when you talk about social media and even across social media platforms. For Twitter, publishing 5 times a day works well, while you probably should only publish once or twice a day on Facebook and LinkedIn. I also have a graphic to show how frequently to share on a specific social platform.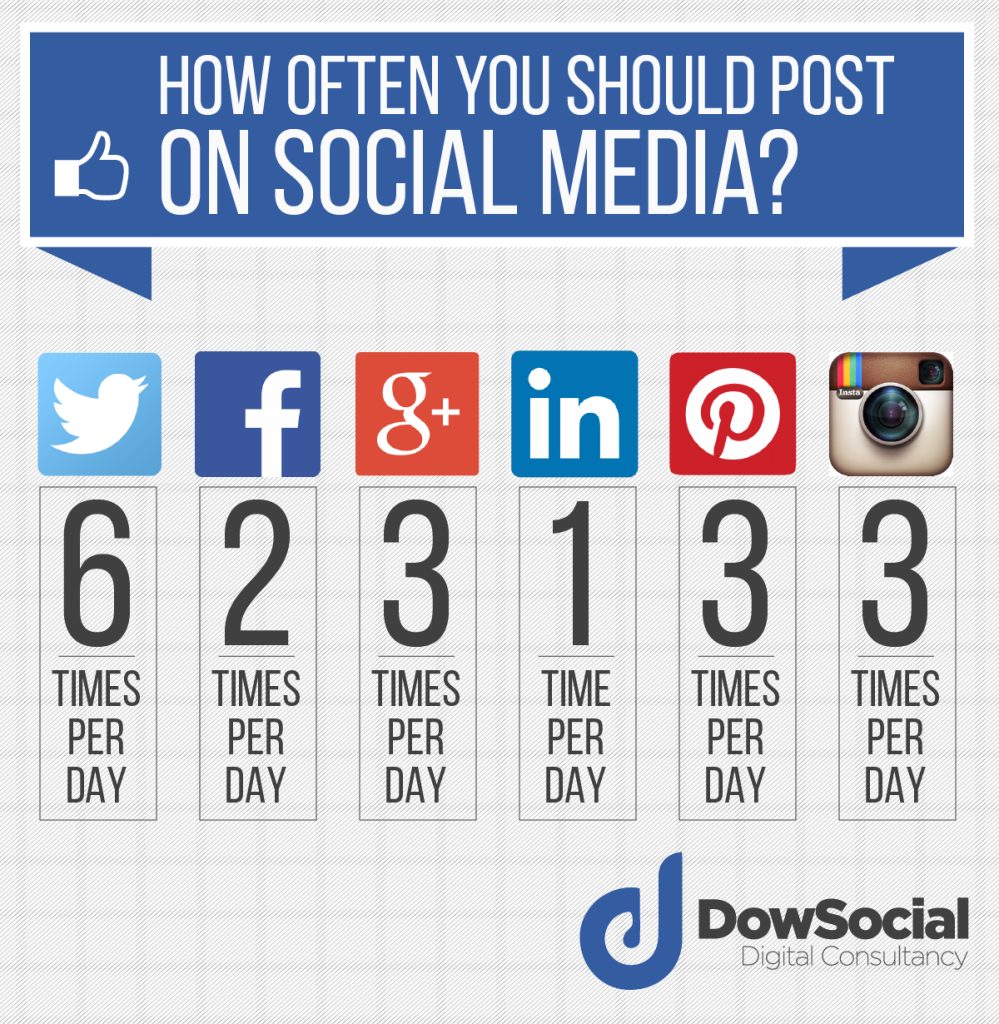 Of course, Google+ doesn't exist anymore, but you get the idea.
Don't forget email marketing as you think about sharing content. The correct frequency for sharing email newsletters varies dramatically across different market niches and consumer groups. Some newsletters might go out every week or even several times a week while other newsletters are more successful if sent once a month. Experiment with the timing in terms of both frequency and day of the week to determine which work best for your subscriber list.
Content
So, you really shouldn't talk about yourself all the time. That gets really, old really fast. That means you must find content to share and we often talk about curated content to represent the content you share from others versus content you create yourself. As a general rule, experts suggest sharing 80% content from others versus 20% content that's promotional.
The question is, where do you get content to share?
I use Feedly, a free content tool from Google, that brings content from the blogs I follow to one spot and makes it easy to share that content across my social platforms. Thus, I become the go-to person for information in my niche and attract followers. Once I have followers in the habit of reading content I share on Twitter, Facebook, etc, I can share some promotional content about me and I have a larger audience.
Now, sometimes my clients don't understand why they should share content created by others. Well, not only does curating content from other blogs position you as an expert source for information, it sets up a community of experts who support each other by sharing the content produced by the group. Thus, you have a tit-for-tat arrangement that encourages others to share your content in return for you sharing their content.



Matching content to the customer journey
Customers move from awareness to purchase and, ultimately, to evangelist and you must match your content to where the customer is along their journey.
Thus, as depicted in the graphic below, your content must match where the customer is along their journey and drive them forward in that journey.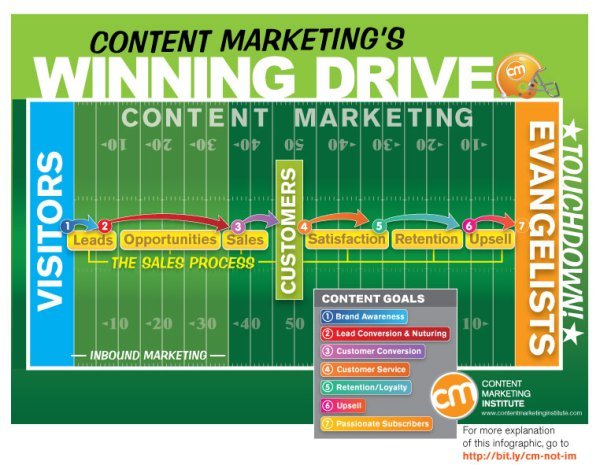 Hence, content touting the problems solved by your brand brings visitors to your website and social platforms. More in-depth content builds a case for your brands and their superiority over competitive brands to drive visitors toward sales.
Gaining that first sale, turning visitors into customers isn't enough, but your content shifts in favor of gratitude for their purchase (such as sending a thank you email), addressing questions about how to get the most from the purchase, supporting the customer who has problems or needs additional help, and suggesting additional purchases.
This type of content builds satisfaction and works to retain customers, then upselling (or cross-selling) to increase the revenue from existing customers.
Having the right content based on where the customer is in the decision-making process is half the battle. Directing visitors to content based on their individual customer journey is more challenging, relying on tools like Paradot to deliver appropriate content at the right time.
Consistency
A content calendar keeps you on track to share content on a consistent basis. Here's a template for a content marketing calendar:
Notice, this calendar covers blog posts and promoting those posts across social media. Notice how posts are linked to events happening around you. By tying content to these events you increase the likelihood your content will show up in searches related to the event and will attract more attention.
You might need something more detailed than this calendar and some folks love a spreadsheet rather than a traditional calendar. They set up rows for the days of the month when you plan to post content and columns in the spreadsheet identifying the title of the post for each day, links to images writers plan to use in the post, the keyword(s) you'll use to focus your content, and any other information you need to make your job easier. In larger businesses, you may include columns for approval and dates needed to meet your publication schedule to allow for the approval process.
These tools are a good start. But, you also need to set up content for social, probably involving curated content. Hence, in addition to this calendar, I use Buffer to set a schedule for sharing. This schedule identifies both the time to post on each of the platforms I use and establishes the frequency based on the graphic shared above.



Then, I link Buffer to my Feedly account. Every morning I go through content shared across the blogs I follow and add interesting content to Buffer. Buffer puts the content into the next available slot in my posting schedule to keep my calendar full. Buffer also notifies me when there's nothing left in my account to share.
Analytics guide decision-making
Putting content marketing together involves using analytics to assess the success of your tactics and offering insights capable of guiding changes that might improve market performance.
Google Analytics, a free tool, is great for identifying which content works best for attracting new visitors, driving conversion, or encouraging visitors to extend their visit by reading other content. Within Google Analytics, for instance, you can set up goals, even assigning a value to each, to identify which content represents part of the journey toward that goal. You can also evaluate how each marketing channel contributes toward conversions using multi-channel attribution modeling that apportions conversion across the multiple channels visitors used prior to making a purchase.
Social platforms include their own analytic tools to evaluate things like CTR (click-through rate), engagement, and changes in the size of your network.
Creating URL builders facilitates an understanding of where traffic that converts comes from by adding parameters to the URL. These additional parameters don't interfere with getting visitors to the content they wanted, they only identify specific factors behind their visit.
Conclusion of content marketing
Content marketing is a vast subject and I could go much deeper into most of the aspects of content marketing strategy covered in this post, especially the analytics aspects. Yet, going into more depth threatens to create a huge post and readers growing tired before they reach the end. Instead, I leave it up to you. If you have comments or additional questions, simply add them in the comments below. Similarly, if you have ideas for future posts, add them to the comments section.
Need marketing help to support business growth?
We welcome the opportunity to show you how we can make your marketing SIZZLE with our data-driven, results-oriented marketing strategies.  Sign up for our FREE newsletter, get our FREE guide to creating an awesome website, or contact us for more information on hiring us.
Hausman and Associates, the publisher of MKT Maven, is a full-service marketing agency operating at the intersection of marketing and digital media. Check out our full range of services.