Making mistakes by digital marketers is pretty common due to the complexity of the task which makes it hard to "fake" tasks you don't know and changes to commonly used platforms over time. Also, many of the folks tasked with doing digital marketing aren't trained marketers but are trained in website design, development, or even communication. Without in-depth knowledge of marketing concepts and expertise in doing digital marketing tasks, mistakes are inevitable.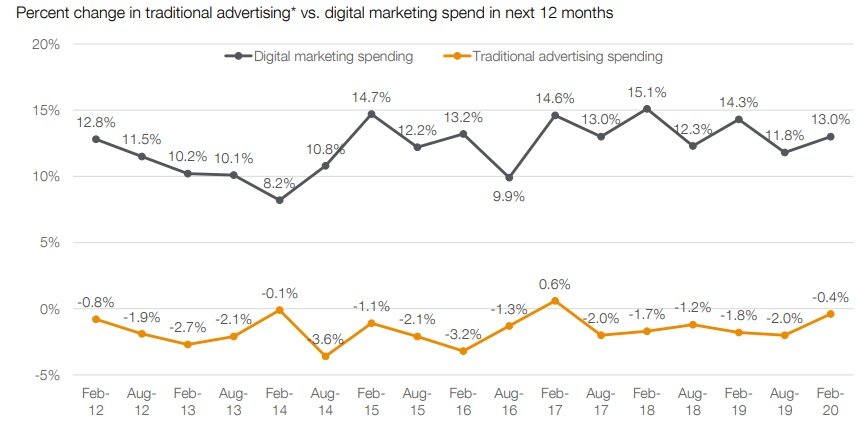 Yet, digital marketing is one of the most powerful tools at your disposal when you try to grow your business, with companies of all sizes increasing the percentage of their marketing budgets devoted to digital tactics every year (as seen in the graphic above). With the pandemic, the figures representing digital marketing spending displayed in the graphic only grew faster. However, in this day and age, there's very little easy about marketing.
The role of digital marketers reflects complex tasks that encompass a broad range of skills including creative, organization, coding, and analytical skills including as (see the graphic below for a valuation of the most desirable):
graphic design (there's no time to send graphic needs to specially trained employees who turn them around in weeks not hours)
website design (which means learning a little HTML/CSS)
business analytics (such as Python and SQL)
marketing automation (such as Salesforce and Constant Contact)
UX design
video production (which means learning editing tools like Premiere Pro from Adobe)
social media
project management
As you can see, digital marketing is a complex task, after all, and if you're going to get the results that you're looking for, you need to do things right. Add to this the fact that digital marketers also need to understand marketing concepts such as:
value
product development
consumer research
market segmentation, targeting, and positioning
pricing, especially for e-commerce sites
logistics for product companies
customer service
consumer decision making
service-dominant logic
advertising
lead management and nurturing
Alas, all too often, companies end up making mistakes that can compromise the success of their marketing strategies because they hired digital marketers who didn't have the complete skillset needed. Instead, they hired a graphic designer who didn't understand target markets or a developer who didn't understand consumer behavior. Below, we run through some of the most common mistakes we see digital marketers make, as well as offer some advice on how to avoid them.
Common mistakes digital marketers make
Not knowing who to target 
Consumers are individuals. They have different problems, and they want different things from the products they buy. Thus, rather than a monolith, consumers fit into groups where the groups share elements that make them different from other groups. We call these segments. If you were to ask the right questions, you could divide a total market (such as all consumers in the US) into a bunch of groups based on demographics (like age, gender, income, education, and family size), geographics (like city, state, rural versus urban, region), psychographics (like interests, values, influences), and behavioral variables (such as usage occasions (ie we don't each whole turkeys much except at Thanksgiving), needs (for instance, big dogs eat a lot more dog food than tiny ones)).
If there's one thing that can dampen the success of an expensive marketing campaign, it's failing to identify who you're specifically trying to reach. You'll read a lot of stats about how many people are using the internet, are on social media, and so forth, but the truth is that you're really only trying to reach a small percentage of those users. We call this your target market. Effective campaigns target marketing messages at the people who are most likely to respond to your ads using a message that draws them closer to conversion. When putting together campaigns, think about your ideal "buyer persona," and make sure you show them ads that convert. Here's an example of a buyer persona:
Using general methods 
There is plenty of overlap in marketing tactics that work across a broad range of industries. A dental company uses some of the same tactics as a legal firm, for example, such as target marketing. But there are also plenty of industry-specific differences, too. After all, businesses come in all shapes and sizes, so it's not logical to think that there's a "one size fits all" marketing approach that'll get results. Apple discovered this pretty quickly when they hired the former successful CMO (chief marketing officer) from Pepsi as their marketing head to replace Steve Jobs. They found out pretty quickly that selling cola (a convenience good with a low price and little risk) is VERY different from selling computer technology with its high price and concomitant high risk for consumers. Even within the same industry, we find distinct differences based on product lines and markets. For instance, when JC Penney hired the retail guru who was so successful in running the Apple Stores, his application of successful tactics from selling computers nearly sent a department store retail chain into bankruptcy. Different products, different markets.
As such, when you hire consultants or employees, get folks who understand the nuances of your specific industry. A legal company should work with a company that specializes in law firm SEO; a dental business should work with a marketing company that works in their specific niche. Those subtle differences can have a big impact on the overall success or failure of a campaign!
Failing to analyze the data
Take a look at this dashboard produced by Google Analytics (this is Universal Analytics, GA 4 is even more complex as it tracks metrics across the app store and other digital channels). There's a lot of data available to you before, during, and after a marketing campaign, as you can see. But this data is of no use if you don't look at and analyze that data to build insights that guide your future actions to make them more effective. Not every digital marketer has the chops needed to understand what they're looking at with all this data, let alone how to derive insights from it. Digital marketers need to have the skills to glean insights from the data, which may mean parsing data into meaningful segments and doing complex tasks such as multi-channel attribution. That's why, in the graphic on skills needed by digital marketers, data analytics was number one.
Now, turn to the other analytic tasks needed to run a modern digital marketing campaign. You need to understand event setup, apply appropriate tags for easy tracking, evaluate across social platforms, and understand metrics from other marketing tools such as email marketing programs and marketing automation tools. And, that's just the start of your tasks as a digital marketer. You should understand Python and SQL to bring data from different platforms, including internal data, to one spot for more effective and flexible analysis. You also need to understand how to display data graphically to aid interpretation, especially when sharing your data with those not trained in data analytics.
Middle-of-the-road content 
Finally, there's the matter of what we call 'middle-of-the-road content.' If you're a web user, you know that there's a lot of content out there. You need to produce content that stands above the average. That might mean creating content that's entertaining and fun. Anything that is too bland or boring might fail to make an impression on your audience, who are drawn to more engaging content. Creating content that stands out might mean digging into your topic deeper to share your expertise. For instance, I get a lot of folks wanting to share a guest post on my site because a backlink from my site improves the performance of their website (we call this link juice). I reject nearly every piece of content shared with me because it doesn't help me stand out from my competition.
Take a look at this post, for instance, It provides value to my readers because it:
addresses a problem common in my target market, small and mid-sized businesses and their marketing teams
provides concrete advice they can use to help them reach their goals
is credible because it provides links to authoritative sources and provides support for my thesis, not just assumptions
contains enough meat at over 1700 words, so there's space to get into the weeds on the topic

has relevant images that add to the reader's understanding, not just pretty pictures
If you want to consider a guest post on my site, keep this in mind and view my editorial guidelines. 
You don't need to reinvent the wheel or do anything wildly outrageous when coming up with your content. Consistency is also key. Develop a content marketing calendar to publish fresh content on a regular basis based on industry norms. For instance, publishing a couple of blog posts a week, a post on Facebook or Linkedin every day, and a couple of Tweets (check the advice below). Posting less frequently may mean losing any advantage that content provides as there's a threshold below which your results can suck.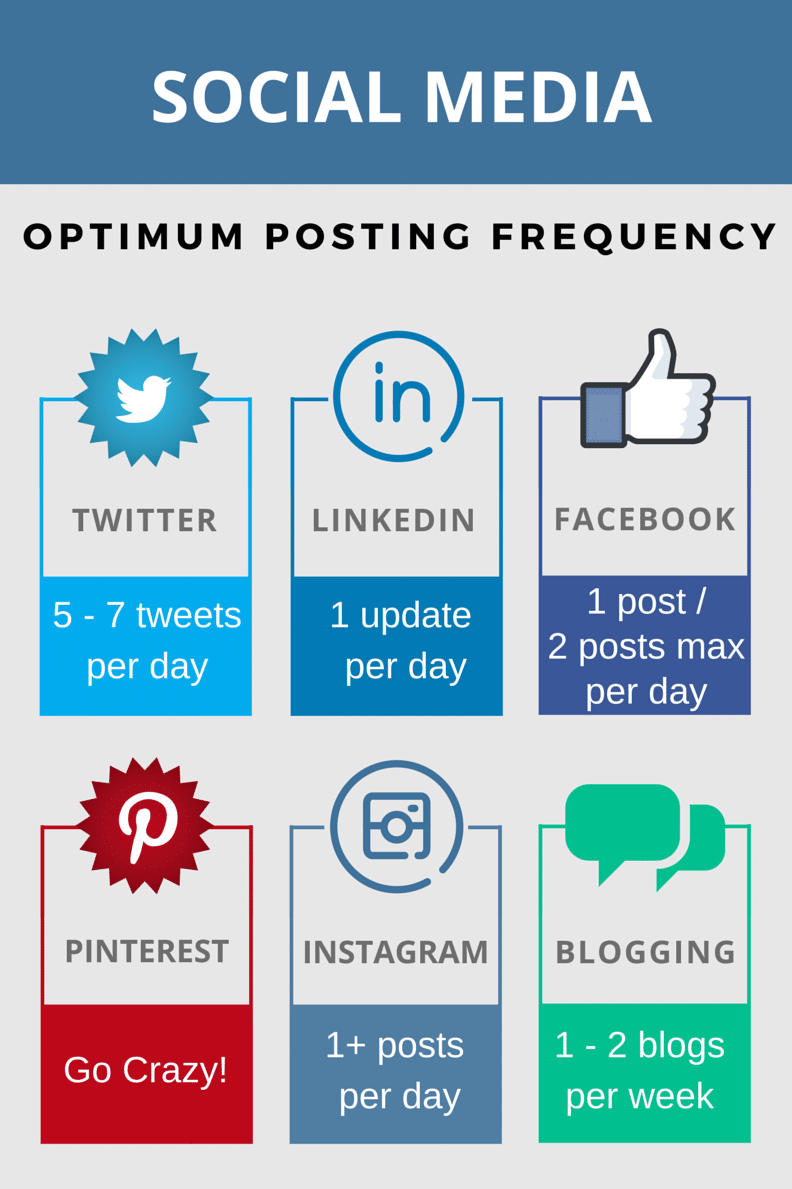 Using a marketing automation tool like Buffer or Hubspot really helps as it allows you to get a number of posts ready and then schedule them to post on the optimal schedule. This makes your time more efficient as you don't have to stop working on something to post on a schedule.
Conclusion
These are a few key mistakes commonly made by digital marketers. Obviously, there are many more that are a little less common but still worth discussing. I'd love to hear your thoughts about mistakes that tripped you up along the way.
Need marketing help to support business growth?
We welcome the opportunity to show you how we can make your marketing SIZZLE with our data-driven, results-oriented marketing strategies.  Sign up for our FREE newsletter, get our FREE guide to creating an awesome website, or contact us for more information on hiring us.
Hausman and Associates, the publisher of MKT Maven, is a full-service marketing agency operating at the intersection of marketing and digital media. Check out our full range of services.