Cold email marketing as a strategy to connect with a potential business brand is effective, but at the same time, it is a long-term process that takes time to deliver results. Not only is cold email marketing a long game, but it's also a process that requires a lot of consideration and deliberation to achieve the results that you desire. In today's post, we'll discuss how to use cold email marketing as a strategy to reach your business goals.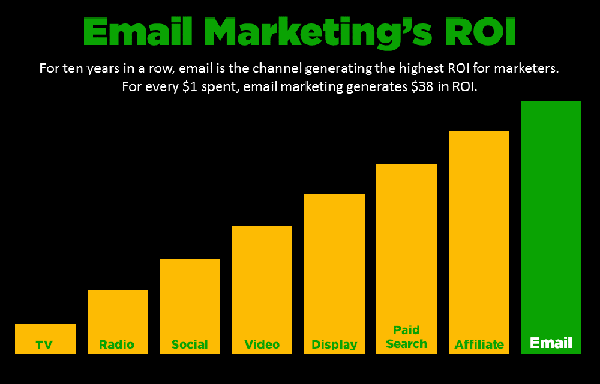 Email marketing
Email marketing involves sending email messages either as an individual or bulk message as a means to promote your brand and elicit some action. As such, these messages are covered by laws that protect users from unwanted communication. In the US, these laws are called Can-Spam, while similar laws exist in the EU and other countries. Basically, these laws require message transparency through identifying the sender and accurately representing the message through subject lines that reflect the message content. They also require easy options to opt-out of future communication and that you honor these requests quickly.
Cold email marketing involves sending messages to addresses without a prior relationship. Often, these messages are part of a lead generation program involving a series of messages designed to drive action, such as visiting a website or making a purchase. In the case of B2B (business to business) marketing, these cold emails replace cold calling and the desired result is to soften the target for a sales call by your salesforce.
As you can see from the graphic above, email marketing is a very effective tool for lead generation, surpassing most other digital and traditional marketing tools in ROI (return on investment). Below, we explore strategies for attaining this level of performance.
Tips for using cold email marketing to generate leads from B2B partners
If you're researching ways to connect with potential business partners using cold email outreach service it is in recognition that you know, if done right, cold email marketing can open doors that most businesses only dream about. Learning the strategy to nail cold email marketing is one of the most valuable skills in any marketer's arsenal.
Yet, mastering email marketing isn't as easily said as done. There are many steps involved in developing an effective cold email marketing strategy and aspects of this tactic change over time, thus requiring you to adapt to the changes. For instance, Gmail recently transitioned to a segmented inbox where emails from companies you don't currently do business with end up in a separate inbox and are ignored by most users. This change vastly impacted open and click rates, reducing the effectiveness of email marketing tactics.
Finding partners willing to share your message as part of their own email marketing programs helps evade some of these problems, as we'll see later.
Below are the steps that help you generate the highest performance from your email marketing strategy.
Define your target market
Who is the target market for your brand? Are they C-level executives? Are they members of a specific team, such as the purchasing department? Or do you focus on managers with select titles? Are they an influencer within the company or influence others in the industry? Define the target market and narrow down their details as much as possible. Building a persona consisting of key characteristics of your target market, including age, gender, job title, job responsibilities, or any other detail that makes sense to your brand.
Once you identify your target market, the next task is to build a list containing email addresses and other information about those you want to include in your email marketing campaigns. Buying lists isn't the best strategy as these lists often contain inaccurate information resulting in high undeliverable rates and low conversion rates. You can manually collect information using social media platforms such as LinkedIn and Twitter to identify likely candidates based on their profiles.
In the context of finding business partners, you want to pay attention to both their industry, their target market, and their use of email marketing to ensure it matches your goals.
Construct email messages
Constructing email messages is your next hurdle. This involves:
Crafting subject lines that motivate users to open your message
Segmenting your list to send appropriate messages targeting specific groups of subscribers
Experimenting before scaling your email marketing efforts
Including a call to action that is appealing to each segment
Monitoring performance to optimize results
1. Crafting subject lines
To a large extent, your subject line determines your open rates. Subject lines that demonstrate relevancy improve open rates as do ones that stimulate curiosity. Using emojis and keeping your subject line short also increase open rates. As you can see in the graphic below, finding the right time to send email messages so they don't get lost in a user's inbox, also factors into open rates.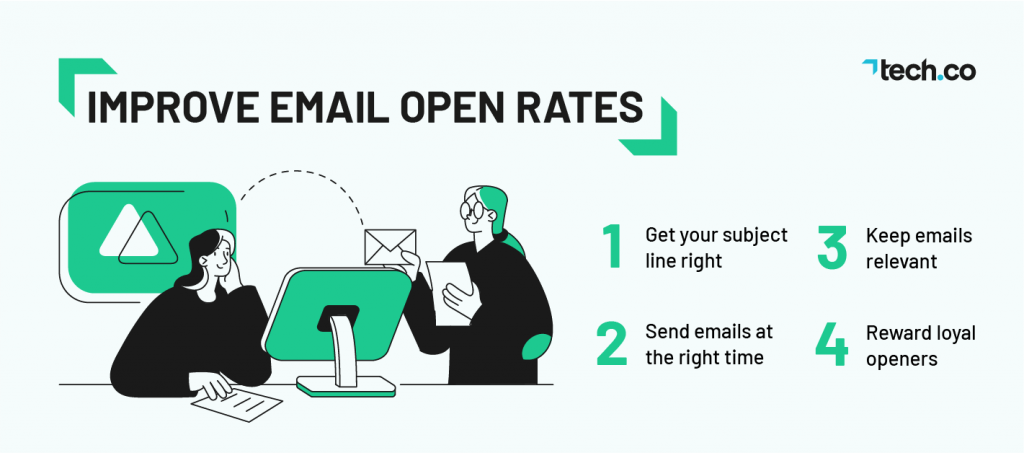 2. Segmenting your list
Once you identified list members, use information about them to segment the list then send personalized messages that resonate with them. For instance, you might have one message designed for younger members of your target market that highlight your company's social responsibility (which is a major decision variable for that demographic) while a different message designed for older members highlights your long history working in the industry. Similarly, you might promote different products for one segment versus another based on NAIC codes. Segmenting and personalizing messages increased both open and conversion rates.
3. Experimentation
It seems no one has a crystal ball when it comes to email marketing. Instead, you must experiment to determine what works best for you and your list. Often, you do this with a small portion of your list at first to gain insights. Here are some things to test:
Best day and time to send messages
Subject lines
CTA (call to action) that works best
How many headings and CTAs to include in each message
Once you have better insights to improve your messaging, you can roll out your results to the entire list and use the insights moving forward.
4. CTA
Your CTA is the most critical piece of your email message as this is where you tell readers what action you expect them to take and a great CTA generates high conversion rates while a poor one doesn't.
Here are some things to consider regarding your CTA:
Number of CTAs to use. My personal recommendation is to only use 1 CTA in an email message to avoid confusion. Although it might appear that using multiple CTAs provides choice, this isn't always a good thing. The exception is that longer email messages might include multiple CTAs with a separation between them. For instance, you might highlight a product, include a CTA for that product, then add another heading for a different product with a CTA for that product.
Buttons outperform links by 28%, so construct your messages using this information.
Creating urgency works so consider offerings that include a time limit or reduced availability – ie. only 4 spots left
Keep your CTA text short and big so it's easily read
Attract attention to the CTA with a contrasting color and white space
5. Analyze
After sending out an email, analyze your results. Most email marketing tools provide some stats such as open rates, conversion rates, unsubscribe and bounce rates, and often include a list of users with their accompanying open rates. Analyzing this data to glean insights helps you improve your email marketing performance over time. Plus, the information allows you to target those members who opened the email with additional CTAs or discounts.
Partnering on email marketing campaigns
You don't have to start from scratch with your email marketing. Instead, consider piggybacking with another brand serving your target market. A leader in the digital marketing arena, for instance, sells spots on his email broadcasts to other, non-competing businesses who want to reach his target market of small business owners. It's a good idea to use a partnership letter template, especially if the partner doesn't already have an agreement they use. This protects the partners and sets out the rights and responsibilities of each partner to help avoid problems down the line.
Conclusion:
I hope you found these insights helpful in creating your own cold email marketing campaign. If you want to learn more about email marketing, I provide several resources that dig into various aspects of email marketing as well as more detail on creating an email marketing strategy that you can find by searching this site.
Need marketing help to support business growth?
We welcome the opportunity to show you how we can make your marketing SIZZLE with our data-driven, results-oriented marketing strategies.  Sign up for our FREE newsletter, get our FREE guide to creating an awesome website, or contact us for more information on hiring us.
Hausman and Associates, the publisher of MKT Maven, is a full-service marketing agency operating at the intersection of marketing and digital media. Check out our full range of services.