In a physical store, you rarely see shoppers abandon their shopping carts in the middle of their visit. Yet, shopping cart abandonment online is rampant. Abandonment steals profits and threatens your success because you lose sales at the very bottom of the funnel — when you already did so much work (and spent so much money) to get visitors to that point. For instance, every year shopping cart abandonment costs etailers over $4.5 trillion.
Today, we'll explore why shoppers abandon their carts and offer some suggestions to lure them back so they complete their transactions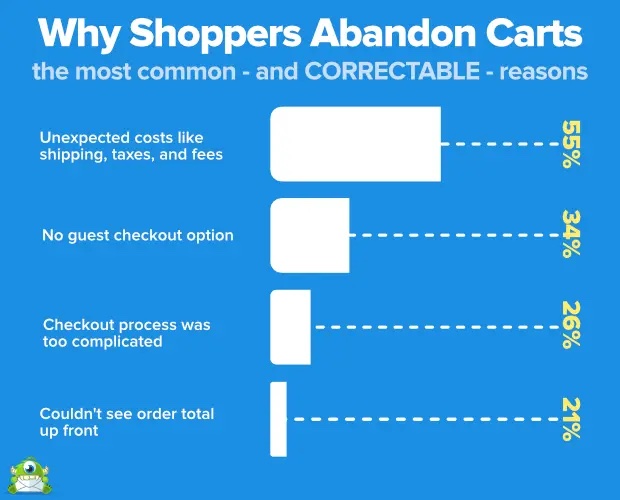 What is shopping cart abandonment?
You spent money on SEO (search engine optimization), content marketing, and advertising to attract visitors to your e-commerce platform. You build a user-friendly website with a clear focus on optimizing a customer journey with product pages so beautiful, shoppers couldn't help but add products to their carts. You streamlined your conversion funnel to reduce distractions during the conversion process and make it easy and fast for visitors to buy. Then, a visitor leaves without making a purchase. That's what we mean by abandonment.
According to OptinMonster, abandonment rates hover around 76% — that's right. 76 out of 100 purchases placed in a visitor's shopping cart are still there when they leave the site. And, the problem is bigger on mobile devices, despite Google's insistence on mobile-friendliness on websites. In 2020, the average online sale varied between $120 and $85, depending on the device, or an average of $102.5/ day. If you lose just 20 sales a day, that means you lose $2050/ day and nearly $750,000/ year. Lose only half as many sales in a day and you're still looking at $375,000/ year in losses. And, that's a lot for any business, especially a small business.
Reducing abandonment
In the image above, note the top reasons for visitors to abandon their shopping carts. The top reason is unexpected costs that increase the invoice beyond what the visitor expected, which accounted for 55% of cart abandonment; 76% when you add in the last reason given, of the cost not being what the visitor expected.
Shipping costs
In their review of several studies, Practical Ecommerce discovered that offering free shipping increased conversion by somewhere between 10% and 50%, depending on the particulars of the study. Not only does free shipping increase conversion, but it also increases average order value (AOV) as 52% of consumers report adding additional items to their cart to qualify for free shipping.
Solution: Sure, not every business can afford to offer free shipping, but, given the results reported above, setting a minimum cart value to qualify for free shipping likely more than compensates for any shipping cost borne by the company.
Fees
Fees are the nefarious costs added to a purchase. Most consumers view these costs with suspicion, as they have no idea what these fees cover or why they were added to their purchases. I recently saw my GrubHub order balloon with a $7 fee on top of the cost of the menu items, tax, and delivery charge. I'm still not sure what that fee covers or why it was added to my bill, but I can assure you I canceled the order when I discovered the fee in my final review before placing the order. This is classic cart abandonment and I feel entirely justified in abandoning my purchase over this fee.
Solution: Consider the impact of adding fees to cart abandonment rates. If you REALLY need the fee to cover your operating expenses, why not add them to the purchase price rather than surprise folks at the end of the process with the fee. Sure, you may gamble you can hoodwink some folks into paying the fee without them noticing but, in the long run, is that strategy worth the bad publicity (or worse) you get. Recently, Airbnb faced a backlash against the high cleaning fees added to each rental, sometimes dwarfing the actual cost of the rent. Even in the age of enhanced cleaning, the fees appeared usury rather than justified. Given the backlash on social media, the company may be forced to refund millions of dollars to bring the fees down to a reasonable level.
No guest checkout
Not everyone wants to provide personal information to checkout. Smart websites solve this problem by collecting the money for orders using options such as PayPal or Venmo. Even more creative options involve taking payment in the form of cryptocurrencies like Bitcoin. Force visitors to disclose personal information to create a login costs you 34% of your sales. Thirty-four of every 100 sales of an average $102.5 each is $3,485. Is getting a login really worth the cost?
Sure, I know obtaining email information is especially useful in low-cost marketing campaigns like email marketing but you can live without it more than you can live without an extra $3500. You can also collect email information by asking for that address as a means of sending a confirmation or shipping notification rather than forcing a login. You'll find visitors more likely to share their email when they see some rationale for the disclosure that benefits them.
I need to think about it
Sometimes a visitor wants to check prices elsewhere or think about the purchase before they turn over their hard-earned money. Let them. No one likes a pushy salesperson and an online pushy salesperson is easy to ignore. Click. I'm done.
Instead of trying to force a sale, offer a wish list as a means to store wanted items for later (BTW, this is another great way to offer an incentive to visitors in exchange for creating a login). Wish lists are a great feature not only for folks who need time to think before buying, but it allows them to share the information with friends and family to get feedback prior to purchase or to let the family know what they want for the holidays or a birthday.
Fixing the problem
Exit intent
One of the simplest ways to help with the problem of abandonment is by installing a plugin that predicts exist intent and delivers a popup when detected. Your popup might offer an immediate discount coupon, free shipping, alternative products, or even share reviews from other shoppers. Alternatively, you can use the exit popup to request the visitor's email so you can send them future promotions and product news.
Remarketing
Remarketing involves using a pixel denoting a visit to your website that triggers an ad on the visitor's social platforms or one that shows up as they visit other websites offering Google Ads. Remarketing is a great, generic tool for engaging folks who visited your website and works well for those who abandoned their shopping carts, as well.
Email marketing
Email marketing is a very powerful tool for reaching subscribers; one that offers up to 4400% ROI. The trick is to pass information about the subscriber to your email marketing campaign to promote subscribers to take action. For instance, if a subscriber viewed a certain product page or, heaven forbid, left a product in their shopping cart, a gentle reminder about the product, a set of reviews, or a coupon is just what they might need to bump them over to your website to complete the transaction. Campaigns segmented and personalized, as we describe, outperform campaigns without these features.
Ease navigation
Every click in your conversion funnel provides an opportunity (and incentive) for visitors to jump ship. Notice in the image below (from Google Analytics) how fewer visitors progress to each page in the conversion process. Each one represents an opportunity cost to your business.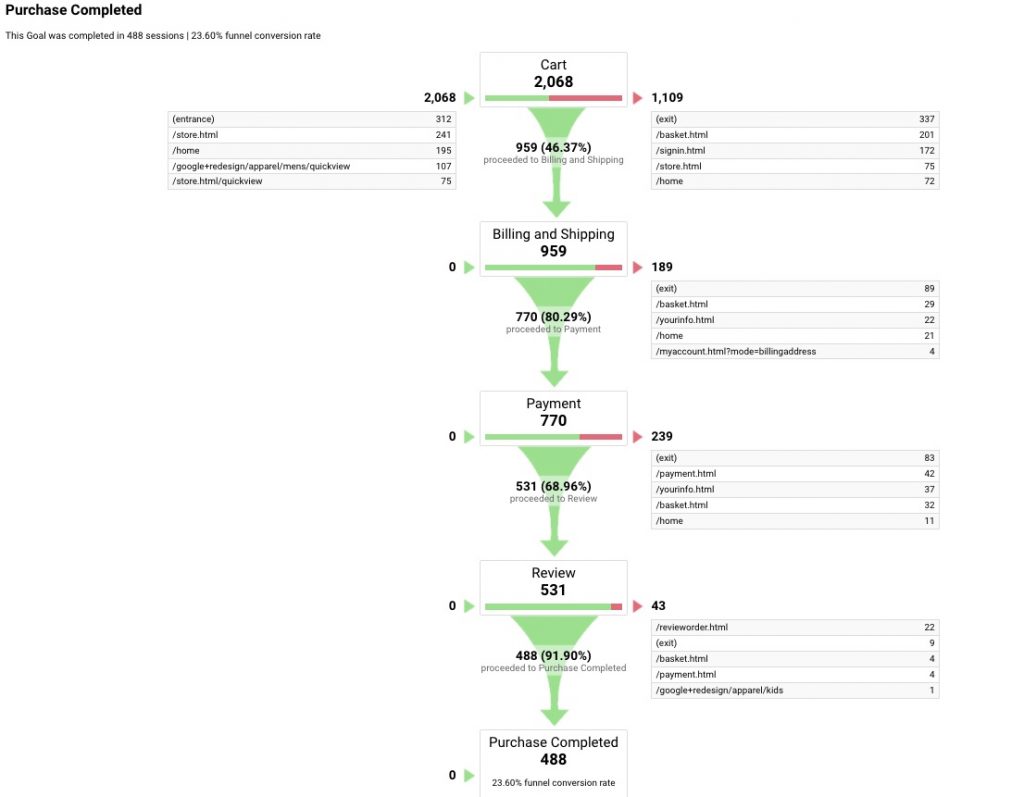 Fixing the problem involves first understanding why visitors drop off and fixing the problem. Did you require a login to progress? Did unexpected costs creep into the final cost? Did the estimated delivery not match customer needs?
Once you know where the problem occurs, you can work toward fixing the problem. For instance, offering multiple delivery options might both decrease costs and increase the speed depending on the customer's needs. Or, adding a navigation bar showing progress toward completing the order might help inform shoppers that they're almost done with the order.
Of course, lightning speed on both mobile and desktop reduces cart abandonment.
Safety, security, and trust
Your online reputation is one of your company's biggest assets and deserves your attention 24/7. Constantly monitor your brand by listening and responding to comments across social platforms, review sites, and other online places. When you find a negative comment, never try to bury it but respond quickly by owning the problem that resulted in a negative comment and show you're working to fix the problem.
Consumers are leery when they don't know you, so your first task is to put them at ease. Showing your trust starts with using https protocols that encrypt personal information entered before transmitting it outside the website. Reviews also go a long way toward convincing visitors you produce quality products and respect consumers.
Conclusion
Shopping cart abandonment is a serious problem, costing your firm thousands of dollars a year in lost sales. Sure, this doesn't show up directly in your financial statements but the loss can sink your business. Fixing the problem relies on first identifying what causes abandonment, then applying one of the strategies suggested here to fix the problem.
Need marketing help to support business growth?
We welcome the opportunity to show you how we can make your marketing SIZZLE with our data-driven, results-oriented marketing strategies.  Sign up for our FREE newsletter, get our FREE guide to creating an awesome website, or contact us for more information on hiring us.
Hausman and Associates, the publisher of MKT Maven, is a full-service marketing agency operating at the intersection of marketing and digital media. Check out our full range of services.