When every news story touts the benefits of digital media for promoting your business can you still use traditional marketing as well? The answer is yes but remember that these are distinctly different tactics requiring very different strategies to deliver the results you want.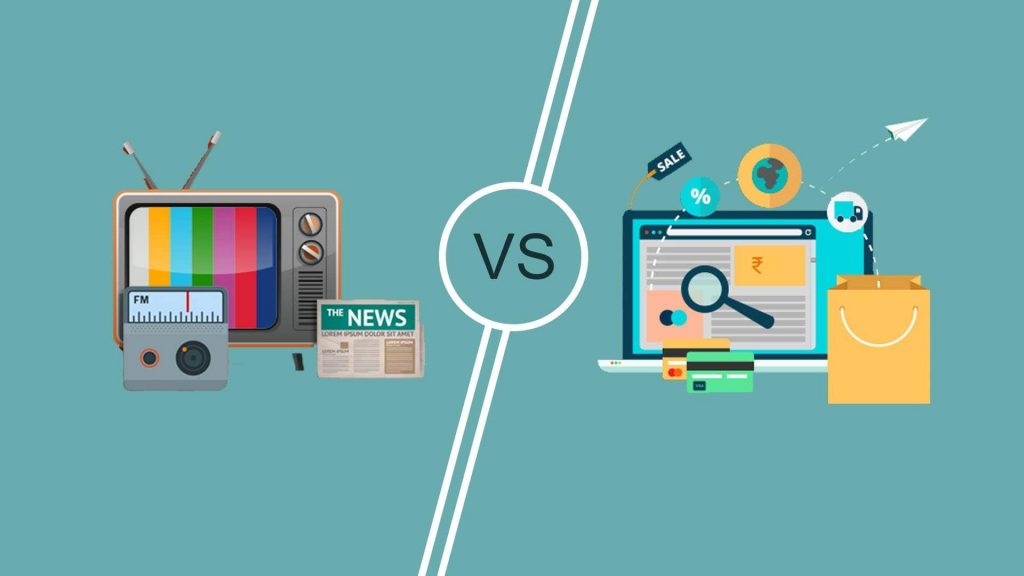 When the pandemic shuttered the entire world. businesses were forced to reevaluate their business model and shifted to digital in large numbers. Organizations wanted new methods to leverage the internet so they could generate revenue even with their businesses closed. Of course, the shift toward e-commerce was well underway before the pandemic, which simply accelerated the transition.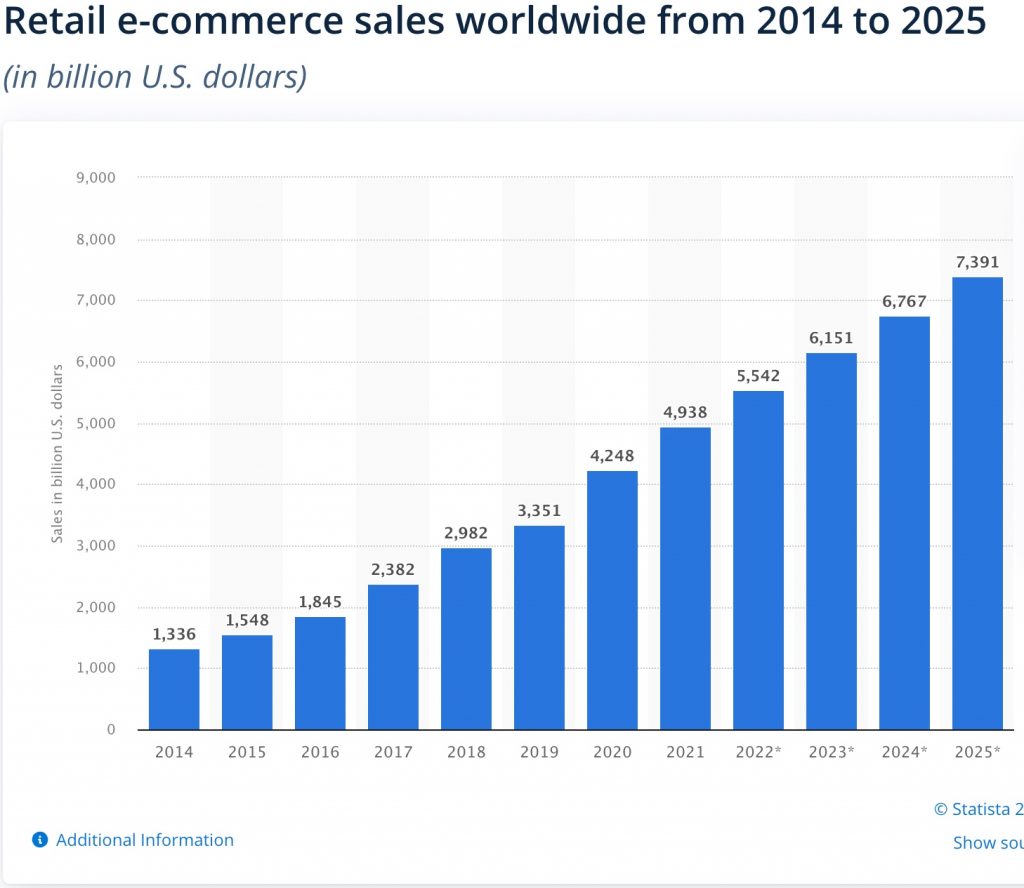 Businesses, especially local businesses and restaurants, that never even considered e-commerce, found themselves negotiating the technologies necessary to make money, including curbside pickup, remote labor, and the delivery of packed alcoholic beverages (which also involved changing local liquor ordinances). They got a crash course in website design, electronic storefronts, logistics, and related tools that allowed them to sell online and deliver to customers in novel ways. Likely, this aspect of the pandemic was positive for small businesses that had resisted the steady march of history that favored online shopping.
Use traditional marketing or digital marketing?
Let's start with some definitions so we know everyone's on the same page.
Traditional marketing involves the type of marketing that dominated the world for millennia. You open a shop providing goods and services then advertise your business through traditional media such as TV, radio, print, and outdoors. Direct marketing is also a component of traditional media. Digital marketing involves using modern technology to market your business through e-commerce and digital media such as social media, search advertising, and SMS (short messaging such as texts).
Obviously, this is an artificial dichotomy since most businesses are a combination of marketing and advertising methods. Even some digital marketing looks more like traditional marketing. For instance, selling through Amazon involves a process very similar to selling your product through a consignment shop or a traditional retail store. Traditional retail stores combine the roles of a retailer with digital marketing when they offer online sales combined with in-store pickup.
The same is also true for promotional media, as most firms use a combination of traditional media and digital strategies. As you can see below, the pandemic did accelerate the transition of budget dollars into digital platforms but the shift in promotional budgets toward digital was already happening.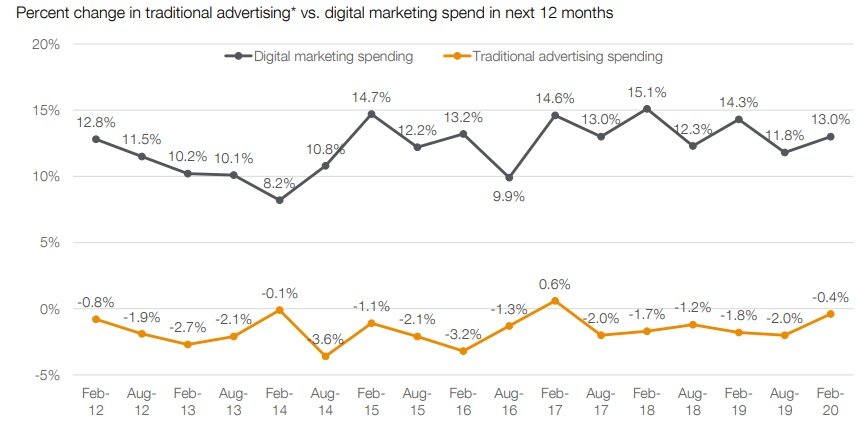 Why you should use traditional marketing
1. It is exciting and fun
There is a perception that digital marketing is better because you can reach consumers 24/7 without forcing them out of their homes or offices. Certainly, digital marketing is convenient but it's far from exciting or fun. A trip to the store is an event, especially for shops located in modern, multi-use centers where a consumer can make a day of their shopping adventure. They can have dinner, see a movie, do some shopping, and even enjoy a cup of coffee or a glass of wine with friends in a central courtyard. In contrast, digital marketing is more utilitarian.
The same is true for digital advertising versus traditional advertising. Social media offers a way to collaborate with friends around a product or find something new from an influencer you follow, but there's still a place for traditional advertising, with its vast reach. Working with printmoz.com for outdoor advertising is also surprisingly cost-effective too, and offers an excellent level of customer service and personalization.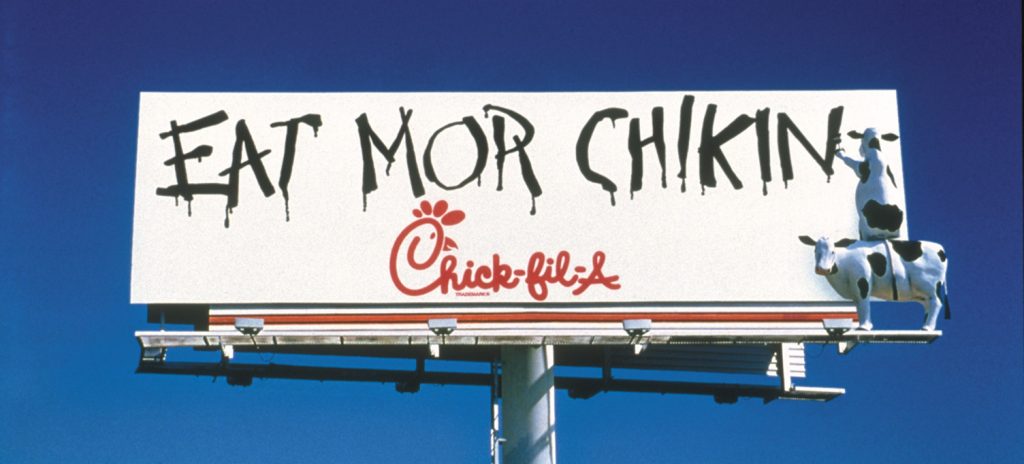 2. Local consumers use traditional marketing
Many people focus on using the internet to expand their businesses and bring in more local clients and those visiting from farther away. And, while local SEO and targeted social media advertising help these small businesses reach local customers, it isn't the same as using traditional advertising and marketing. For instance, a bakery captures shoppers when they smell the aroma of fresh bread or other treats baking. A clothing retailer offers the advantage that customers can try on the clothing to see how the color looks with their skin and hair color or how the garment drapes on their frame. If you need a dress for tonight or fresh flowers to take as a hostess gift, nothing replaces your local store.
Despite store closings featured prominently in news reports, the death of traditional retail isn't on the horizon. In fact, physical store sales are strong and gaining as consumers emerge from their pandemic cacoons. Poor-performing stores that failed to adjust to geographic and demographic changes deserve to close but this doesn't mean brick-and-mortar stores have no place in a world that's increasingly digital.
You shouldn't undervalue the impact that conventional marketing has on specific target populations, whether through local magazine advertising, flyers, leaflets, or posters. Even small local companies may reach a larger audience through digital marketing.
3. Community-building through traditional marketing
Building your community has several benefits that translate into higher sales as a local, regional, or even national firm.
The impact of value-based marketing, especially through support for local and national charities is still alive and effective in driving sales both online and off. Whether you sponsor the local little league team or host the school band's fundraising event, getting your name out in the community delivers returns. More and more consumers, especially younger ones, expect the companies they buy from to live their values. They punish businesses that don't live up to expectations with boycotts or simply shifting purchases to the competition.
By supporting your local community, you drive customer loyalty, as well. Not only do customers come back time after time, but they also spread positive word of mouth and defend your brand when others seek to denigrate your brand. They give you a second chance if you make a small mistake.
Takeaway
Digital marketing offers small business owners a more affordable and adaptable way to build brand awareness, engage with clients, and assess which marketing tactics are ideal for their company. Traditional marketing is still helpful in many situations, though.
For some types of businesses, digital will undoubtedly remain more affordable and efficient. Still, if you operate an actual store or want to sell goods in person, you must concentrate on conventional marketing.
Need marketing help to support business growth?
We welcome the opportunity to show you how we can make your marketing SIZZLE with our data-driven, results-oriented marketing strategies.  Sign up for our FREE newsletter, get our FREE guide to creating an awesome website, or contact us for more information on hiring us.
Hausman and Associates, the publisher of MKT Maven, is a full-service marketing agency operating at the intersection of marketing and digital media. Check out our full range of services.