We all hate the frustration and waste encountered when you're searching for something but can't find it. But business organization or in this case disorganization costs both money and time that are in short supply in any operation. For instance, disorganized inventory means ordering additional products when you already have sufficient inventory on hand, which also requires a larger warehouse to store surplus product. These organization failures cost money. Plus, when workers must search for needed inventory, it wastes time (and money) that is better used in something more productive. But, implementing some simple organization strategies helps make your company better and more successful. Today's post focuses in simple changes you can make to improve business organization to save time and money.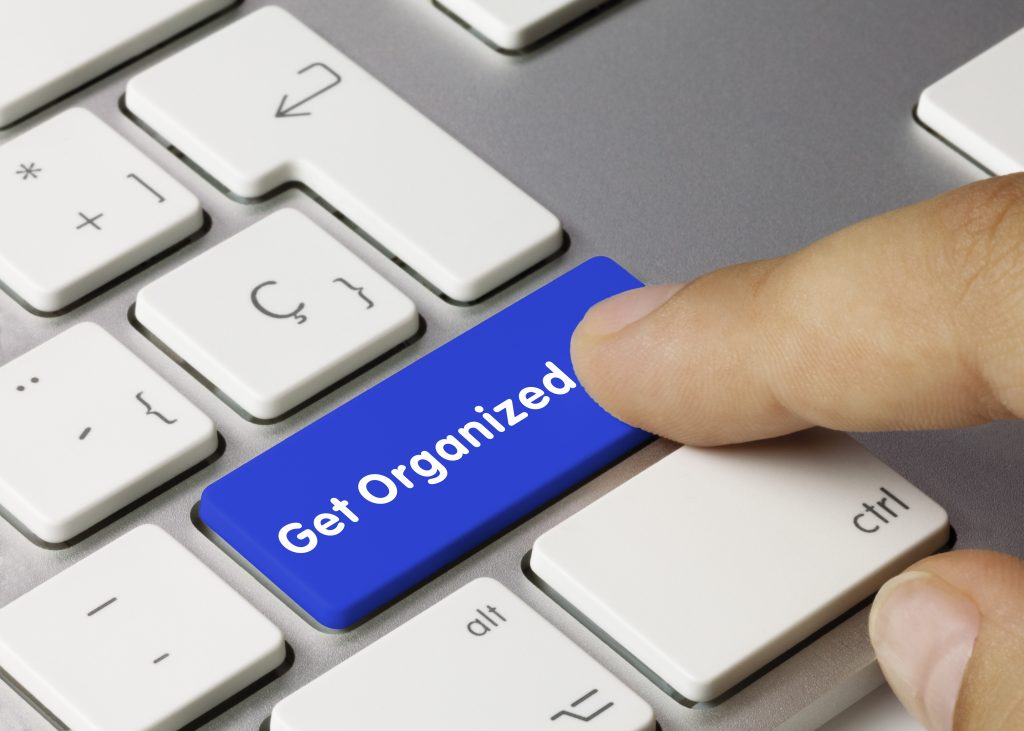 Business organization
For many folks, as well as a good number of business, improving organization is a perennial new year's resolution that's right up there with dieting and saving money. And, just as these new year's resolutions often don't survive into February, the same goes for organization whether you're talking about business organization or organizing individual affairs. Yet, the cost of disorganization is high; ranging from additional expenses like the ones mentioned above, to lost opportunities when you can't take on new clients because you're bogged down with inefficiently serving current clients or not taking on additional work for clients because you can't locate prior work completed for the client.
Solutions to your business organization problem may be as simple ask creating a spreadsheet or changing procedures or more complex, such as implementing new software. To help you get more organized this year, here are some simple suggestions.
Digitize your data
One of the key elements to think about when it comes to developing a more organized business is to ensure that you digitize the company more effectively, including setting up cloud storage to share assets with authorized individuals.  Taking the company onto a digital platform is so important, and this is one of the best things that you can do to help you improve the business and keep things in a more efficient and organized state. Having digital files and folders is far simpler to organize than keeping actual paperwork, as it is searchable and not subject to loss due to carelessness or damage.
First, plan for what information and data you should store. Even as the cost of cloud storage goes down dramatically, storing unnecessary data increases your challenges in organizing and retrieving meaningful data. As an analysis problem, storing too much data invites sloppy analysis or leads to detecting spurious correlations among unrelated data points. Too much useless data also increases the challenges of searching to find relevant data.
For instance, I routinely have clients contact me with future business opportunities or they decide to accept a project long after I bid on the project. Without meaningful data, I couldn't recall the pricing of my bid without conjuring up the lengthy proposal or finding the last price charged an existing client. This has a high piss-off quotient when I send invoices at current prices instead of my last quoted price to the prospect or client. I also sometimes encounter clients that dispute their invoice; claiming I quoted them a different fee. Having data to support my prices sure helps.
Use a consultant to help
Sometimes you might consider hiring a business consultant to help set up organization strategies. For instance, hiring a logistics professional can help streamline your inventory procedures and set up effective storage and retrieval systems so you always know where products are in your warehouse. Similarly, your consultant might help set up a policies and procedures manual for your sales team or your manufacturing operation. Once things are set up properly, it's much easier to stay organized to save time and money.
Outsource some activities
By outsourcing, you are able to hire working professionals to take charge of key areas of the business and put their expertise to work in these areas when you can't afford to hire staff for this role or when you don't have enough work to justify the expense. Similar to hiring a consultant, outsourcing some activities pushed tasks to another firm that must handle their own organization. For instance, firms hire 3PL (third-party logistics) firms to outsource their entire logistics function or hire manufacturer's reps rather than a sales force to push territory organization to another firm. By outsourcing tasks, you ensure that key components of the company get the full care and attention they deserve, without overwhelming you. You enjoy a more streamlined, organized, and well-run business as a result of outsourcing.
Utilize organizing software
Software is one of the best tools that any business can use for enhancing productivity, efficiency, and business organization. For instance, project management software helps organize projects to ensure they get done on time and to coordinate various roles involved in the project. Software such as Salesforce helps organize your salespeople and support staff to ensure nothing falls through the cracks, such as failing to send out a promised quote or brochure.
Other software is specific to certain industries. For instance, you can visit a website to understand the beauty of remote disposition software and how it can help legal businesses and professionals stay more organized. Logistics businesses can organize their warehouses using software that helps optimize space utilization and ensure you can find anything at the drop of a hat. RFID-enabled shipping containers do the same thing for products in transit or even in the warehouse.
Develop and implement a plan
One of the best ways for ensuring business organization and developing a successful company is to build a roadmap–a business plan. Planning your business is integral to any success in the future, and this is one of the key ways of being able to achieve this as much as possible moving forward right now.
Effective business planning gives you a map to follow and helps everyone know where they're going and how to get there. The result is less stumbling around, making mistakes, and disorganized activity that doesn't contribute to the end goals of the organization. Of course, business planning isn't a one-shot deal you do before you launch your business. It's an annual (or more frequent) activity that adjusts your strategy as things change in your environment, as your opportunities shift, and as your business evolves.
Similarly, you need to implement the strategic plan you developed. That doesn't mean slavishly following strategies developed at a point in time but it also doesn't mean changing your tactics on a whim. So, be flexible but not thoughtless in implementing your plan.
Manage your finances
Organizing your finances is critical for success as more businesses fail due to cash flow problems than not making sufficient sales. In fact, a bank study in 2017 found that 82% of business failures were due to cash flow problems. Managing your finances starts with projected financial statements based on a realistic expectation of revenue and expenses. Then, recording your financial transactions to predict cash flow issues in time to make accommodations means you stay ahead of problems.
Conclusion
There are plenty of things to consider when you want to enjoy a more organized business, and we shared some tools and tactics to consider as you build business organization. You need to work on some of the best ways of helping better organize the company given your specific issues and do as much as possible to find the best ways of making this work for you as a business owner. Trying to ensure you think about the right ways of helping your company improve and grow is really important, and this is something that you need to focus on as best you can.
Need marketing help to support business growth?
We welcome the opportunity to show you how we can make your marketing SIZZLE with our data-driven, results-oriented marketing strategies.  Sign up for our FREE newsletter, get our FREE guide to creating an awesome website, or contact us for more information on hiring us.
Hausman and Associates, the publisher of MKT Maven, is a full-service marketing agency operating at the intersection of marketing and digital media. Check out our full range of services.