Every business wants to grow but knowing how to do that isn't always clear. What can we learn about business growth from ASOS?
For those of you who don't know, ASOS is a Europe-based online clothing retailer that has, over the last few years, undergone incredible growth. A decade ago, barely anyone had heard of the brand. Then, through a series of clever customer service innovations and smart marketing strategies, the company grew to become one of the leading online clothing retailers online. Now, many people look back at the success of ASOS to identify what contributed to the business growth they experienced over the last few years with an eye toward incorporating the company's experience into their own business strategy.
In this post, we take a look at some of the strategies that the company adopted and why they worked to generate above-average business growth.
Business growth lessons from ASOS
Surviving in the increasingly crowded e-commerce business is challenging and growing the business even harder with so much competition. Doing so in the clothing business requires a certain panache as the industry involves unique challenges not faced by other e-commerce products. Not the least of which is that customers like to try on clothing before making a purchase to see how the garment fits their body, looks with their coloring, and moves with them.
Business growth in this industry isn't easy, although several other etailers managed to succeed. For instance, Zappos, originally an independent online shoe retailer, saw phenomenal business growth and was ultimately acquired by Amazon for its efforts.
As the old saying about New York goes, "if you can make it here, you can make it anywhere". So, let's see how they did it.
1. Easy returns
Buying clothes online sounds like a great experience until you realize that you've ordered something that doesn't fit or you don't like the way the material moves, or the color makes you look pasty. Data suggest that more than 2 times more online clothing is returned versus that purchased in brick and mortar stores.
Returning inappropriate clothing isn't fun for the consumer or inexpensive for the company. Knowing this made customers hesitant to purchase clothing online. In the past, sending back clothes in the mail was a hassle, but ASOS did everything the company could to improve the customer experience.
While consumers still had to go to their local post office to return unwanted items, ASOS provided all the packaging, address labels, stamps, and information that customers needed to return unwanted items. For this reason, people were more confident about buying from the brand. If they chose something that they didn't like, it wasn't the end of the world. All they had to do was pop into the local post office on the way to work and send the item back for a full refund. It was that simple: no questions asked. Although not innovative, since Zappos' success was proof of concept, this policy certainly contributed to the success of ASOS.
The pandemic didn't hurt online clothing sales either. With customers afraid of visiting local stores or being banned by local ordinances from leaving their homes, online retail surged, as you can see below.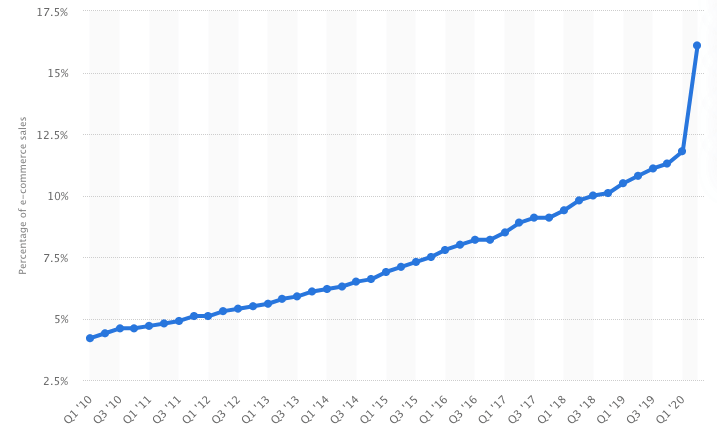 2. Fun app experience
ASOS also drove growth via the relentless promotion of its app. The solution allowed users to browse products at their leisure on a device that was in their hands nearly constantly, instead of having to deal with the clunkiness of mobile browsers.
What's more, as sizdev.com points out, offering services through an app allowed ASOS to tailor the experience to the individual consumer. Data support the role of personalization in driving sales. Within an app environment, the company could do things that simply weren't possible through classic mobile-friendly websites (or difficult to implement outside the app environment).
For instance, chat features with customer service felt natural within the app. Users were also able to easily leave reviews on clothing that they bought to encourage consumers considering a purchase to take the leap. And customers could even upload pictures to show how their items looked when they wore them acting as influencers of future purchases.
3. New channels 
ASOS is also a company that likes to explore new marketing channels all the time, testing the waters to see whether they offer opportunities for the company to expand its reach and increase sales. The brand recently launched a series of YouTube campaigns, using the video-based social media platform to promote its brand to a wider audience, according to www.thinkwithgoogle.com/.
While the brand still struggles to make waves in the hyper-competitive US market, this approach is helping the brand expand into other global markets.
4. Experiment, experiment, experiment
ASOS also works internally to boost growth. Managers and other leaders at the company believe in developing a culture of experimentation. That is, team members are encouraged to develop and test ideas they believe might drive sales. Experiments that achieve positive results are then implemented on a company-wide basis to improve performance and support business growth.
This culture of innovation actually generates a great deal of support for innovation in the company, something that comes from the CEO on down through the ranks. The whole culture is about seeing what works and not judging ideas before they have a chance to prove themselves. Mid-level management is also on board with the scheme, freeing up grassroots teams to explore new ways of doing business.
Conclusion
There's a lot you can learn about business growth from successful companies like ASOS and I hope you found these insights helpful. Obviously, the strategies the company employed aren't unique to their company but come from a thorough review of what worked for other companies in their niche. The company then kept the strategies that worked for them and discarded strategies that didn't work.
Try doing the same thing in your business to see how these ideas can help your business succeed!
Need marketing help to support business growth?
We welcome the opportunity to show you how we can make your marketing SIZZLE with our data-driven, results-oriented marketing strategies.  Sign up for our FREE newsletter, get our FREE guide to creating an awesome website, or contact us for more information on hiring us.
Hausman and Associates, the publisher of MKT Maven, is a full-service marketing agency operating at the intersection of marketing and digital media. Check out our full range of services.