When you own a business, there are always multiple paths you can take to reach success. It comes down to what you want to do and what you think helps your business reach goals set. In this article, we're going to look at some of the business growth hacks you might choose to get you over the goal line, so keep reading to learn how to increase your chances of success. I'll give you a hint; they're all related to marketing.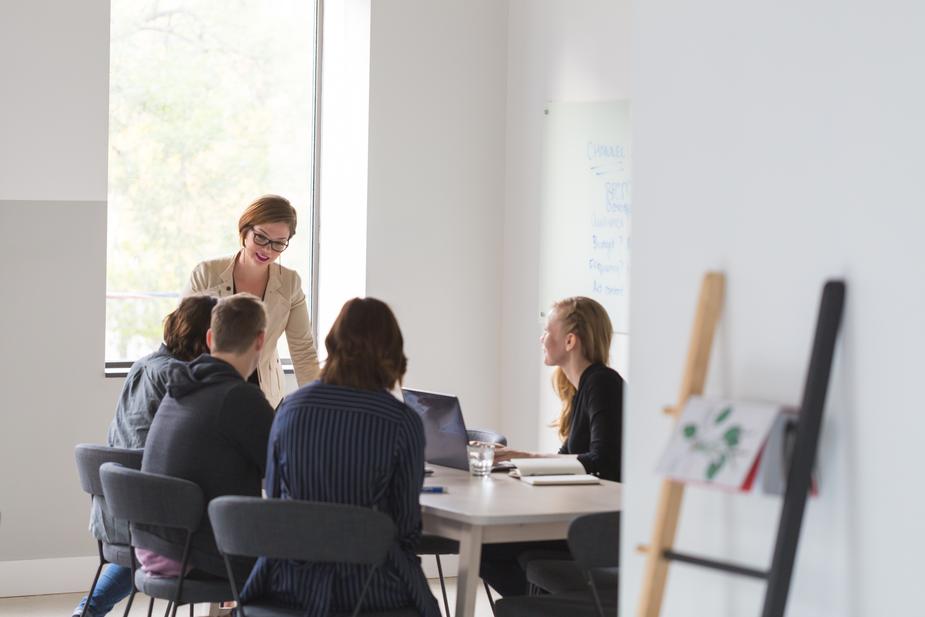 Business growth hacks
It may seem odd to you that my business growth hacks revolve around marketing. Well, that's because marketing is your ONLY source of revenue in a business so without marketing, everything else you do right in your business isn't enough to succeed. So, putting marketing at the center in crafting business growth hacks is more than a function of my own penchant for marketing — it's a business reality, according to Entrepreneur.
Among the marketing tactics resulting in high ROI (return on investment) are:
Content marketing on your website, social media, and as guest posts on influential websites. This not only introduces you to new prospective customers but builds your reputation and improves SEO (search engine optimization).
Remarketing, which delivers ads selectively to those who visited your website, thus increasing the effectiveness of your advertising.
Exit-intent popups that anticipate website visitors exit to deliver a coupon or other incentive to complete a transaction now.
Solicite and post positive reviews or show existing business customers to encourage visitors to buy.
Use a call-to-action button ubiquitously. Test your button for size, color, and text that optimizes conversion.
Social media platforms that reach your target market.
Email marketing, which involves creating a subscriber list then email effective messages.
Because marketing strategies depend on context, I divided up my business growth hacks to represent the 3 stages of business development: namely startup, growth, and sustainable businesses.
Startup hacks
The startup phase of a business is hectic and time-consuming. Some entrepreneurs opt for a short startup phase built on a few ideas scribbled on a cocktail napkin or the back of an envelope. Few startups started somewhat impulsively actually make it past the idea stage. The key to a successful startup is the business plan build on solid research and analysis of the opportunity, competition, market, and internal capabilities. Putting together the right team to build this plan goes a long way to creating success beyond the planning stage, as these team members often transition into operational roles once the company launches.
Too many entrepreneurs ignore marketing realities at this stage of development as they focus on operations while financing their new venture consumes much of their time and effort. I agree that funding a new venture is critical but you can't raise money without a strong marketing plan build on realistic revenue estimates. No funding source wants to invest in a business without a sound revenue stream.
Newer business models built on agile and lean management practices highlight the importance of marketing before writing the first line of code, creating the first MVP, or spending the first dollar on operations. Choose from among the marketing strategies listed above but ensure you allocate sufficient resources to each tactic for success. Trying to do too much isn't a good idea.
A key element is understanding customer wants and needs along with competitor offerings to find a niche where you can successfully compete. A tool often used at this stage is a perceptual map, such as the one below for candy bars, showing how consumers view competitive products to suggest opportunities for your brand.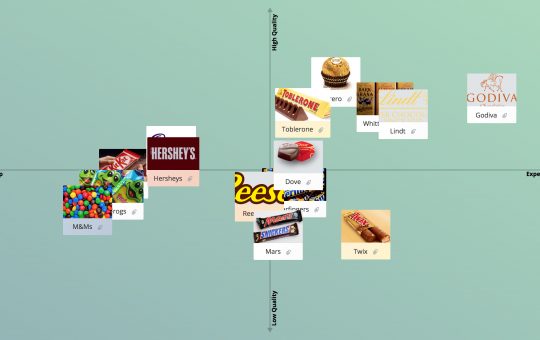 Growth hacks
Once you're past the first agonizing days of your startup, your next task is to grow your business. You now have a customer base and a track record you can use to optimize performance and grow your business.
Analytics is the key to optimization strategy, as you evaluate what's working and replace whatever isn't working for better strategies built on those that work. For instance, monitoring conversion rate on your website or tracking how your advertising translates to sales in your physical store helps you develop better strategies that optimize conversion. Using tools like remarketing, email marketing, and exit-intent popups work particularly well in the growth phase as you had time to develop offers that translate into sales and have a community to help spread the word about your brand.
To be fair, you must spit your time between marketing optimization and optimizing operations to ensure customer satisfaction. Optimizing supply chains, implementing effective customer service, and matching supply and demand result in higher customer satisfaction at a lower cost — a win for your organization.
If you're looking to expand certain areas of your business, then you might want to read a little bit of literature by Dave Conklin. He writes about the digital business landscape, and audiobooks offer a great resource from an experienced business leader.
Stabilization hacks
If you don't have the resources necessary to grow anymore, you should focus on stabilizing it. At this stage of your business, focus on lowering costs in ways that don't affect customers, such as building long-term relationships with your supply chain to ensure you're offered the best prices and a stable source for your needs. For instance, a former client built a rewarding relationship with a supply partner that resulted in a stable source for his needs even during a strike that shuttered the supplier's doors. The supplier not only informed my client of the impending strike but made alternate supply arrangements to ensure his customers didn't experience shortages.
Even at the stabilization stage, you should focus on building your customer base; reaching out to those in your target market, and maintaining high customer satisfaction. Your customers are the most important thing to your business, so you want to build a solid relationship with them. Ensure you talk to them, keep them up to date with the things that are going on in your business, and listen to them to determine changes in needs or situations that require adaptation on your part. Communicating with them is the key to happiness.
Conclusion
We hope you found this article helpful and plan to use some of these business growth hacks to manage your business regardless of which stage you currently find yourself in. Of course, you don't have to implement everything at once but focus on those tactics offering the best opportunities for your business at its current stage without straining your resources. Trying to do more than you can do effectively with your resources inevitably results in doing things badly, which damages your reputation. We wish you the very best of luck and hope you see the results that you are looking for sooner rather than later.
Need marketing help to support business growth?
We welcome the opportunity to show you how we can make your marketing SIZZLE with our data-driven, results-oriented marketing strategies.  Sign up for our FREE newsletter, get our FREE guide to creating an awesome website, or contact us for more information on hiring us.
Hausman and Associates, the publisher of MKT Maven, is a full-service marketing agency operating at the intersection of marketing and digital media. Check out our full range of services.