We've all heard it said that no man (or woman, thank you very much,) is an island, and this saying applies in businesses as much as in other realms. After all, workplace collaborations led to some of the best innovations of recent years. Think Sheryl Sandberg and Mark Zuckerberg, Jenn Heiman and Jenny Fleiss, and many, many more. Building collaboration with other firms also provides many benefits to each firm involved in the collaboration. Think Intel and HP, Louis Vitton and BMW, and Taco Bell and Doritos. Not only do co-branding opportunities like this help brands reach loftier goals but building collaboration with other brands combines technology that makes innovation possible.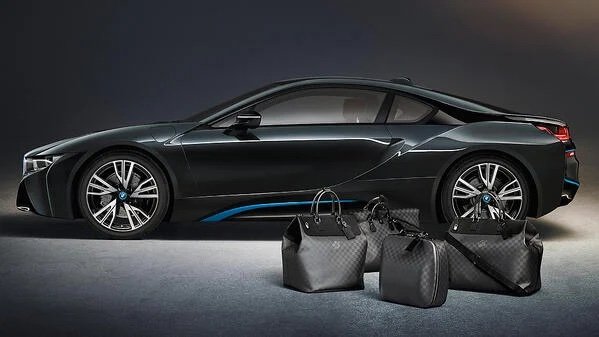 In the image above, BMW and Louis Vitton may not appear to have much in common, other than their shared target market of wealthy buyers who love luxury (this BMW model starts at over $135,000 and the luggage set sells for about $20K). However, the collaboration goes beyond their shared target market and advertising campaign since the luggage set was custom designed to exactly fit the truck of the BMW, making them a matched set for prospective buyers.
Valuable collaborations
More recently still, companies realized the benefits of collaborations outside of their own four walls, including with other brands, and even influencers. For instance, the collaboration between Kanye, with his wide celebrity status, and Adidas on a new athletic clothing line increased Adidas' income for 2019 by 19+%.
Community collaborations, like those found at www.choosesolar.com, also come to the forefront of problem-solving, as they enable a united front against universal concerns like climate change. And, in each instance, companies who build collaborations that solve problems or create opportunities for consumers enjoy unfounded creativity, increased revenue, and expanded audiences.
Building collaboration
Building collaboration isn't without its challenges. For instance, the collaboration between Mercedes (parent Daimler-Benz), known for its advanced engineering technologies and attention to perfection, and Chrysler, who wanted access to the superior parts made by the German company in exchange for improved access to North American markets. Unfortunately, the merger failed miserably and eventually collapsed under the weight of constant conflict. The merger, costing over $36 billion, dissolved in 2007 after 9 years of collaborations, for only $7 billion.
As quoted in the Chicago Tribune in the week the merger failed, Dieter Zetsche, chief executive of DaimlerChrysler, said this about the break up in a news conference:
We obviously overestimated the potential of synergies. I don't know if any amount of due diligence could have given us a better estimation in that regard.
Of course, that's only half the story. Analysts lay blame for the failure on the lack of shared culture between the two firms. But, bigger than the national cultural differences was the massive business cultural differences between the firm. Mercedes entered the collaboration with the notion of controlling the collaboration and wasn't interested in sharing technology with Chrysler. Chrysler, for its part, didn't deliver on promises to help Mercedes expand in the US.
Benefits from building collaboration
Other successful collaborations in the auto market show that building collaboration benefits both firms when done with eyes wide open. For example, competitors Isuzu and Toyota teamed with Hino to advance shared technology for commercial electric vehicles and autonomous driving technology, while streamlining logistics for manufacturing these vehicles.
In addition to co-branding opportunities like shared advertising costs and combining brand attitudes to make a stronger, more appealing consumer offering, building collaboration offers many other benefits. Among the benefits are:
 Speed up development and production
Streamline logistics
Share technology and technology development
Collaborate on creating standards, such as universal recharging stations for electric vehicles
Access to new markets
Yet, despite these undeniable benefits, it's astounding how many entrepreneurs still try to operate as solo enterprises without the benefits of building collaboration with other businesses. Unfortunately, at any stage of success, this island mentality can hold businesses back. Here, we consider why some firms eschew collaboration, and hopefully help you expand your outlook so you consider building collaboration as a means to improve performance.
# 1 – A failure to find your place
If you don't know what's happening in the crowd, there's no way to find your place within it. While direct competition does go against the collaboration mindset, offering value that helps your company thrive is still very much dependent on competitive research that helps you to understand what's already on the market, and where you fit within that. There's even a name for this combination of collaboration and competition – coopetition. For instance, Apple and Samsung compete in the mobile market, Samsung supplies the screens used on the iPhone.
By acting as though there are no other companies out there that might offer benefit to your organization, you see others in your niche through a confrontational lens, meaning you're more likely to end up in direct competition rather than contributing to each other's success by combining your talents.
By comparison, a collaborative mindset that sees you working alongside your closest competitor enables you to offer points of difference, while the collaboration reduces costs and ensures value that keeps consumers coming back time and again.
# 2 – A limited audience
Companies who deal in isolation greatly limit their audience reach, leaving their company floundering to find and convert their small audience, often.
By comparison, collaborations, whether they involve co-branding or collaborations to create innovative products, combine the advertising, marketing, and community resources (such as social media communities) to reach more people at a lower cost.
This type of collaboration creates reach to new audiences that help ensure your success, especially if you focus on collaborations that fit well with your shared communities, such as the BMW and Louis Vitton collaboration reaching a nearly identical target market.
# 3 – It's a hard life
Failing to collaborate also makes your life harder, especially when you cut yourself off from increasingly popular outsourcing solutions as offered by companies like https://fidelityit.com. After all, if you aren't willing to let anyone else in, you're guaranteed to have a lot more work on your plate. As well as making your life more stressful, this can greatly hinder your output and opportunities for growth. Yet, when you opt for collaboration, you will physically feel that pressure lifting.
Collaborations are also a means to share ideas with other businesses. For instance, a physical community might meet to discuss as planned renovation of their shared space or collaborate in opposition to a bridge closure that takes traffic away from their physical location. If nothing else, having someone to discuss your frustrations with is a big mental boost.
Conclusion
If you needed proof that collaboration is the way forward, let this discussion help you overcome that inaccurate notion. Now, we think it's about time you invited us all over to your island at long last!
Need marketing help to support business growth?
We welcome the opportunity to show you how we can make your marketing SIZZLE with our data-driven, results-oriented marketing strategies.  Sign up for our FREE newsletter, get our FREE guide to creating an awesome website, or contact us for more information on hiring us.
Hausman and Associates, the publisher of MKT Maven, is a full-service marketing agency operating at the intersection of marketing and digital media. Check out our full range of services.