Literally, hundreds of businesses are fighting for consumer consideration in most market niches. As a new business, it can be hard to know where to begin in your efforts at building brand awareness, the first step in marketing to your target. After all, you want to get your name out there, but there are already so many businesses appealing to the consumers you want to target. Plus, building brand awareness goes beyond just choosing a catchy name and cool graphics to include generating a positive image for your brand.
Luckily, building brand awareness is possible, even for new businesses with few resources – it just takes a good amount of effort, research, and some help from the experts. Try these tactics to give your new business the boost it needs in building brand awareness.
Building brand awareness
First, let's look at the process leading to a purchase decision, often called the conversion funnel or the sales funnel, which looks like this: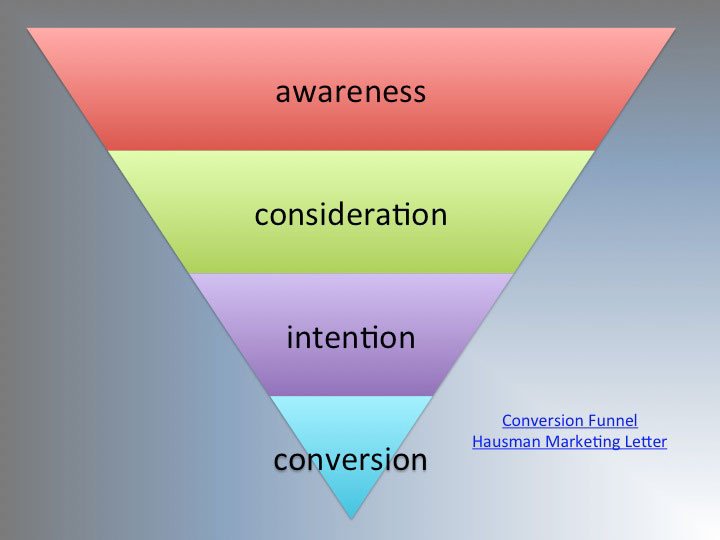 Building brand awareness is the first step in this process, so conversion can't happen without awareness. And the more brand awareness you create, the greater your conversion rate. A small increase in awareness translates into a big increase in revenue. Think about this process like the funnel the shape implies. The more your pour into the top (in other words, the more potential buyers know about your brand), the more there is to flow through to the bottom.
However, our funnel is inherently leaky, unlike your typical funnel. So, you need a sustained effort that supports your brand to optimize your ultimate conversion rate to the fullest extent possible. But that's a post for another day.
7 ways for building brand awareness
1. Tell a Story
People connect with stories. A catchy name or an interesting image might pique their interest, but a story not only buries itself in consumers' brains like an earwig but it also generates positive emotions that the memory connects with your brand. A Harvard professor shows evidence that emotions drive up to 95% of purchase decisions. That is why, as a business, you need to tell stories. Tell stories on your social media accounts, at events, and on your website that inspire people and help them remember you! But, your story must be authentic as consumers are really adept at ferreting out disconnects between your story and your actions.
If you wish to get your name out there, you should strive for uniqueness, not entering the market as an also-ran. That might include a unique marketing strategy or an interesting product. Make sure that there's something about your business that is unique. Uniqueness helps secure your business's name, logo, and purpose in consumers' minds, allowing them to differentiate your brand from those produced by competitors.
Part of that story should build a personality for your brand. Choosing from one of the personality archetypes (shown below) supports your differentiation from other brands. For instance, notice Apple expresses the dream archetype while its competitors (PCs) are on the other side of the wheel as Wise. Of course, Apple (and every other successful brand) doesn't leave determining their personality to chance or solely up to consumers but crafts commercial messages that emphasize the personality they want then support that through product innovation and design.
2. Paid advertising
Paid advertising is when you pay a search engine – for example, Google – to show your ads or pay a social media platform to share your posts. Paid advertising is an excellent way to gain attention from consumers, as there are over 5.6 search queries every day on Google alone (although Google accounts for the vast majority of online queries). Meanwhile, the average person spends 2 hours and 22 minutes per day (every day) accessing social media platforms.
The most common type of digital advertising is PPC (pay per click), where you pay the search engine every time a person clicks on your ad. Social platforms offer their own version of PPC (although when experts use that acronym, they mean search ads) but also offer other payment triggers. In addition to a pay-for-results policy, digital advertising pays big dividends because of your ability to target specific users based on demographic, geographic, and interest variables, making it much more productive than less focused traditional media options for advertising.
While digital advertising is a great way to get your name out there, especially in the early days, you should also get on board with local advertising. Marketing techniques like leaflets, local press, and local events are a great way to get the local public interested and aware of your brand. Doing this is even more important if you are a local business selling to local customers.
3. Attend and host events
Showing your face at events and hosting events in either physical spaces or virtual ones is an excellent way of getting your business's name out there. You might even find other businesses to connect and partner with, especially if you have a well-thought-out pitch! Larger metro areas often have groups that routinely host pitch events and contests that allow you to gain exposure to potential investors, team members, and customers. You can also expect to receive feedback to help improve your pitch and guide 2nd editions of your product.
After attending a number of these networking and business events, you could also host your own. Make it an event to remember by handing out promotional gifts at the end. You'll need a venue and food for a physical event and a stable hosting platform (like Zoom) for a virtual one. For either type of event, you need careful planning to ensure you stay on schedule and handle contingencies that might arise.
4. A social media presence
A business that isn't on social media isn't making the most of the online marketing game. The top sites (Facebook, Instagram, etc.) host millions of users every day, and that is an opportunity for you to reach out to them. Social media also uses native advertising, a form of low-key messaging that supports your brand without being too salesy. The key to success on social media is to post valuable content on a consistent basis (see schedule below) and engage followers with your content, so it spreads to their communities as well as your own. The shares, likes, and comments posted by users go a long way toward building trust in your brand.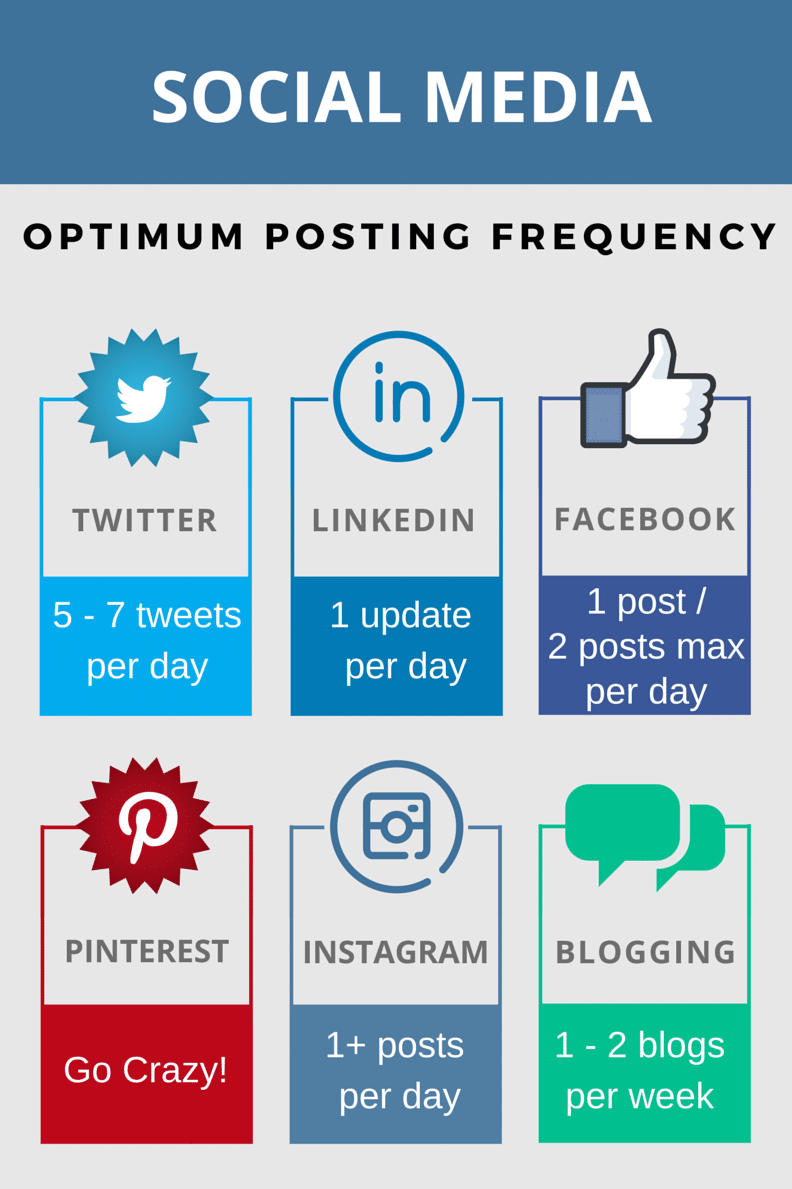 Create a strong digital presence to find, communicate, and build relationships with your audience. These relationships are the bedrock of your brand, so don't just let your nephew post content because he uses Facebook to share with his friends. Hire a professional with training in managing social platforms and understand how to assess performance so they can optimize returns.
Giveaways are the perfect way to gain attention in the early days of a company's life. Giveaways on social platforms help overcome reluctance about spending money on a brand-new business that they haven't heard about before, but they won't mind entering a giveaway! Not only does a giveaway, done right, provide content to share on social platforms that users likely find intriguing, but it might also generate some buzz for your brand. If the price of entry is sharing something, you increase your message reach; if it's entering a contest with an email address, you build a subscriber list to fuel future marketing efforts. It's a win for everyone.
5. Search engine optimization
Search engine optimization (SEO) involves producing valuable content that shows up near the top of search results for related queries. We call this traffic source organic, and it accounts for up to 73% of visits to business websites. Since a link's rank seriously impacts clicks on your content (see below), the payoff for SEO efforts is huge.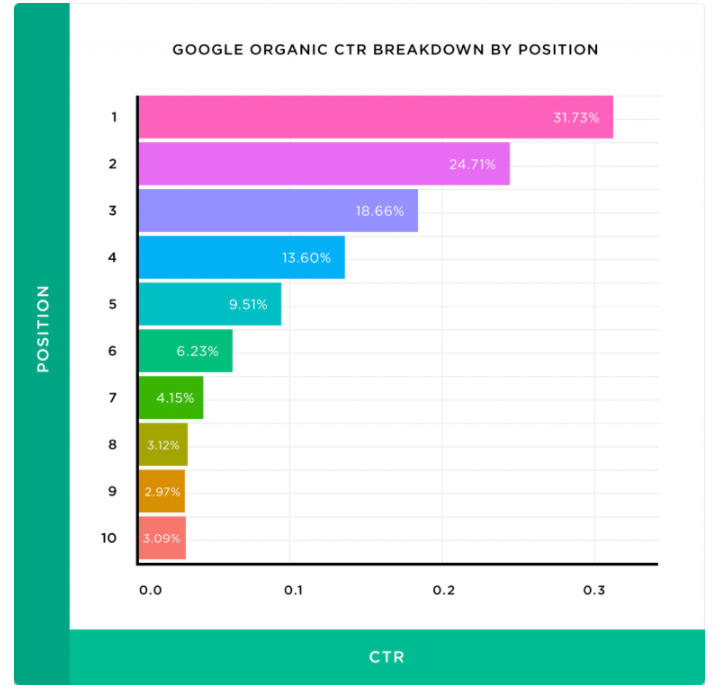 SEO rank is based on complex algorithms developed by search engines (the largest being Google) designed to deliver the best results to users based on their queries. Since search engines look for quality content, you should focus on crafting high-quality content and using certain tactics to demonstrate that quality to search engines. Among the most critical factors impacting your rank are:
Crafting high-quality content on a consistent basis. Commonly, we're concerned with website content (although some social media content might also show up in search results). Adding a blog to your website provides a great vehicle for ongoing content creation. By adding fresh content to your blog at least once a week, you are in a good position in the eyes of search engines.
Keywords are a critical factor impacting your online performance as you must choose keywords that match queries made by users when looking for your content. The challenge is finding keywords that represent a large number of searches with low competition for the keyword. Google's Keyword Planner helps you find keyword options. Since you can only use each keyword once (otherwise, your content competes against each other), using long-tail keywords (of 3-4 words) helps reduce competition, bring in a more focused target market, and meet the needs of only using keywords once.
Backlinks from other websites tell search engines a lot about the value of your content. When another website, especially a high-ranked website, links to your content, it says they value what you have to say. Engagement on social media platforms sends the same message.
Image content makes your content more interesting and helps break up blocks of text, so it's more inviting to read.
Provide an excellent user experience by loading fast, offering easy navigation, and other useful features.
6. Use influencer marketing and user-generated content
No one trusts brands as objective sources of information about their products. We all know they want to sell something, so they put on the best face possible. But, we trust other users, which makes positive things they say about our brand very valuable. These endorsements build trust, which, in turn, drives purchase intentions, as you can see below.
If you produce a high-quality product and provide excellent service, you get a certain number of positive reviews and recommendations that support your brand. But. don't leave your brand-building efforts to chance. Instead, create an influencer marketing strategy that reaches out to users with a large number of engaged followers to solicit their reviews and mentions of your brand, thereby building brand awareness. Influencers, especially the most popular ones, expect compensation for their efforts on your behalf. These range from free products to cash.
An alternative is to ask customers to write user-generated content, UGC, such as reviews and recommendations. Make it easy for them by putting sharing buttons on your content and writing a thank you email with a link to where they can post a review. A contest on social media might also generate some UGC, such as asking customers to post an image of themselves using your product on Instagram with your hashtag to enter for a giveaway.
7. Provide an excellent experience
Marketing strategies are essential for getting a business's name out there. However, you can't forget that no amount of marketing works unless you provide an excellent experience to every customer. Whether you're selling a beauty product or providing a web-building service, you must treat customers/ clients as the most valuable asset to your business because they are.
Focus on crafting a quality product, a positive approach, and unbeatable customer service, and customers will share their experiences with others. The more unexpected the quality of the user experiences is, the more likely they'll share the experience. Moving from satisfaction to delight motivates them to share.
Inevitably, you'll fail as no business is perfect. The key is to respond quickly and completely to customer complaints and never try to hide these negative comments as they're sure to surface at the worst time possible. When faced with a complaint, empathize and be transparent with how you plan to fix the problem, then follow through.
Conclusion
Today we shared 7 tactics for building brand awareness. I hope you found these valuable and plan to add one or two (or more) as soon as possible. If you found something worked especially well for you in building brand awareness, please share your tips in the comments below.
Need marketing help to support business growth?
We welcome the opportunity to show you how we can make your marketing SIZZLE with our data-driven, results-oriented marketing strategies.  Sign up for our FREE newsletter, get our FREE guide to creating an awesome website, or contact us for more information on hiring us.
Hausman and Associates, the publisher of MKT Maven, is a full-service marketing agency operating at the intersection of marketing and digital media. Check out our full range of services.