Whenever you create a business or take the helm of an existing business, your job is to help the firm optimize performance, achieve growth, and make sure the business survives into the future. Building a solid business future starts today with the actions you take, the plans you make, the relationships you build, the insights you glean, and other activities that ensure the business not only survives but thrives.
Nobody wants to be a part of a get-rich-quick scheme, since the long-term prospects for such schemes are dismal. Short-term thinking often results in failure and wastes resources. While the opportunity for large profits seems real,  short-term schemes often involve unethical behaviors that ensure the firm doesn't survive beyond a few years. The fact is that they just do not work in the long run and you never reach the levels of return you expect. Inevitably, the market dries up, your competition with a long-term strategy forces you out of business, or your unethical practices damage your reputation. Eventually, often sooner rather than later, you're forced to shutter your doors.
Build a solid business future
In contrast, big projects and businesses that you put plan and execute with an eye toward customer value and sustainable business practices provide feelings of accomplishment, generate optimal rewards, and represent considerate use of the planet's resources, including financial, human, and material capital.
Building a solid business future, once more easily attained, now seems out of reach for even the largest companies. Don't believe me! Here are some stats from a recent study by McKinsey:
While the average lifespan of an S&P 500 company was 61 years, that number's now down to less than 18 years
By 2027 (a mere 5 years from now), 75% of the S&P 500 companies will disappear into the annuls of history
Many firms once considered blue-chip stocks on the New York Stock Exchange, firms like IBM, Proctor and Gamble, and General Electric lost ground in terms of market capitalization in favor of new companies like Apple Computers, Alphabet (the parent company of Google), and Amazon that operate in the digital world.
In order to really know that you're building a solid business future, you need to make sure you're doing a few things right. Here are just a few behaviors and actions adopted by market leaders who have some staying power:
Plan and project for the future
Successful businesses develop a solid plan for the future including realistic forecasts for everything from their financial needs to Energy Management to a marketing plan that includes sufficient detail and research to act as a roadmap for the next 12 months. A long-term business plan covering the next 5 years is also developed, although it contains fewer details due to uncertainties regarding the future in the long term. Some industries require even longer planning horizons due to the length of time it takes them to introduce new products or shift their focus. For instance, automotive companies require up to 7 years to develop a new car from concept to showing up on showroom floors.
Flexibility in your business plan means you can adjust to changes in the outside world, including competitive actions, changes in consumer demand, or unpredictable changes in the environment, such as the pandemic. For instance, Adobe created a detailed strategic plan involving selling a combination of hardware and software for desktop publishing only to discover that their customers (Apple, HP, and others) wanted only one or the other rather than the bundle. Luckily, their mentor told them to chuck their business plan to accommodate the needs of real customers rather than the needs they imagined customers would have.
Bring in the right people
You need to ensure that you have the right people on board to build a solid business future. Bringing in the right people and keeping them means understanding what skills you need in the people associated with your business from executives in the C-suite, to front-line workers, to advisors.
Apple was just getting a solid footing against giants like Microsoft when the board hired a former Pepsi executive for the top spot. John Scully was great at running a consumer product firm selling a convenience product but had no idea why customers bought computers. He determined the company should build a bigger, better Lisa computer while Jobs wanted to build the Mac, a new computer platform. Eventually, Jobs was forced out of the firm he built. Only after the company discovered the hard way that selling computers is very different from selling soft drinks did they bring back Jobs and build the Mac. Today, the market capitalization of Apple Computers makes it one of the biggest companies in the world.
Create a solid marketing strategy
Building a great marketing strategy is critical for success. And, your marketing strategy must include much more than just your promotional plans. You must plan for the future of your products, including expansion into new markets and new products. Otherwise, you find yourself irrelevant in the marketplace, just like IBM. Once, IBM owned the computer market but they failed to adequately assess the impact of personal computers on the nature of both business and consumer activity. They were late to the PC market and produced two products that were market failures before abandoning the market. Now they survive by selling mainframe computers to a smaller market of business buyers and software acquired through acquisition, such as their purchase of SPSS.
Develop insights from data
No business survives without consistently monitoring KPIs (key performance indicators). We call this marketing intelligence as opposed to market research, which involves doing research to solve a specific problem.
Examples of KPIs include both terminal KPIs (such as sales) and intermediate KPIs such as traffic to your store (online or off). Of special importance are differences in KPI values across time to help interpret the results of your marketing campaigns and other business activity.
Marketing intelligence systematically gathers both internal and external data into dashboards that use data visualizations to guide insights. These insights then inform decisions to optimize performance. For example, here's a dashboard from Google Analytics that assesses website performance over time.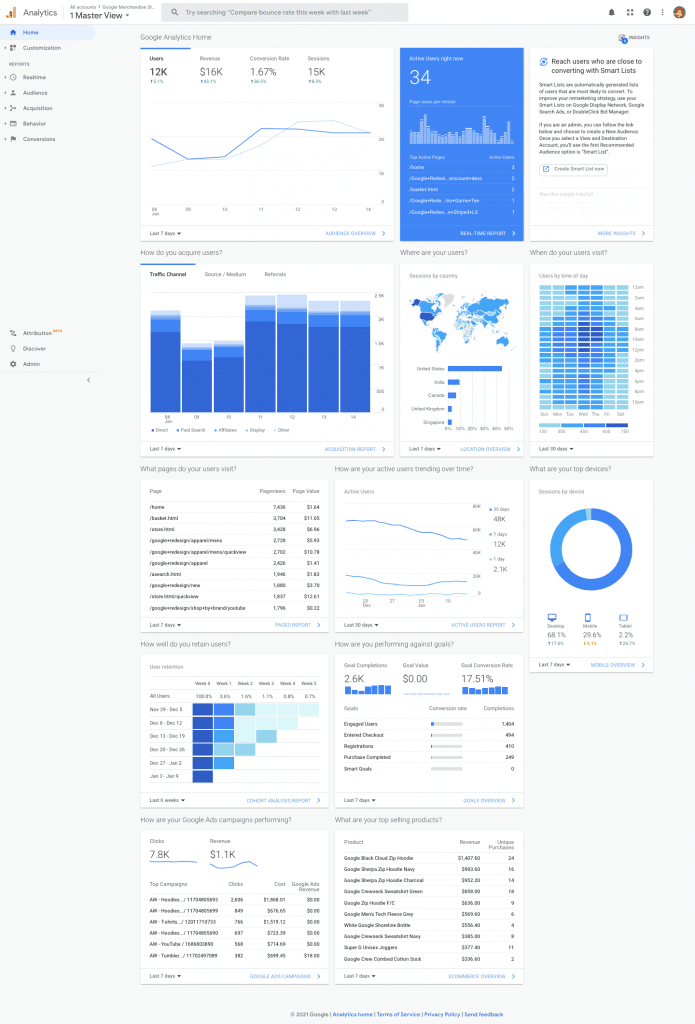 Focus on retaining customers
Satisfied, loyal customers are the biggest asset of any business so to build a solid business future, you must work to meet or exceed customer needs every day.
Satisfied customers make future purchases that improve your bottom line. They also display your product every time they use it or share an image of themselves with your product. On social media, such tacit endorsements have huge value to your organization as they bring awareness to your product from their communities. Satisfied customers also post reviews and recommend your products to their friends/ relatives.
Building a relationship with customers requires that you provide value to them with the products you sell, the services you offer, and the way you treat them. For instance, sending a short thank you note recognizing their value to your firm goes a long way to help them know you care.
Because it's impossible to be perfect all the time, establish protocols for when a failure occurs such as offering discounts. For instance, Amazon often reaches out to Prime members before a delivery delay to notify the member about the delay and offer a $5 credit toward a future purpose.
Conclusion
Building a solid business future requires careful planning, forecasting, and monitoring. But, the rewards of these actions exist far into the future.
Need marketing help to support business growth?
We welcome the opportunity to show you how we can make your marketing SIZZLE with our data-driven, results-oriented marketing strategies.  Sign up for our FREE newsletter, get our FREE guide to creating an awesome website, or contact us for more information on hiring us.
Hausman and Associates, the publisher of MKT Maven, is a full-service marketing agency operating at the intersection of marketing and digital media. Check out our full range of services.