E-commerce is a huge phenomenon and is a bigger tool for generating revenue every year as more customers seek out products online, especially during the pandemic. Customers embraced online shopping gladly because it's so convenient and safe, as you can see in the graphic below showing the tremendous increase in online sales over the last few years. Thus, creating a powerful e-commerce business offers great opportunities to increase revenue or business model for starting a new business online.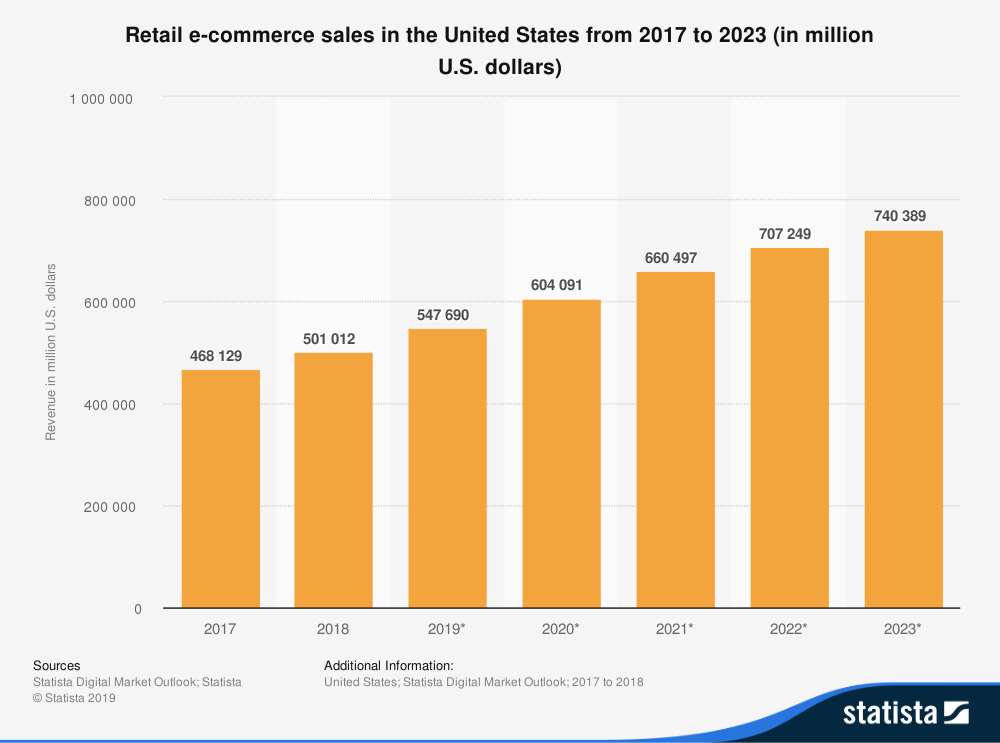 But, there are lots of reasons businesses should consider building a powerful e-commerce site, including the low startup costs, which means less risk for the budding entrepreneur. Building an online business isn't a sure thing, however, and lots of pitfalls await the unwary or careless. Not only can poor planning and suboptimal decision-making cost your money and time, but they might also poison the pot the sink future efforts. Hence, we offer 4 tips to build success with your online business.
Building a powerful e-commerce business
Before we delve into our advice for building a powerful e-commerce business, let's lay out some statistics about online retailing. First, you must know your customer and nothing substitutes for this deep understanding of your customer and what they want. Below, find some statistics from Optin Monster to get you started. As you can see, while nearly equal numbers of men and women shop online, they shop for entirely different things. For instance, while both men and women buy nearly equal amounts of travel, groceries, and household goods, men are much more likely to buy computers or other tech online while women, surprisingly, buy more clothing online.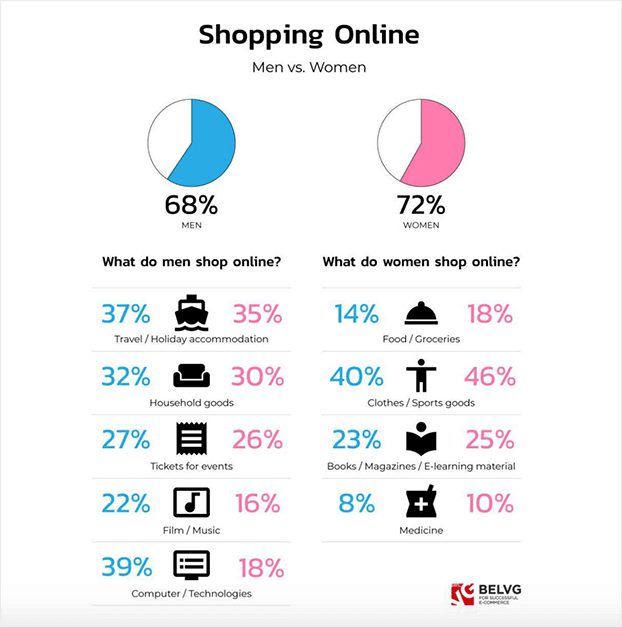 Next, think about how you want to operate your e-commerce store. Sure, it may seem like a no-brainer to open your e-commerce store on your own website, but there are other options to consider. For instance, consider 3rd party options, like Amazon and eBay, that bring your products to the attention of a ton of traffic. Of course, you face intense competition on these sites and incur a substantial fee to both sell and fulfill orders on these platforms. New options, such as Facebook Marketplace allow businesses to sell products through their social platform.
Finally, consider your strategy for marketing products online. Below, you see the tools most frequently used by shoppers when buying online. Unsurprisingly to those of you who read my posts frequently or who are fairly savvy about digital marketing, search engine marketing, commonly referred to as SEO, is the primary tool used by shoppers to find products online. Email marketing is also a key strategy for building a powerful e-commerce business.

Tool for a strong e-commerce business
Now, let's move on to our top 4 strategies for a powerful e-commerce business that delivers revenue and sustained growth for your busines.
1.Deliver superior customer service
There's no success without delivering superior customer service every time. Poor service not only costs you customers and it's 5X cheaper to keep an existing customer than replace them with a new customer, but word of mouth from dissatisfied customers travels quickly, especially in a connected world where complaints quickly go viral.
Also, develop contingency plans for when things go awry, as it's impossible to avoid 100% of problems. For instance, the weather may delay delivery or you might experience a temporary stock out (remember the toilet paper and hand sanitizer disasters from early in the pandemic. In those situations, excellent communication with customers reduces the damage such failures might cause. The faster you address problems or answer questions, the less damage. Modern businesses often host customer service hours on social platforms to address concerns publically and quickly on the place where customers share their complaints. Other businesses employ chatbots who work every day and every hour to ensure customers get fast customer support.
2. Consider the impact of delivery
Offering excellent delivery is one of the top rules of powerful e-commerce businesses. If your customers don't receive their orders quickly, or the packages look damaged, you risk negative feedback. From the customer's perspective, getting every package in perfect shape and fast is the most important indicator of professionalism. To grow a thriving e-commerce business, partner with a reliable courier and delivery service in your area so you can meet your customers' expectations every time. CouriersBoston is the leading choice for businesses and individuals in the Boston or Greater Boston areas.
Consider the cost of delivery as well as speed. Many consumers won't buy products online unless the business offers free shipping. By setting a threshold for free shipping, this shipping option is a great well to upsell customers. Instead of buying 1 item, a customer might purchase a second or third since they get free shipping with a larger order.
Of course, beating up your provider isn't the answer to achieving low-cost delivery so you can offer free shipping. Logistics is a complex process with a lot of moving parts and developing a great process is more like choreographing a ballet than balancing your checkbook.
3. Study your competition
Copying business practices reflect poorly on your brand, but ignoring your competitors and everything they do is not a good idea either. Studying your competition is vital for thriving in the e-commerce industry. The more knowledge you have on different businesses in your niche, the better prepared you are to jump on an opportunity they missed and match their offers to eliminate their competitive advantage whenever possible.
Don't stop with your direct competitors, as you can learn a lot from businesses operating in other industries. For instance, I once heard a business owner brag about his on-time delivery, patterned after pizza delivery services even though he operated in a B2B market.
4. Engage customers
People likely return to a business that provided a good experience. So, to build a thriving e-commerce business, it's critical to keep customers engaged with your brand and to stay in touch with customers in a meaningful, mutually beneficial way? Developing a content strategy focused on the customer journey and matching content to where a particular prospect is along that journey is the key to success.
As you can see in the graphic below, content marketing is more like a layer cake than a one-size-fits-all strategy where everyone gets a generic message.
Conclusion
The e-commerce industry is filled with opportunities. However, to find steady, consistent success, you must analyze your market carefully. Make sure you can give potential customers what they expect. Follow our four rules for higher customer satisfaction and higher revenue.
Need marketing help to support business growth?
We welcome the opportunity to show you how we can make your marketing SIZZLE with our data-driven, results-oriented marketing strategies.  Sign up for our FREE newsletter, get our FREE guide to creating an awesome website, or contact us for more information on hiring us.
Hausman and Associates, the publisher of MKT Maven, is a full-service marketing agency operating at the intersection of marketing and digital media. Check out our full range of services.