Creating your own brand takes considerable time, money, hard work, and energy, as well as a dash of luck. Building a brand takes more than these resources, however. You must build a brand that resonates with a target market hungry for the goods and services you provide. Your efforts in building a brand must also avoid common pitfalls that can sink your efforts. For instance, a thoughtless comment takes as homophobic, misogynistic, or racist will sink your efforts very quickly and recovering from this faux pas might never happen. Similarly, choosing a target market that doesn't value what you're building dooms you to failure and no amount of advertising will revive your brand once consumers box you in with a personality that doesn't resonate with them. Notice, in the archetype wheels shown below how brands develop a personality over time. If that personality doesn't resonate with your target market or, god forbid, turns them off, you won't get anywhere in building a brand for success.
Building a brand doesn't happen overnight so you need a huge investment of resources before you see any return on your investment. Hence, there's a huge amount at stake when you decide it's time to swing open your doors and welcome your first customer. Finding out that your marketing efforts didn't manage to let the world know about your new products and services is a real disappointment to you, your staff, and investors. Fortunately, learning how to spread the word about your new brand isn't as difficult as you might expect, as there are, in fact, just a few key tips and tricks that you can use to make the most of and to attract masses of customers through your doors in no time at all. So, if you're interested in finding out more, then simply read on!
Building a brand
The key to building a brand, as mentioned earlier, involves developing an intimate knowledge of your target audience. Often, personas are used to build a picture of the prototypical customer representing each target market segment. Crafting personas isn't valuable unless the information contained in the persona is based on research. Discovering what folks reflecting each target market want, what's valuable to them, who influences their attitudes, their lifestyle, and where they get information is critical for your success in building a brand and must involve thorough research.
Luckily, you have more resources than ever before for doing a great research job. For instance, you can lurk on social platforms to listen for the types of conversations that take place between users. You should also listen for mentions of your competition to discover users' attitudes toward their brands and where your competitors fail in meeting consumer needs. A product positioning or perceptual map like the one below is a great tool for mapping consumer attitudes toward existing brands, as well as their attitudes toward your brand if you have already launched the brand.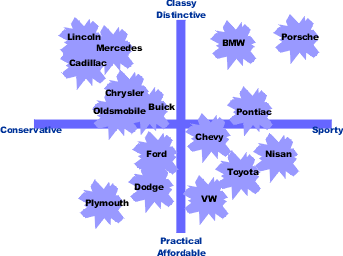 Building a brand based on a perceptual map requires choosing the right features and benefits that help determine consumer choice, such as affordability and conservative versus sporty shown in the map above. You can now use software allowing you to map perceptions on multiple axes rather than the old manual process that only allowed two axes. Check out the multi-dimensional perceptual map below to see the potential of this tool.
Using this tool along with other types of research, you now have the information to position your brand favorably and can now use the tactics shown below for actually building the brand. Without this research, even using these tools results in failure as you build your brand in a way that doesn't attract customers.
Build a website that embodies your brand
Utilizing the web to spread the word about your new business is your first port of call, as every modern brand needs a strong online presence to succeed in today's increasingly digital market. A website represents your brand on real estate owned by your firm rather than a social space owned by a social media company that can change their operation in ways that might hurt your online efforts to meet their own needs. I can't tell you how many small businesses woke up one day to find Facebook deleted their page or restricted their ability to post on the platform; something that basically killed their business unless they had a website.
There are so many different platforms and options you can pursue in creating a web presence, from building your own unique website that attracts new visits using SEO tactics to bring free traffic to your site, to creating an app to build your community through smartphones and other mobile devices.
Building a website is always your first priority, as you need to stake your claim on your corner of the internet to establish yourselves as a point of interest and opportunity. As a first step in building a brand, ensure a domain name related to that brand is available and don't fall for the trap of using a dot.net or dot.info when the dot.com version of your preferred name is unavailable. Next, create a visual representation of your brand using an appropriate color scheme and unique fonts to create something unique and a great visual to represent your brand. Then, wireframe your website to ensure a great user experience, great branding, and stickiness to encourage repeat visits. If you need help, I even have an ebook to help your build your own website from scratch without writing a single line of code.
Make the most of social media
Social media marketing opportunities grow and increase by the day, so it's essential that you take the time to make the most of this advertising method if you want the world to know about your new brand and what you have to offer. Creating your own business profile on the most popular social media platforms, such as Facebook, is easy. However, utilizing social media effectively requires you to post unique content and share links to build the provide value to your target market if you want to establish your reputation and build a network.
Choosing the right platforms relies on the understanding you built regarding your target audience and the image below offers some insights in choosing the right platform(s). You need to use your social media pages to grow your following, using hashtags and influencers to promote your products and services to those who will have a genuine interest. Reaching fame on social media can catapult your new brand toward success like nothing else can, so it's definitely worth a shot.
Conclusion
Spreading the word about your new brand has never been so simple when you can take the time to utilize some of the amazing tips and ideas detailed above.
Need marketing help to support business growth?
We welcome the opportunity to show you how we can make your marketing SIZZLE with our data-driven, results-oriented marketing strategies.  Sign up for our FREE newsletter, get our FREE guide to creating an awesome website, or contact us for more information on hiring us.
Hausman and Associates, the publisher of MKT Maven, is a full-service marketing agency operating at the intersection of marketing and digital media. Check out our full range of services.